USA/Germany. 1999.
Crew
Director – Gary Halvorson, Screenplay – Mitchell Kriegman & Joseph Mazzarini, Story – Kriegman, Producers – Marjorie Kalins & Alex Rockwell, Photography – Alan Caso, Music – John Debney, Visual Effects – D.Rez (Supervisor – Steve Rundell), Special Effects Supervisor – Michael A. Schorr, Production Design – Alan Cassie. Production Company – Jim Henson Pictures/Children's Television Workshop/Global Entertainment Productions GmBh and Co Medien Kg.
Cast
Mandy Patinkin (Huxley), Vanessa Williams (Queen of Trash), Roscoe Orman (Gordon), Sonia Manzano (Maria)
Muppet Performers
Kevin Clash (Elmo/Grouch Jailer/Grouch Cab Driver/Pestie), Joseph Mazzarano (Bug), Steve Whitmire (Ernie/Stuckweed/Football Stenchman/Ice Cream Vendor/Parrot), Frank Oz (Bert/Grover/Cookie Monster), Carroll Spinney (Big Bird/Oscar the Grouch), Jerry Nelson (Count/Grouch Mayor/Grouch Cop/Pestie), Dave Golez (Humungous Chicken), Martin P. Robinson (Telly/Pestie), David Rudman (Caterpillar/Baby Bear/Colander Stenchman/Ice Cream Customer/Pestie), Fran Brill (Zoe/Prairie Dawn/Pestie)
---
Plot
The red-furred Elmo loves nothing more in the world than his blanket. However, while Elmo is walking along Sesame Street, a strange series of circumstances cause his beloved blanket to be accidentally whipped away. Elmo jumps into Oscar the Grouch's trashcan after it. There both Elmo and the blanket are whisked through a vortex and end up in Grouchland. The inhabitants of Grouchland worship all things dirty and ill-mannered. Elmo's blanket is seized by the mean-minded Huxley who decides that whatever he likes is his and nobody else's. And so the puny Elmo sets out on a quest to Huxley's castle to demand his blanket back.
---
The Adventures of Elmo in Grouchland is a spinoff from the long-running children's tv series Sesame Street (1969– ). (Many familiar Sesame Street characters and performers make appearances here). The red-furred Elmo first appeared on the show in 1988 and quickly developed into a character of considerable popularity. There were many spinoffs featuring Elmo, including a series of children's adventure books and a line of toys – the famous Tickle-Me-Elmo dolls. Elmo also appeared in a previous video-released film Elmo Saves Christmas (1996).
The Adventures of Elmo in Grouchland was one of a number of films that Jim Henson Pictures, under the aegis of Jim's son Brian, spun off from various Henson creations during the 1990s, along with five entirely mediocre new Muppet movies. Without the educational format dictated by Sesame Street, all that The Adventures of Elmo in Grouchland resembles is a more threadbare version of the Muppets. Actually what it resembles most of all is a tatty pre-adolescent version of Jim Henson's sublime otherworld fantasy Labyrinth (1986).
The Adventures of Elmo in Grouchland is clearly a film that has been designed for very young children. The plot is exceedingly simplistic – the villain's only motivation is that he is greedy and takes everything for himself without sharing it with others; important plot points and transitions are denoted by fireflies forming into arrows to point the way or a wall falling open.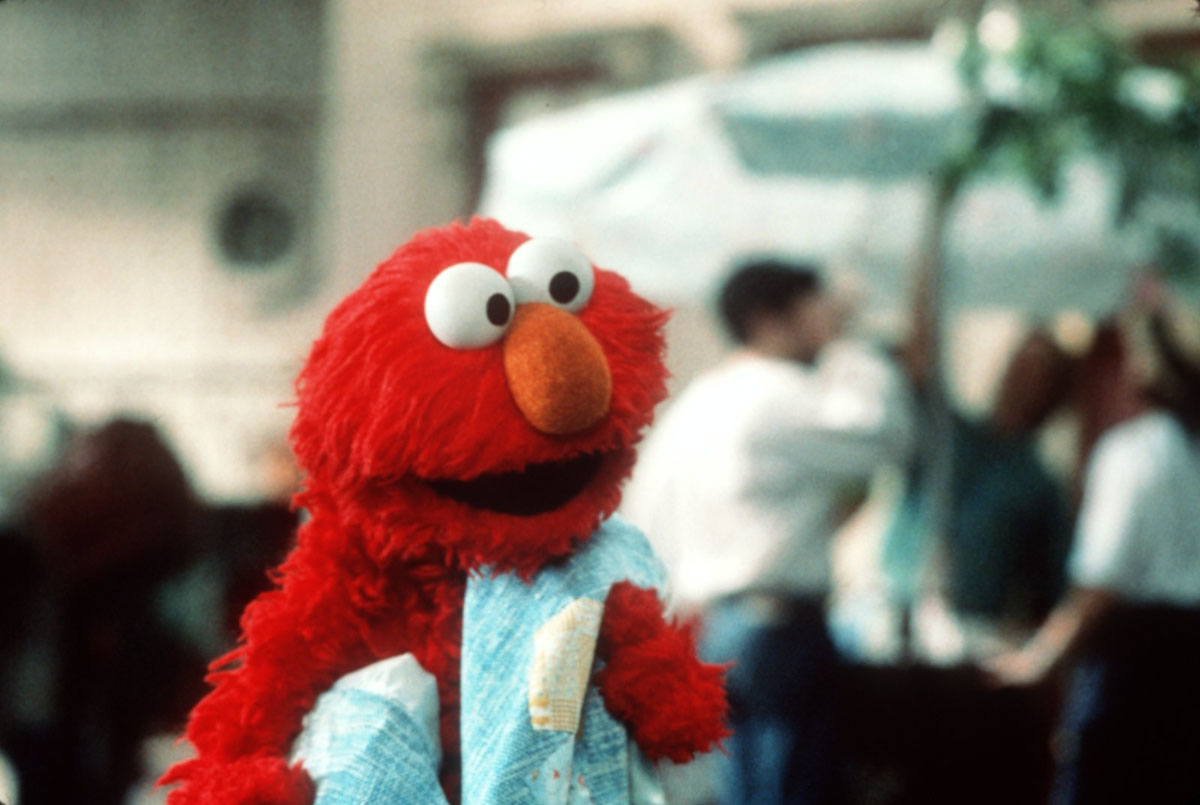 There is not much to the film at all – everything seems very haphazard. Although there is one glorious moment of surreal Jim Henson-like humour with the image of Elmo being pecked at by a giant chicken that keeps insisting "Stay still, I'm trying to eat you," and ends with the two of them singing "I'm a little teapot."
There is a peculiar level of meta-fiction to the film, with characters frequently turning to address the screen direct – asking the audience to count down the numbers on the film reel at the very start; engaging them in a game in the opening scene and asking if they have seen Elmo's missing blanket; and a scene where Elmo has to blow a hundred raspberries and turns and asks the audience's help in doing so.
Among the human faces, Mandy Patinkin makes for a swarthy villain, while Vanessa Williams vamps likeably as the junkyard queen in an extremely silly scene explaining to Elmo that he must blow raspberries.
---
---