---
USA. 1999.
Crew
Director – Albert Brooks, Screenplay – Albert Brooks & Monica Johnson, Producer – Herb Nanas, Photography – Thomas E. Ackerman, Music – Elton John, Music Supervisor – Bonnie Greenberg, Production Design – Dina Lipton. Production Company – USA Films/October Films.
Cast
Albert Brooks (Steven Phillips), Sharon Stone (Sarah Little), Andie MacDowell (Laura Phillips), Jeff Bridges (Jack Warrick), Mark Feuerstein (Josh Martin), Bradley Whitford (Hal), Steven Wright (Stan Spielberg), James Cameron (Himself), Martin Scorsese (Himself), Rob Reiner (Himself), Dakin Matthews (Dr Jacobson), Concietta Tomei (Nurse Rennert)
---
Plot
Screenwriter Steven Phillips is down on his luck after Paramount Pictures dump his contract, telling him that he has lost his edge. A friend recommends him to Sarah Little, who claims to be a Greek muse and says she can help revitalise his inspiration. The only requirement is that he put her up in luxurious accommodation and tend to her frequent whims. This is something that, as inspiration comes, proceeds to drive Steven crazy and turn his marriage upside down.
---
Albert Brooks is like a Gentile version of Woody Allen. Brooks is about the only English-language comedy director out there to ever come near the peculiar niche of white, middle-class neurosis that Allen charted for himself. Brooks has made films like Modern Romance (1981), Lost in America (1985), Mother (1996) and Looking for Comedy in the Muslim World (2005). Like Allen, Albert Brooks makes occasional forays into the fantastic – as with afterlife comedy Defending Your Life (1991) and this. The Muse suggests a conceptual collision between Woody Allen in one of his more whimsical moods – say as in The Purple Rose of Cairo (1985) or Mighty Aphrodite (1995) – and Robert Altman's Hollywood satire The Player (1992).
In The Muse, Albert Brooks throws some sharp barbs in the direction of Hollywood. Some of this clearly reflects Brooks's own travails – "Being a scriptwriter is kind of like being a eunuch at an orgy. At least at an orgy you get to watch – I don't even get invited to the set," he says early in the piece. There is a wonderful spot-on portrait of an asshole studio executive – Brooks claims the line about having to give up his office because Brian De Palma needs it occurred to him in real life. (Notedly, Brooks had to find independent financing outside of the studios to get The Muse off the ground).
Like Robert Altman in The Player, Brooks gets great mileage out of casting real-life Hollywood personalities as themselves. James Cameron has an immensely amusing cameo appearance, walking away muttering "Don't go near the water … Don't go near the water" while Sharon Stone's muse mimes disappointment that the gift Cameron brings her isn't the necklace from Titanic (1997) – "It's not the ….. is it?" There is an equally amusing cameo from a hyper-caffeinated Martin Scorsese, contemplating a remake of Raging Bull (1980) with a thin man and a funny gag about Albert Brooks going to see Steven Spielberg and meeting his cousin.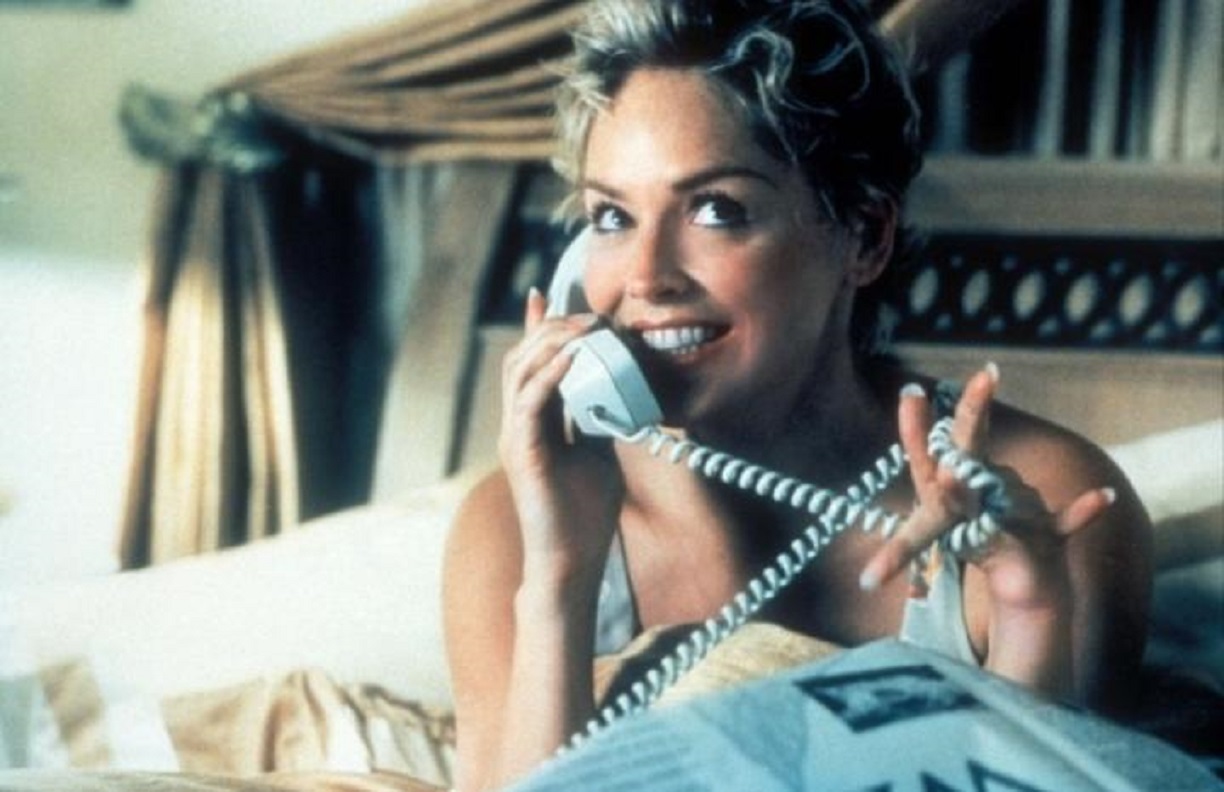 The Muse also feels one of the less inspired of Albert Brooks's efforts. (Brooks's greatest moment was undeniably Lost in America). Brooks seems to lack an ability to compound the comic situations and push the gags toward the hysterical. The Hollywood satire is forgotten about a third of the way through. Both the running plots – about Brooks being run around by Sharon Stone's whims and his jealousy over wife Andie McDowell's becoming a successful baker under musely tutelage – have an irksome looseness that comes from Brooks not pushing them far enough.
Towards the very end, Brooks throws in a couple of psychologists to suggest the possibility that Sharon Stone may not be a muse at all but a deluded lunatic and leaves the film on a note of ambiguity as to what she really is. Unfortunately, this well-tried game of ambiguity concerning the fantastic is something that needed to be played far sooner in the piece than this.
While not unamusing, The Muse is never hysterical. I have yet to be enamoured of Sharon Stone's abilities as an actress – whenever she plays introverted and closed-off she is awful – although you cannot slight her for trying hard to be something more than the sexpot roles she was cast in after she came to attention with Basic Instinct (1992). Here she succeeds somewhat, playing with a certain dizzy, airy charm that undeniably ends up carrying the film.
(Nominee for Best Actress (Sharon Stone) at this site's Best of 1999 Awards).
---
Trailer here
---