---
USA. 1999.
Crew
Director/Screenplay – Hugh Wilson, Based on the TV Show Created by Jay Ward, Producers – John Davis, J. Todd Harris & Joseph M. Singer, Photography – Donald E. Thorin, Music – Steve Dorff, Music Supervisor – Steve Tyrell, Visual Effects – Illusion Arts (Supervisor – Syd Dutton & Bill Taylor), Special Effects Supervisor – Tony Lazarovich, Production Design – Bob Ziembiecki. Production Company – Davis Entertainment/Joseph Singer Entertainment/Todd Harris Productions.
Cast
Brendan Fraser (Dudley Do-Right), Alfred Molina (Snidley K. Whiplash), Sarah Jessica Parker (Nell Fenwick), Eric Idle (Kim J. Darling), Alex Rocco (Chief), Robert Prosky (Inspector Fenwick), Jack Kehler (Homer), Corey Burton (Voice of the Announcer)
---
Plot
Dudley Do-Right is a Canadian Mountie who patrols Semi-Happy Valley on his trusty steed Horse. Dudley's childhood friend, the villainous Snidley K. Whiplash, reappears. Dudley discovers Snidley shooting gold bullets into the ground all around the area, where Snidley claims that he is hunting vampires. However, Snidley has taken over the Semi-Happy Valley bank and driven the tenants out of the area to foreclose their properties. He is now faking a gold rush to drive up the price of the land he has acquired. Dudley's old love Nell Fenwick also returns to Semi-Happy Valley but Snidley steals her from under Dudley's nose. Next, Dudley is forced off the force. With Snidley thought the good guy, Dudley realises that to stand up to Snidley he must become the new bad guy.
---
Dudley Do-Right was one of the animated tv shows from Jay Ward, the producer/creator who was also responsible for other classic cartoon shows of the era such as The Rocky and Bullwinkle Show (1961-73) and George of the Jungle (1967-70). Dudley Do-Right first appeared as a continuing segment in The Bullwinkle Show (1961). 39 five-minute episodes were made and these were later expanded out as their own series The Dudley Do-Right Show (1969-70). The series was a wilfully silly spoof of silent movie serial antics – Dudley the more-than-noble but totally inept hero, Nell the heroine who was perpetually being tied to the railway tracks and of course Snidley K. Whiplash, the moustache-twirling villain in black.
This film version of Dudley Do-Right was part of the spate of cartoon shows being remade in live-action that came about after the success of The Flintstones (1994). Others cartoons that were remade in live-action included Mr Magoo (1997), Inspector Gadget (1999), Josie and the Pussycats (2001), Scooby-Doo (2002), Fat Albert (2004), Alvin and the Chipmunks (2007), Transformers (2007), Underdog (2007), Speed Racer (2008), Dragonball: Evolution (2009), The Last Airbender (2010), Yogi Bear (2010), The Smurfs (2011) and Jem and the Holograms (2015), as well as various other Jay Ward shows such as George of the Jungle (1997), which also headlined Brendan Fraser, and The Adventures of Rocky and Bullwinkle (2000).
Dudley Do-Right was directed by Hugh Wilson, the creator of tv's WKRP in Cincinnati (1978-82) and director of films such as Police Academy (1984), Guarding Tess (1994), The First Wives Club (1996) and the same year's Blast from the Past (1999), which also managed to feature Brendan Fraser.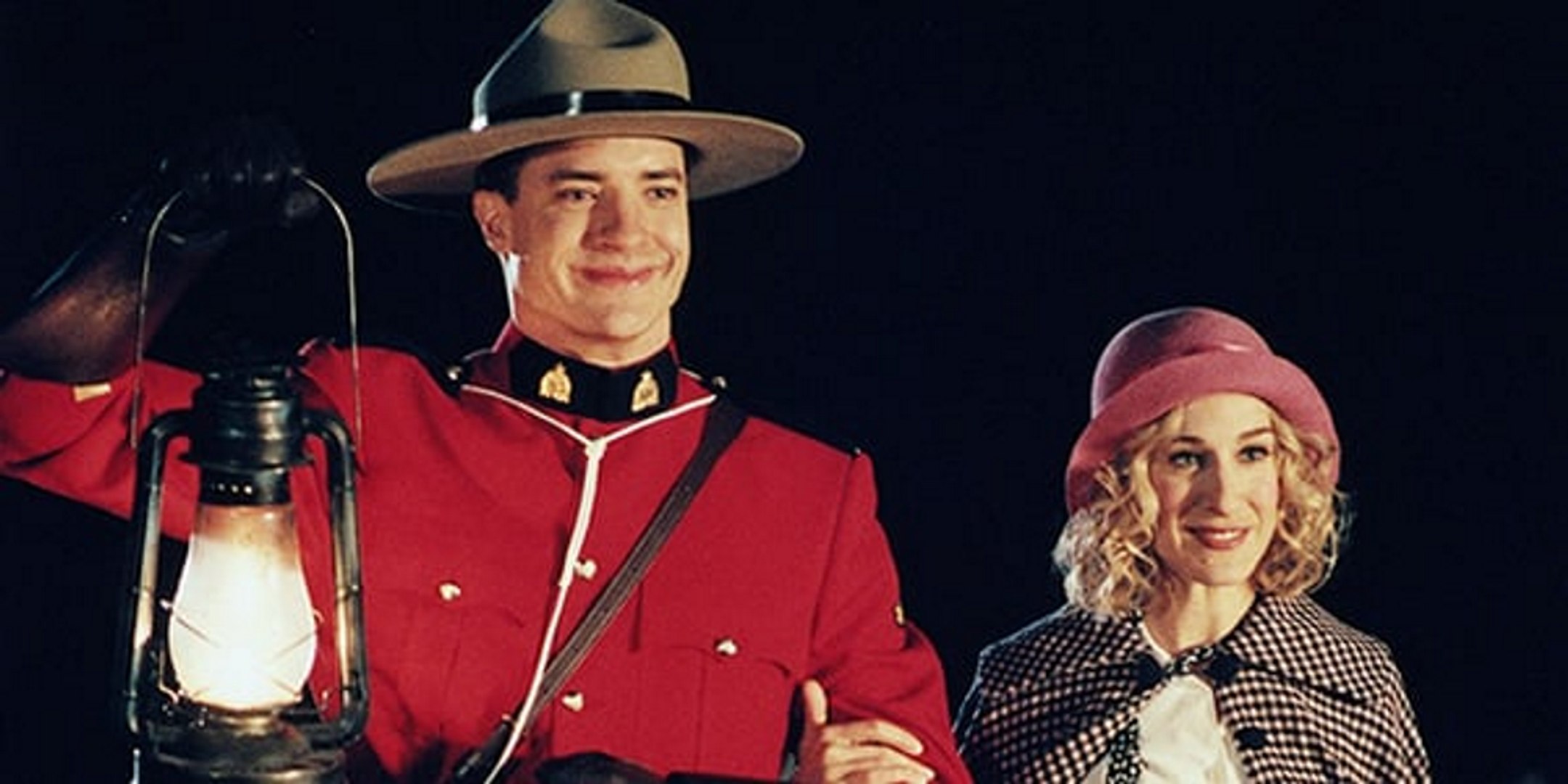 The Dudley Do-Right movie is reasonably faithful to the cartoons (although the gag of Dudley always seeming to prefer his horse to the romantic attentions of Nell that was one of the running gags of the show is oddly missing, presumably to avoid any suggestion of bestiality). The tv series' Gold Rush era period setting has been updated to something contemporary, which makes the film's milieu where tanks and tv's sit alongside prospectors, horse-mounted police and the Klondike adventure seem oddly anachronistic.
While faithful to the cartoons, Dudley Do-Right sinks into a squirm-inducingly bad mess within a matter of minutes. Part of the problem may simply be the move from animation to live-action. On the small screen, the series was wilfully silly, but it could be because it was caricatured and more importantly only came in five-minute bursts. With the cartoon caricatures filled out with flesh and blood actors, the film seems like adults playing at being silly and with actors like Brendan Fraser and Alfred Molina straining to be caricatures of one-dimensional characters.
More than anything, Dudley Do-Right looks like a cheap children's pantomime with everybody in ill-fitting costumes doing and saying silly things and trying to keep straight faces. Hugh Wilson gives the film little of the wilfully absurdist tone that marked the series – most of the film is down around the level of scenes with Brendan Fraser perpetually standing on floorboards and whanging himself in the face, moose heads falling over his head, he accidentally setting himself on fire and horse fart jokes. There are times that the film just goes on and on – particularly during Eric Idle's would-be parody of a Zen master sequence – that makes one wonder why those involved failed to click earlier on how staggeringly unfunny it was.
Brendan Fraser has done too many of these larger-than-life cartoon goofball roles, while Sarah Jessica Parker, just before Sex and the City (1998-2004) went big, is almost entirely negligible as a character. Even Snidley Whiplash's fake Gold Rush scheme seems vague and it not particularly clear what he is up to.
---
---