---
Crew
Director – George Miller, Screenplay – George Miller, Doug Lamprell & Judy Morris, Producers – Bill Miller, George Miller & Doug Mitchell, Photography – Andrew Lesnie, Music – Nigel Westlake, Visual Effects – Animal Logic Film (Supervisor – Chris Godfrey), Mill Film (Supervisor – Grahame Andrew) & Rhythm and Hues (Supervisor – Bill Westenhofer), Animatronics – Neil Scanlan Studio (Supervisor – Neil Scanlan), Special Effects Supervisor – Tad Pride, Production Design – Roger Ford. Production Company – Kennedy-Miller.
Cast
Magda Szubanski (Esme Hoggett), James Cromwell (Arthur Hoggett), Mary Stein (The Landlady)
Voices
E.G. Daily (Babe), Stanley Ralph Ross (Pitbull/Doberman), Danny Mann (Ferdinand), James Cosmo (Thelonius), Steven Wright (Bob), Glenne Headly (Zootie), Nathan Kress & Myles Jeffrey (Easy), Russi Taylor (The Pink Poodle), Adam Goldberg (Flealick), Bill Capizzi (Sniffer Dog), Eddie Barth (Nigel/Alan), Miriam Margolyes (Fly), Roscoe Lee Browne (Narrator)
---
Plot
Babe the pig accidentally causes a pump to fall down a well and land on Farmer Hoggett, leaving him badly injured. Mrs Hoggett struggles to maintain the farm by herself but it soon reaches a point where the bank is ready to repossess the property. Mrs Hoggett's only hope is to accept one of the financial offers to show Babe at an exhibition. She and Babe depart for the city. They find accommodation at a hotel that allows various animals to stay. However, a jealous neighbour has the city animal shelter impound all the animals and it is up to the heroic Babe to mount a rescue effort.
---
Babe (1995) was a huge hit when it came out, both critically and financially, even being nominated for Best Picture at that year's Academy Awards. Such a success inevitably mandated this sequel. This time the first film's director Chris Noonan has dropped out of the picture and Babe's producer George Miller, the same director who made Mad Max (1979), Mad Max 2 (1981) et al, has stepped in to take the chair. (Purportedly, the reason for this was that Noonan was unhappy with George Miller claiming credit for the success of the film and downplaying his efforts). Similarly, original star James Cromwell has stepped back from the spotlight and apart from a few scenes at the beginning and the ending allows most of the show to be carried by the considerable comic talents of Magda Szubanski.
Babe: Pig in the City shares many of the same endearing anthropomorphic delights of the first Babe – that is to say, it is essentially a Disney talking animals film conducted in live-action. George Miller successfully captures much of the soft cuteness of the original in the scenes with Babe saving and befriending a pit-bull, taking in the orphan strays and doling out the jellybeans, and especially the touchingly sad scenes with the animals being rounded up by the pound.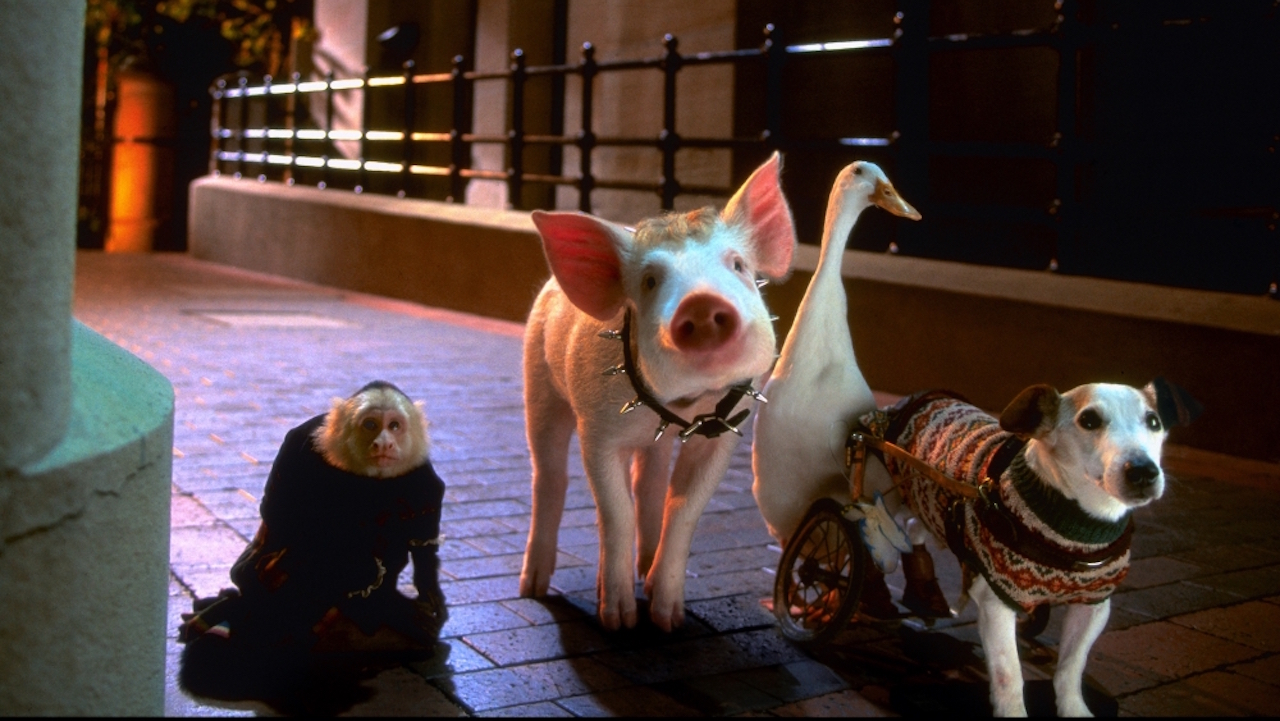 Unfortunately, Miller also adds a tone of caterwauling slapstick with loud and noisy scenes of Babe causing bikers and skaters to collapse into one another; running through the streets pursued by the pit-bull with a lawnmower attached to its tail; and especially the ludicrously over-the-top climax that involves, among other things, Magda Szubanski riding an irregularly wheeled bicycle in a clown suit and swinging around a ballroom on a chandelier in a pair of pants that inflate into a giant balloon. All the soft cuteness of the first film gets buried beneath the noisy chaos.
The two films even look different – Babe was shot in earth colours and its tone was one of quiet realism; for Babe: Pig in the City, George Miller has a created a hyper-realised city set – it is a cartoon world that Babe now lives in. One expected something more from an otherwise fine director like George Miller.
George Miller did manage to go on and conduct the talking animal film very well with his next directorial outing – Happy Feet (2006) and its lesser sequel Happy Feet Two (2011).
George Miller's other genre films include:- the Mad Max series  Mad Max (1979), Mad Max 2/The Road Warrior (1981), Mad Max Beyond Thunderdome (1985) and Mad Max: Fury Road (2015); the Nightmare at 20,000 Feet episode of Twilight Zone – The Movie (1983); the eminently enjoyable sex war fantasy The Witches of Eastwick (1987); and the Happy Feet films. Miller has also produced the nuclear accident thriller The Chain Reaction (1980), the yachtboard psycho-thriller Dead Calm (1989), and Babe.
---
---