---
Crew
Director – Chris Noonan, Screenplay – Chris Noonan & George Miller, Based on the Novel by Dick King-Smith, Producers – Bill Miller, George Miller & Doug Mitchell, Photography – Andrew Lesnie, Music – Nigel Westlake, Visual Effects/Animation – Rhythm & Hues (Supervisor– Charles Gibson), Special Effects Supervisor – Dave Roberts, Animatronics – Jim Henson's Creature Workshop (Supervisor – John Stephenson), Sheep Characters – John Cox & Robotechnology, Production Design – Roger Ford. Production Company – Kennedy-Miller.
Cast
James Cromwell (Farmer Arthur Hoggett), Magda Szubanski (Esme Hoggett)
Voices
Christine Cavanaugh (Babe), Miriam Margolyes (Fly), Hugo Weaving (Rex), Danny Mann (Ferdinand), Miriam Flynn (Maa), Roscoe Lee Browne (Narrator)
---
Plot
Farmer Arthur Hoggett wins a runt pig in a competition at the country fair. Back on the farm, the mother sheepdog Fly adopts the poor parentless pig after her own pups are given away and names him Babe. Babe soon settles in with the other barnyard animals. On a whim, Farmer Hoggett takes Babe out into the field, shows him the way the sheepdogs round up the sheep and then tells Babe to do the same. When Babe at first attempts to act like a dog and bark to get them to move, the sheep laugh at him. One sheep then asks Babe why not simply ask them to move. Babe does and Farmer Hoggett is amazed to see the sheep compliantly walk into the pen. While his wife is away, Farmer Hoggett then comes up with the idea of entering Babe into the local sheepdog championships.
---
Babe was the sleeper success story of 1995. Not only did it manage to catch on with the public in a big way, it also ended up being nominated for a host of Academy Awards including Best Picture, Best Adapted Screenplay, Best Supporting Actor for James Cromwell and Best Director for Chris Noonan (although won only for Best Special Effects). It also received a numerous nominations elsewhere at the BAFTAS, as well as receiving the Golden Globe for Best Comedy/Musical.
Babe is based on a novel The Sheep Pig (1983) by British children's writer Dick King-Smith. Although more than anything, Babe reminds considerably of one other film – Charlotte's Web (1973). Both Babe and Charlotte's Web feature a plaintive and innocent runt pig, draws a picture of the barnyard life that surrounds it and tell how the pig becomes a sensation in the human world. (Ironically, Charlotte's Web was later remade in live-action as a copy of Babe with Charlotte's Web [2006]). The most noticeable thing about Babe though is that it has been made in live-action – it is an animated film at heart but thanks to the miracles of animatronic and CGI technology it was made in live-action. Even five years before such an idea would have been technically impossible.
Babe is a delightful film and succeeds on all levels. The success of a film like this either sinks or swims on the ability of the technical people to make the barnyard animals talk believably. What works so well is that Chris Noonan directs and photographs Babe as though it were a film with actors. The scene where Babe enters the house, navigating furniture and manages to get a ball of twine wound up around the cat is a marvellous piece of suspense and comedy set-up – and all the more so when one suddenly realises that Chris Noonan had to conduct the entire sequence with live, CGI and animatronic animals. (48 different pigs were apparently used to play the part of Babe).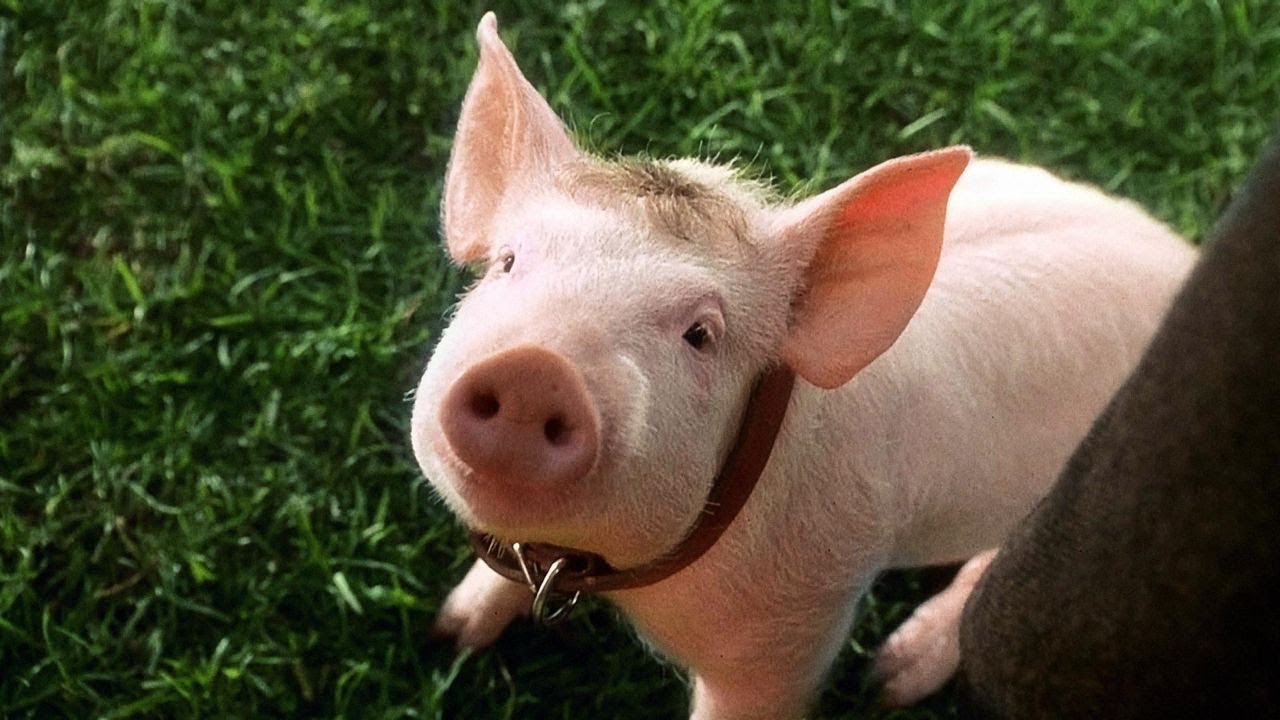 Other scenes are excellent cinema irrespective of their technical marvels – the sequence where Babe rounds the sheep dogs up simply by asking them to is marvellous. The climax where Babe wins at the contest is triumphal – although it is amazing that a film can be so winning with a climax that is not dependant on show-stopping drama and explosions but simply in getting a group of characters to move several feet into an enclosure in a quiet, perfectly ordered manner. Everything about the film is wonderful.
What is striking about Babe – a feature also of Charlotte's Web – is its surprisingly dark undercurrent. Throughout is the ever-present image of the slaughterhouse, while knives and hooks are shot in a sinister underlight. Chris Noonan makes cuts from a duck being served as dinner in the farmhouse to the duck's boyfriend saddened as he looks in through the window. Nothing is more striking than the images of what we know to be slaughter seen through innocent eyes of Babe – the slaughterhouse believed to a happy heaven where Babe's parents have gone to; or the moment that Farmer Hoggett brings out his shotgun: "Farmer Hoggett was carrying something in the crook of his arm. A kind of black, shiny tube. The pig had a vague memory that shiny tubes produced food and guessed that some quite unexpected surprise would come out of the small, round mouths." The contrast of innocence and stark reality in these scenes is shocking. In fact, the images of slaughter are so dark, there are times that Babe could be a film made by ardent vegetarians who are determined to make their point in the most strongly emotive terms possible.
Babe served to bring to attention 55 year-old American actor James Cromwell, who gives a very nice performance as the good-hearted farmer of few words. James Cromwell had been acting in bit parts on tv and films since the 1970s but only came to fame here. Since Babe, Cromwell went onto become a reasonable name (and a fine actor) appearing in everything from The People vs. Larry Flynt (1996) to Star Trek: First Contact (1996), L.A. Confidential (1997), Deep Impact (1998), RKO 21 (1999), Space Cowboys (2000), I, Robot (2004), as Prince Philip in The Queen (2006) and George Bush Sr in W. (2008), among many other works. Reportedly, Babe served to convert James Cromwell to a vegetarian and an activist with the animal rights organisation PETA, he having been arrested in a well-publicized demonstration against the Wendy's fast food franchise.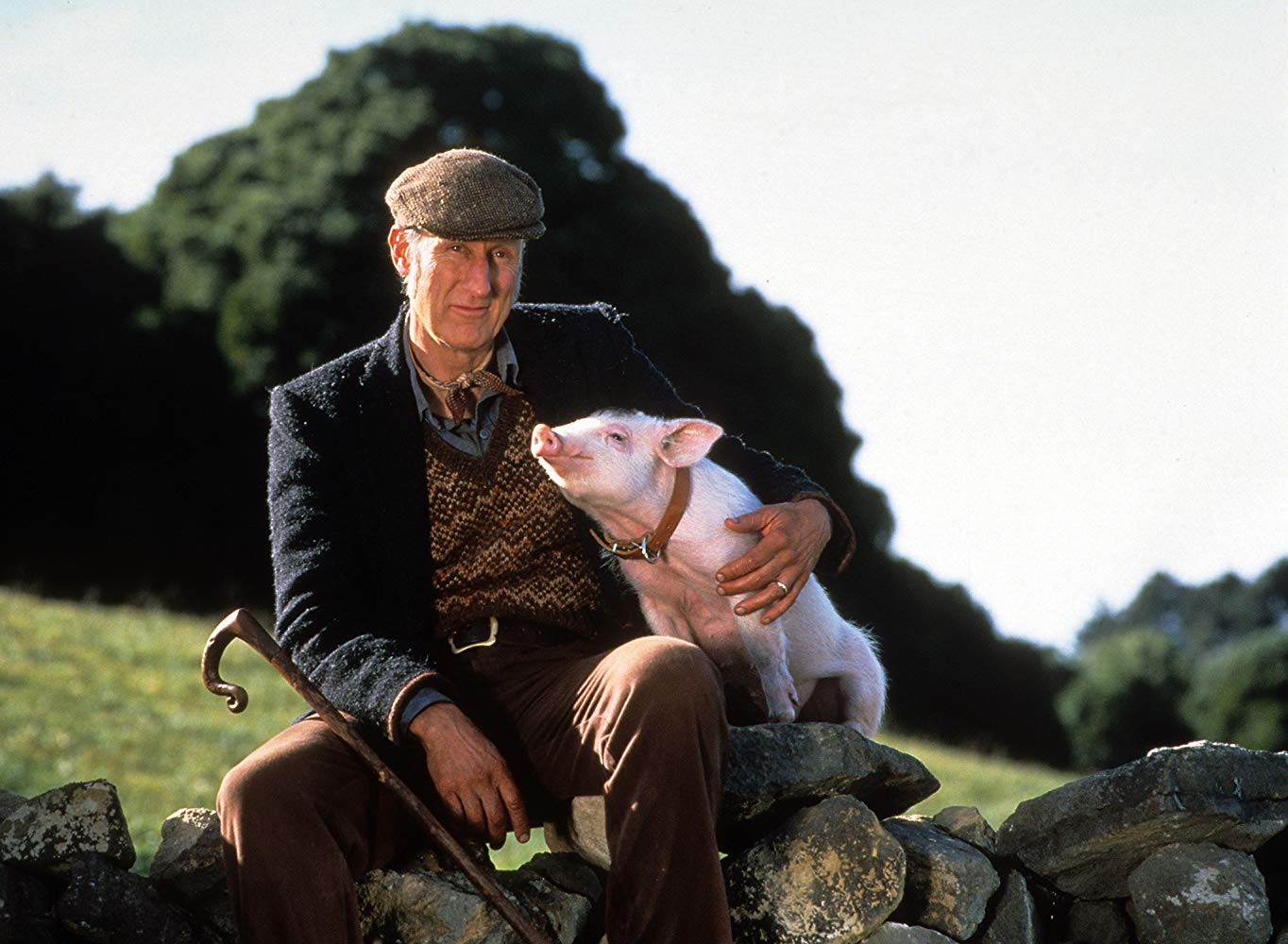 Australian director Chris Noonan was also acclaimed as a major new discovery as a result of Babe. Chris Noonan's only prior directorial work had been with Australian mini-series such as Cowra Breakout (1984), The Riddle of the Stinson (1987), Vietnam (1987) and Police State (1989). The great disappointment is that Chris Noonan failed to capitalize on the success of Babe for more than a decade since it came out and it was not until the Beatrix Potter biopic Miss Potter (2006) that he directed another project.
The other interesting name on the credits is that of George Miller, none other than the director of Mad Max (1979), Mad Max 2 (1981), Mad Max Beyond Thunderdome (1985) and The Witches of Eastwick (1987). Since Eastwick, George Miller vanished into a twilight zone almost as grey as Chris Noonan's career subsequent to Babe. Babe was the biggest success that Miller had in the 1990s, although he later regained his feet as director of another talking animals film, the animated Happy Feet (2006) and a lesser sequel Happy Feet Two (2011), followed by Mad Max: Fury Road (2015) and Three Thousand Years of Longing (2022).
Babe: Pig in the City (1998) was a disappointing sequel where George Miller stepped up to take over the directorial reins.
The success of Babe subsequently saw a large number of other live action talking animals films employing CGI and animatronics with the likes of 101 Dalmatians (1996), MouseHunt (1997), Dr. Dolittle (1998), Stuart Little (1999), Animal Farm (1999), Cats & Dogs (2001), Garfield (2004), Racing Stripes (2005), Charlotte's Web (2006), Alvin and the Chipmunks (2007), Underdog (2007), Beverly Hills Chihuahua (2008), G-Force (2009), Furry Vengeance (2010), Yogi Bear (2010), Hop (2011), Zookeeper (2011), Paddington (2014), The Jungle Book (2016), Christopher Robin (2018), Peter Rabbit (2018), Watership Down (2018), Dumbo (2019), Lady and the Tramp (2019), The Lion King (2019) and Clifford the Big Red Dog (2021).
(Winner in this site's Top 10 Films of 1995 list. Winner for Best Special Effects, Nominee for Best Director (Chris Noonan) and Best Adapted Screenplay at this site's Best of 1995 Awards).
---
---