---
Crew
Director/Based on an Original Idea by Tim Burton, Screenplay – John August, Based on a Screenplay by Leonard Ripps, Producers – Allison Abbate & Tim Burton, Photography (b&w, 3D) – Peter Sorg, Music – Danny Elfman, Puppets Designed and Created by MacKinnon and Saunders, Animation Director – Trey Thomas, Visual Effects Supervisor – Tim Ledbury, Visual Effects – Nvizible (Supervisor – Hugh McDonald), Production Design – Rick Heinrichs. Production Company – Disney.
Voices
Charlie Tahan (Victor Frankenstein), Catherine O'Hara (Mrs Frankenstein/Weird Girl/Gym Teacher), Martin Short (Edward Frankenstein/Mr Burgermeister/Nassor), Martin Landau (Mr Rzykurski), Atticus Shaffer (Edgar 'E' Gore), Winona Ryder (Elsa Van Helsing), Robert Capron (Bob), Conchata Ferrell (Bob's Mom), James Hiroyuki Liao (Toshiaki)
---
Plot
In the town of New Holland, Victor Frankenstein is a weird kid who loves nothing more than his dog Sparky. Victor gets inspired by his science teacher Mr Rzykurski and wants to enter the school science fair. His father instead tries to push Victor to play sports. While trying to play baseball, Victor hits the ball out of the field, only for Sparky to go to fetch it whereupon he is run over and killed. Victor is crushed. He then becomes inspired by a classroom demonstration where Mr Rzykurski revives a frog using electricity. He goes and digs Sparky up from the pet cemetery and successfully revives him using an apparatus in the attic to harness lightning bolts. Despite Victor's efforts to keep Sparky's revival secret, Sparky runs out into the neighbourhood. After this is discovered, Edgar 'E' Gore blackmails Victor into showing him the process and helping revive a dead goldfish. However, Edgar lets the secret out and soon everybody at school is wanting to resurrect creatures.
---
Frankenweenie (1985) was the second film from Tim Burton. At the time, Burton was working as an artist and animator for Disney who commissioned him to make a 30-minute short film and gave him a million dollar budget. Burton paid stylistic homage to the classic Universal Frankenstein films in the story of a young boy who revived his beloved dog from the dead. While this full-length reworking of the short film has been stop-motion animated, the original was made in live-action and starred Barret Oliver as the young Victor with Shelley Duvall and Daniel Stern as his parents. Alas, Disney considered the film too scary for children's audiences and fired Burton. The film was eventually released by Disney, accompanying their flop cute dinosaur film Baby – The Secret of the Lost Legend (1985).
Of course, Tim Burton had the last laugh and Frankenweenie became a springboard to his becoming a feature-film director with Pee-Wee's Big Adventure (1985). Over the next few years, Burton had a string of hits such as Beetlejuice (1988), Batman (1989), Edward Scissorhands (1990), Batman Returns (1992), The Nightmare Before Christmas (1993) and Ed Wood (1994) wherein he stamped out his unique and quirky brand of individuality. All of these seemed to involve a amazing synthesis of on-screen design, music and costuming, and featured characters that were freakish but lovable oddballs who were only outsiders yearning for inclusion. Tim Burton seemed the Great White Hope of fantasy cinema – he was both genre fan and oddball outsider who seemed to touch the inner geek in all of us.
Over the next few years, something then went a little wrong. From the late 1990s on, Brand Tim Burton began to become successively watered down through a successive series of never quite rans and downright flops such as Mars Attacks! (1996), Sleepy Hollow (1999), Planet of the Apes (2001), Big Fish (2003), Charlie and the Chocolate Factory (2005), Sweeney Todd: The Demon Barber of Fleet Street (2007), Alice in Wonderland (2010), Dark Shadows (2012), Big Eyes (2014), Miss Peregrine's Home for Peculiar Children (2016) and Dumbo (2019). Although many of these have their defenders, by the time of Alice in Wonderland even mainstream reviewers were asking "what happened to Tim Burton?" The synthesis of design and music was still there, the quirky oddball characters now usually consisted of Johnny Depp dressing up and doing something weird, but it felt like the essential heart that drove the earlier Tim Burton films was missing. It feels more like Burton now views his films in terms of properties he can stamp his patented look onto and that somewhere amidst this the fun and passion seems to have disappeared from his work.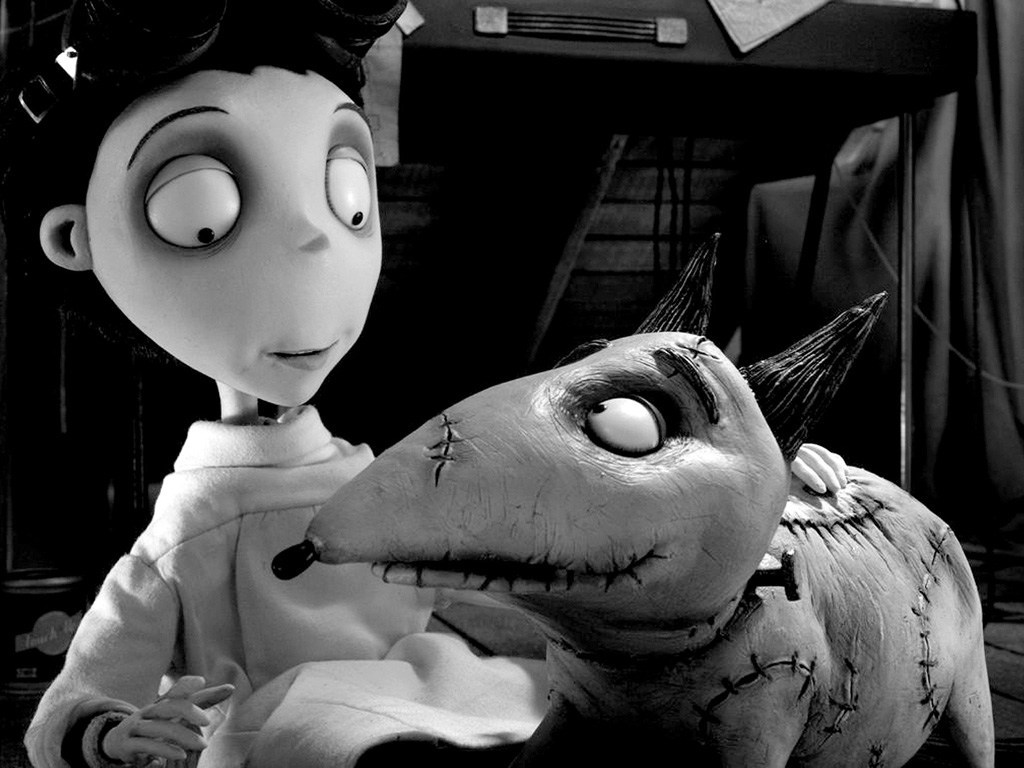 I held out hope for Frankenweenie. It was after all Tim Burton going back to visit his roots as opposed to latching onto someone else's property. Animation and in particular stop-motion is the one area where Burton has tended to do better than in live-action over the last decade-and-a-half – see works he has produced such as The Nightmare Before Christmas, James and the Giant Peach (1996), Corpse Bride (2005), which he co-directed, and 9 (2009). Corpse Bride was Burton's best film of the 2000s and 2010s and Frankenweenie is him solo directing one of these stop-motion animated films for the first time.
You feel like Frankenweenie has a winning concept – a parody of the Boris Karloff Frankenstein (1931) wherein the scientist is a young boy attempting to restore his beloved dog to life. The neighbourhood that Victor lives in is almost identical to the one that Edward visits in Edward Scissorhands – indeed, both Edward Scissorhands and Frankenweenie are essentially Frankenstein films where the protagonist of the piece is replaced by an alienated teenager. There are a great many homages to the classic Universal Frankenstein films and other creature features throughout. One of the neighbouring kids is given misshapen teeth and a hunchback to become the equivalent of Ygor and the action is contrived to take place at the equivalent of the windmill in the 1931 film. After an electric shock, the neighbouring poodle gets a Queen Nefertiti hairdo and comes out resembling Elsa Lancaster as Bride of Frankenstein (1935). The Martin Landau-voiced Mr Rzykurski is clearly intended to resemble Vincent Price – Tim Burton's hero and the subject of one of his earlier stop-motion animated shorts Vincent (1982). The mock home movie that opens the film parodies Rodan the Flying Monster (1956). The sole live-action scene in the film is a clip of Christopher Lee in Dracula/The Horror of Dracula (1958).
There is a considerable cuteness to the concept – just in watching Sparky drinking water and it leaking out of his stitches; running around, swallowing a fly and it flying out from a tear in his sewn skin a few moments later; its tail falling off and Victor's casual reply "I can fix that." Unfortunately – and this is the great unfortunately that kills Frankenweenie – is that it would appear that the premise of a teenage Frankenstein reviving his dog is all that the film has. Having played this out and found surprisingly little to do with it, Tim Burton and regular screenwriter John August seem at a loss of what to do.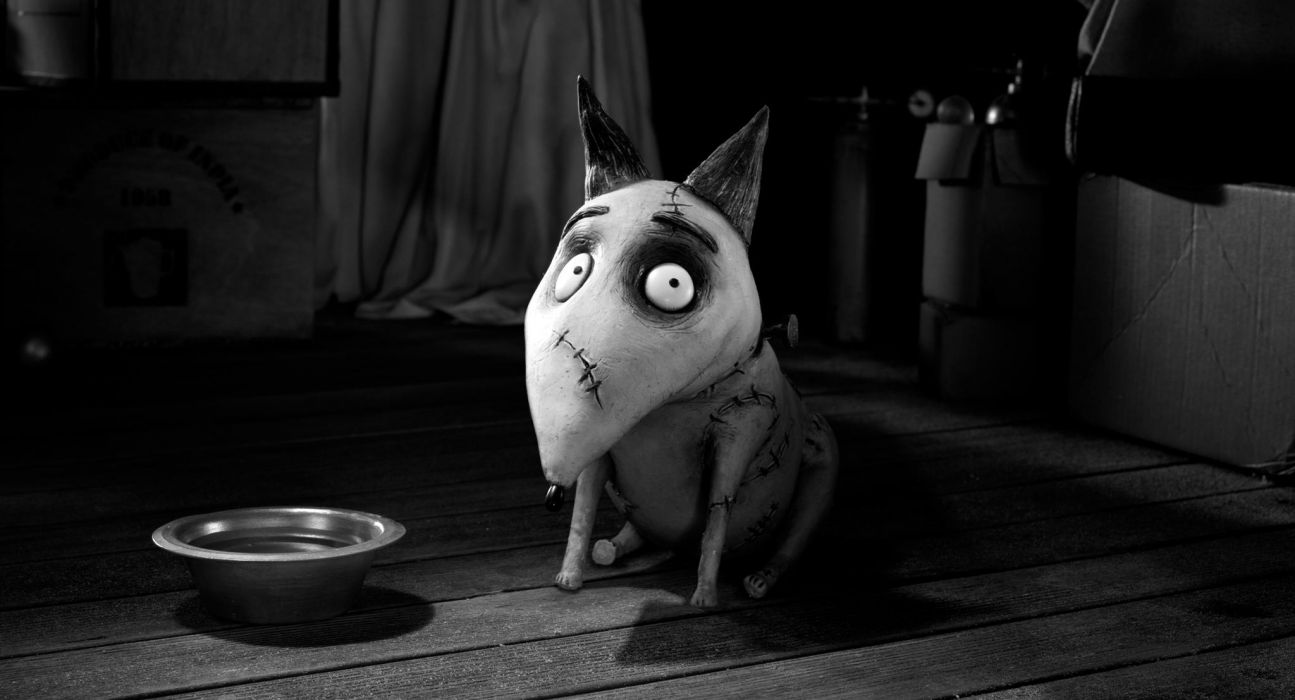 From about the point of the introduction of the invisible goldfish, Frankenweenie heads on a downhill path. The cuteness of the concept is forgotten and the film becomes something else altogether – one where every other kid at the school suddenly wants to resurrect a pet of some type. The extended climax of the film involves several of these electrically enervated pets going amok. These scenes seem there largely in order for Burton to indulge his love of classic horror movies – a revived turtle becomes giant-sized and goes amok, paying homage to the Godzilla films and especially the sequel-spinning Godzilla copy Gammera the Invincible (1965); a cat is resurrected and fused with a bat to become a vampire-like creature at the climax; while a horde of monster sea monkeys pay homage to Gremlins (1984) – even their attack on Victor's parents as they huddle in a phone booth is a nod to Alfred Hitchcock's The Birds (1963).
Alas, this also means the cuteness of Frankenweenie's concept goes out the window. You feel that the idea of additional monsters was one that was thrown around in a pitch session, Burton became excited about it and the script was duly rewritten to accommodate these homages, even when it distorts the film away from its original intent. Noticeably, the original 1982 Frankenweenie had no scenes with the other kids creating monsters, nor an Ygor character. You feel that Frankenweenie is an idea that worked perfectly at 30-minute length but topples over when extruded to an entire film. It is a film that should have done a whole lot more than it does with its parody and the possibilities of an undead dog.
Certainly, the artistry in Frankenweenie is seamless. The stylised production design and animation is near perfect. It is a flawless materialisation of the askew, elongated big eye figures that Burton favours in works like Beetlejuice, The Nightmare Before Christmas and Corpse Bride. On a technical and artistic level, the film cannot be faulted. However, the sophistication of the form also ironically presents a problem. The stop-motion animation process has now become so refined and massaged with so much in the way of visual effects that it is almost impossible to tell a stop-motion animated work like Frankenweenie or Coraline (2009) apart from a standard CGI animated work. With some of Aardman's more recent works like Flushed Away (2006), Arthur Christmas (2011) and The Pirates! Band of Misfits (2012), the lines between hand and CGI-drawn animation and stop-motion animation have been so blurred that you cannot tell which is which without looking at the credits.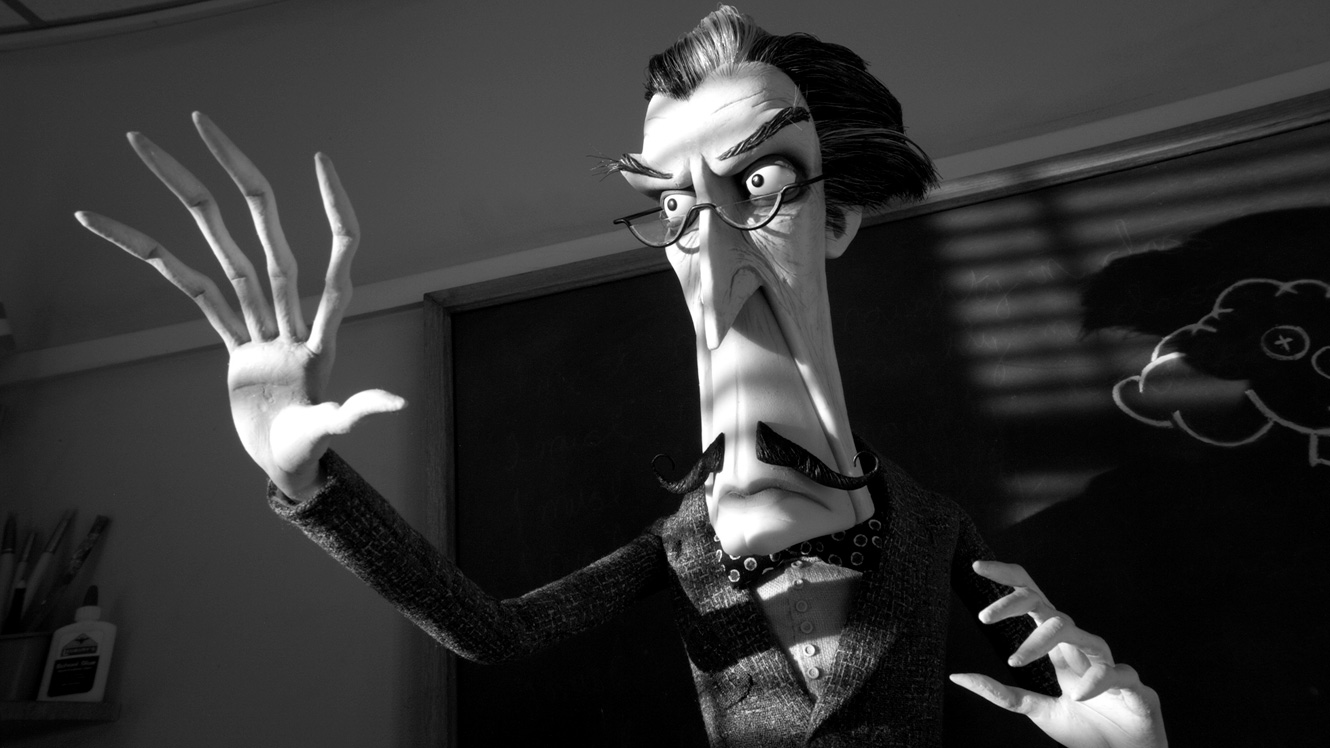 You cannot help but feel that when stop-motion animation and puppetry has become indistinguishable from hand and computer-drawn animation that the form (which is notoriously expensive and labour intensive) has created a redundancy for itself. Indeed, you wonder if anybody in the predominant kid's audience that Frankenweenie was pitched to would know the difference. If that is the case, then that surely gives us the example of a film that has been made more to indulge its creators' love of a particular form.
Tim Burton's other films of genre interest include the kitsch Pee-Wee's Big Adventure (1985); the bizarre ghost story Beetlejuice (1988); Batman (1989); the genteel artificial boy fairy-tale Edward Scissorhands (1990); Batman Returns (1992); Ed Wood (1994), a biopic of the world's worst director; the alien invasion comedy Mars Attacks! (1996); the ghost story Sleepy Hollow (1999); the remake of Planet of the Apes (2001); Big Fish (2003) about an habitual teller of tall tales; Charlie and the Chocolate Factory (2005); the stop-motion animated Gothic Corpse Bride (2005); the horror musical Sweeney Todd: The Demon Barber of Fleet Street (2007); Alice in Wonderland (2010); the film remake of the tv series Dark Shadows (2012); Miss Peregrine's Home for Peculiar Children (2016); and the live-action remake of Dumbo (2019). Burton also produced Henry Selick's darkly brilliant stop-motion animated fantasies The Nightmare Before Christmas (1993) and James and the Giant Peach (1996); as well as the live-action conte cruel Cabin Boy (1994), Batman Forever (1995), the animated 9 (2009), Abraham Lincoln, Vampire Hunter (2012) and Alice Through the Looking Glass (2016). The Death of "Superman Lives": What Happened? (2015) is a fascinating documentary about Burton's failed Superman Lives project.
(Nominee for Best Production Design at this site's Best of 2012 Awards).
---
Trailer here
Tim Burton's original Frankenweenie short available online here (along with the Vincent short):-
---