---
Crew
Director – Tim Burton, Screenplay – Daniel Waters, Story – Daniel Waters & Sam Hamm, Producers – Tim Burton & Denise Di Novi, Photography – Stefan Czapsky, Music – Danny Elfman, Visual Effects – Boss Film Studios (Supervisor – Michael Fink) & 4-Ward Productions (Supervisors – Elaine Edford & Robert Skotak), Miniature Effects – Stetson Visual Services Inc (Supervisors – Robert Spurlock & Mark Stetson), Special Effects Supervisor – Chuck Gaspar, Makeup Effects – Stan Winston, Production Design – Bo Welch. Production Company – Warner Brothers.
Cast
Michael Keaton (Batman/Bruce Wayne), Michelle Pfeiffer (The Cat Woman/Selena Kyle), Danny DeVito (The Penguin/Oswald Cobblepot), Christopher Walken (Max Schreck), Michael Gough (Alfred), Michael Murphy (Mayor), Pat Hingle (Commissioner Gordon), Vincent Schiavelli (Organ Grinder)
---
Plot
As Christmas comes to Gotham City, Batman faces two new villains. Mousy secretary Selena Kyle is pushed out of a window to her death after she finds incriminating information that her boss Max Schreck is planning to defraud the city with his new power plant scheme. Surviving, she rediscovers herself in a double identity as the masked, leather-clad Cat Woman. Unsure which side she is on, Batman finds himself attracted to her. Meanwhile, Oswald Cobblepot, thrown into the sewers as a child by parents that were horrified because he was born with flippers for hands, now emerges a twisted genius known as The Penguin. There he begins a calculated campaign to play upon public sympathy toward his deformity in a bid to become the Mayor of Gotham.
---
After the massive runaway success of Tim Burton's dark and beautifully Gothic Batman (1989), Burton was persuaded back to franchise to expand his vision in this sequel. Batman Returns is one of the rare occasions when a sequel succeeds in measuring up to, if not (arguably) surpassing, its predecessor.
With the new characters introduced, Tim Burton delves even deeper into the dark comic-book psychology established in the first film. Cat Woman has always been the most interestingly ambiguous of villains in the Batman canon because she was divided between wrongdoer and sexual attraction. (Indeed, she is the only thing approaching sexuality to ever enter into the strictly bachelor world of Batman and the decidedly dubious relationship with Robin in the classic DC comics). The film weaves her character into an even more complex meditation upon the first film's use of psychological masks and alter egos.
The psychology may not always ring the most believable – Selena goes from a mousy secretary to an acrobat and a master whip wielder in about two days – but Daniel Waters' script makes the Batman/Catwoman relationship into a joyously jousting battle/attraction of mutual insecurities (not to mention a goldmine of eminently quotable one-liners). The film culminates in the remarkably haunting epiphany where Batman unmasks himself to her and pleads, "We both have a split down the middle. Come with me," to which she responds, "I'd like to come and live in the fairy-tale house on the hill but I couldn't live with myself."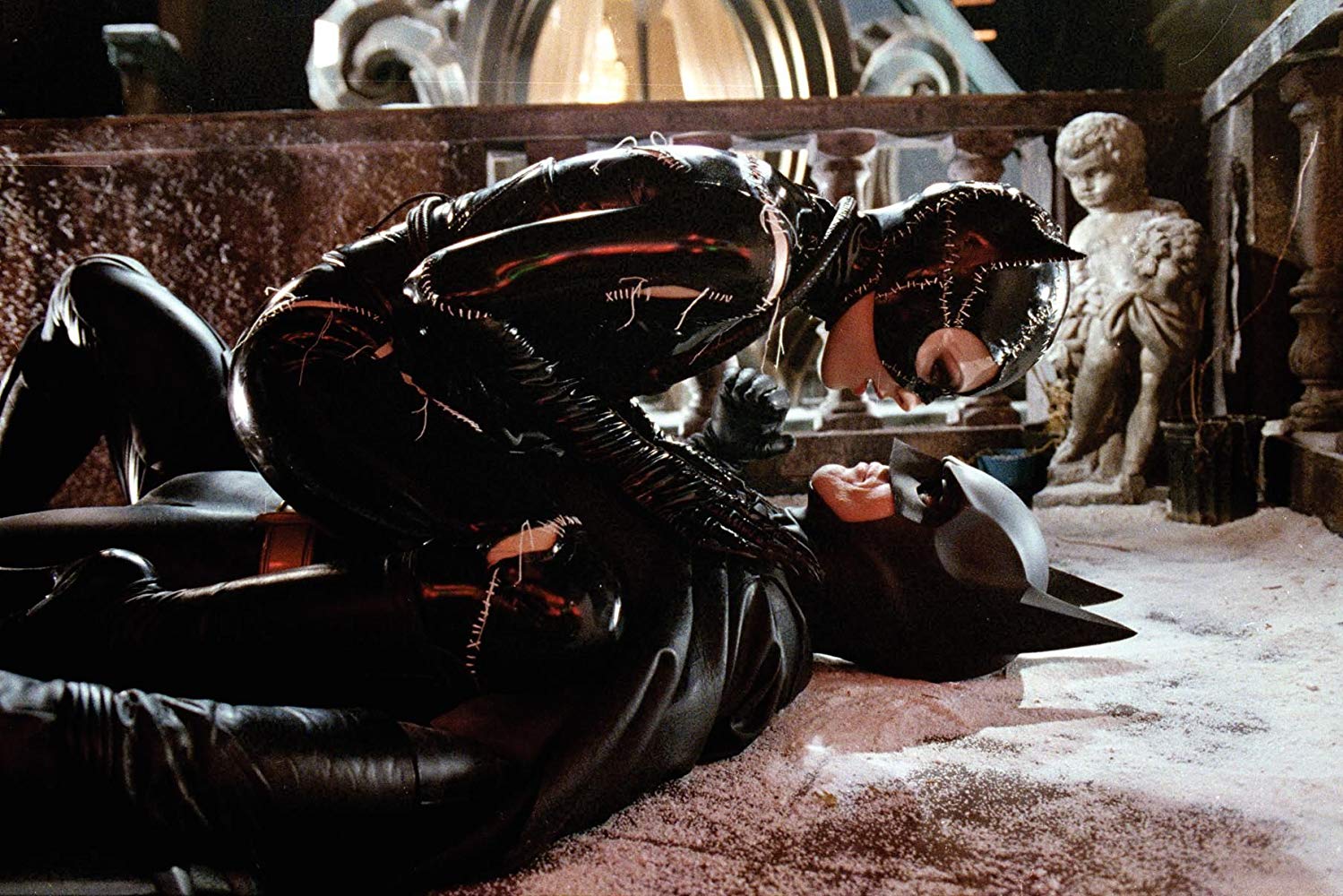 Michelle Pfeiffer, who can be a bland and distant actress for all her superstar status, has an absolute ball with the part. She lets all stops out in what threatens to be an amazingly broad performance but instead delivers something that comes extraordinarily well balanced between jagged psychosis, playful kittenishness and PVC fetishism. Danny De Vito, unrecognisable behind the makeup and padding, has an equal ball with the part of The Penguin, introducing a real venomousness and obscene randiness into the part that the comic-book never had. For De Vito, usually cast as over-the-top villains with rottweiler personalities in films like Ruthless People (1986) and Other People's Money (1991), this may well be the best thing he has done. Indeed, the villains are so much the stars of the show – it takes nearly half the film to set their stories up – that the character of Batman almost gets sidelined.
With the Christmas setting, Batman Returns is almost a Dickensian fantasy – in this fantasy, people are cast into one or either extreme – the very rich or the down-and-out. The contrast between Batman and Cat Woman becomes an amusing play on class war. She comes with a working class background – the film making amusing and deliberate parallels between he smoothly changing in the Batcave and she fumbling to get into costume in her beat-up VW. This version of Cat Woman may be the only comic book character we have seen in a film actually sewing their own costume, as opposed to Batman's question about how he will repair the Batmobile, something that the film pointedly never deigns to answer.
The mood of the film is seamless. The design team create an extraordinary fairy-tale metropolis, filled with cathedral-like sewer systems, Gothic mansions, city roofs where crowded black cross-girders stitch together over a navy blue skyline and a zoo filled with statues of black metallic crustaceans, all in a singular colouration of black metal dusted with perpetual white snow. There is another moody and magnificent score where Danny Elfman obtains great mileage out of the darkly thematic use of Christmas carols.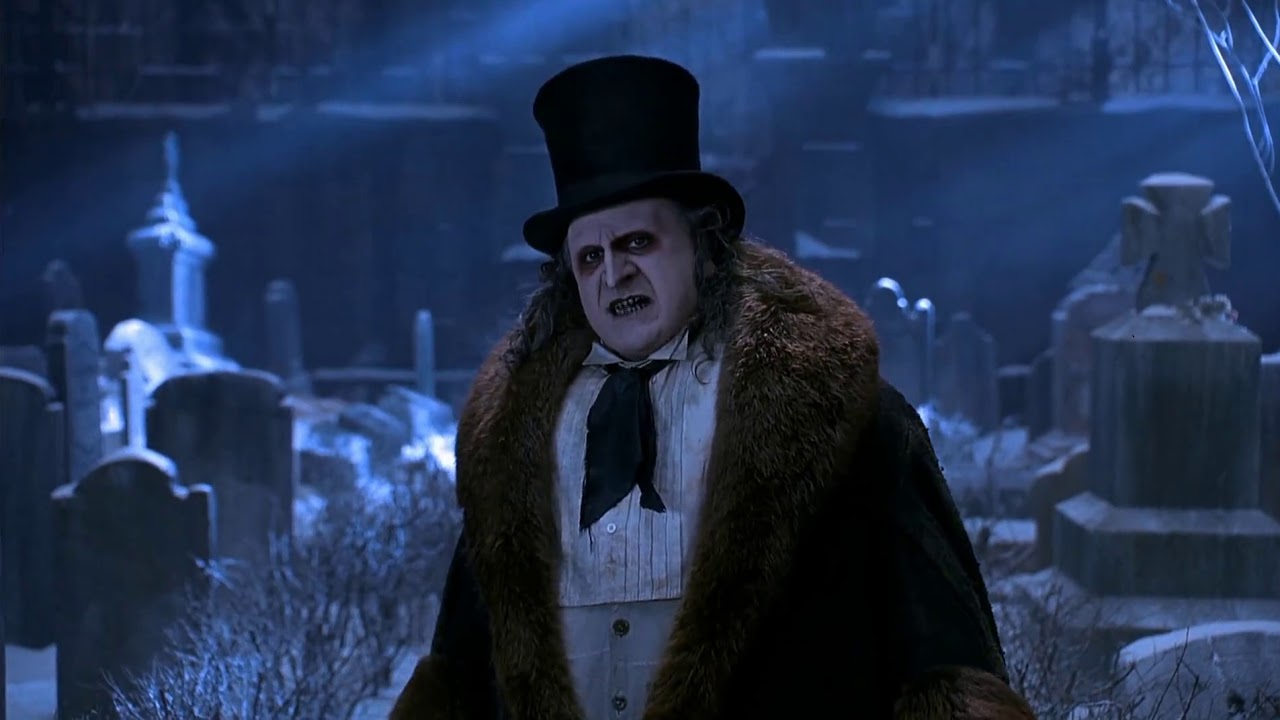 Disappointingly, Tim Burton departed the Batman series following this. Batman Returns was the last worthwhile entry in the modern Batman series (discounting the excellent 1992-4 animated tv series) before Joel Schumacher inherited the reins with Batman Forever (1995) and the infantile Batman & Robin (1997) and turned the films into a $70 million version of the 1960s tv series. It took more than a decade for the series to recover again with Christopher Nolan's Batman Begins (2005) and sequels. (See below for the other Batman films and tv series).
Tim Burton's other films of genre interest include the kitsch Pee-Wee's Big Adventure (1985); the bizarre ghost story Beetlejuice (1988); the genteel artificial boy fairy-tale Edward Scissorhands (1990); Ed Wood (1994), a biopic of the world's worst director; the alien invasion comedy Mars Attacks! (1996); the ghost story Sleepy Hollow (1999); the remake of Planet of the Apes (2001); Big Fish (2003) about an habitual teller of tall tales; Charlie and the Chocolate Factory (2005); the stop-motion animated Gothic Corpse Bride (2005); the horror musical Sweeney Todd: The Demon Barber of Fleet Street (2007); Alice in Wonderland (2010); the film remake of the tv series Dark Shadows (2012) the stop-motion animated Frankenweenie (2012); Miss Peregrine's Home for Peculiar Children (2016); and the live-action remake of Dumbo (2019). Burton also produced Henry Selick's darkly brilliant stop-motion animated fantasies The Nightmare Before Christmas (1993) and James and the Giant Peach (1996); as well as the live-action conte cruel Cabin Boy (1994), the animated 9 (2009), Abraham Lincoln, Vampire Hunter (2012) and Alice Through the Looking Glass (2016). The Death of "Superman Lives": What Happened? (2015) is a fascinating documentary about Burton's failed Superman Lives project.
Other Batman appearances on screen are:-
Batman (1943) and Batman and Robin (1949), two fifteen-chapter serials from Columbia where Batman was played by Lewis Wilson and Robert Lowery and Robin by Douglas Croft and John Duncan
the campy tv series

Batman

(1966-8) starring Adam West and Burt Ward as Batman and Robin, which produced one film spin-off with Batman (1966)
the animated tv series

The New Adventures of Batman

(1977-8)
the animated series

Batman

(1992-4) inspired by the Tim Burton films and its follow-up

The New Batman Adventures

(1997-9), which spawned several film spin-offs with Batman: Mask of the Phantasm (1993), Batman and Mr Freeze: SubZero (1998), The Batman Superman Movie: World's Finest (1998) and Batman: Mystery of the Batwoman (2003). There was also

Batman Beyond/Batman of the Future

(1999-2001), the futuristic follow-up series from the same creative team featuring an aging Bruce Wayne and his young apprentice, which also spun off one animated film Batman Beyond: Return of the Joker (2000) and another animated tv series

Static Shock

(2000-4), which featured several appearances from Batman. Batman also appears in the same team's

Justice League/Justice League Unlimited

(2001-5)
Christopher Nolan's revival of the franchise with Batman Begins (2005), The Dark Knight (2008) and The Dark Knight Rises (2012) starring Christian Bale
the DC Universe Original Animated Movies Superman/Batman: Public Enemies (2009), Batman: Under the Red Hood (2010),

Superman/Batman: Apocalypse

(2010), Batman: Year One (2011), Batman: The Dark Knight Returns Part I (2012), Batman: The Dark Knight Returns Part II (2013), Batman: Assault on Arkham (2014), Son of Batman (2014), Batman vs. Robin (2015), Batman: Bad Blood (2016), Batman: The Killing Joke (2016), Batman and Harley Quinn (2017), Batman: Gotham By Gaslight (2018), Batman: Hush (2019) and

Batman: Soul of the Dragon

(2021), as well as Batman: Gotham Knight (2008), a compilation of anime Batman shorts. Batman also appears in the DC Original Animated Movies Justice League: The New Frontier (2008), Justice League: Crisis on Two Earths (2010), Justice League: Doom (2012), Justice League: The Flashpoint Paradox (2013), Justice League: War (2014), Justice League: Throne of Atlantis (2015), Justice League: Gods and Monsters (2015), Justice League vs Teen Titans (2016), Justice League Dark (2017), The Death of Superman (2018), Justice League Dark: Apokolips War (2020) and Superman: Red Son (2020)
the animated series

The Batman

(2004-8), which badly revised the basics of the series and was also spun off into a film with The Batman vs. Dracula (2005)
two further animated series

Batman: The Brave and the Bold

(2008-11), which placed Batman alongside other DC superheroes and had one crossover film spinoff with

Scooby-Doo! & Batman: The Brave and the Bold

(2018), and

Beware the Batman

(2013-4)
the live-action tv series

Gotham

(2014-9), which tells the origin stories of the familiar characters and villains as Bruce Wayne (David Mazouz) grows up
Batman turns up as an animated character in The Lego Movie (2014) and The Lego Movie 2 (2019) voiced by Will Arnett and gets a whole film to himself in The Lego Batman Movie (2017)
the animated films

Batman Unlimited: Animal Instincts

(2015),

Batman Unlimited: Monster Mayhem

(2015) and

Batman Unlimited: Mechs vs Mutants

(2016) spun off from a line of action figures
Batman V Superman: Dawn of Justice (2016) with Ben Affleck who went on to appear as Batman in Suicide Squad (2016), featuring a team-up of DC villains including The Joker and Harley Quinn, and Justice League (2017)
the animated Batman: Return of the Caped Crusaders (2016) and Batman vs. Two-Face (2017) featuring a return of Adam West and Burt Ward
the anime film Batman Ninja (2018)
the animated crossover Batman vs Teenage Mutant Ninja Turtles (2019)
Batman also makes appearances in the line-up of superheroes in various other DC-related animated series such as

SuperFriends

(1973-7) and

The All New SuperFriends Hour

(1977-9)
Other spin-offs include:- the short-lived live-action tv series

Birds of Prey

(2002-3), featuring the women of Batman – a paraplegic Batgirl, Cat Woman's daughter and Harley Quinn and the film Birds of Prey and the Fantabulous Emancipation of One Harley Quinn (2020), starring Margot Robbie's Harley Quinn
the Halle Berry starring Catwoman (2004)
The Joker origin story with Joker (2019) starring Joaquin Phoenix
Robin appears as a member of

Young Justice

(2010-3), the animated tv series

Teen Titans

(2003-6), which had one film spinoff with

Teen Titans: Trouble in Tokyo

(2006); the animated tv series

Teen Titans Go!

(2013– ), which had two film spinoffs with Teen Titans Go! To the Movies (2018) and

Teen Titans Go! vs Teen Titans

(2019); and as Nightwing (Brenton Thwaites) in the live-action tv series

Titans

(2018– )

Pennyworth

(2019- ), a tv series concerning Alfred (Jack Bannon)'s early years

Batwoman

(2019- ), a tv series starring Ruby Rose
The Batman-Robin relationship is also excrutiatingly spoofed in the

Superhero Speed Dating

segment of Movie 43 (2013)
Also of interest is Batman & Bill (2017), a documentary about the unacknowledged co-creator of Batman, Bill Finger.
---
---