aka Biggles: Adventures in Time
---
UK/US. 1986.
Crew
Director – John Hough, Screenplay – John Groves & Kent Walwin, Based on Characters Created by Captain W.E. Johns, Producers – Pom Oliver & Kent Walwin, Photography – Ernest Vincze, Music – Stanislas, Special Effects – David Harris, Production Design – Terry Pritchard. Production Company – Compact Yellowbill/Tambarle/Heath Financial Services.
Cast
Alex Hyde-White (Jim Ferguson), Neil Dickson (Captain James 'Biggles' Bigglesworth), Peter Cushing (Colonel Raymond), Fiona Hutchison (Debbie Stevens), James Saxon (Bertie), Daniel Flynn (Ginger), Michael Silberry (Algy), Marcus Gilbert (Eric von Stalhein), William Hootkins (Chuck), Francesca Gonshaw (Marie)
---
Plot
Advertising executive Jim Ferguson suddenly finds himself being tossed back and forward in time between present-day New York and the battlefields of World War I. In London, Jim learns that he is the time twin of flying ace Captain James Bigglesworth, 'Biggles' to his friends. Unpredictably flung back and forward between eras, Jim comes to the aid of Biggles and his friends as they face a deadly new German sonic weapon.
---
Biggles is the quintessential Boys Own hero. The creation of William Earl Johns who signed all his works as Captain W.E. Johns, Biggles appeared in 96 books beginning in 1932 and ending with Johns's death in 1968. Johns was a real Wartime flying ace himself, having been shot down in 1918 and captured as a POW by the Germans and sentenced to death, something that was only prevented by the German surrender. Johns based Biggles on his and his friends Wartime anecdotes and adventures. Biggles' exploits soon caught on with young male readers everywhere (indeed were a fondly-remembered part of this author's youth). Johns took Biggles and chums through both World Wars and then into civilian life as part of a special Scotland Yard flying squad, while taking their adventures to every imaginable corner of the globe including Australia and Norway, the Gobi desert, Tibet, China, the Baltic and various parts of Africa.
Unfortunately, the media life of Biggles has been a rocky one. There was an anaemic and little seen tv incarnation in 1960 starring Neville Whiting as Biggles, which did last for 44 30-minute serialised episodes, and his troubled motion picture career underwent the unforgivable sin of having him at one point to be played by Dudley Moore. The results finally reached here are an ignoble fate for dear old Biggles' eventual cinematic incarnation.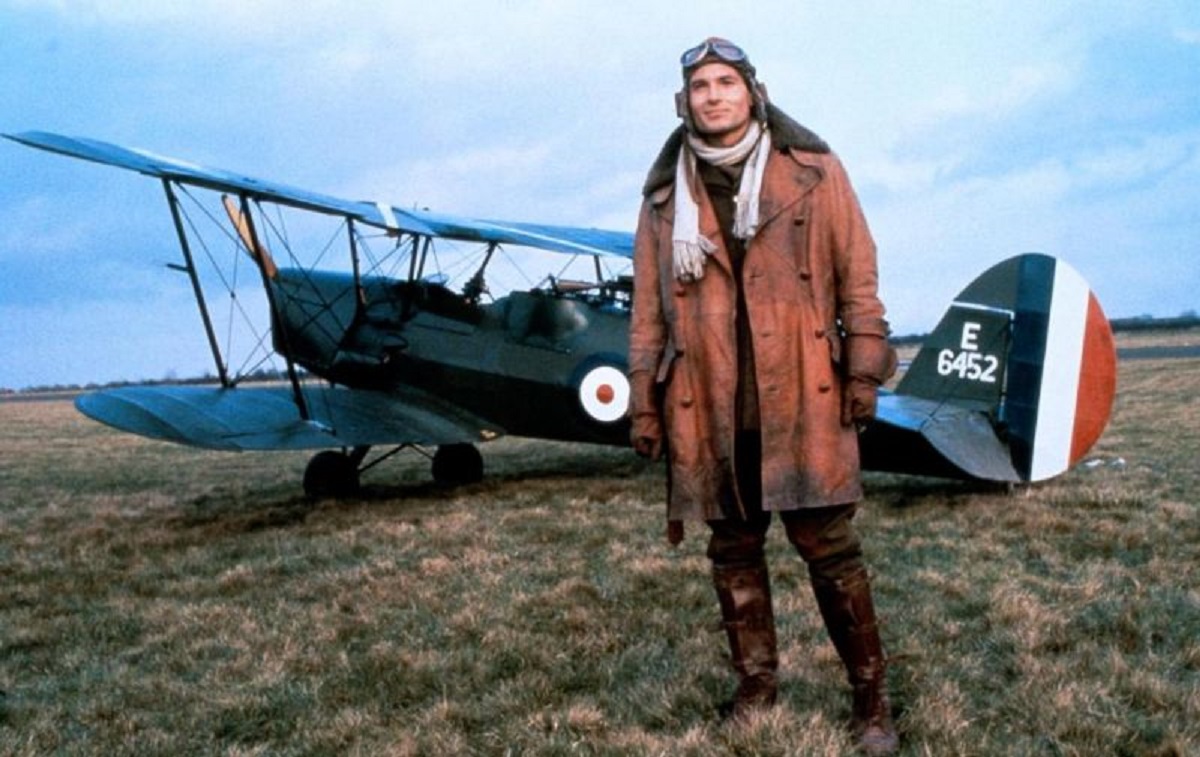 The Biggles film had the unfortunate happenstance to be mounted when it did, just after the immense success of Back to the Future (1985), whereupon Biggles was awkwardly jostled into a copycat teen time-travel drama. Now Biggles suffers the ignominy of being cast as second banana to a colourless American teen hero and thrown into a bland time-hopping plot, all justified with some nonsense about 'time twins'. It is a far cry from the fearsome derring-do of even Johns's weaker Biggles books. (Although, Captain W.E. Johns did write several science-fiction books, there are no fantastic elements in the Biggles series).
Nevertheless, the film gets the sense of 'pip, pip, tally ho' characterisation spot on. Neil Dickson makes a wonderfully dashing Biggles (although some purists may argue with the idea of a Biggles with a lisp) and Michael Silberry, James Saxon and Daniel Flynn add capable support as his constant sidekicks Ginger, Algy and Bertie.
There are the odd lapses of credibility – like Biggles learning to stunt-fly a helicopter in about five minutes flat and the dreadfully maudlin hint of Christian resurrection that comes in Francesca Gonshaw's seeming return from the dead at the end, but Biggles is a likeable film on its own terms. Another big plus is the operatic rock score. One also gets to see Peter Cushing in his final screen performance before his retirement and subsequent death in 1994.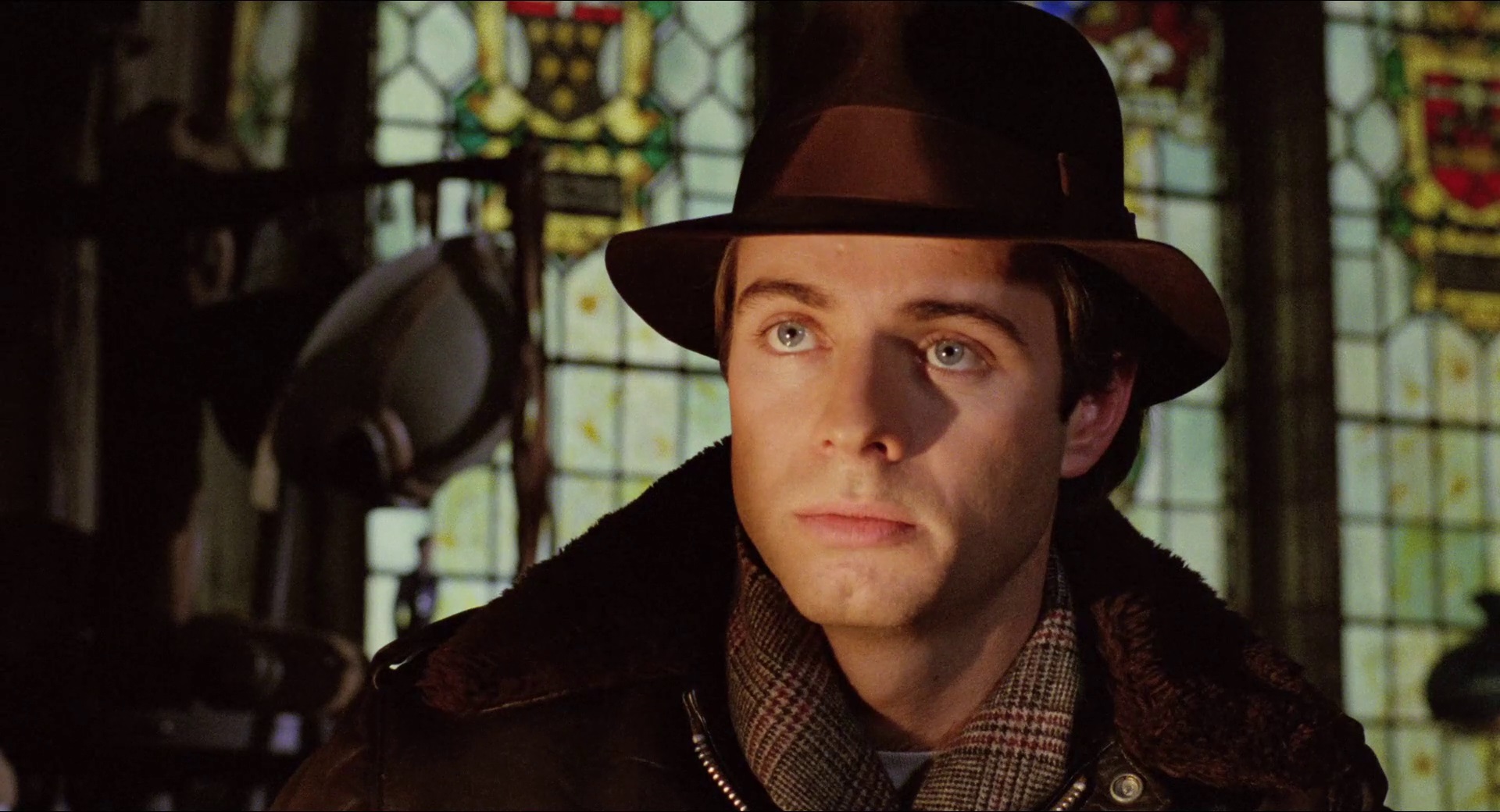 The film's small successes in characterisation aside, the results in terms of a screen incarnation of Biggles are sad. Even as sf/fantasy, Biggles is not adequate, being undone by the insistence of undercutting the action with inane comic appeal. William Hootkins, seemingly trying to imitate John Candy, gives an awful performance here. The film was shot on what is clearly only a B+ budget, which leaves the action seeming cramped.
One cannot help but think that if the film had been made even two years earlier than it was it would have been a much better film. There it would have been mounted as an attempt to cash in on Raiders of the Lost Ark (1981) and the fad for period adventure, which would have been a perfect milieu in which to conduct a Biggles film.
Director John Hough's other films are:- Twins of Evil (1971), the haunted house film The Legend of Hell House (1973), the Disney films Escape to Witch Mountain (1975) and Return from Witch Mountain (1978) about psi-powered alien kids, the Disney ghost story The Watcher in the Woods (1980), Incubus (1982) about a demonic rapist, American Gothic (1987) about a family of psychos, Howling IV: The Original Nightmare (1988) and Bad Karma/Hell's Gate (2002).
---
---