---
Crew
Director – Gille Klabin, Screenplay – Carl W. Lucas, Producers – Joshua Bunting, Gille Klabin, Carl W. Lucas & Monte Young, Photography – Aaron Grasso, Music – Eldad Guetta, Visual Effects Supervisor – Patrick Lawler, Special Effects Supervisor – Eric Thelander, Production Design – Stephanie Reese. Production Company – Epic Pictures/Echo Wolf Productions.
Cast
Justin Long (Frank), Donald Faison (Jeff), Sheila Vand (Theresa), Katia Winter (Natalie), Ronnie Gene Blevins (Richie), Bill Sage (Jonas), Sarah Minnich (Cheryl), John Kistian Moore (Bum), Tommy Flanagan (Aeolius), Eric Dean (Taxi Driver), Debbi Kierst (Helen), Jacob Browne (Lamont)
---
Plot
Insurance executive Frank is happy that he has just wrapped up a case and found a loophole that avoids the company having to make a big pay out. His co-worker and best friend Jeff wants to go out to celebrate but Frank chooses to go home to his wife Cheryl. However, when they end up arguing over trivia, Frank sneaks off to join Jeff. He and Jeff head to a dive bar and meet two girls Theresa and Natalie. Jeff introduces Frank to Aeolius who can hook them up with drugs. Aeolius persuades Frank to take a drug that he and Theresa must share on their tongues in a kiss. The next morning, Frank wakes up in the home of someone he doesn't know with his wallet missing. He stumbles through the day where he must make a big presentation about the case but finds himself hallucinating and moving back and forward in time. He also realises that Theresa is missing. Cheryl is making threats about leaving him after finding he was with another woman and that someone has emptied all the money from their savings. Jeff and Natalie drag a hallucinating Frank on a search for Theresa, which takes them into dangerous territory where they are hunted and shot at by drug dealers. In the midst of this, Frank realises that the universe is trying to tell him something.
---
The Wave was a directorial debut for Gille Klabin who had made a number of short films prior to this. The Wave played some film festival dates and was even given a brief theatrical release in the US in January 2020 before appearing on streaming media.
For much of the way through The Wave, I didn't know if it was a film I was going to end up reviewing here. We've had the drug trip film before ever since the 1960s LSD film and Roger Corman offerings like The Trip (1967) to more recent iterations such as Altered States (1980), Fear and Loathing in Las Vegas (1998), Toad Road (2012), The Congress (2013), even Limitless (2011) about the joys of how being coked out of your mind can leave you believing you can conquer the world. (For greater detail see Films About Drug Hallucinations). The film that The Wave comes the closest to is Synchronic (2019), which was released only two weeks earlier, in which Anthony Mackie discovers a drug that can cause him to travel through time.
Much of The Wave feels like a variant on Martin Scorsese's After Hours (1985) in which an average guy steps out his comfort zone and is propelled into an increasingly crazy world where he is running from one bizarre situation to the next. We have had stoner variants on this with films like Dude, Where's My Car? (2000) and the Harold and Kumar films, although The Wave lacks the vein of comedy that runs through all of these.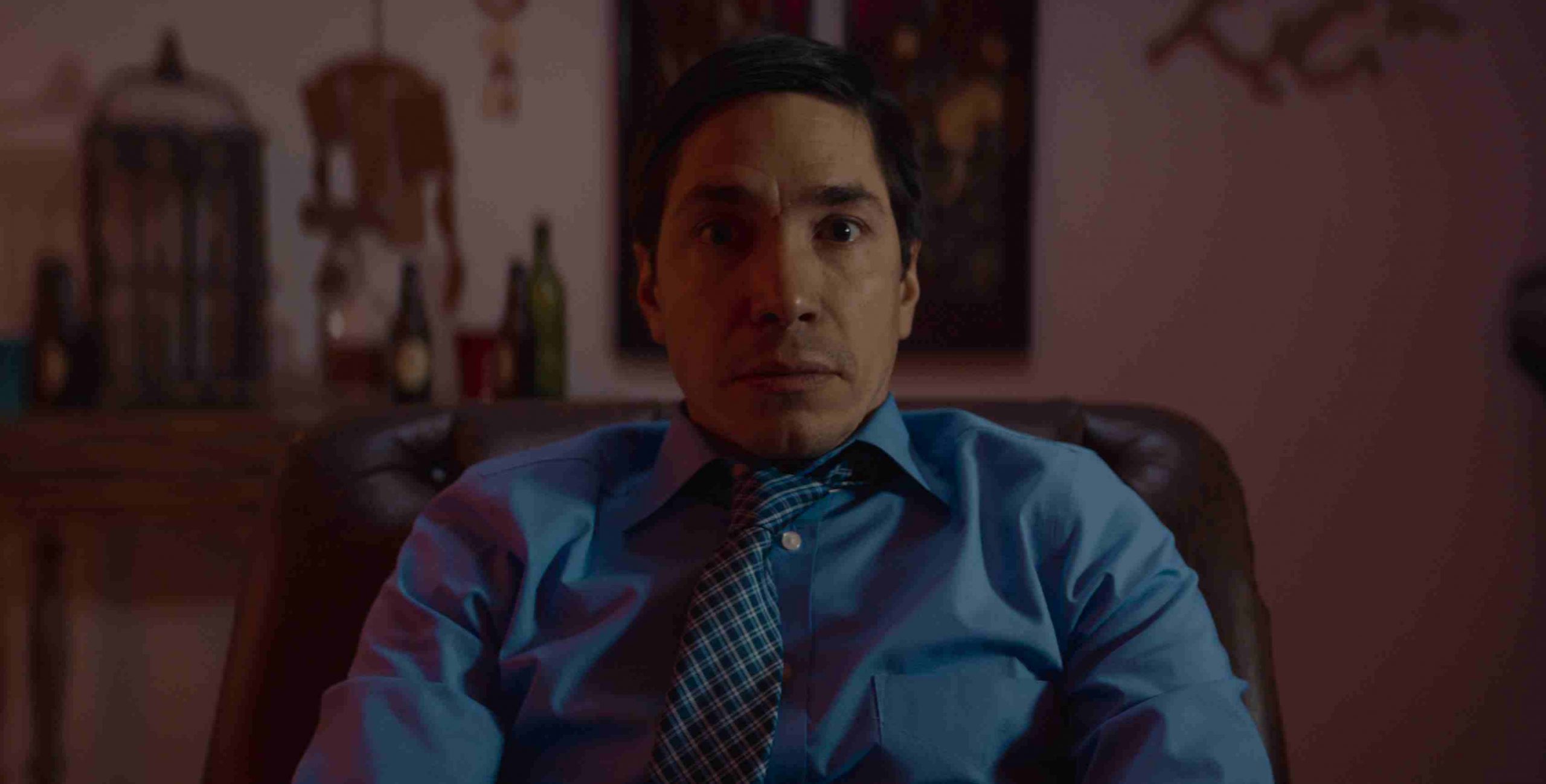 There also comes a fantastic element, although you are not sure for much of the show whether this is part of the hallucinations or not. In one of the stranger scenes, Justin Long is at the conference table making his big presentation when in the background we see a janitor fall from a ladder as he tries to replace a clock on the wall – something that takes place in slow-motion unnoticed by any of the others who continue their discussions as though normal. Later we discover that Justin Long has an actual ability to move through time – sort of flipping between days like Sandra Bullock in Premonition (2007) – and peculiarly that the universe is trying to give him a message. We later find that this is a never-explained ability to physically travel back in time and affect the outcome of events.
The Wave digs into some dark places – especially the scenes with the group being shot at and threatened by drug dealer Ronnie Gene Blevins. It is edgy – it's clearly a film made by people who have spent some time around drug culture. And yet for all that it is in the end a surprisingly traditional film. The film's end message is about Justin Long waking up from his dead end materialistic life and listening to what the universe wants to tell him.
The great disappointment of the ending [PLOT SPOILERS] is that what we have only turns out to be another variant on the deathdream ending wherein a series of puzzling events are rationalised as being experienced by the protagonist who was dead all along – see An Occurrence at Owl Creek Bridge (1961) or Deathdream Endings for further detail. For a film that dives deep into drug culture and aspires to an edginess, the idea of Justin Long making amends for his wrongs and putting things right seems like an incredibly safe and conservative fantasy to go out on.
---
---