UK. 2017.
Crew
Director – Paul King, Screenplay – Simon Farnaby & Paul King, Producer – David Heyman, Photography – Erik Alexander Wilson, Music – Dario Marianelli, Animation Director – Pablo Grillo, Visual Effects Supervisors – Andy Kind & Glen Pratt, Visual Effects – Bluebolt (Supervisor – Rupert Davies), Cheap Shot, Framestore (Supervisor – Carlos Monzon), Passion Pictures & Rodeo FX (Supervisor – Arnaus Brisbeois) & Technicolor VFX (Supervisors – Nicholas Bennett & Gary Brown), Special Effects Supervisor – Mike Kelt, Production Design – Gary Williamson. Production Company – Heyday Films.
Cast
Hugh Bonneville (Henry Brown), Sally Hawkins (Mary Brown), Hugh Grant (Phoenix Buchanan), Brendan Gleeson (Knuckles McGinty), Madeleine Harris (Judy Brown), Samuel Joslin (Jonathan Brown), Jim Broadbent (Samuel Gruber), Tom Conti (Judge Gerald Biggleswade), Julie Walters (Mrs Bird), Peter Capaldi (Reginald Curry), Ben Miller (Colonel Lancaster), Sanjeev Bhaskar (Dr Jafri), Noah Taylor (Phibs), Tom Davis (T-Bone), Robbie Gee (Mr Barnes), Jessica Hynes (Miss Kitts), Joanna Lumley (Felicity Fanshaw), Meera Syal (Prosecutor), Richard Ayoade (Forensic Investigator)
Voices
Ben Whishaw (Paddington), Imelda Staunton (Aunt Lucy), Michael Gambon (Uncle Pastuzo)
---
Plot
Realising it is nearing Aunt Lucy's birthday, Paddington tries to think of a birthday present for her. In Mr Gruber's antique shop, he finds a pop-up book of London. Knowing that she always wanted to visit London, he thinks that buying this would be the next best thing to having her come and visit. However, Mr Gruber informs him that it is a rare book and is expensive. Paddington decides the only option is for him to get a job. After a disastrous stint as a barber's assistant, he has some success as a window washer. He then comes across a thief breaking into Mr Gruber's store to take the book and gives pursuit. The thief gets away and with no proof of their existence, Paddington is charged and sent to jail for ten years. The Browns make all effort to try and find the thief. In actuality, the thief is a disguise adopted by actor Phoenix Buchanan who knows that the pop-up book holds a map that leads the way to the location of a treasure hidden by his ancestor. In jail, Paddington befriends the tough cook Knuckles McGinty and transforms conditions in the canteen. Knuckles then persuades Paddington that the best option to prove his innocence is for him to join them in a jail break.
---
Paddington Bear is a much-loved children's character. Paddington appeared in 28 books published by Michael Bond between 1958 and Bond's death in 2017. There had been several earlier tv adaptations of Paddington. The live-action, big screen adaptation Paddington (2014) however proved a considerable success, earning $191 million at the box-office worldwide, making it the most successful independent family film of all time. Paddington 2 was originally set to for a Christmas 2017 release in the US but this ended up being delayed until February 2018 with the financial collapse of distributor The Weinstein Company due to the scandal surrounding Harvey Weinstein.
Paddington 2 offers the same mix as the first film. There is most of the same personnel behind the camera – Paul King back in the director's chair and repeat performances from Hugh Bonneville, Sally Hawkins, Madeleine Harris, Samuel Joslin, Julie Walters, Peter Capaldi and Jim Broadbent, with Ben Whishaw, Michael Gambon and Imelda Staunton back in their voicing roles. The noticeable addition is that the modestly budgeted original has been expanded to a prestige production. There is a much clearer expansion of the budget and it allows Paul King to pull off a few showoffy shots like bringing Mrs Brown's pencil illustrations to animated life and venturing inside a diorama of the pop-up book brought to life.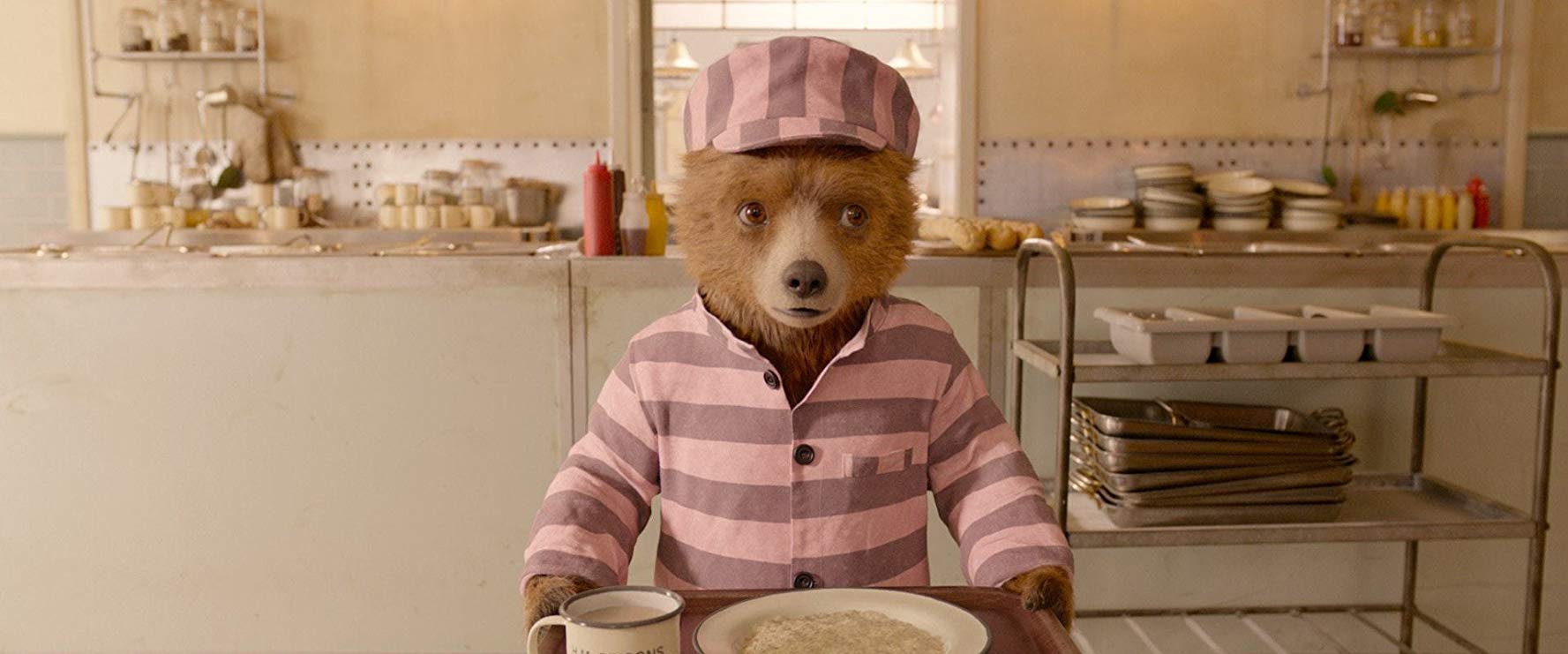 The film has also roped in just about every member of British Acting Equity and every imaginable supporting and cameo role is filled with recognisable faces – there is Hugh Grant having outrageously over-the-top fun as the villain of the show, while we also have Brendan Gleeson as the prison chef, Sanjeev Baskar as a neighbour and his wife Meera Syal as a prosecutor, Tom Conti as a judge, Richard Ayoade as a forensic expert in court, Noah Taylor as an inmate, and Joanna Lumley as a show business agent.
Paddington 2 works in all the same places that the original did. Paul King and co have gotten the balance of immense silliness, overblown slapstick sequences and tender sweetness down in just the right mix. Things get outrageously silly – High Grant goes through a mind-blowing silly accents and a series of costume changes that have to be seen to be believed – and there are slapstick sequences aplenty – Paddington amok in a barbershop, the window washing sequence, the pursuit of the thief. The expansion of the budget has allowed much more expansive and elaborate sequences than the previous film – a climax depending on chases aboard multiple trains and crashing carriages – but the charms never get left behind.
---
Trailer here
---