---
Crew
Director – Don Bluth, Co-Directors – Gary Goldman & Dan Kuenster, Screenplay – David N. Weiss, Story – Don Bluth, Gary Goldman, David N. Weiss, Ken Cromar, Larry Leker, Linda Miller, Monica Parker, John Pomeroy, Guy Schulman & David Steinberg, Producers – Don Bluth, Gary Goldman & John Pomeroy, Music – Ralph Burns, Songs – T.J. Kuenster & Charles Strouse, Animation Directors – Ken Duncan, Jeff Etter, Linda Miller, John Pomeroy, Lorna Pomeroy-Cook, Dick Zondag & Ralph Zondag, Production Design – Don Bluth & Larry Leker. Production Company – Sullivan Bluth Studios Ireland Ltd.
Voices
Burt Reynolds (Charlie), Judith Barsi (Anne-Marie), Dom De Luise (Itchy), Vic Tayback (Carface), Charles Nelson-Reilly (Killer), Ken Page (Gator), Rob Fuller (Harold), Harleen Carey (Kate)
---
Plot
The mobster dog Charlie is rubbed out by his former partner Carface. Charlie decides that he doesn't want to go to canine Heaven and returns to Earth. He goes seeking revenge on Carface but instead finds and frees Anne-Marie, a young orphan girl that Carface holds prisoner. Anne-Marie has the ability to talk to animals and Charlie immediately sees the potential of making money at the racetrack. He fools her into believing they are doing it to help the needy. What the tough Charlie does not realise is that he is starting to care for Anne-Marie.
---
At the beginning of his career, animator Don Bluth left Disney to go and set up his own animation studio to make films in the classic Disney tradition. Bluth began by making the superb independent feature The Secret of N.I.M.H (1982). Sadly, Don Bluth's career since is one that has since failed to regain those heights. Bluth was soon making middle-of-the-road fare such as An American Tail (1986) and The Land Before Time (1988). In the 1990s, Bluth's output – the likes of Rock-a-Doodle (1991), Thumbelina (1994), A Troll in Central Park (1994), The Pebble and the Penguin (1995) and Bartok the Magnificent (1999) – became staggeringly banal. Bluth was briefly allowed to work again on a big-budget with Anastasia (1997) but the subsequent flop of Titan A.E. (2000) caused him to quit filmmaking altogether.
All Dogs Go to Heaven is the one of the better of the films that Don Bluth has produced. Here he manages to overcome his tendency toward a cloying insipidity and creates an effort that is engaging. At its best, All Dogs Go to Heaven even approaches something of the lesser Disney classics like The Aristo Cats (1970) or One Hundred and One Dalmatians (1961).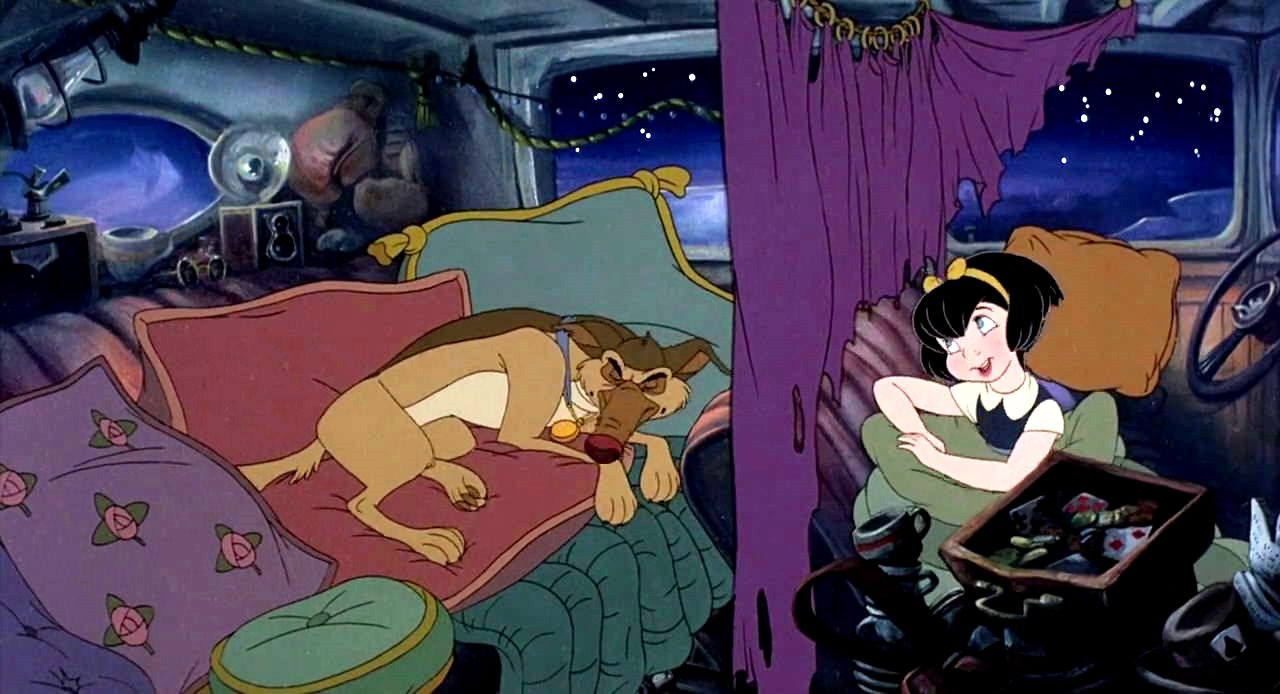 The animation is warm and nicely rounded. Best of all is the relationship that Bluth sets up between the girl and the dog anti-hero – there are a number of charms in watching the curmudgeonly Charlie coming to gradually care about her. The scenes with the three of them working together to steal human wallets and the like have a roguish likability to them.
All Dogs Go to Heaven is not a perfect film – the tone is often uneven. And the ending is a little too happy, disregarding its own stipulation that Charlie is unable to return to Heaven. Nevertheless, it is a congenial effort upon Don Bluth's part.
The film was followed by a sequel All Dogs Go to Heaven 2 (1996) and an animated tv series All Dogs Go to Heaven (1997), although both were made without Bluth's involvement.
---
---