aka Mrs Hyde
---
Crew
Director – Serge Bozon, Screenplay – Serge Bozon & Axelle Ropert, Producers – Philippe Martin & David Thion, Photography – Celine Bozon, Music – Benjamin Esdraffo, Visual Effects – Mikros Image, Production Design – Laurie Colson. Production Company –Les Films Pelleas/Arte France Cinema/Auvergne-Rhone-Alpes Cinema/Frakas Productions/Canal +/Cine +/Arte France/Centre National du Cinema et de l'Image Animee/La Region Auvergne-Rhone-Alpes/Haut et Court Distrbution/Cinemage 11/Indiefilms 5/Soficinema 13.
Cast
Isabelle Huppert (Marie Jequil/Madame Hyde), Adda Senari (Malik), Romain Duris (The Principal), Jose Garcia (Pierre Jequil), Guillaume Verdier (The Trainee), Patricia Barzyk (The Neighbour), Pierre Leon (The Inspector), Sanaa El Moesali & Gernina Mombill (The Sisters of TPE), Youssouf Diagouraga (Youssof)
---
Plot
Marie Jequil is a physics teacher who is walked over in all areas of her life. She is treated badly by an unruly class and is unable to stand up for herself. One day in her laboratory, Marie has an accident with an electrical device she has built. Afterwards she is changed and more in control. She is able to connect with Malik, her most discourteous pupil, and takes him for private tuition in science. At night, she begins to manifest a glowing energy. This other self walks out to kill and cause damage in the neighbourhood.
---
Robert Louis Stevenson's novella The Strange Case of Dr Jekyll and Mr Hyde (1886) has the most filmed horror story ever. Dr Jekyll has become one of the Famous Monsters ever since his first appearance on film back in the 1910s. There have been numerous variations on this from spoofs, erotic takes, sequels and team-ups with other monsters. For an exhaustive look at the various film interpretations see Jekyll and Hyde Films.
We have had several Jekyll and Hyde films where Dr Jekyll turns into a woman – the Hammer film Dr Jekyll and Sister Hyde (1971) with Ralph Bates turning into Martine Beswick and the comedy Dr Jekyll and Ms Hyde (1995) with Tim Daly turning into Sean Young. The Dr Jekyll and Mr Hyde as a woman theme has even been done before in the erotic film Dr. Jekyll & Mistress Hyde (2003).
Madame Hyde starts promisingly. There's Isabelle Huppert – a fantastic actress in numerous roles since the 1970s, showing her age somewhat at 65. She gives a great performance of faltering weakness, all nervous uncertainty and an inability to stand up for herself. Director Serge Bozon does particularly well during the early scenes showing her up against an unruly and disrespectful class and their constant torments, as well as having to deal with a smarmy principal Romain Duris and clueless husband Jose Garcia whose only supportive advice seems to be that the pupils should be overwhelmed by her beauty.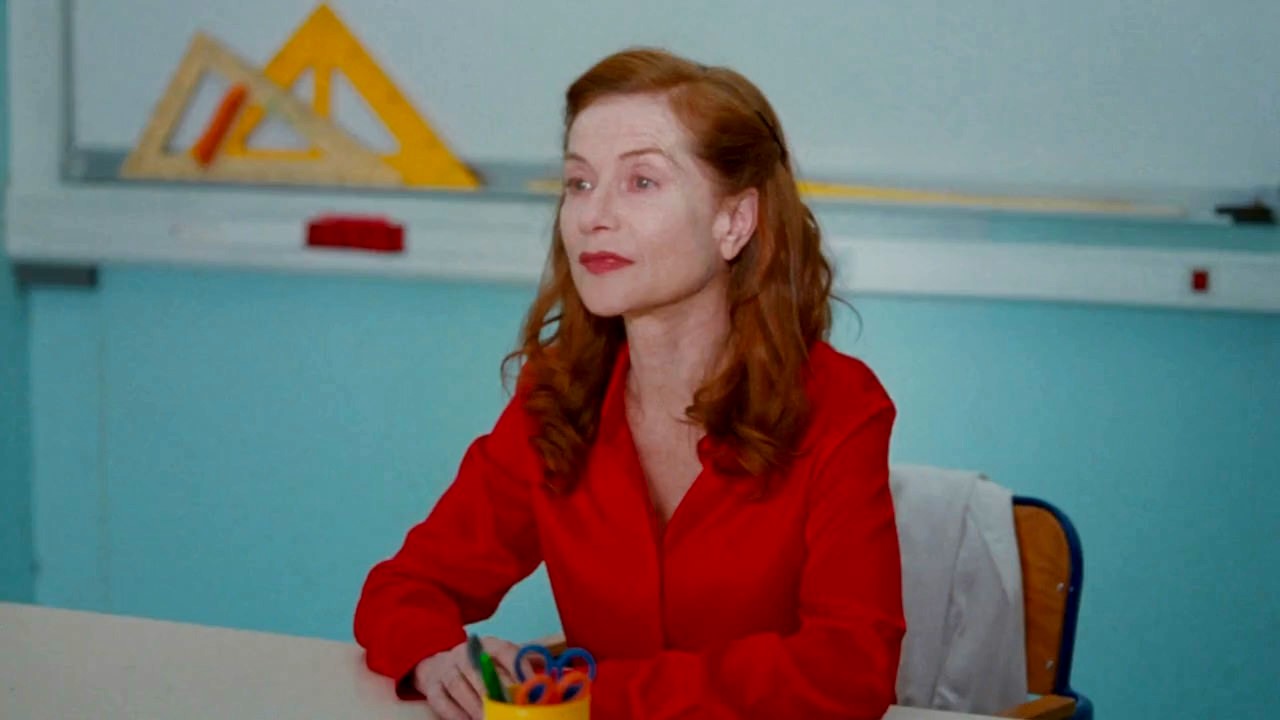 On the other hand, the film promptly falls down when it comes to the Madame Hyde part. As opposed to the potion used to affect the change in all the other films, this has Isabelle Huppert accidentally being energised by a discharge as she stands between two pieces of electrical equipment in the midst of a storm.
Whereas all the other films make a marked change between the two personalities and the Mr Hyde half is physically unrecognisable from Dr Jekyll, this is completely the opposite. At most, Isabelle becomes slightly more assertive in the classroom and manages her life better. In other words, this is the Dr Jekyll story as a self-assertion drama – although even then the parable is muted. Peculiarly, some of the most heartfelt scenes in the film come not in any traditional elements but in those with Isabelle Huppert connecting with troubled pupil Adda Senari by imparting brain-teaser lessons in geometry.
This is also a Jekyll/Hyde story divorced of any talk about the divide between good and evil. Here the changes are so minimal you are not even sure if it is Isabelle Huppert playing assertive or her regular self in a scene – there seems no real dividing line. There is sort of an evil side in several scenes where Isabelle is lit up by flashes of orange energy and then turns into a being of light who walks out into the neighbourhood and kills some people. This leads to her arrest at the end but is a development that emerges and is dealt with in unsatisfactory ways.
---
---