(Die Renjie: Shen Du Long Wang)
---
Crew
Director – Tsui Hark, Action Director – Yuen Bun, Screenplay – Tsui Hark & Zhang Jialu, Story – Chen Kuofu & Tsui Hark, Producers – Chen Kuofu, Nansun Shi, Tsui Hark & Wang Zhonglei, Photography (3D) – Choi Sung Fai, Music – Kenji Kawai, Visual Effects Supervisor – Wook Kim, Production Design – Ken Mak. Production Company – Film Workshop Co Ltd.
Cast
Mark Chao (Detective Dee), Angelababy (Yin Ruiji), Feng Shaofeng (Yuchi Zhenjin), Lin Gengxin (Dr Shatuo Zhong), Carina Lau (Empress Wu), Ian Kim (Yuan Zhen), Chen Kun (Dr Wang Pu), Hu Dong (Huo Yi), Seng Chien (The Emperor), Lin Chao Hsu (Cheng An)
---
Plot
China, 665 A.D. After the imperial fleet is attacked by a sea monster, there is fear and unrest in the country. In the capital Luoyang, the courtesan Yin Ruiji is chosen to conduct rites to placate the monster. Empress Wu orders Yuichi Zhenjin, head of the Da Lisi, the Justice Department, to find what is behind the attacks within ten days or lose his head. At the same time, the thirty-year-old Detective Dee arrives in Luoyang to take up a position with the Da Lisi. He immediately deduces that there will be an attempt to abduct Yin Ruiji. He snatches a badge and horse to race there and stop masked figures that can breathe underwater as they invade the temple where she is sequestered. Dee encounters and fights with the scaled beast that is said to be the walking version of the sea monster, which has come to snatch Yin Ruiji, only to realise that the beast is her love Yuan Zhen. Arrested by Yuichi, Dee uses his deductive skills to get the prison doctor Shatuo Zhong to release him. He then sets out to find how Yuan Zhen, previously the unassuming owner of a teahouse, has been transformed into the scaled creature after being poisoned with parasites. This leads him on the trail of exposing a conspiracy to poison the Bird's Tongue tea that is produced exclusively for the imperial court as part of a plan mounted by the island people of Dondo who are amassing a force to attack the mainland aided by the sea monster.
---
Tsui Hark is one of the legendary names in Hong Kong cinema. Tsui made the original Wu Xia film Zu: Warriors from the Magic Mountain (1983) and maintained a strong directorial career throughout the 1980s and 90s with works like Green Snake (1993) and Once Upon a Time in China (1991) and sequels, even a couple of unsuccessful ventures to work in Hollywood, as well as acting as producer for some of the major fantasy series of the era, most notably the A Chinese Ghost Story and Swordsman films. Into the 00s and 10s, Tsui has become one of the Hong Kong directors who has readily joined the renaissance in lush, epical Wu Xia films produced with the backing of mainland China.
Amid this revival of the form, Tsui Hark had a considerable success with Detective Dee and the Mystery of the Phantom Flame (2010). This was based on the historical figure of De Renjie who lived in the 7th Century and was reputedly a judge esteemed for the scrupulous fairness and logic of his judgements who eventually rose to become chancellor to the Dowager Empress Wu Zeitan. Stories of De Renjie appeared in an 18th Century Chinese book and were translated by Dutch linguist Robert van Gulik who then went on to write a series of fictional Judge Dee books.
Young Detective Dee: Rise of the Sea Dragon is a prequel to Detective Dee and the Mystery of the Phantom Flame and deals with Dee's arrival in the imperial capital and his becoming a detective. The title role, played by Andy Lau in the first film, has been recast with Mark Chao, a relative newcomer of Taiwanese-Canadian origin. The only returnee from the original cast is Carina Lau as the Empress Wu.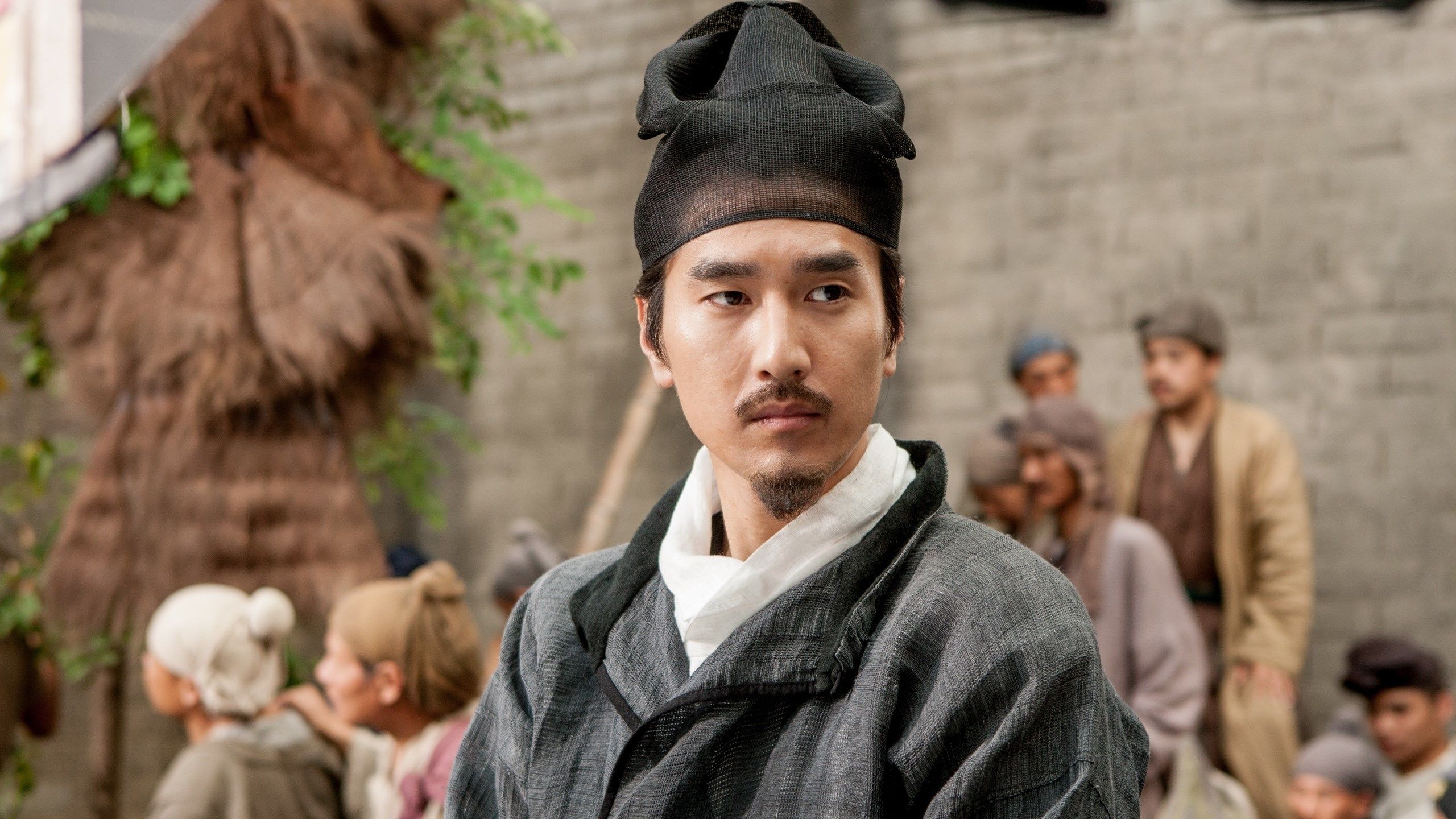 It could be argued that Detective Dee was one of the progenitors of Sherlock Holmes. One of the weaker aspects of the first film was that Tsui Hark's visuals triumphed over the detective side of the story – in other words, it was more of an action film than a mystery. That has been redressed here and we have several scenes where Mark Chao acts like a Holmesian intellect extraordinaire, piecing together amazing deductions based on obscure clues and knowledge of arcane trivia. Tsui Hark has certainly conceived the character more along the lines of a Holmes this time around – if this were not obvious, the film even creates the character of a doctor as Dee's faithful companion.
More so, Tsui seems to have taken as his lead Guy Ritchie's recent big screen reworking of the character in Sherlock Holmes (2009). Detective Dee's intuitive skills are demonstrated in a visual rather than descriptive way with 3D visual displays of maps popping out in relief, the camera zooming in and flashing back to observe clues and so on, in much the same way as Ritchie did with Robert Downey Jr's Holmes.
You could say that The Mystery of the Phantom Flame was a fantastical film in terms of its visual style, even if it paid lip service to telling a rationalised story. By contrast, Young Detective Dee is a much more out-and-out fantastical film. There is what initially appears to be the bipedial version of the sea monster with Ian Kim as a scaled creature hidden beneath a hooded cloak, although this is then turned on its head to reveal the creature is none other than the lover of the heroine Angelababy (later explained away as his being infected with a poisonous parasite that has caused his skin to turn lizard-like) whereupon the film turns into a peculiar Beauty and the Beast-like relationship. There is also a massive sea monster; a race of masked assassins who can seemingly breathe underwater and are constantly popping up and vanishing beneath the waves; even the imperial doctor who appears to have had an ape's arm transplanted in lieu of his own missing one.
With the original Sherlock Holmes stories, Arthur Conan Doyle flirted with the fantastic on occasion – see stories like The Hound of the Baskervilles (1902) and The Adventure of the Sussex Vampire (1924) – although it was always revealed as having a rational explanation at the end. By contrast, Tsui Hark seems to be constantly suborning what should otherwise be a mundane detective story into one of his typical extravagant flying swordsmen films. The Detective Dee films pay lip service and offer rational explanations; by contrast, it would hard to imagine a Conan Doyle story with Holmes going into action against sea monsters and lizard people.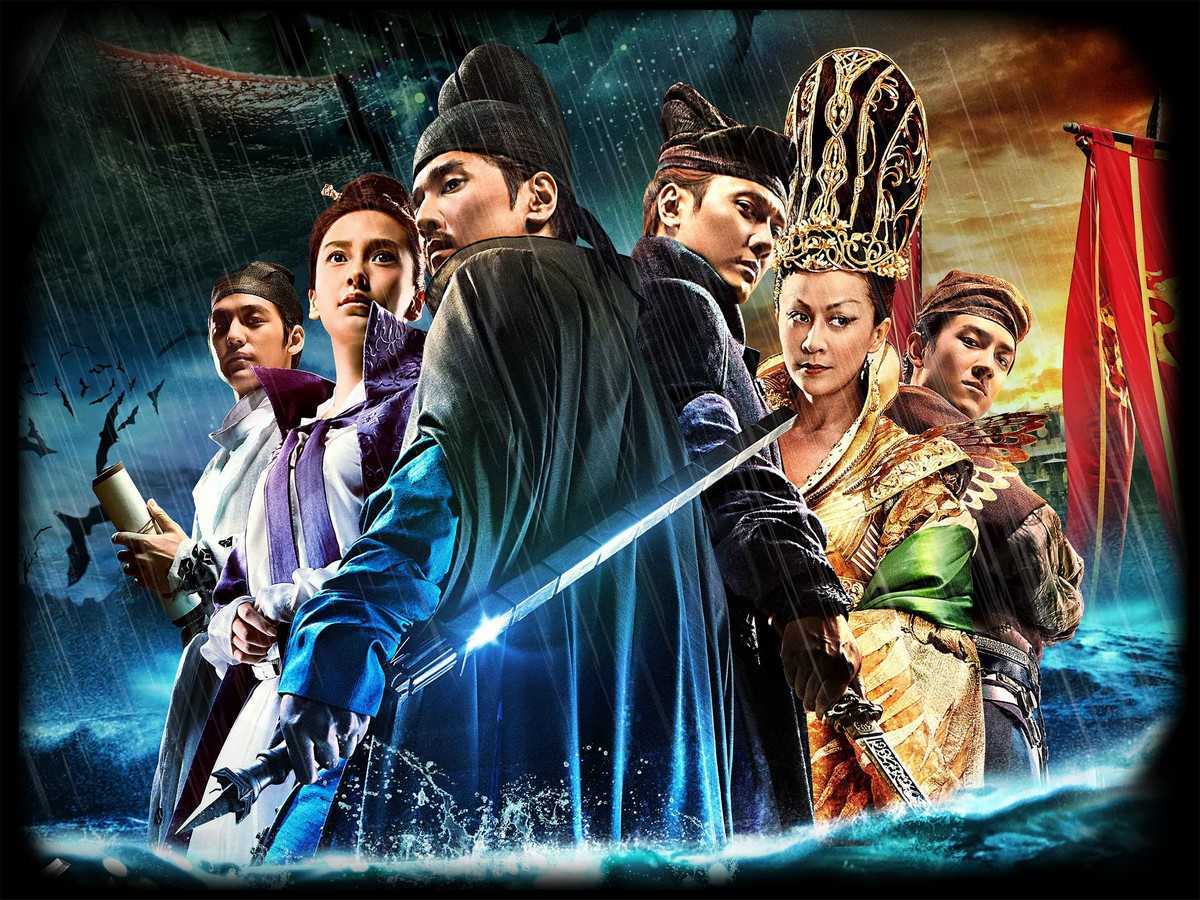 Tsui Hark takes some time before he gets to his customary wild and off the planet Wu Xia sequences. There is a fantastical fight as Yuan Zhen and the Dondoers attempt to abduct Angelbaby from Swallow House with Mark Chao fighting the masked figures all around the pavilion, ducking thrown weapons and novelty blades, leaping up and around the rafters and into the water, even fighting off swarms of wasps and while trapped inside a giant cast iron pot.
There are other amazing fight scenes like with Feng Shaofeng taking massive leaps across the city to tackle the traitor in a back alley with the two of them fighting around a series of huge barrels hanging in mid-air. There is a slighter weaker scene fighting on the side of a mountain, which pales somewhat in comparison with the superior sequence in G.I. Joe: Retaliation (2013) a few months earlier.
The film arrives at a stupendous climax with the massive monster attacking the ships at sea and tearing them apart, Mark Chao racing along on a horse that rides underwater, Feng Shaofeng taking massive leaps between ship's sails and onto the sea monster, even the surreal image of the horse running at full tilt along debris floating in the water as Chao is pelted in a rain of catapulted poison fish. Outside of Tsui's visuals, the film has been made with a beautifully lush display of traditional Chinese pageantry and costumery that fills the screen.
Tsui Hark and Mark Chao went on to make Detective Dee: The Four Heavenly Kings (2018).
Tsui Hark's other genre films as director are:- The Butterfly Murders (1979), We're Going to Eat You (1980), Zu: Warriors from the Magic Mountain (1983), Aces Go Places III: Our Man from Bond Street/Mad Mission III: Our Man from Bond Street (1984), Green Snake (1993), Butterfly Lovers (1994), Zu Warriors/The Legend of Zu (2001), Black Mask 2: City of Masks (2002), Missing (2008), Flying Swords of Dragon Gate (2011) and Journey to the West: Demon Chapter (2017). Tsui Hark has also produced A Chinese Ghost Story (1987), The Laser Man (1988), Roboforce/I Love Maria (1988), A Chinese Ghost Story II (1990), Swordsman (1990), A Terracotta Warrior (1990), A Chinese Ghost Story III (1991), The King of Chess (1991), New Dragon Gate Inn/Dragon Inn (1992), Swordsman II (1992), Iron Monkey (1993), The Magic Crane (1993), Swordsman III: The East is Red (1993), Wicked City (1993), Burning Hell in Paradise (1994), Black Mask (1996), A Chinese Ghost Story: A Tsui Hark Animation (1997), Master Q (2001), Vampire Hunters/The Era of Vampires (2002), Sword Master (2016) and The Thousand Faces of Dunjia (2017).
---