---
Crew
Director – Tom Brady, Screenplay – Tom Brady & Rob Schneider, Producers – Carr D'Angelo & John Schneider, Photography – Tim Suhrstedt, Music – John Debney, Visual Effects – Pixel Magic (Supervisor – Raymond McIntyre Jr), Special Effects Supervisor – John Hartigan, Production Design – Marc Fisichella. Production Company – Happy Madison.
Cast
Rob Schneider (Spence/Clive Maxtone), Anna Faris (April), Rachel McAdams (Jessica Spencer), Michael O'Keefe (Richie Spencer), Matthew Lawrence (Billy), Megan Kulhmann (Hildenburg), Maritza Murray (Keecia Ling-Ling Jackson), Michelle Branch (Deejay), Melora Hardin (Carol Spencer), Lee Garlington (Vice Principal Marjorie Bernard), Eric Christian Olsen (Jake), Robert Davi (April's Father), Leila Kenzle (April's Mother), Jodi Long (Keecia's Mother), Matt Weinberg (Booger Spencer), Maria-Elena Laas (Bianca), Adam Del Rio (Yogurt Guy), Angie Stone (Madam Mambuza), Adam Sandler (Bongo Player)
---
Plot
Jessica Spencer is a bitchy and self-obsessed high school senior who delights in putting down and humiliating others. She wants a pair of earrings from an ethnic goods store and steals them when the owner refuses to sell them. Unknown to her, these are ancient Abyssinian artifacts that will cause two people who wear either earring to exchange bodies. She drops one at a gas station where it is picked up by petty hood Clive Maxtone as he is robbing the station. The two separately place an earring on, only to wake up in the morning in the other's body. Jessica panics at finding she is now in a man's body. She tries to hide her condition from her family and boyfriend while she and her friends try to find how to reverse the process.
---
Rob Schneider, one suspects, wants to be Adam Sandler. The Rob Schneider film is a wannabe Adam Sandler film and Schneider gives all appearance of having been groomed as an understudy by Sandler. Schneider has appeared in most of Adam Sandler's films – The Waterboy (1998), Big Daddy (1999), Little Nicky (2000), 50 First Dates (2004), The Longest Yard (2005), Click (2006), I Now Pronounce You Chuck and Larry (2007), Bedtime Stories (2008), You Dont Mess With the Zohan (2008), The Ridiculous 6 (2015), Sandy Wexler (2016) – and Sandler has produced most of Rob Schneider's solo outings – Deuce Bigelow, Male Gigolo (1999), The Animal (2001) and this. Adam Sandler also makes cameo appearances in Rob Schneider's films – you can see him here as the dreadlocked bongo player in the African novelties store.
The gender exchange bodyswap comedy – see the likes of Turnabout (1940), All Of Me (1984), Dating the Enemy (1996), It's a Boy Girl Thing (2006) – is something that seems tailor-made for the Sandler-Schneider film. The natural emphasis on comedy centred around the sexual differences between men and women is something that seems right at home in this type of film, which usually centers around body fluids and embarrassed gay jokes. (For an overview of the genre see Bodyswap and Identity Exchange Films).
The Hot Chick launches into it with alacrity, throwing all good taste to the wind. Certainly, the things that Rob Schneider has to go through for the film – prancing about in pink panties and slips, plucking his eyebrows, wearing pink lipstick, and affecting girlish body language and a higher pitched voice – is astounding. It is hard to imagine many he-men actors willing to undergo such extremes in the name of comedy. The Hot Chick is as vulgar as expected – a good many urinating jokes, body hair jokes, lots of scenes with guys getting freaked out at interpreting everything that is happening as a gay come-on.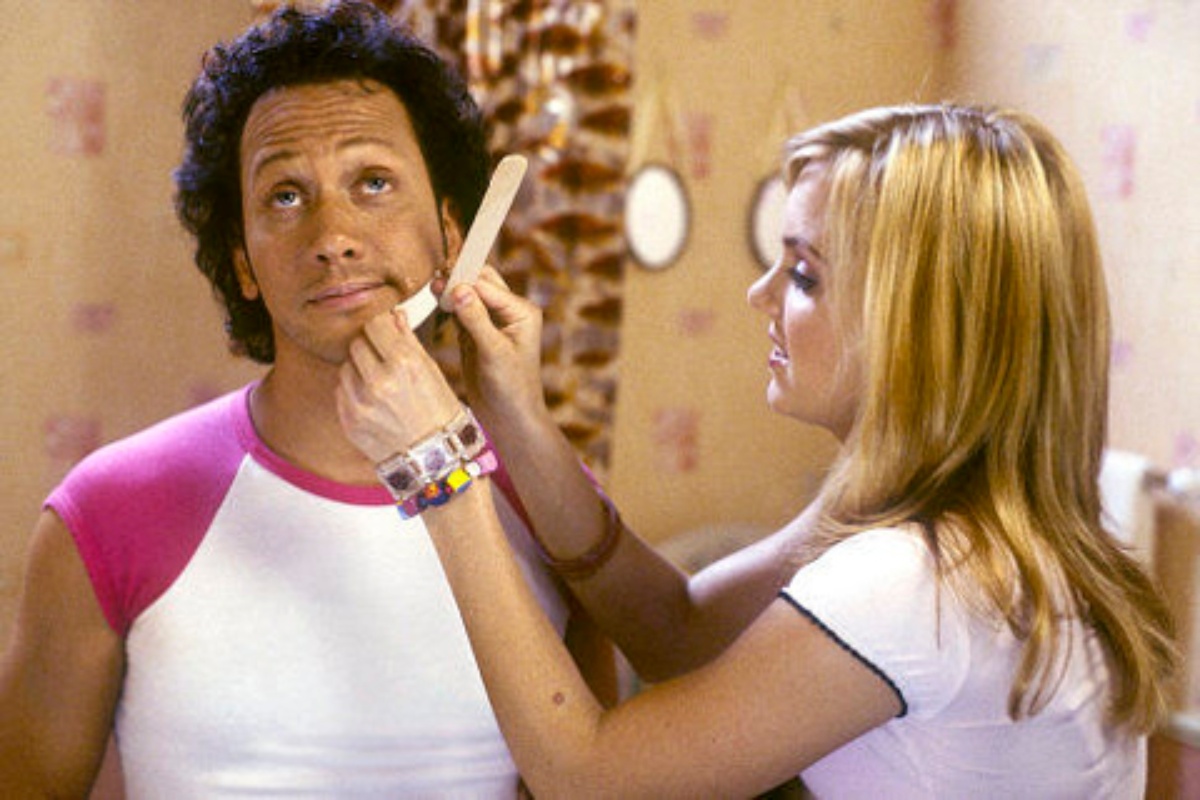 For a film that one enters with zero expectations and which received such miserable reviews elsewhere, The Hot Chick is hard to dislike. It unapologetically revels in its persistent and unabashed vulgarity. Some of the scenes, particularly the ones with Rob Schneider trying to pee in a men's room in a nightclub or taking on a bully in a girlfight, and odd sarcastic asides, like where the security in a mall pile onto a potential shoplifter "Let's go, Winona," are eventually quite funny. Unlike the mere annoyance of some of Adam Sandler's films or the crassness of co-star Anna Faris's Scary Movie (2000) and sequels, it comes out surprisingly good-natured and likable.
Certainly, one has never seen any other movie in this teen niche market that comes out so much in favour of it being cool to be gay – Anna Faris falls in love and wants to have relationship with her best (female) friend; the film centres much its humour on Rob Schneider acting/seeming gay, where he eventually decides to make up with the guy he loves irrespective of what body he is in; the younger brother is a crossdresser and in the end even the scowling bar manager is revealed to be gay. The character of Jessica is perhaps required to be too much for what is credible for the story – it tries to have its cake and eat it too in having her as a vain superbitch and yet someone who is sincere and loving, and as a result she never undergoes a particularly tough humiliation before she is redeemed. Almost no time at all is given to what goes on when Rob Schneider's petty hood finds himself in Rachel McAdams's body.
In the end, The Hot Chick is a surprisingly all-inclusive film – all about accepting one's sexuality irrespective of what, about accepting racial diversity, and of including people such as the fat chick, the loner Goth girl and ethnic minorities in one's social group. When most of Adam Sandler's films seem to play off guys being afraid of being seen as gay or racial stereotypes, you have to applaud The Hot Chick for its' liberalism and sheer good-naturedness.
---
---