---
Crew
Director – Bill Watterson, Screenplay – Steven Sears & Bill Watterson, Story – Steven Sears, Producers – John Chuldenko & John Charles Meyer, Photography – Jon Boal, Music – Mondo Boys, Opening Credits Animation – Kangmin Kim, Closing Credits & Additional Animation – Platypus Pictureworks (Supervisor – Musa Brooker), Visual Effects – Talisman FX (Supervisor – Can Leeburg), Makeup Effects – Robert A. Lindsay, Production Design – Trisha Gum & John Summer. Production Company – Dave Made An LLC/Butter Stories/Foton Pictures.
Cast
Meera Rohit Kumbhani (Annie), Nick Thune (Dave), Adam Busch (Gordon), James Urbaniak (Harry), Frank Caeti (Boom Operator), Scott Narver (Cameraman), Timothy Nordwind (Greg), Kristen Vangsness (Jane), Stephanie Allyne (Brynn), Scott Krinsky (Leonard), John Hennigan (The Minotaur), Rick Overton (Hobo)
---
Plot
Annie returns home after a weekend away to find that her boyfriend Dave has built a cardboard maze in the living room of their apartment. Dave is nowhere to be found but his voice comes from inside the maze saying he has become lost. She finds the notion ridiculous but when she tries to tear the maze down, a panicked Dave begs her not to. She calls Dave's friend Gordon and he invites other friends over, including a documentary film crew headed by Harry. Despite Dave's urgings not to, once the drinks start flowing, the various partygoers decide to venture into the maze. Once they enter, they find an amazing world that is bigger on the inside than the outside. However, as Dave has warned, it is a place filled with boobytraps that kill various members of the party, while they also find that the maze has come to life in various ways, including giving birth to a Minotaur that pursues them.
---
Dave Made a Maze is a debut feature from Bill Watterson who has spent over a decade before that working as miscellaneous crew and a small actor in bit parts – he has minor roles in high-profile films like Jersey Boys (2014) and Ouija (2014), and before that as a musician. He received funding for Dave Made a Maze after making several short films. He based the idea on video shorts he had made as a child and, in particular, an instance where he had gone for dinner at a friend's pace and his mother, who had not seen the note he left, thought he had become lost inside the cardboard maze he left behind in the family living room.
Dave Made a Maze comes with an appealing low-tech silliness. You can almost consider it akin to a labyrinth film say like Cube (1997) made with a less than serious attitude and the scrappy low-tech feel of one of Michel Gondry's 'sweded' films in Be Kind Rewind (2008). The entire concept is that a cardboard maze – the sort that children might make and where a towel pinned up can become a wall – has developed a life of its own. The production crew made the entire film out of some 30,000 square feet of cardboard that they obtained mostly by dumpster diving.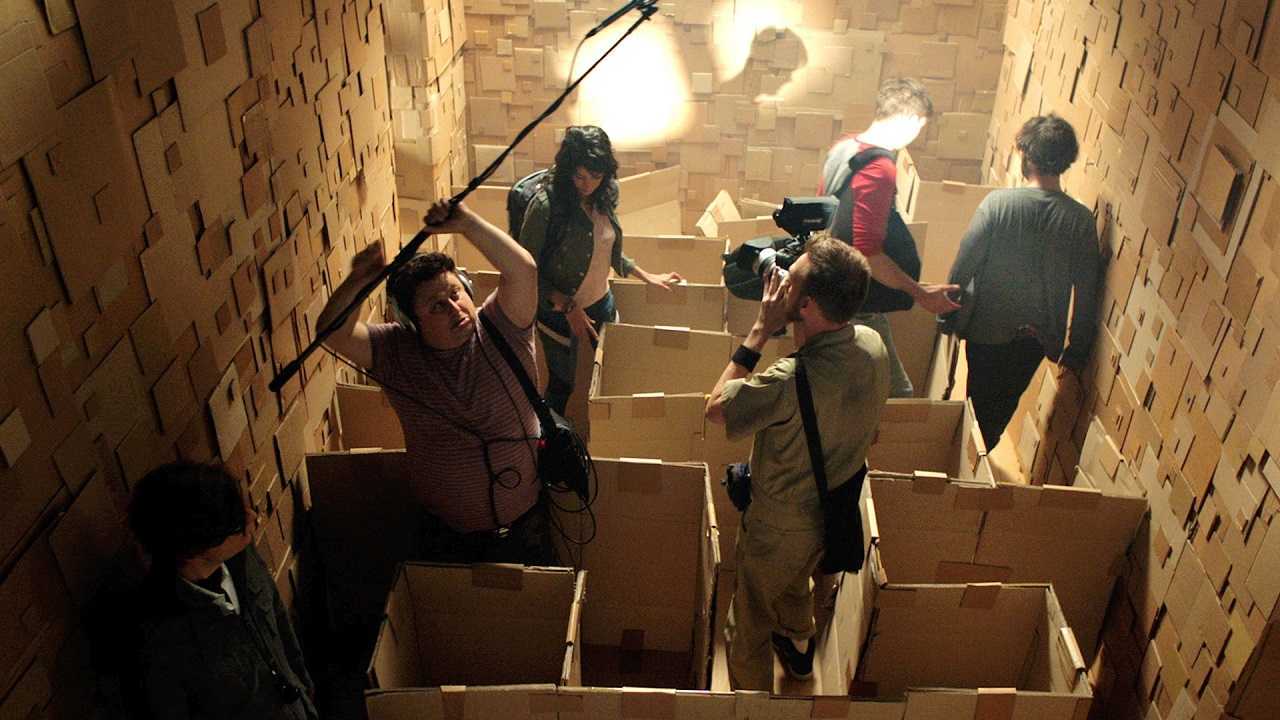 There is a wonderful makeshift creativity to Dave Made a Maze. Characters encounter a cardboard equivalent of a Star Wars (1977) Death Star trash compactor filled with balls of paper and origami birds that tries to feed them into a giant cardboard face. One room contains walls made like a keyboard where the black keys become secret panels. Elsewhere they enter a room that looks normal but find is built as a forced perspective optical illusion. When characters are killed, the blood they spill is red confetti streamers. At one point, the characters are even transformed into cardboard stop motion animated likenesses of themselves.
The film comes with a not inconsiderable sense of humour as well, especially from James Urbaniak's documentary-maker who is constantly trying to frame everything in terms of relatable soundbites or else pose people into dramatic shots.
---
---