---
Crew
Director – Sam Liu, Screenplay – Jim Krieg & Bruce Timm, Story – Bruce Timm, Music – Kristopher Carter, Michael McCuiston & Lolita Ritmanis, Animation – DR Movie (Animation Directors – Sungdae Kang, Joung-Gil Lee, Seung-Hoon Yoo & Jae-Ha Yu). Production Company – Warner Bros. Animation.
Voices
Kevin Conroy (Batman/Bruce Wayne), Melissa Rauch (Harley Quinn/Harleen Quinzel), Loren Lester (Nightwing/Dick Grayson), Paget Brewster (Poison Ivy/Pamela Isley), Kevin Michael Richardson (Floronic Man/Jason Woodrue), Rob Paulsen (Professor Harold Goldblum), John DiMaggio (Sarge Steel), Bruce Timm (Booster Gold)
---
Plot
Batman and Nightwing investigate a break-in at S.T.A.R. Labs where they determine that the culprit was Poison Ivy who is in collusion with Jason Woodrue, the dryad known as The Floronic Man. Batman realiss that they are seeking a classified file about Dr Alec Holland aka Swamp Thing and are wanting to obtain the secrets of Holland's mutation as part of a plan to release a formula that will transform every living thing into plant form. In trying to find Ivy's whereabouts, Batman sends Nightwing to find her friend Harley Quinn who has attempted to go straight following her parole. He finds her working as a waitress and in trying to talk to her, she instead seduces Nightwing. Harley agrees to aid them and they set out to track Ivy. However, in the course of doing so, Batman realises that Harley is a loose cannon on the team and that her not betraying the side is not something that can be counted on.
---
Batman and Harley Quinn is another of the DC Universe Original Animated Movies, which have so far included Superman: Doomsday (2007), Batman: Gotham Knight (2008), Justice League: The New Frontier (2008), Green Lantern: First Flight (2009), Superman/Batman: Public Enemies (2009), Wonder Woman (2009), Batman: Under the Red Hood (2010), Justice League: Crisis on Two Earths (2010), Superman & Batman: Apocalypse (2010), All-Star Superman (2011), Batman: Year One (2011), Green Lantern: Emerald Knights (2011), Batman: The Dark Knight Returns Part I (2012), Justice League: Doom (2012), Superman vs. The Elite (2012), Batman: The Dark Knight Returns Part II (2013), Justice League: The Flashpoint Paradox (2013), Superman Unbound (2013), Batman: Assault on Arkham (2014), Justice League: War (2014), Son of Batman (2014), Batman vs. Robin (2015), Justice League: Gods and Monsters (2015), Justice League: Throne of Atlantis (2015), Batman: Bad Blood (2016), Batman: The Killing Joke (2016), Justice League vs Teen Titans (2016), Justice League Dark (2017), Teen Titans: The Judas Contract (2017), Batman: Gotham By Gaslight (2018), The Death of Superman (2018), Suicide Squad: Hell to Pay (2018), Batman: Hush (2019), Justice League vs The Fatal Five (2019), Reign of the Supermen (2019), Wonder Woman: Bloodlines (2019), Justice League Dark: Apokolips War (2020), Superman: Man of Tomorrow (2020), Superman: Red Son (2020), Batman: Soul of the Dragon (2021), Batman: The Long Halloween Part One (2021), Batman: The Long Halloween Part Two (2021), Injustice (2021), Justice Society: World War II (2021), Batman and Superman: Battle of the Super Sons (2022), Catwoman: Hunted (2022) and Green Lantern: Beware My Power (2022). As with The Killing Joke the year before, Batman and Harley Quinn is the second of the DC Universe Original Animated Films to play (limited) theatrical screenings.
Harley Quinn was originally created as a character on the animated Batman (1992-4) tv series to act as a foil and girlfriend to The Joker. The response to her was such that she was quickly incorporated as a regular character in Batman comic-book canon and even gained her own title from 2001 onwards. She first appeared in live-action in the short-lived tv series Birds of Prey (2002-3) played by Mia Sara. Batman and Harley Quinn was made right on the back of the success of Suicide Squad (2016) where Harley Quinn was given a highly entertaining live-action incarnation from Margot Robbie, which became the one standout aspect of a film that otherwise heavily divided audiences. And subsequent to this, she was spun out as the star of two live-action films Birds of Prey and the Fantabulous Emancipation of One Harley Quinn (2020) and the sequel The Suicide Squad (2021), as well as her own animated tv series with Harley Quinn (2019- ). It's odd though seeing a whole film devoted to a villain's sidekick – The Joker does not appear anywhere throughout – reverse who in either team gets the title billing and the equivalent might by Robin and The Joker.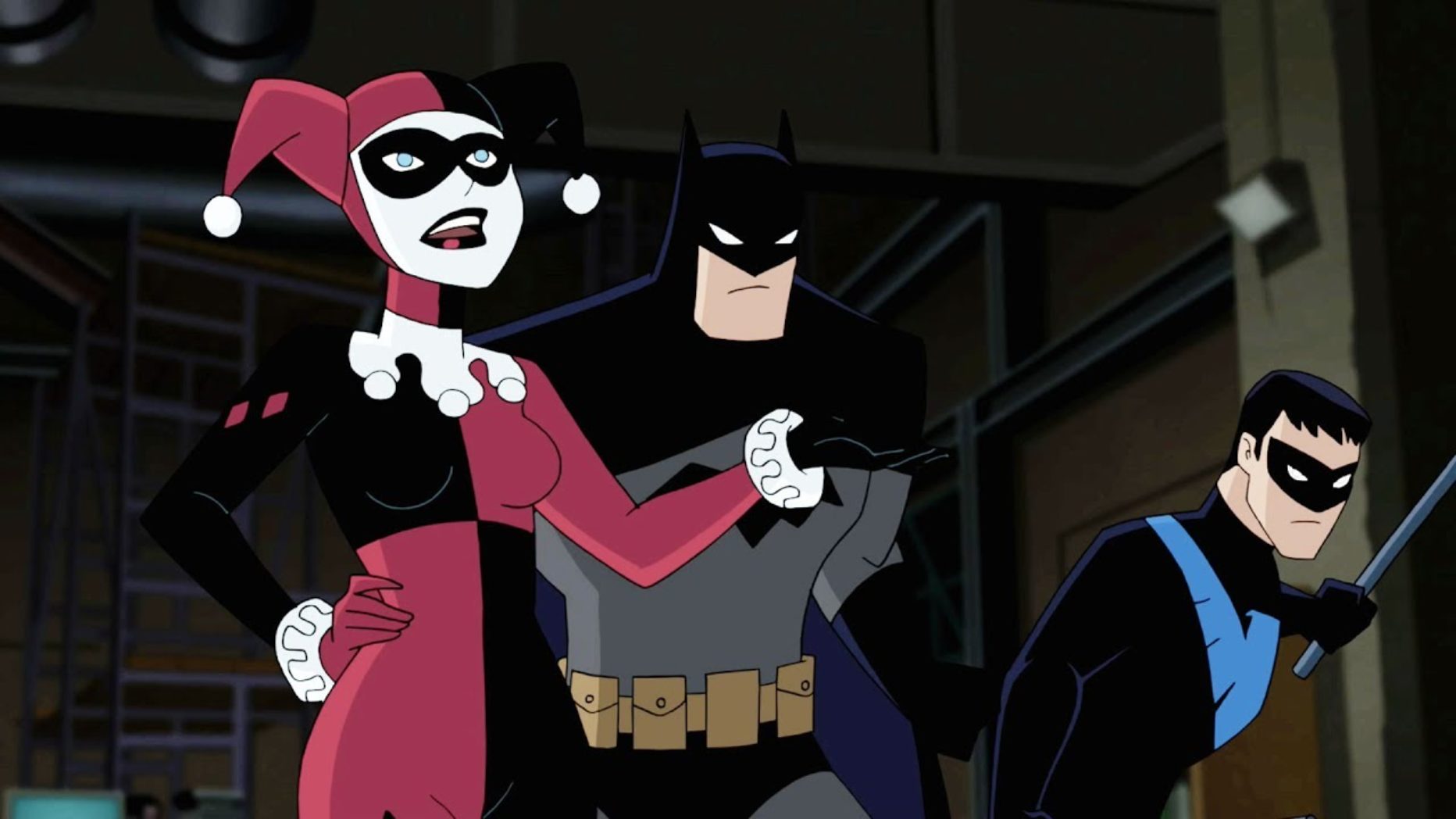 Batman and Harley Quinn also sees the return of Bruce Timm to the animated DC Universe fold. Timm had started everything off way back with the abovementioned animated Batman tv series and had produced all of the DC Universe Original Animated Films up until Batman: The Dark Knight Returns Part 2. He made a return as writer/producer with Justice League: Gods and Monsters and as producer Batman: The Killing Joke but here not only produces but also co-writes, comes up with the story and has a small voice part as Booster Gold. This seems fitting as Harley Quinn was originally a creation on the animated Batman and Timm is returning to deliver Harley in the manner she was originally conceived.
Aside from that, the film pays much homage to the animated series – it brings back the original animated Batman voice actor Kevin Conroy, gives Batman his square lantern jawed appearance and returns to the art deco designs for Gotham City and the Batmobile and with background colours that emphasise ochres, reds and blacks, while the visit to a bar contains guest appearances from many of the villain's henchmen that were created in the original series.
While all of the other modern Batman animated films go with the grim Frank Miller-styled Dark Knight incarnation of Batman, this is one of the animated films more than any other – excepting perhaps the recent non-DC Animated Universe Batman: Return of the Caped Crusaders (2016) – that is prepared to loosen up and have fun. The credits come cartoonishly stylised in the style of the De Patie-Freleng animated tv series of the 1960s. The fight at the henchmen bar also comes with comic-book onomatopoeia balloons going 'Break', 'Bleed' and 'Oh, My Balls' a la the Batman (1966-8) tv series. The film is not without some amusing scenes – like discovering that the reformed Harley is working in Superbabes, a Hooters-like restaurant where the waitresses dress as superheroines. There is also a rather funny scene with a humourless Batman having to deal with Harley farting in the Batmobile.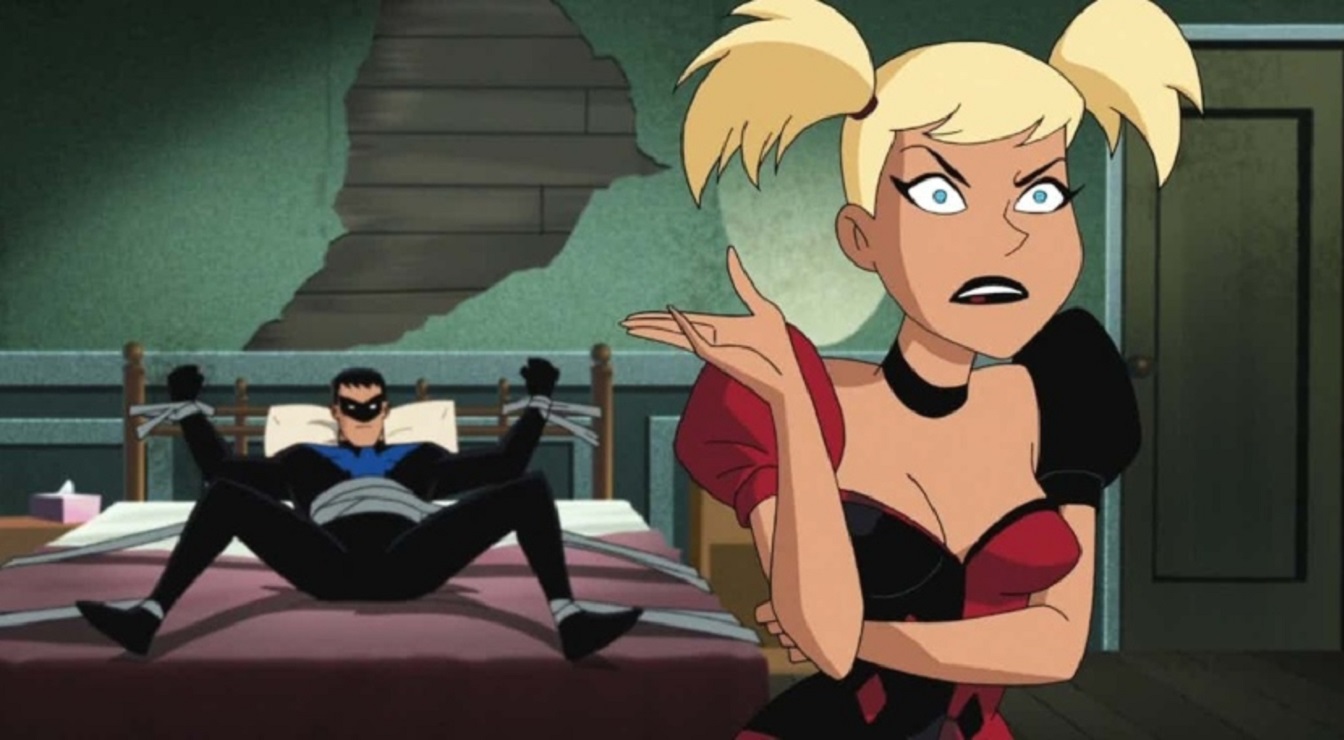 As with many of the modern animated films, they are often quite a bit more sexually liberated than their tv counterparts were – something that proved of controversy in The Killing Joke. We have a scene where Harley ties Nightwing up and then seduces him – all amid her thinking that he and Batman had a gay thing going and oblique references to The Seduction of the Innocent (1954) – and Batman turning up to find the two of them in bed. Afterwards, she tosses off the line to him: "Maybe I'll call you sometime. Like when I'm out of batteries."
I always found Melissa Rauch one of the more grating things about tv's The Big Bang Theory (2007-19). As a regular character, her high-pitched kewpie doll voice sounds like fingernails on a blackboard. On the other hand, it is something that seems perfectly suited to voicing the role of Harley Quinn and Rauch slides in and nails the part to perfection. Bruce Timm and co have an affection for Harley and redeem her by the end far more so than they ever did in the animated series – it is hard, for instance, to imagine the same story here working with The Joker in the equivalent role.
---
---