---
USA. 2017.
Crew
Director – David Ayer, Screenplay – Max Landis, Producers – David Ayer, Eric Newman, Ted Sarandos & Bryan Unkeless, Photography – Roman Vasyanov, Music – David Sardy, Visual Effects Supervisor – Marcus Taormina, Visual Effects – Iloura (Supervisor – Jason Billington), lola VFX (Supervisor – Jeremiah Sweeney) & Mammal Studios (Supervisor – Gregory D. Liegy), Special Effects Supervisor – Scott Fisher, Orc Makeup Effects – Alec Gillis & Tom Woodruff, Jr., Elf Creature Effects – Autonomous F/X, Inc., Fairy Creature Effects – Creature Effects, Inc., Production Design – Andrew Menzies. Production Company – Trigger Warning Entertainment/Grand Electric Productions.
Cast
Will Smith (Daryl Ward), Joel Edgerton (Nick Jakoby), Lucy Fry (Tikka), Edgar Ramirez (Kandomere), Noomi Rapace (Leilah), Happy Anderson (Montehugh), Brad William Henke (Dorghu), Enrique Murciano (Poison), Alex Meraz (Serafin), Jay Hernandez (Rodriguez), Ike Barinholtz (Pollard), Dawn Oliveri (Sherri Ward), Margaret Cho (Sergeant Ching), Matt Gerald (Hicks), Veronica Ngo (Tien)
---
Plot
It is an alternate world where orcs and elves live alongside humans. Daryl Ward is an LAPD officer who was shot in the course of trying to apprehend a street robbery. He returns to duty but tries to get out of being partnered with Nick Jakoby, the first orc on the force whose presence is disliked by all the other officers. During a call-out to a crime scene, Daryl and Nick discover a magic wand – a rare item that contains a great deal of real magical power but will consume anyone attempting to wield it who is not a Bright. Daryl's fellow officers arrive and plan to take the wand, wanting its power for themselves. Daryl is urged to join them and kill Nick but instead he turns his gun and shoots them. This makes Daryl and Nick into fugitives. Along with Tikka, an elf who was found at the scene, they flee pursued by the rest of the LAPD, agents from the Bureau of Magic Affairs, elves seeking to resurrect the Dark Lord, and both orc and human street gangs, all wanting the wand.
---
Bright was a surprise hit released directly to Netflix right on Christmas of 2017. It is the brainchild of Max Landis, the son of director John Landis, who has also written a number of films of recent years such as Chronicle (2012), American Ultra (2015), Victor Frankenstein (2015), Shadow in the Cloud (2020) and created the tv series Dirk Gently's Holistic Detective Agency (2016-7).
The director to take it on was David Ayer who started in the industry as a screenwriter with his scripts for U-571 (2000), The Fast and the Furious (2001), Training Day (2001) and S.W.A.T. (2003). Ayer made his directing/writing debut with gritty-edged crime films like Harsh Times (2005), Street Kings (2008), End of Watch (2012), Sabotage (2014) and the war film Fury (2014), before the big audience-divided hit of DC Comics' Suicide Squad (2016).
Bright reminds exactly of one of the buddy cop films of the 1980s/early 90s that came out following the hit of Lethal Weapon (1987) where filmmakers tried to come up with all manner of wacky buddy cop partnerships. We had the likes of cop and dog – K9 (1988) and Turner and Hooch (1988); cop and alien – The Hidden (1987); cop and split personality – Loose Cannons (1989); cop and Hollywood action star – The Hard Way (1991); cop and vampire – tv's Forever Knight (1992-6); cop and zombie – Dead Heat (1988); even cop and dinosaur in Theodore Rex (1995).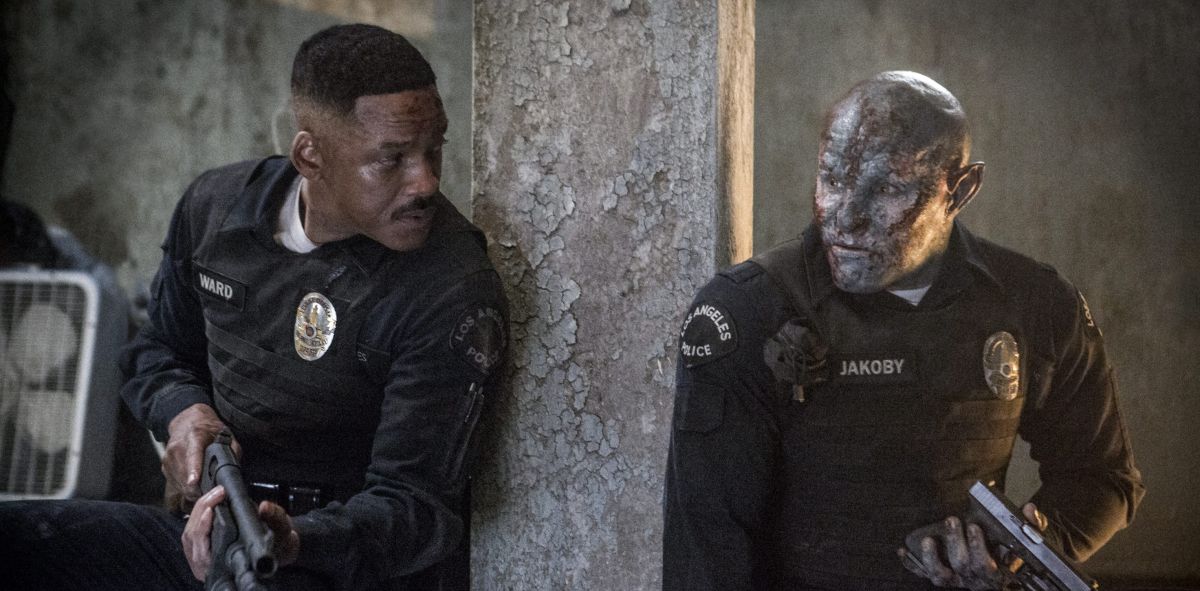 In particular, Bright reminds of the excruciating Stan Winston-directed Upworld/A Gnome Named Gnorm (1991) in which detective Anthony Michael Hall was partnered up with a gnome. I was also reminded of the much smarter Cast a Deadly Spell (1991), a detective noir set in an alternate 1940s L.A. where magic, witches, werewolves, zombies and the like have seamlessly integrated into the fabric of society.
Although the film I was reminded of the most is Alien Nation (1988), which posited the idea of an alien species that had integrated into modern America to the point where they were just another racial minority and where a regular, human cop is partnered with the first alien on the force. Max Landis has borrowed almost exactly the same set-up as Alien Nation here – fantastical creatures as a racial minority, a curmudgeonly human cop partnered with the first of the creatures to serve on the force – and has essentially rewritten it with the creatures from The Lord of the Rings – orcs, elves, Dark Lords, even one shot that seems to show a dragon flying through the sky – albeit dragged into the present day.
Bright attracted a good deal of negative criticism after it premiered, I suspect that most of this is either to do with the dislike of David Ayer on the basis of Suicide Squad or else people having difficulty extending the suspension of disbelief to watch Will Smith fighting alongside orcs. On the other hand, I liked the film. Max Landis has taken the time to think out his premise and spin it through a series of logical extrapolations. He has created a version of L.A. where orcs are a looked down-upon minority, elves are a wealthy elite that inhabit the swanky suburbs, while fairies are regarded as an annoying nuisance that is best dealt with by pest control. Like Game of Thrones (2011-9), actual magic is regarded as a rarity – so much so that the appearance of a wand causes a frenzied rush for its possession not unakin to The Box in the classic film noir Kiss Me Deadly (1955).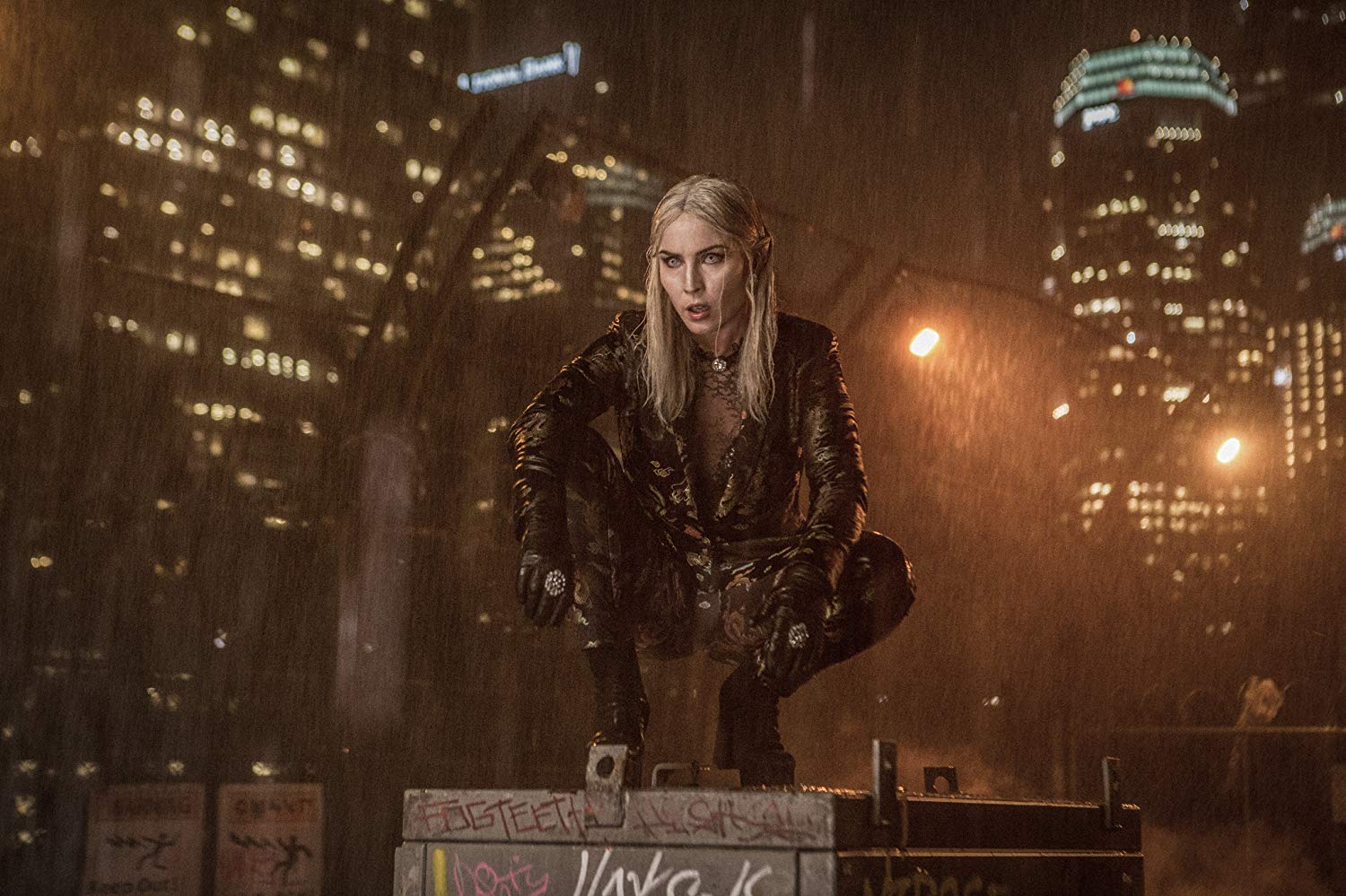 Moreover, rather than the silliness of Upworld and the comedy focus of the Lethal Weapon sequels, David Ayer approaches the film with a harsh realism that almost defies you to treat it with less than seriousness. The film is set in dark and gritty world akin to the urban environment of Training Day or one of Ayer's other above-listed urban crime films, while the frequently dark visual tone reminds of something like Christopher Nolan's Dark Knight trilogy. Ayer has an impeccable action hand that anchors the fantasy elements with an unquestionable realism.
In the midst of this, Will Smith still delivers his wry and cocky line of banter and gives the show an infusion of humour. An unrecognisable Joel Edgerton plays the orc straight-guy – it's a performance he has almost entirely appropriated from Mandy Patinkin in Alien Nation but proves likeable once again.
You could easily see Bright being spun out as a series of films or a tv show as its original spin on classic fantasy tropes is something that allows almost endless possibilities. It all makes for a world I would welcome the chance to visit again. Davud Ayer has announced intentions to make a sequel.
---
Trailer here
---