---
Crew
Director/Screenplay – Angela Robinson, Producers – Terry Leonard & Amy Redford, Photography – Bryce Fortner, Music – Tom Howe, Visual Effects – Dave Tecson (Supervisor – Eliza Pelham Randall), Special Effects Supervisor – Michael Ricci, Production Design – Carl Sprague. Production Company – Topple Pictures/Boxspring Entertainment/Opposite Field Pictures.
Cast
Luke Evans (William Moulton Marston), Rebecca Hall (Elizabeth Marston), Bella Heathcote (Olive Byrne), Connie Britton (Josette Frank), J.J. Feild (Charles Guyette), Chris Conroy (Brant Gregory), Oliver Platt (M.C. Gaines), Alexa Havins (Molly Stewart)
---
Plot
In 1945, William Moulton Marston is brought before a National Comics Publications enquiry board and asked to justify the overly sexual and bondage content in the Wonder Woman comic-book he created. In 1928, Marston was a professor of psychology at Harvard Radcliffe College in Cambridge, Massachusetts and lectured in theories about dominance and submission. He was aided by his wife Elizabeth who was frustrated about not being able to properly qualify from Harvard because she was a woman. Marston took on student Oliver Byrne as an assistant. Elizabeth noted Marston's attraction to Olive and initially told him to do what he wanted but then harshly warned Olive away. Through their invention of the systolic blood pressure device, Marston created the first lie detector. Using it on themselves, he, Elizabeth and Olive uncovered the mutual attraction between the three of them, despite the fact that Olive was engaged. In surrendering to this, the three lived in a menage a trois. However, their lack of discretion had Marston fired from his position. Settling into regular suburban life together and passing Olive off as a roommate, Marston tried to find a new career while Elizabeth became the breadwinner. He discovered an attraction to bondage and fetish gear after passing the store of Charles Guyette and the three of them ventured into exploring this. Marston pitched his idea of the Wonder Woman comic-book to M.C. Gaines, the publisher of Superman, and this became a success. However, their unconventional lifestyle caused considerable upset in their community.
---
Professor Marston and the Wonder Women is a film based on the life of William Moulton Marston (1893-1947). Marston's claim to fame is that he was the creator of Wonder Woman (credited under the name Charles Moulton). Marston was a psychology professor whose greatest claim to fame before that had been inventing the lie detector. In 1940, Olive Byrne published an article in which he spoke of the unfulfilled potential of the comic-book. He was hired as a consultant by M.C. Gaines, the owner of All-American Comics and the publisher of Superman, The Flash and Green Lantern, among others. (Gaines later sold his share in All-American to National Comics, which subsequently renamed itself as DC Comics). Marston pitched the idea of a female superhero to Gaines and Wonder Woman made his first appearance in Sensation Comics #1 in 1942. Marston based many elements of Wonder Woman on aspects from his own unconventional life, which included a polyamorous relationship between he, his wife Elizabeth and assistant Olive Byrne, not to mention an interest in bondage and psychological submission.
Professor Marston and the Wonder Women notedly came out five months later in the same year as the big screen version of Wonder Woman (2017). The film was written-directed by Angela Robinson who made an impressive splash a few years earlier with D.E.B.S. (2004), a witty lesbian spoof on Charlie's Angels (1976-81). This was followed by a none-too-successful venture into the mainstream with the Lindsay Lohan-starring Disney film Herbie: Full Reloaded (2005). Robinson has not made a film in the twelve years in between, although has been working as a director, writer and producer on tv shows like The L Word (2004-9) and True Blood (2008-14).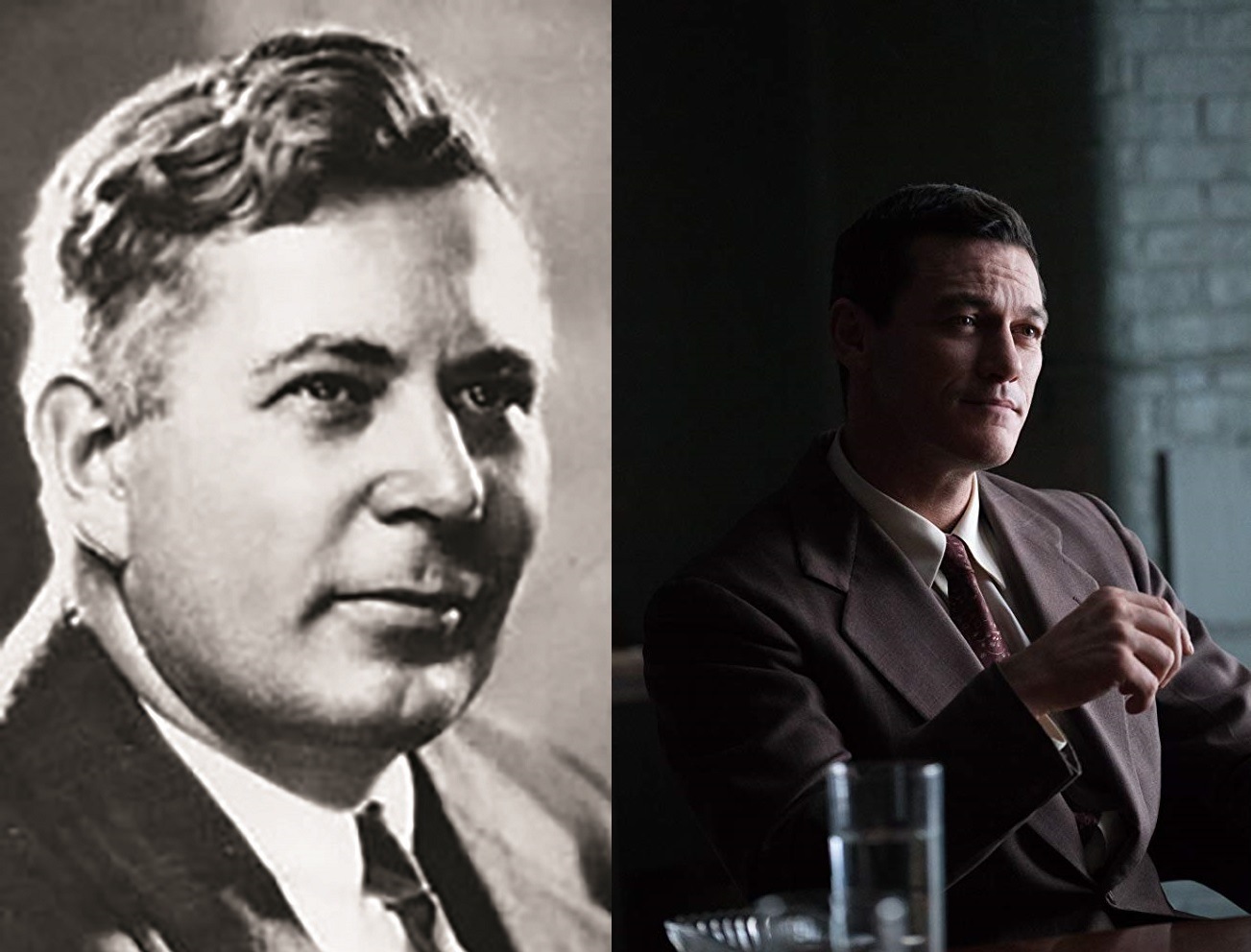 Professor Marston hits all the major beats of William Marston Moulton's life – his devising DISC theory; his invention of the lie detector; the polyamorous relationship between he, his wife and assistant Olive Byrne; his being fired from his job at Harvard Radcliffe; the creation of Wonder Woman. I don't know enough about Marston's life to be able to say how accurate this – although it should be noted that Marston's granddaughter Christie disowned the film in an interview at BigFanBoy, stating that there was no same sex attraction between the two women, rather that they loved both Marston but not each other.
Notedly, Angela Robinson chose not to contact the Marston family but rather to write her own interpretation of events (a dubious prospect when dealing with real-life people and passing the results off as a biopic). Christie also points out that the burning of the comics we see in the opening scenes did not happen in Marston's lifetime but some years after – as instigated by the infamous Frederick Wertham – and that Wonder Woman was not the primary comic-book singled out.
There are many aspects of Marton's biography that are not touched on – his brief career as a writer in Hollywood; his somewhat unorthodox experiments in sexuality, eroticism and sexual identity; the fact he was originally hired as a consultant by M.C. Gaines rather than simply walked into his office and pitched Wonder Woman to him as the film has happen; that his firing from Harvard Radcliffe was one of several academic fallings-out, including being fired from the American University after being accused of fraud. The biggest point that becomes obvious – especially when you look at the photos of the real-life people that play out over the end credits – is that Luke Evans, Rebecca Hall and Bella Heathcote look nothing like their real-life counterparts and are clearly played up as a more Hollywood-handsome version of the historical players.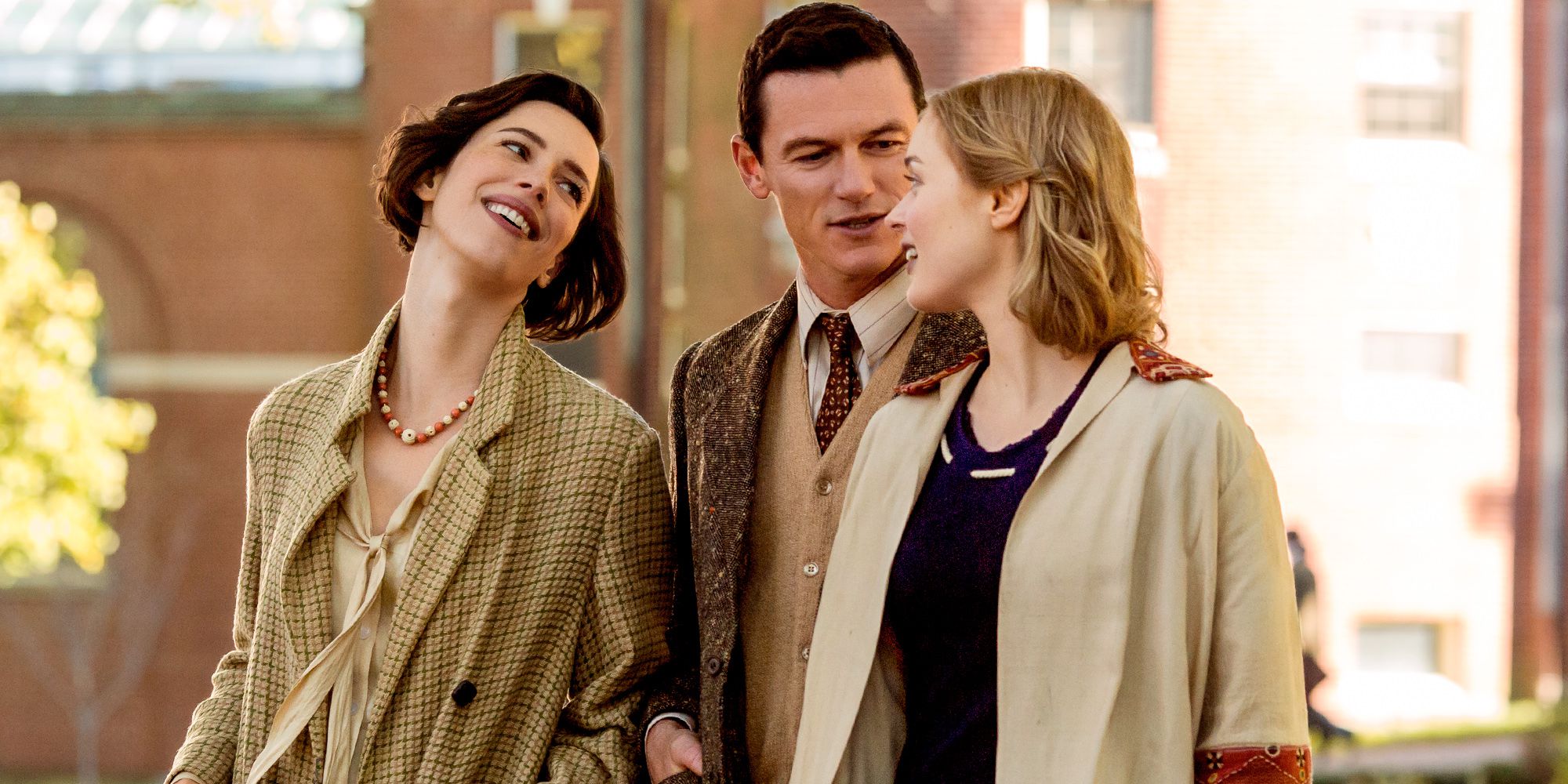 Angela Robinson engages in the same schematic game that most biopics of famous writers/creators do – of creating little aha moments where we see all the major ideas of a body of ideas in an artist's oeuvre being inspired. The academic name for this is euhumerism. We see the same thing play out in other films like Ed Wood (1994), Finding Neverland (2004), Fleming: The Man Who Would Be Bond (2014), In the Heart of the Sea (2015), Goodbye Christopher Robin (2017), Tolkien (2019) and outrightly fictionalised works such as Kafka (1991), Shakespeare in Love (1998) and The Brothers Grimm (2005).
Here we see Marston playing with a glass model plane knowing it will become Wonder Woman's invisible plane; when Bella Heathcote emerges in tiara, fetish gear and holding a rope, it becomes the embryonic image of Wonder Woman; the analogy between the lie detector tests and Wonder Woman's lasso of truth is made several times; while there is much parallel drawn during the ethics committee scenes between key aspects of Marston's biography and Wonder Woman leaving Paradise Island for Man's World, developing a secret identity and so on.
What has clearly attracted Angela Robinson, herself a lesbian director, to the material is the transgressive relationship at the heart of it. Here though one has to fault Professor Marston and the Wonder Women as being on the tame side. The initial love scene between the three principals is all gauzy photography and quick, soft-focus cuts with an eye more towards the censor than evoking any passion. The later scene where the three are engaged in dress-up and tying up one another with a rope has a giggly silliness to it that may well be the opposite one to what was intended.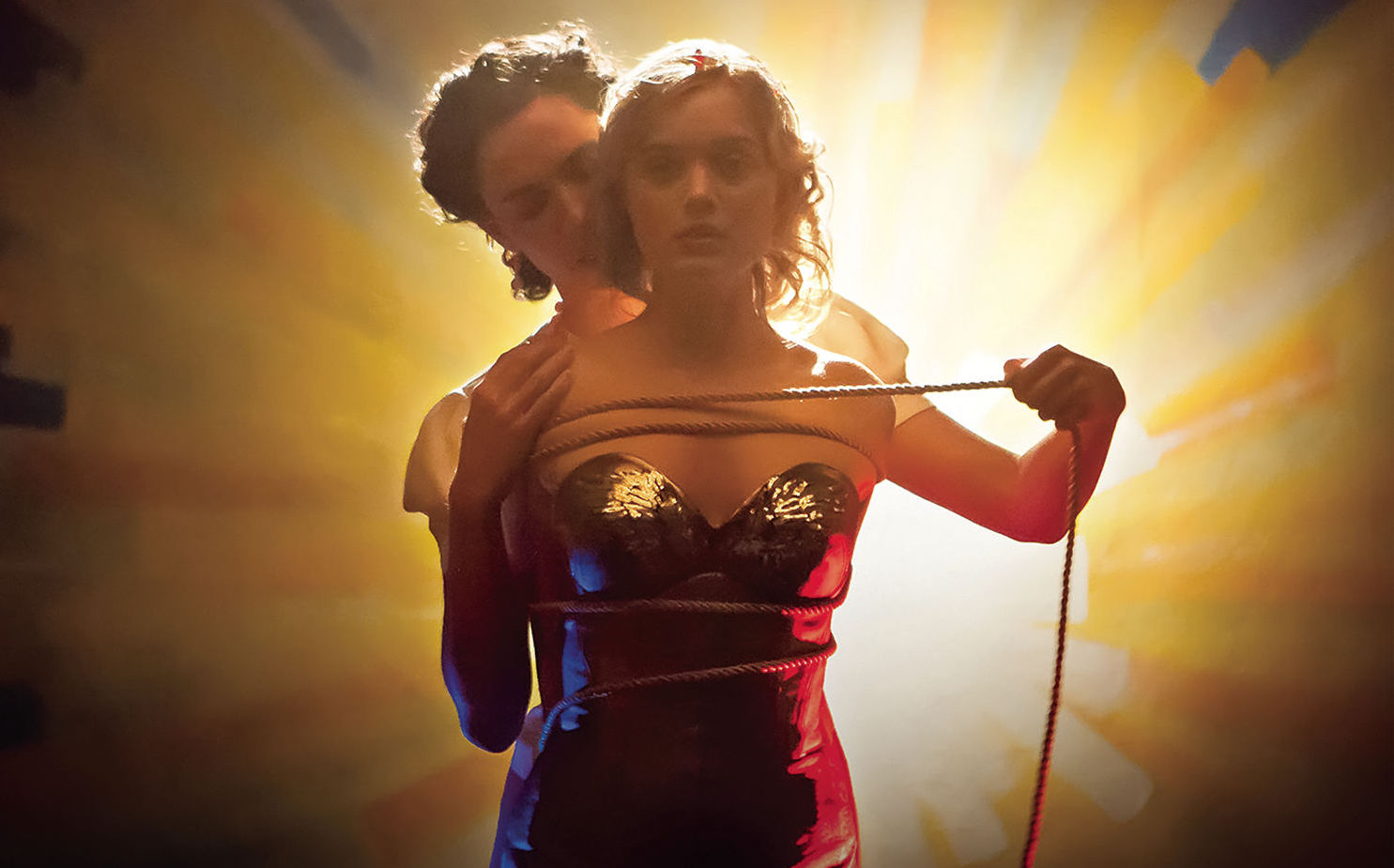 Robinson does a good job in bringing out the fact that the original Wonder Woman comics under Marston's creative control had an emphasis on erotic and BDSM elements. On the other hand, her handling of these aspects are tame, especially in comparison to the mainstreaming of the subject in the recent Fifty Shades of Grey (2015). We get a couple of rope-tying scenes but there is no sense of what it is that any of those involved get out of it. Robinson at least dips her toes in but the failing of the film is that it at one point accuses Marston of being a natural submissive nowhere do we actually see him acting in a submissive position to either of the two women.
Professor Marston and the Wonder Woman is an okay biopic. It held my interest, if it never lit the imagination like some of the great biopics – Dillinger (1973), The Elephant Man (1980), Bugsy (1991), Gods and Monsters (1998), The Aviator (2004), The Assassination of Jesse James By the Coward Robert Ford (2007), Ludwig II (2012), Steve Jobs (2015) to name some personal favourites.
One of the things that boost the film considerably is a top-line cast. All of the three principals get right into character and give excellent performances. I am increasingly impressed with Rebecca Hall – more and more she comes out as a latter-day Emma Thompson with everything she does. She plays here with just the right kind of haughty self-certainty and awkwardness that makes the role undeniably interesting – and steals the stage from the other two.
(Nominee for Best Actress (Rebecca Hall) and Best Supporting Actress (Bella Heathcote) at this site's Best of 2017 Awards).
---
---