---
Crew
Director/Screenplay – Gerard Damiano, Photography – Harry Flecks, Music – Alden Shuman, Makeup – Ralph Herman. Production Company – Pierre Productions.
Cast
Georgina Spelvin (Justine Jones), John Clemens (Abaca), Harry Reams (The Teacher), Albert Gork (Man in Cell)
---
Plot
Justine Jones commits suicide, slashing her wrists in the bath. She arrives in the afterlife and is interviewed by Abaca who tells her that because she has led a morally pure life she would ordinarily go to Heaven but the act of taking her own life has condemned her to Hell. Justine laments the fact that because she is now condemned, she never took the chance to sin in her life and wishes that she could have indulged in lust. Abaca decides to allow Justine to return to her life for a time so that she can do so. There Miss Jones decides to lose her virginity and indulge in all the different forms of sexual pleasure that she can.
---
The Devil in Miss Jones is a classic pornographic film. It came from director Gerard Damiano, who had just had a massive success with the infamous Deep Throat (1972), which essentially created 1970s porn chic. The film made a star out of its lead actress Georgina Spelvin. Born Shelley Graham, Spelvin was a dancer in several Broadway musicals who was introduced to the industry by Harry Reams. (Her pseudonym is taken from the common alias used by stage actors). Spelvin was 36 when she made The Devil in Miss Jones and went onto make over 70 porn films over the next decade, even crossing over to the mainstream to appear in several of the Police Academy films. The Devil in Miss Jones gained a reasonable reputation and was even favourably reviewed by Roger Ebert.
It is important before watching The Devil in Miss Jones to remember that it was made before the era of commercial pornography that was cheaply produced for video and cable. There are a number of differences noticeable between it and almost any modern porn film. One of the more striking is that Georgina Spelvin comes au naturel – she is not shaven Down Below as almost all modern actress are; she doesn't even shave her armpits!
The Devil in Miss Jones also comes from a time when the porn industry were making their films for theatrical audiences where they seemed to be taking the time to make them properly as films, filming on 35mm, setting up and directing shots rather than cheaply churning them out for video and usually shooting them all on a weekend in a motel room with three separate cameras running simultaneously.
Gerard Damiano treats his story seriously (not a claim that many other modern porn films could make) and takes the time to actually direct scenes, showing us the incidental detail in rooms. There are even times that Damiano's direction becomes quite lyrical – like the use of a song to poignantly echo Georgina Spelvin's suicide in the bathtub. (Oddly, the film ever tells us why she decided to commit suicide in the first place).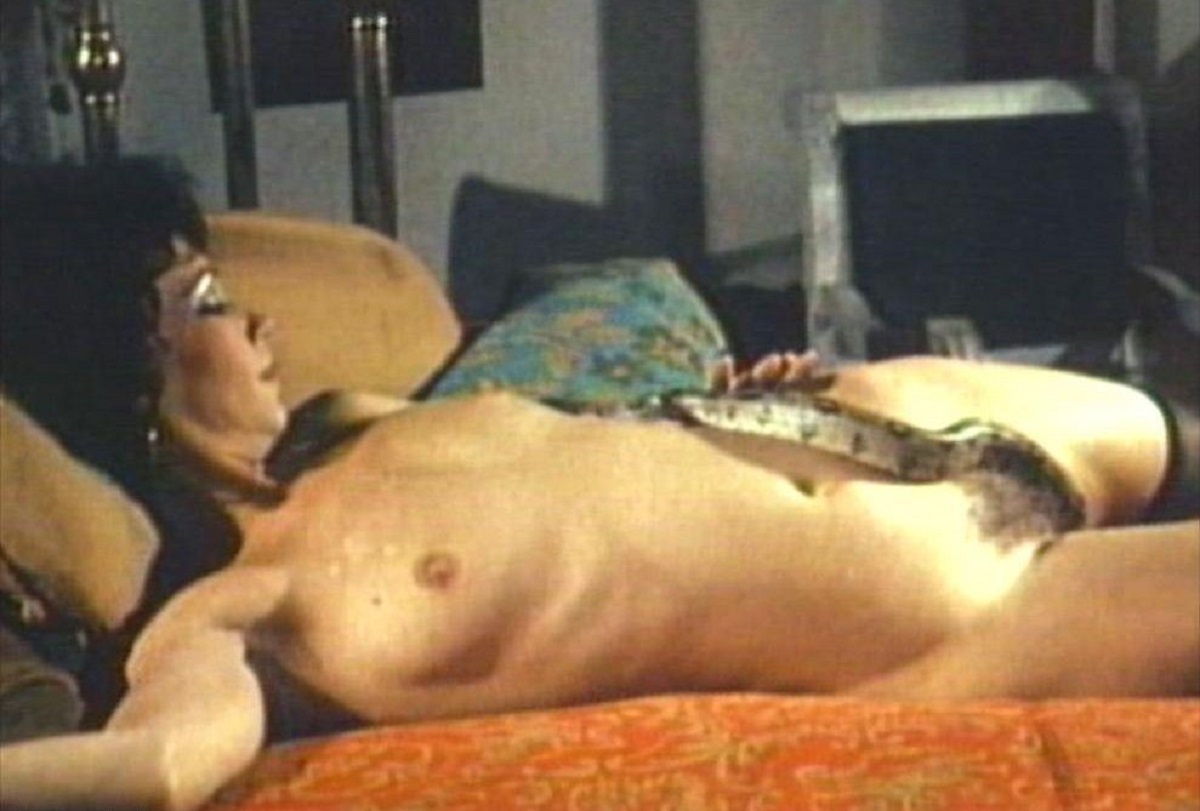 The Devil in Miss Jones may well have been inspired by the 1970s occult fad that began with Rosemary's Baby (1968) and hits its peak with the massive success of The Exorcist (1973) a few months later the same year. Although storywise, what The Devil in Miss Jones feels like it draws from is one of the 1940s afterlife fantasies. Although amusingly, it turns the usual sympathies in these films upside down – where in various 1940s films someone is usually rejected from Heaven and sent back to do good deeds and earn their way in, here it is decided that Georgina Spelvin is already damned so she is sent back from Hell to sin and experience all the pleasures of the flesh that she denied herself in her spinsterish existence. The film does reach an interesting ending where Georgina Spelvin is condemned to Hell – perpetually horny and celled up with a guy who demonstrates indifference to the availability of her body. It is clearly a moralistic ending that does ever-so-clearly disapprove of all the wanton lust that the film has put on for our delectation.
Georgina Spelvin makes a convincingly emotionally repressed and unhappy spinster. And once she does start to enjoy the pleasures of lust, we do get a sense of someone discovering these things for the first time. As Spelvin performs fellatio on Harry Reems, she keeps up a running commentary that joyously describes each sensation she is experiencing. This adds something unexpected to the standard sex scene rather than a stacked bimbo shedding her clothes at the drop of a hat and then lying there faking her moans.
Once it comes to the various sexual set-pieces, the film covers all the usual gamut – vaginal penetration, oral, anal, lesbianism and three-ways. Gerard Damiano does add a few novel original ones – like Georgina Spelvin masturbating with a hose of water and then giving herself an enema in the bathtub. Some of these touch the erotic – notedly a sequence with Spelvin masturbating and placing grapes into herself, followed by a banana. There is a particularly bizarre sequence where she caresses herself with a snake, kisses it and then even inserts the snake into her mouth.
There have been numerous sequels. These include The Devil in Miss Jones 2 (1982), which features a return guest appearance from Georgina Spelvin, The Devil in Miss Jones 3: A New Beginning (1986), The Devil in Miss Jones 4: The Final Outrage (1986), The Devil in Miss Jones 5: The Inferno (1995) and The Devil in Miss Jones 6 (1999). There was also an uncredited sequel with The Devil in Miss Jones II: The Devil's Agenda (1991). The Devil in Miss Jones (2005) was a remake starring Savanna Samson in the title role and featuring a non-nude cameo from the now-aging Georgina Spelvin, and was followed by The Devil in Miss Jones: The Resurrection (2010).
Director Gerard Damiano made numerous other adult films between the late 1960s and the 1990s. Other genre crossovers include the Devil Worship film Legacy of Satan (1974), the SF film The Satisfiers of Alpha Blue (1981), Night Hunger (1983) about a sex curse, another pact with the Devil film Flesh and Fantasy (1986) and the SF film Future Sodom (1987). The strangest film in Damiano's resume is Let My Puppets Come (1976), a pornographic film featuring puppets.
---
---