---
USA. 2001.
Crew
Director – Steve Carr, Screenplay – Larry Levin, Producer – John Davis, Photography – Daryn Okada, Music – David Newman, Music Supervisor – Spring Aspers, Visual Effects Supervisor – Douglas Hans Smith, Visual Effects – Rhythm and Hues Studios (Supervisor – Christopher Sjoholm), Additional Visual Effects – Digital.Art.Media & Hammerhead Productions, Animatronic Creatures – Animated Engineering Inc (Supervisors – Dave Nelson & Norm Tempala), Special Effects Supervisor – Alan E. Lorimer, Production Design – William Sandell. Production Company – Davis Entertainment.
Cast
Eddie Murphy (Dr John Dolittle), Raven-Symone (Charisse Dolittle), Kristen Wilson (Lisa Dolittle), Jeffrey Jones (Joseph Potter), Kevin Pollak(Jack Riley), Kyla Pratt (Maya Dolittle), Lil' Zane (Eric), Victor Raider-Wexler (Judge)
Voices
Steve Zahn (Archie), Lisa Kudrow (Ava), Norm MacDonald (Lucky), Phil Proctor (Drunk Monkey), Jacob Vargas (Pepito), Michael Rapaport (Joey), Andy Dick (Lennie the Weasel), Mike Epps (Sonny)
---
Plot
John Dolittle, the doctor with the ability to speak to animals, is approached by Mafia beavers asking him to save their forest from demolition by loggers. The only means for Dolittle to do so is for him to claim that Ava, the sole Pacific Western Bear living in the forest, is an endangered species. To do so he must get her to mate with another Pacific Western Bear. However, the only male bear available is the performing circus bear Archie who has never been in the wild before. Dolittle has a difficult task ahead of him, trying to teach Archie how to live in the wild – one not helped by the loggers' determination to sabotage his efforts.
---
Eddie Murphy had a big hit with Dr Dolittle (1998), a modernisation of the children's classic Doctor Dolittle (1967), which in turn was based on Hugh Lofting's much read children's stories. Dr Dolittle 1998 was not a particularly good film, ruined by Betty Thomas's determination to drag it down to the level of vulgar humour, but it was a reasonable hit, out of which success comes this sequel.
There are several returnees from the previous film – Eddie Murphy, along with Kristen Wilson, Kyle Pratt and Raven-Symone as his family, and Norm MacDonald as the voice of the dog Lucky and Phil Proctor as the drunk monkey. Most welcomely, Betty Thomas is absent, having gone onto other inane efforts like 28 Days (2000), with the directorial baton having been passed onto Steve Carr, previously the director of Next Friday (2000) and of subsequently comedy successes like Daddy Day Care (2003), Are We Done Yet? (2007), Paul Blart: Mall Cop (2009), Middle School: The Worst Years of My Life (2016) and the remake of Freaky Friday (2018), as well as the The Proposition segment of Movie 43 (2013). As a result, Dr. Dolittle 2 emerges as a far better effort than its predecessor. Steve Carr lacks Betty Thomas's determination to aim at the most vulgar common denominator. There is an extended joke about a bear pooping in a diner toilet but for the most part the film remains free of such humour.
The first film was only a series of set-pieces centred around Eddie Murphy and the animals but this one has a stronger, more engaging story. It is a predictable, nevertheless engaging, arc of Eddie trying to educate a circus bear in the ways of the wild for the first time. Steve Carr milks the set-up for a good deal of amiable humour. The animal effects are a superb mix of animatronics, CGI, puppetry and real animals. The film creates some likable supporting characters – Mafioso beavers, the monkey with an alcohol problem and a Mexican chameleon with a problem changing its colours.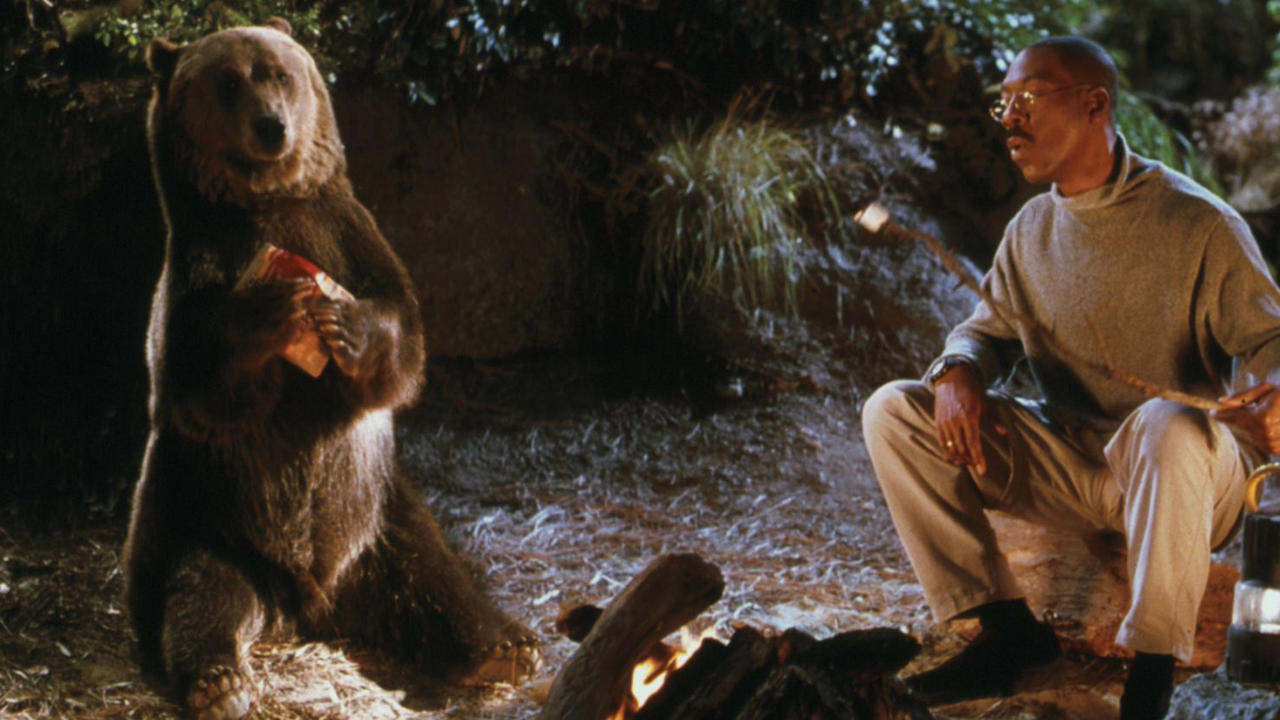 Dr. Dolittle 2 is certainly a film that has been built entirely around Eddie Murphy and the animals. Former The Cosby Show (1984-92) kid Raven-Symone does well in the scenes as Eddie's teenage daughter but everybody else takes a place on the sidelines to Eddie and the animals. Even the villains of the show and their scheming seem trivial.
On the minus side, the film contains an inordinate number of plugs for junkfood companies. Also the film tends to get overloaded by trendy pop-culture in-jokes – animals going "May The Force be with you," fishes going "Whazzup?", jailed bears whispering "Hello, Clarice," the chameleon asking "I'd like a side order of flies – super-size." These sorts of gags are one of the bugbears that one has about modern fantasy – the rupturing of the suspension of disbelief for a quick joke that modern audiences are going to get. Besides the commercially driven narcissism in reaching for such easy laughs, it is something that dooms the historic shelf-life of a work. Classic Disney films have a timelessness and it is hard to think of films like Dr. Dolittle 2 being revived and enjoyed more than fifty years later when their contemporary references have been all but forgotten.
The series was continued with the dvd-released likes of Dr. Dolittle 3 (2006), Dr Dolittle: Tail to the Chief (2008) and Dr Dolittle: Million Dollar Mutts (2009). Eddie Murphy was absent and the lead character was Kyla Pratt as his daughter. Robert Downey Jr played Dr Dolittle in the subsequent Dolittle (2020), which returned far more to the tone of the original stories.
(No. 10 on the SF, Horror & Fantasy Box-Office Top 10 of 2001 list).
---
---