---
USA. 1999.
Crew
Director – Rob Minkoff, Screenplay – Gregory J. Brooker & M. Night Shyamalan, Based on the Novel by E.B. White, Producer – Douglas Wick, Photography – Guillermo Navarro, Music – Alan Silvestri, Senior Visual Effects Supervisor – John Dykstra, CGI Animation Supervisor – Henry F. Anderson III, Visual Effects – Centropolis Effects & Sony Pictures Imageworks (Supervisor – Jerome Chen), Cat Visual Effects – Rhythm and Hues (Supervisor – Bill Westenhofer), Animatronics – Tatopoulous Designs Inc, Special Effects Supervisor – Eric Allard, Production Design – Bill Brzeski. Production Company – Columbia/Douglas Wick/Franklin-Waterman Productions.
Cast
Jonathan Lipnicki (George Little), Geena Davis (Eleanor Little), Hugh Laurie (Frederick Little), Julia Sweeney (Mrs Keeper), Jeffrey Jones (Uncle Crenshaw)
Voices
Michael J. Fox (Stuart Little), Nathan Lane (Snowbell), Steve Zahn (Monty), Chazz Palminteri (Smokey), Bruno Kirby (Reggie Stout), Jennifer Tilly (Camelia Stout)
---
Plot
The Littles want to adopt a new brother for their young son George. At the orphanage, they are taken by Stuart, a young talking mouse, and decide to adopt him. George at first dislikes Stuart but Stuart soon endears himself into the family's hearts. He proves himself by winning a remote-controlled sailboat race in Central Park. The only person who does not like Stuart is the family cat Snowbell who resents being subordinate to someone he would normally regard as food. And so Snowbell conspires with the other cats to get rid of Stuart.
---
It is nice to see an occasion when the little guys win out. 1999 was a year filled with little guys winning out over the big guys – from the massive success of the video-shot The Blair Witch Project (1999) to sleepers like Stuart Little screenwriter M. Night Shyamalan's The Sixth Sense (1999). Stuart Little, in everything from name to theme and success, seems a film born to make analogies about little guys winning out – it was an independently-released feature from Sony competing against big-name, top-promoted Christmas studio-release fare where it successfully managed to hold its own to become a considerable hit.
The film is based upon a popular children's book Stuart Little (1945) written by E.B. White. E.B. White also wrote children's classics such as Charlotte's Web (1952), filmed as Charlotte's Web (1973) and Charlotte's Web (2006), and The Trumpet of the Swan (1970), filmed as The Trumpet of the Swan (2001). The book is something that, as many purists have been quick to point out, the film takes considerable liberties with.
Rather than the book, the film has taken its cue from Babe (1995) and its integration of animatronic/CGI talking animals into realistic settings. While it may not make the E.B. White purists happy, Stuart Little is a considerable delight. Despite being 100% created within the environment of a computer, Stuart succeeds in completely engaging sympathy over and above his human counterparts. The scenes with he winning his way into the hearts of the family and especially the boat race have plaintive, endearing charms. The scenes in the latter half with the cat conspiracy work less well, as the cats only come across as caricatured animation villains. Here far too much of a reliance on flatulence gags and moron humour tends to spread thin the film's earlier delights.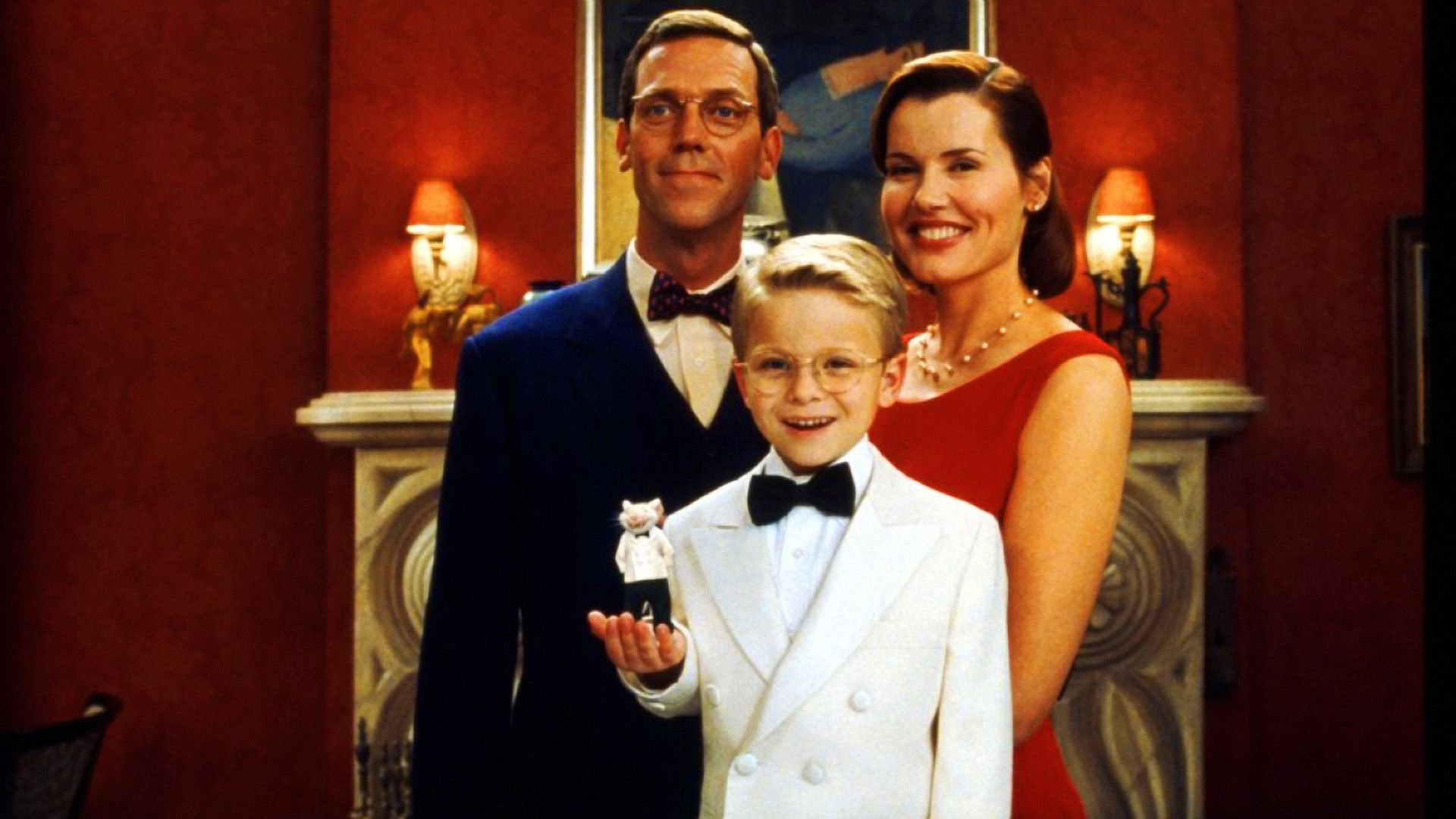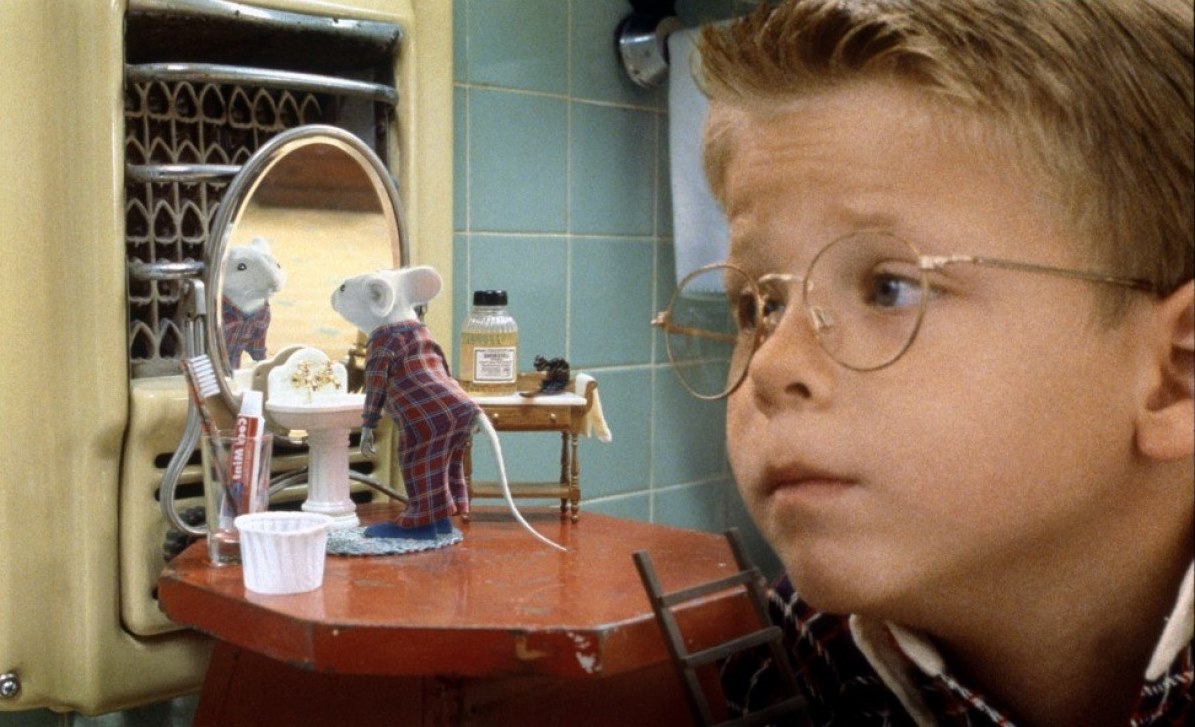 Stuart Little also marked the live-action directorial debut of Rob Minkoff, previously a Disney animator and co-director of The Lion King (1994), who here makes the move over from animation into live-action, a first for an animation director. Stuart Little also marks a return to screens for John Dykstra. Dykstra's career has been marked by the one highlight of having spearheaded an effects industry revolution as visual effects supervisor at Industrial Light and Magic on Star Wars (1977) and having done nothing of any distinction since then. It had been the better part of ten years since John Dykstra's name had appeared on the credits of a cinematically released film. Stuart Little marks a welcome return to screens for John Dykstra and shows him having adjusted to the new CGI technology with elan. The film's effects work is excellent – it is impossible to tell, for instance, if the cats are trained animals or CGI effects.
Most of the creative talents involved reunited for the also likeable sequel Stuart Little 2 (2002), This was followed by the animated video-released Stuart Little 3: Call of the Wild (2005), as well as the animated tv series Stuart Little (2003).
Director Rob Minkoff next returned to the Disney stables to make the live-action The Haunted Mansion (2003) and then went onto the martial arts adventure The Forbidden Kingdom (2008), the non-genre comedy Flypaper (2011) and the animated Mr. Peabody & Sherman (2014).
(Nominee for Best Special Effects at this site's Best of 1999 Awards. No. 9 on the SF, Horror & Fantasy Box-Office Top 10 of 1999 list).
---
---