---
Crew
Directors – Cody Cameron & Kris Pearn, Screenplay – John Francis Daley, Jonathan Goldstein & Erica Rivinoja, Story – Phil Lord & Christopher Miller, Producer – Kirk Bodyfelt, Music – Mark Mothersbaugh, Visual Effects Supervisor – Peter G. Travers, Production Design – Justin Thompson. Production Company – Sony Pictures Animation.
Voices
Bill Hader (Flint Lockwood), Anna Faris (Sam Sparks), Will Forte (Chester V), James Caan (Tim Lockwood), Terry Crews (Earl Devereaux), Andy Samberg (Brent McHale), Kristin Schaal (Barb), Benjamin Bratt (Manny), Neil Patrick Harris (Steve), Cody Cameron (Barry/Dill Pickle)
---
Plot
In the aftermath of the storm of giant food having hit Swallow Falls, celebrity scientist Chester V offers to let his company Live Corp manage the clean-up operation while everybody is evacuated. He also invites Flint Lockwood to come and work at Live Corp. There Flint eagerly throws himself into inventing, hoping for the opportunity to be selected as one of Chester's Thinkonauts. However, Flint is embarrassed when one of his inventions causes a major faux pas at the Thinkonaut selection ceremony. Chester then selects Flint for a dangerous mission – of returning to Swallow Falls to switch off the FLDSMDFR, which has gone amok and is creating giant cheeseburger monsters that are now threatening to head to the mainland. The previous Live Corp scientists who have tried to do so have all been killed. Sam, Flint's father, Earl, Manny and Brent insist on accompanying him. Once on the island, they realise that the FLDSMDFR has started creating living food creatures.
---
Sony Pictures Animation has emerged to reasonable success in the 2000s with animated films such as Open Season (2006), Surf's Up (2007), Arthur Christmas (2011), The Pirates! Band of Misfits (2012), Hotel Transylvania (2012), The Emoji Movie (2017), Peter Rabbit (2018), The Mitchells vs the Machines (2021), Vivo (2021) and Wish Dragon (2021). One of their biggest successes, both critically and with audiences, was Cloud With a Chance of Meatballs (2009), based on a 1978 children's book. This is the inevitable sequel – original directors Phil Lord and Chris Miller have stepped back to producing and story capacities and the film is handled by two newcomers from the Sony ranks.
The animated sequel is a dubious prospect – the stories and characters that animated films deal with are so simplistic that most sequels struggle to find new things for the familiar characters to do, case in point being the tedious Ice Age and Shrek sequels and the slightly better Madagascar sequels, while their recent venture into sequels has marked the creative decline of Pixar. The animated sequel has however become a regular box-office fixture throughout the latter half of the 00s with companies relishing the prospect of lucrative franchises that young unsuspecting audiences will flock to.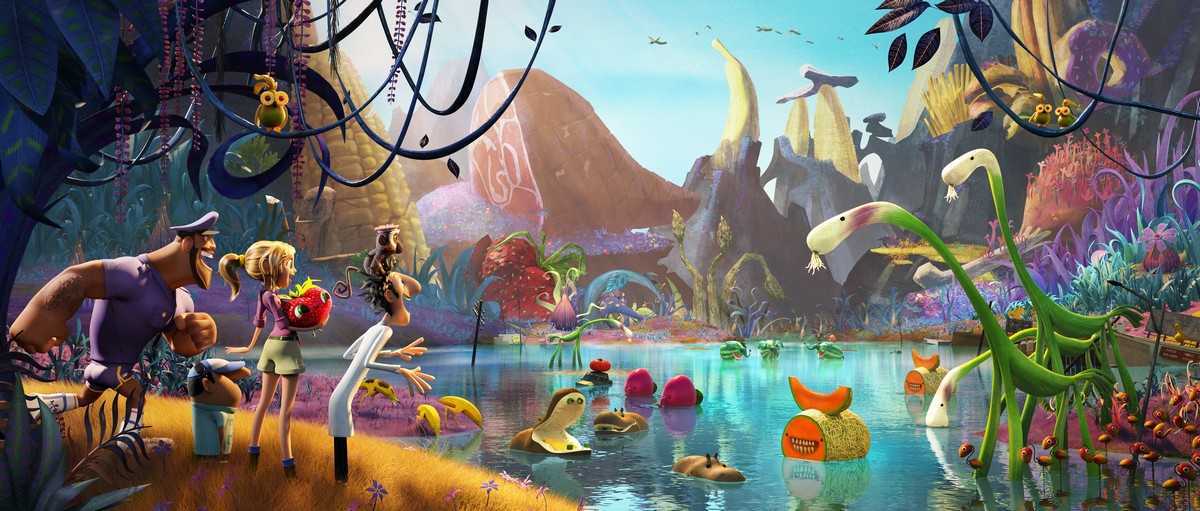 To this extent, Cloudy With a Chance of Meatballs 2 disappoints – it is a film that is merely coasting along off the wacky visual delights that the first film held. The first film had a simple arc – wacky inventor creates a machine that makes food rain down from the skies. The fun of the film was in seeing a world populated by giant-sized food and the sheer colour and vibrance of Lord and Miller's visuals. The sequel is stuck with simply replicating that and not doing a whole lot more. We have now gone from a story where the hero and girl of the show were fighting their way through a storm to turn the food-making machine off to one where the familiar characters from the first film are on an expedition to return to the island, which has now become overrun by food. The main spin is that the food is now living and sentient. We also get the introduction of a villain to the show that the first film never had. It feels very much that what we have is just a repeat of the first film plus a bit more.
What is missing is the novelty that the first film had. This film does compensate by coming up with some wackily creative food creatures – rampaging cheeseburgers and taco monsters, butter frogs, a cute and cuddly strawberry (which look like a dead ringer for FT from the Attack of the Killer Tomatoes sequels) that becomes the climactic hero of the hour after taking control of a power suit, a swamp made of pancakes and syrup, scenes with Flint's father taking a horde of pickles fishing, among others. Part of the fun of the show is the visual puns – where lines like "there is a leak in the boat", "oh no, it's jammed", "easy as pie" or "should be a piece of cake" can be taken literally, or where we encounter flamangoes, shrimpanzees and guaca-moles, visit Mussel Beach naturally filled with mussels lifting weights and where the subs are actual submarines. If nothing else, it leaves Cloudy With a Chance of Meatballs 2 with more visual life and creativity gone into it than some of the other animated sequels that have disappointed over the 2013 summer season such as Despicable Me 2 (2013) and Monsters University (2013).
In its mid-switch to regard the creatures as an endangered and non-threatening species, the film reminded more than a few times of The Lost World: Jurassic Park (1997), the least of which is not wistful scenes with the food animals grazing, including spring onions designed like brontosauruses. The proliferation of living food did naturally lead to an interesting debate among the critics circle after the preview about the biology of such an eco-system – like if all the food and plant life are living then what do the creatures eat? Or how can an eco-system maintain hierarchies of parents and children when all the creatures are brought to life artificially? Does that mean that the smaller creatures are stuck as children forever unable to grow up? You suspect that anything that tried to make biological sense of such would be utterly surreal.
---
---