---
Crew
Director – Richard Donner, Screenplay – Michael Donohue & Mitch Glazer, Based on the Novel A Christmas Carol by Charles Dickens, Producers – Richard Donner & Art Linson, Photography – Michael Chapman, Music – Danny Elfman, Visual Effects – Dream Quest (Supervisor – Eric Brevig), Makeup Effects – Barbi-Dreisand & Thomas Burman, Production Design – J. Michael Riva. Production Company – Art Linson/Mirage.
Cast
Bill Murray (Frank Cross), Karen Allen (Claire Phillips), Bobcat Goldthwait (Elliott Loudermilk), David Johansen (Ghost of Christmas Past), Carol Kane (Ghost of Christmas Present), Robert Mitchum (Preston Rheinlander), John Glover (Bryce Cummings), John Forsythe (Lou Hayward)
---
Plot
Frank Cross is the ruthless president of the IBC tv network. As he oversees the production of a live adaptation of Charles Dickens' 'A Christmas Carol' for the holiday season, Frank's ruthlessness begins to catch up with him. On Christmas Eve, he receives visits from three ghosts – of Christmases Past, Present and To Come. They show him the good times in his past that he has forgotten and the misery he causes in the present then offer him the chance to turn from his heartless ways.
---
Charles Dickens's A Christmas Carol (1843) has become a filmic perennial with some 30+ adaptations having been made, most for tv. (See below for a listing of these). Scrooged is an amusingly hip modern rendering. It comes from director Richard Donner, who was then riding on the successes of big mainstream genre films such as The Omen (1976), Superman (1978), Ladyhawke (1985) and the previous year's non-genre buddy cop hit Lethal Weapon (1987). (See below for Richard Donner's other genre films).
Scrooged is clearly an adaptation of A Christmas Carol that has been retooled in the light of the then-recent successes of Ghostbusters (1984) and Beetlejuice (1988). This is made even more obvious with the casting of Ghostbusters star Bill Murray as the Scrooge counterpart. Bill Murray's irreverent, outrageous playing is certainly well employed. And there are some fine effects involved in turning John Forsythe into a decrepit corpse (as the Jacob Marley equivalent) and in creating the Ghost of Christmas to Come as a giant twelve foot Angel of Death that hides tortured souls inside its cape.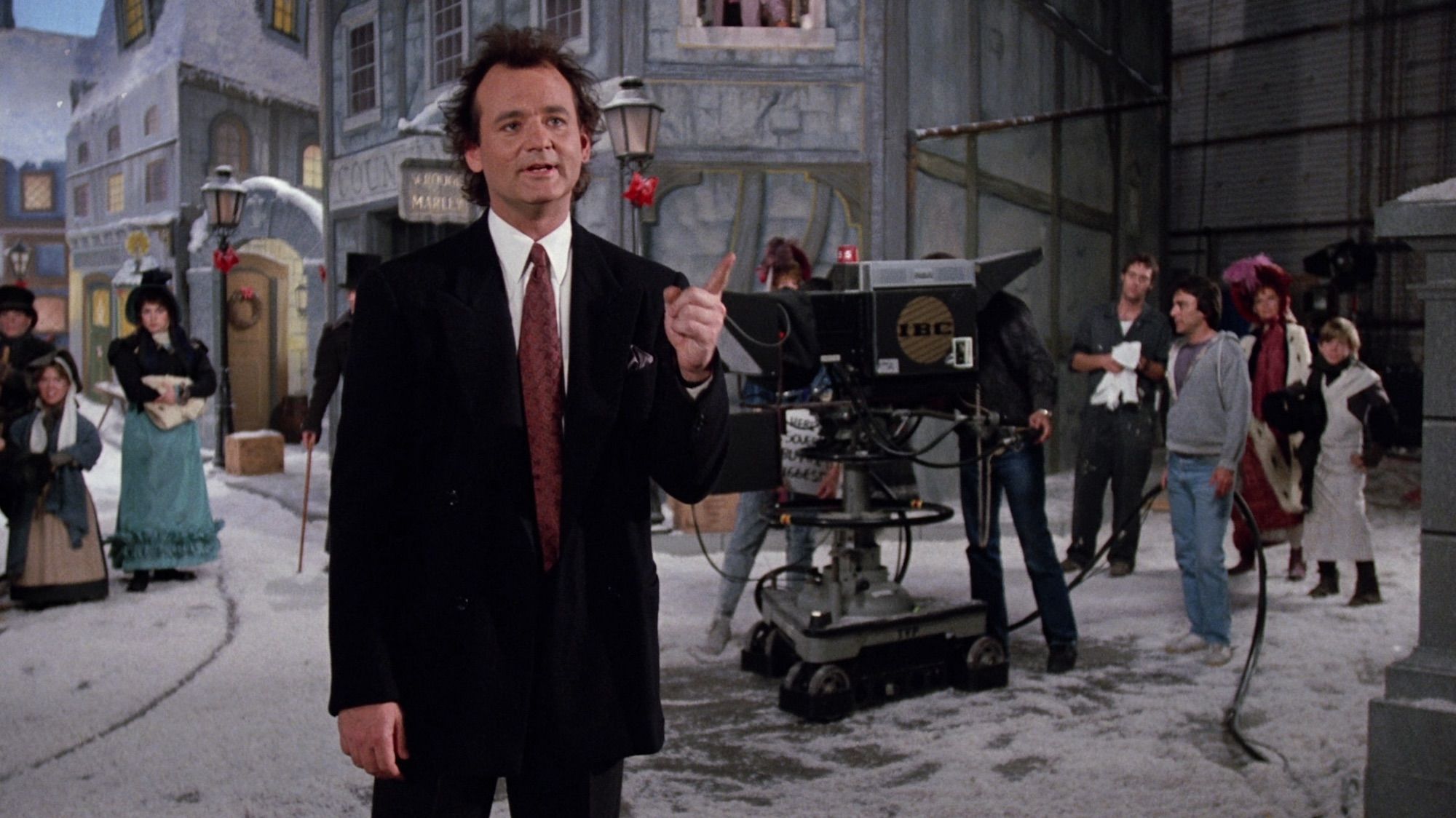 So why then does this version of the tale come off as a disappointment? For one, the redemption of a miser theme seems eclipsed and trivially outdated by some of the more contemporary issues the film throws in – the homeless, the Bomb, acid rain. And, other than a highly amusing opening sequence showing a excerpt from a Christmas special starring Lee Majors, Santa Claus and machine-gun armed elves, the humour is uninvolving. Instead there is a tendency, particularly with the casting of David Johansen, the completely whacko Bobcat Goldthwait from the Police Academy films and Carol Kane's terrible overplaying, to let slapstick run riot.
In the end, Bill Murray seems miscast too. Bill Murray is a fine comic actor whose success comes in playing dripping sarcasm, not in becoming a nice guy – he is fine when it comes to the miser role but when he repents he is far too outrageous to seem convincing as though, just like the doll baby he pretends to drop, he's going to burst out any second with a "Hah, had you fooled."
Richard Donner's other genre films are:– the classic anti-Christ film The Omen (1976); Superman (1978) and uncredited parts of Superman II (1980); the fine Mediaeval romantic fantasy Ladyhawke (1985); Radio Flyer (1992), an interestingly Spielbergian film about child abuse; the lame conspiracy/paranoia comedy Conspiracy Theory (1997); the time travel film Timeline (2003); and Superman II: The Richard Donner Cut (2006), his originally intended edit of Superman II (1980), which he had been removed from after much in-fighting with the producers. In recent years, Donner has less interestingly preoccupied himself with the bland Lethal Weapon films. Donner also acts as producer on The Lost Boys (1987), the horror anthology tv series Tales from the Crypt (1989-96) and its two film spinoffs Tales from the Crypt Presents Demon Knight (1995) and Tales from the Crypt Presents Bordello of Blood (1996), Delirious (1991) about a writer trapped inside his own soap opera, the monster hunter film Matthew Blackheart (2002), the voodoo film Ritual (2002), and the comic-book adaptations X-Men (2000), Constantine (2005), X-Men Origins: Wolverine (2009) and X: First Class (2011).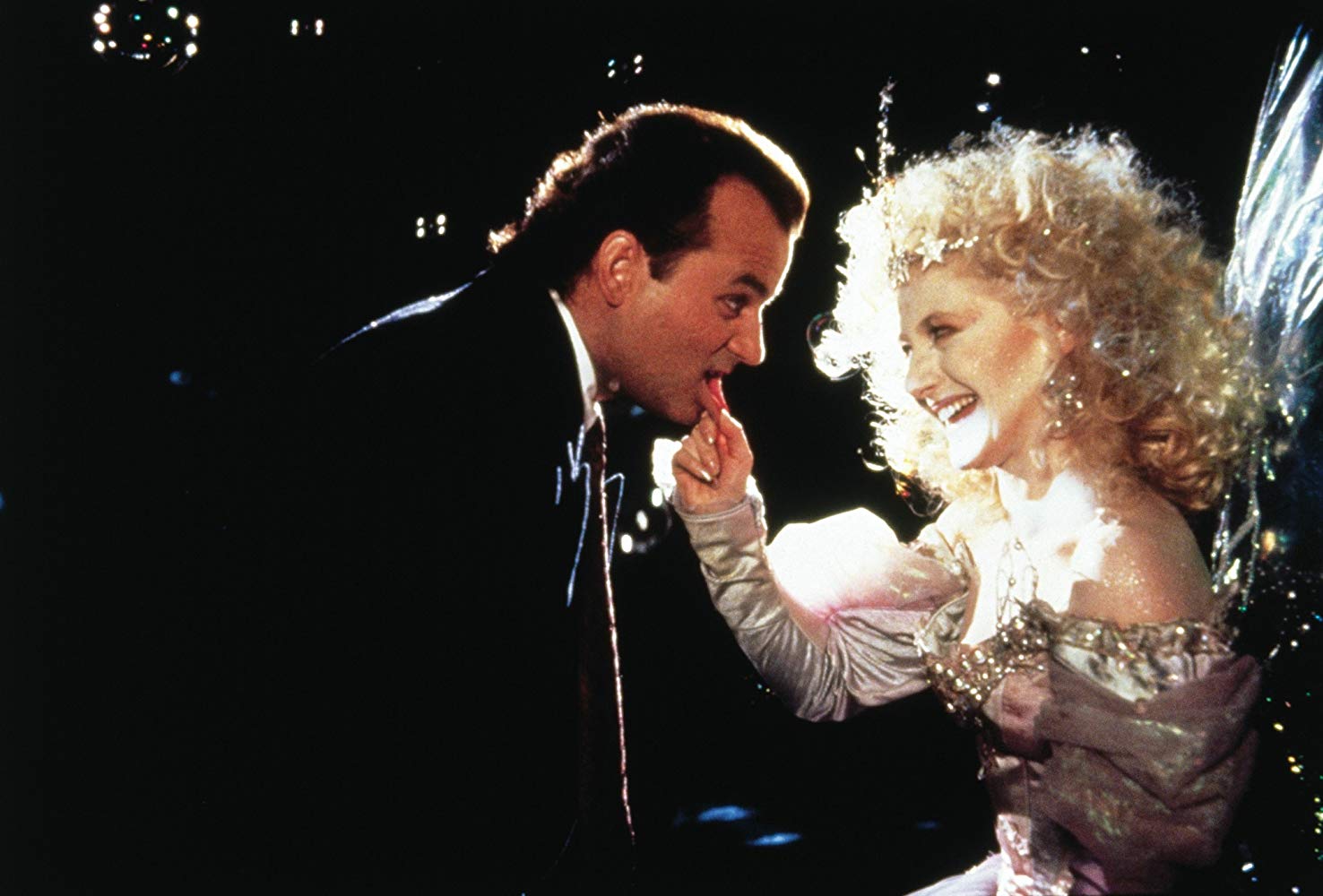 Other adaptations of A Christmas Carol include:– a number of lost silent adaptations made respectively in 1901, 1908, 1910, 1913, 1916, 1923 and 1928. Sound versions include:– Scrooge (1935), a British sound version with Seymour Hicks as Scrooge; A Christmas Carol (1938), an American version with Reginald Owen; a Spanish adaptation (1947); Scrooge (1951), a British production starring Alistair Sim; Scrooge (1970), a British-made musical adaptation starring Albert Finney; a short animated version A Christmas Carol (1971) from animator Richard Williams; Mickey's Christmas Carol (1983), a 25 minute animated short from Disney where the Scrooge role was played by Scrooge McDuck and Mickey Mouse was cast as Bob Cratchit; The Muppet Christmas Carol (1992), which enacted the tale with the Muppets and starred Michael Caine as Scrooge; a British-German animated adaptation Christmas Carol: The Movie (2001); the conservative-backed An American Carol (2008) where a liberal filmmaker is persuaded of their ways; the animated Barbie in A Christmas Carol (2008); and Robert Zemeckis's motion-capture animated A Christmas Carol (2009) starring Jim Carrey. TV adaptations include A Christmas Carol (1943), a 60 minute live version, which was apparently one of the first ever experimental tv broadcasts; The Christmas Carol (1949), a half-hour American adaptation starring Taylor Holmes; A Christmas Carol (1950), a British adaptation starring Bransby Williams; A Christmas Carol (1953), a half-hour American adaptation starring Noel Leslie; a German production (1960); Carol for Another Christmas (1964), a production written by Rod Serling as a United Nations Special that updated the tale as an anti-war parable; a Canadian production Mr Scrooge (1964); A Christmas Carol (1977), a British production starring Michael Hordern; Scrooge (1978), a Canadian production starring Warren Graves; Rankin-Bass's one-hour animated adaptation The Stingiest Man in Town (1978); An American Christmas Carol (1979), starring Henry Winkler, which updated the story to the Depression era; Skinflint: A Country Christmas Carol (1979), starring Hoyt Axton, a bizarre American adaptation populated entirely by Country and Western singers; A Christmas Carol (1981), an American adaptation starring William Paterson; A Christmas Carol (1982), an American adaptation starring Richard Hilger; A Christmas Carol (1984), a lavish British-made production starring George C. Scott; a French tv adaptation (1984); Blackadder's Christmas Carol (1988), a sardonic take on the story using the characters from the popular British tv series Blackadder (1983-9); Scrooge: A Christmas Sarah (1990), a British version that cast Scrooge as a woman (Sarah Greene); A Christmas Carol (1994), a British-made ballet adaptation; A Christmas Carol (1997), an American-made animated adaptation; Ebenezer (1997), a bizarre American adaptation that recast the tale as a Western starring Jack Palance; Ms. Scrooge (1997), an American version that also cast the role with a woman (Cicely Tyson); A Christmas Carol (1999), an American production starring Patrick Stewart; A Christmas Carol (2000), a modernised adaptation where Scrooge (Ross Kemp) was a petty loanshark; A Diva's Christmas Carol (2000) with Vanessa Williams as a self-absorbed pop singer; Scrooge and Marley (2001), a one-hour adaptation starring Dean Jones; Hallmark's sex-reversed A Carol Christmas (2003) starring Tori Spelling; Hallmark's musical adaptation A Christmas Carol (2004) with Kelsey Grammer; the Italian-made A Christmas Carol (2004); the modernised Karroll's Christmas (2004) starring Tom Everett Scott; the Doctor Who tv special A Christmas Carol (2010) where a time-travelling Doctor becomes the Ghosts of Christmases Past and Present to intergalactic miser Michael Gambon; the low-budget Canadian-made A Christmas Carol (2015); the dark adult BBC mini-series A Christmas Carol (2019) starring Guy Pearce; and the modernised musical Spirited (2022) starring Ryan Reynolds. Also of interest is The Man Who Invented Christmas (2017) about Charles Dickens and the writing of A Christmas Carol.
---
---