---
Crew
Director – Liam Lynch, Screenplay – Jack Black, Kyle Gass & Liam Lynch, Producers – Jack Black, Stuart Cornfeld & Kyle Gass, Photography – Robert Brinkmann, Music – Tenacious D, Score – Andrew Gross & John King, Visual Effects – Pacific Vision (Supervisor – David D. Johnson), Special Effects Supervisor – Andrew Weder, Makeup Effects – Barney Burman, Production Design – Martin Whist. Production Company – Red Hour.
Cast
Jack Black (JB), Kyle Gass (KG), Jason Reed (Lee), Paul F. Tompkins (Open Mic Host), Tim Robbins (The Stranger), Dave Grohl (Satan), Ben Stiller (Guitar Store Guy), Troy Gentile (Little JB), Meat Loaf (JB's Father), Ronnie James Dio (Himself), Fred Armisen & Ned Bellamy (Rock Hall of Fame Security Guards), John C. Reilly (Sasquatch)
---
Plot
In Kickapoo, Missouri, JB grows up in a fundamentalist household with a love of rock'n'roll, which earns stern disapproval and beatings from his authoritarian father. He has a vision from the heavy metal star Ronnie Dio who tells him to go on a quest to Hollywood. Leaving home, JB journeys for many years, before ending up on Venice Beach. There he meets busker Kyle Gass and falls at Kyle's feet in admiration of his talent. Kyle is disinterested in collaborating but later saves a homeless JB from being beaten up and offers him a place to stay, agreeing to teach him how to be a rockstar. JB then finds that Kyle is not a rock star and that he is in actuality supported by his parents – and they have just cut off his rent cheques. Needing to earn money, JB decides the two of them will do so with their rock. They form a band that they name Tenacious D after the tattoos on both of their asses and set out to win the cash prize in an open microphone night at a local bar. Realising they need to have a masterpiece in order to win, they set out in search of the unique pick that many of the guitar greats have owned. A guitar store guy tells them that this is the Pick of Destiny, which was forged from a chip of The Devil's tooth and gives masterful musical abilities to the wielder. Alas, the Pick of Destiny is now in the Rock'n'Roll Hall of Fame in Sacramento and heavily guarded. JB and Kyle decide that if they are to become rock stars then they must conduct a break-in to the museum to get the pick.
---
Tenacious D is a rock group/comedy act that consists of actor Jack Black, who is the lead singer, and guitarist Kyle Gass. Tenacious D specialise in parodistic mock rock – their music deliberately parodies glam rock and has witty lyrics that boast about their sexual prowess and claim that they are the greatest rock band in the world. Black and Gass formed their creative partnership after meeting at the Edinburgh Fringe Festival in 1985. After touring on the comedy circuit, Black and Gass appeared as Tenacious D on the HBO comedy series Mr Show (1995-8) and then gained their own series Tenacious D (1997-2000), which only lasted for six episodes despite its listed three year run. The duo released one album, Tenacious D (2001) plus two others subsequent to the film, and have made several concert tours where their comic rock has developed a modest cult following.
The Pick of Destiny is an offshoot of the Tenacious D phenomenon. It is probably fair to say that were it not for Jack Black's rising star throughout the 2000s in films like The School of Rock (2003), King Kong (2005) and Nacho Libre (2006) that The Pick of Destiny would never have emerged as the mainstream release it is – Tenacious D's popularity as a group hardly seems big enough for the film to command the major international release it did.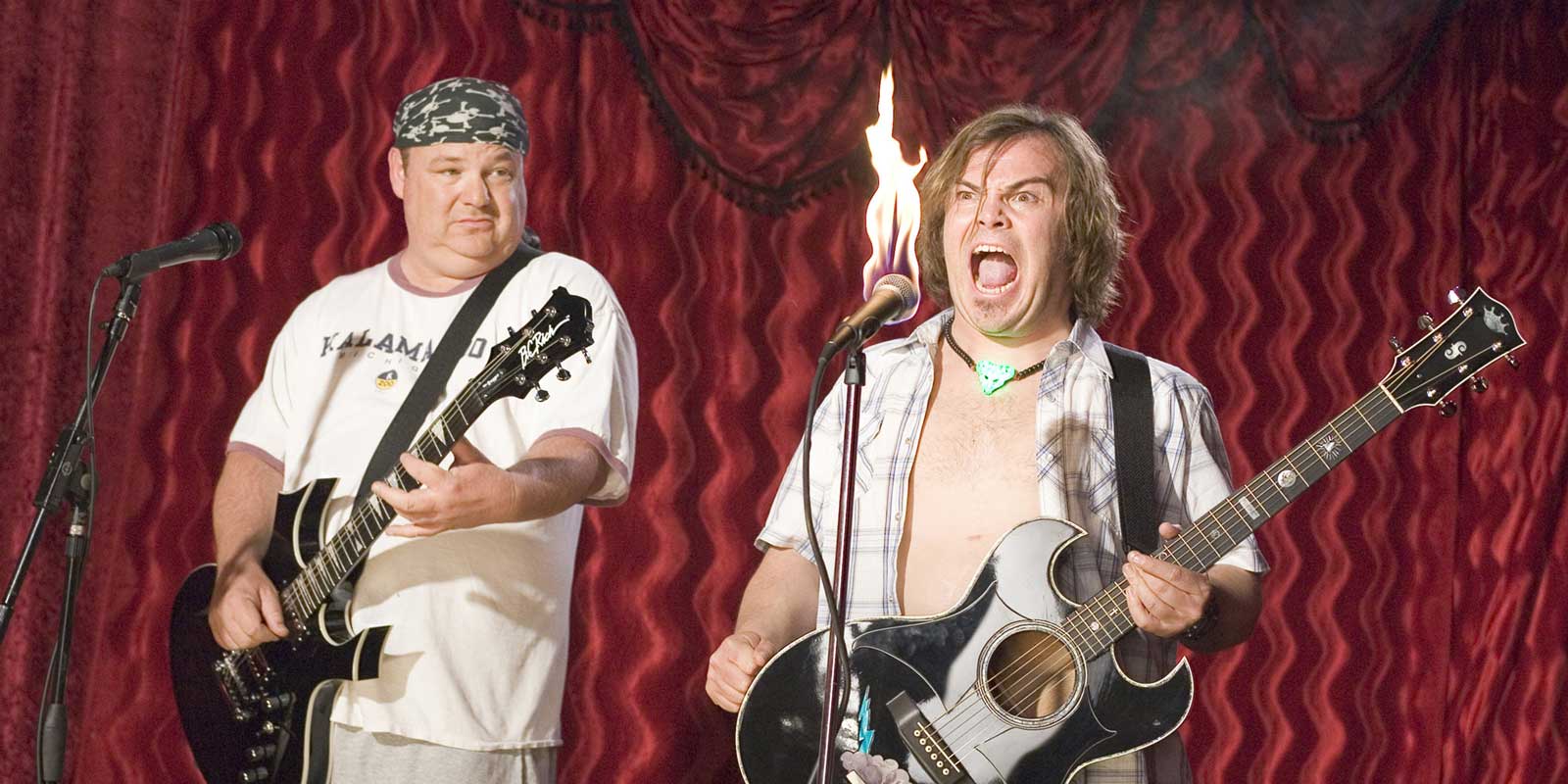 On its own merit, The Pick of Destiny is a slight effort. It feels like a remake of This is Spinal Tap (1984) by way of a The Blues Brothers (1980) but recast with Cheech and Chong and with a dash or two of the surrealist stoner humour of Dude, Where's My Car? (2000). On the other hand, it is hard to think that there is anything in The Pick of Destiny that would hold the cult potential of something like The Blues Brothers, which similarly grew out of a musical comedy act.
Much of the film's humour is aimed at the Tenacious D cult and makes references to various band in-jokes and album tracks, which goes over the head of a casual viewer like this author. Elsewhere, Black and Gass make numerous jokes about farts, dope-smoking and sex, none of which ever seem particularly witty. The early scenes with the two living together are lame and fail to raise any kind of smile. Eventually, the film develops an amiably surreal sense of humour. There is a wacky drug-induced hallucination where Jack Black cavorts with and is adopted by a Sasquatch (played by John C. Reilly) and the two dance through a psychedelic landscape.
Especially hilarious is the climactic scene where Black and Gass take on Satan, played by Dave Grohl of Nirvana and Foo Fighters fame, in a guitar-duel that seems to have been construed as a parody of the climactic showdown in Crossroads (1986). There are few sights guaranteed to leave one in a fit of giggles than that of a horned, red-skinned Satan playing electric guitar, performing microphone antics and gleefully gesticulating with a tube of lubricant at the threat of making Kyle Gass his bitch in Hell.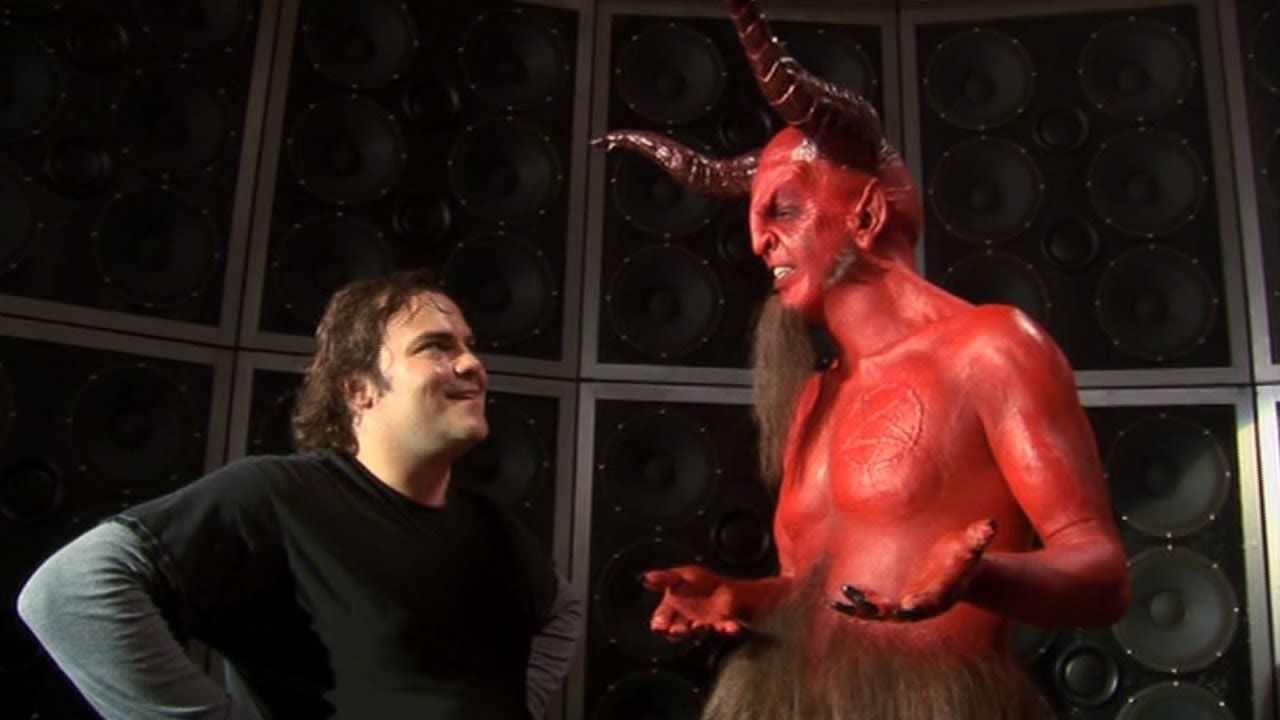 Jack Black plays with effortless ease, Kyle Gass, who must be one of the ugliest leads one has ever seen in a film in some time, less so. Troy Gentile proves a scene-stealer as the young JB where his raging head-banger style is an amusing parody of Jack Black's performing antics. The film also features a number of cameos from real-life rockers including Meat Loaf as JB's fundamentalist father; Ronnie James Dio who gives mystical guidance to the young JB from out of a poster; and the aforementioned Dave Grohl. There are also cameos from Tim Robbins as a homeless man and the film's executive producer Ben Stiller as an amusingly intense aging rocker (listed on the credits as Record Store Guy) who recounts the story of the pick's origins.
There are various cinematic quotes – in one scene, Jack Black goes to sleep on a park bench at Venice Beach and is beaten up by a group of Droogs that seem to have stepped out from Stanley Kubrick's A Clockwork Orange (1971), while the climactic car chase has been modelled on the surrealistic excesses of The Blues Brothers. The Pick of Destiny has its surreal amusements, although ultimately it is not a film pitched to multiplex mass audiences but one intended for a niche cult audience.
---
---