---
USA. 1988.
Crew
Director – Robert Zemeckis, Screenplay – Jeffrey Price & Peter S. Seaman, Based on the Novel Who Censored Roger Rabbit? by Gary K. Wolf, Producers – Frank Marshall & Robert Watts, Photography – Dean Cundey, Music – Alan Silvestri, Visual Effects – Industrial Light and Magic (Supervisor – Ken Ralston), Special Effects Supervisor – George Gibbs, Animation Supervisor – Richard Williams, Production Design – Roger Cain & Elliott Scott. Production Company – Touchstone/Amblin/Silver Screen Partners II.
Cast
Bob Hoskins (Eddie Valiant), Christopher Lloyd (Judge Doom), Joanna Cassidy (Dolores), Alan Tilvern (R.K. Maroon), Stubby Kaye (Marvin Acme)
Voices
Charles Fleischer (Roger Rabbit/Renny the Car), Kathleen Turner (Jessica Rabbit), Lou Hirsch (Baby Herman), Mel Blanc (Bugs Bunny/Daffy), Mary Healey (Betty Boop)
---
Plot
Hollywood, 1947. Private eye Eddie Valiant is hired by Maroon Studios. The studio's cartoon star Roger Rabbit is unable to work from worry over whether or not his wife Jessica is fooling around. Eddie returns with the news that Jessica apparently is – with human toy manufacturer Marvin Acme who makes the gag devices that appear in the cartoons. The next day, Acme is found dead. With Roger the prime suspect and hunted by the Toon-hating Judge Doom, Eddie reluctantly grants him sanctuary and sets about trying to prove his innocence.
---
Director Robert Zemeckis captured the world's attention with the runaway success of his third film Back to the Future (1985). Back to the Future confirmed Robert Zemeckis as a hot and exciting new talent. After that, Zemeckis turned his attention to this adaptation of Gary K. Wolf's novel Who Censored Roger Rabbit? (1981). It was with Who Framed Roger Rabbit? that Robert Zemeckis consolidated his reputation as an A-list director and as one whose work bristles with cutting edge movie-making technology. From there, Zemeckis went from strength-to-strength making films like Forrest Gump (1994), Cast Away (2000), Flight (2012), The Walk (2015), Allied (2016), Welcome to Marwen (2018), The Witches (2020) and Pinocchio (2022). (See below for a full list of Zemeckis's genre titles).
Who Framed Roger Rabbit? is an alternate history film of sorts. It begins from one ingeniously simple central premise – that the characters in cartoons have an ontological existence and are just like any other Hollywood stars. In fact, here they are a minority group of their own with even their own suburb of Hollywood – Toontown, a metropolis that works as a bewilderingly psychedelic run through the laws of cartoon universe physics.
The film serves up an astounding array of effects, allowing humans and animation to flawlessly integrate. And that is where the fun begins, in seeing the zaniness of a cartoon universe mapped onto the real world. After being hit, characters are constantly having to bat away the animated birds that flutter around their head; after Roger goes smashing through an office window, his silhouette is left in the glass and blinds. We also make a visit to the Acme Factory where all the gags and gadgets that turn up in cartoons are made.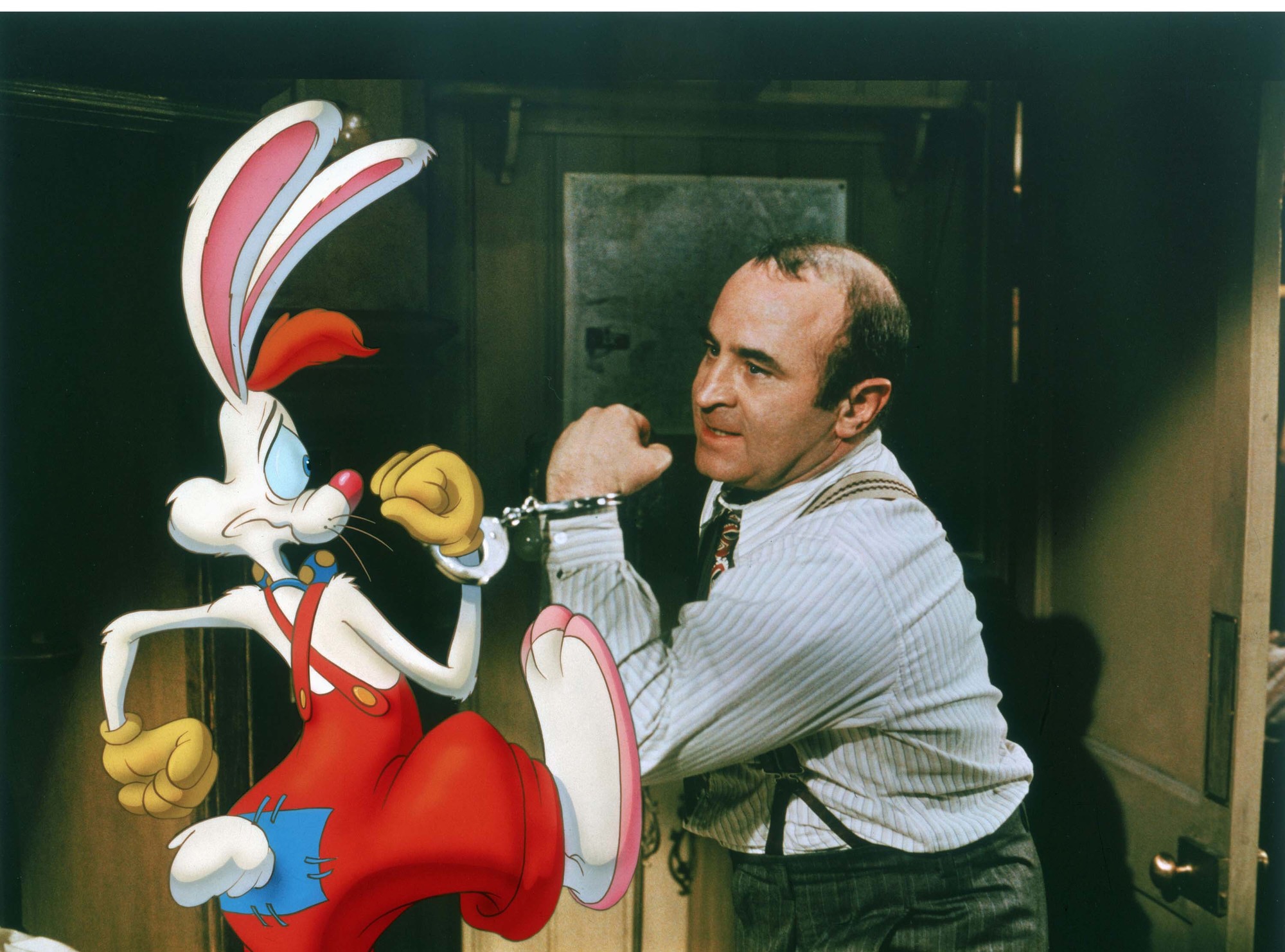 In an amazing contractual deal between Disney and Warner Brothers, Robert Zemeckis and Amblin managed to obtain the copyright usage on most of their combined cartoon characters and Who Framed Roger Rabbit? is not only an amazing homage and parody to the style of animation but also a witty game of Spot-the-Cameo appearance of the cartoon greats of yesteryear. Popping up throughout are Bugs Bunny, Mickey Mouse, Tweety, Dumbo, Yosemite Sam, the brooms from Fantasia (1940), the penguins from Mary Poppins (1964), Donald and Daffy cast in a hilarious nightclub piano duel, a black-and-white Betty Boop (unemployed since the days of colour) and even Porky Pig popping up at the end to pull the hole shut on the picture with a "That's all folks!"
From the moment that the film opens with a three-minute animated sequence that seems like a rollercoaster-ride distillation of every Tex Avery and Chuck Jones gag ever made, a manic kitchen assault course of flying knives, rolling pins, electric sockets and gas ovens, the film sets in with a pace that leaves one with a feeling akin to a complete physical workout by the end.
The visual invention of the film is weakened by a so-so story, which seems only like warmed-over Chinatown (1974). Robert Zemeckis demonstrates far too easy a willingness to dismiss advancement of the story for more visual lunacy. Quieter scenes dealing with the reluctant friendship between Eddie and Roger or in Eddie's problem overcoming the bottle tend to be regarded as less important filler material. Nevertheless, the sheer manic energy of the rest of the film makes Who Framed Roger Rabbit? enormously entertaining.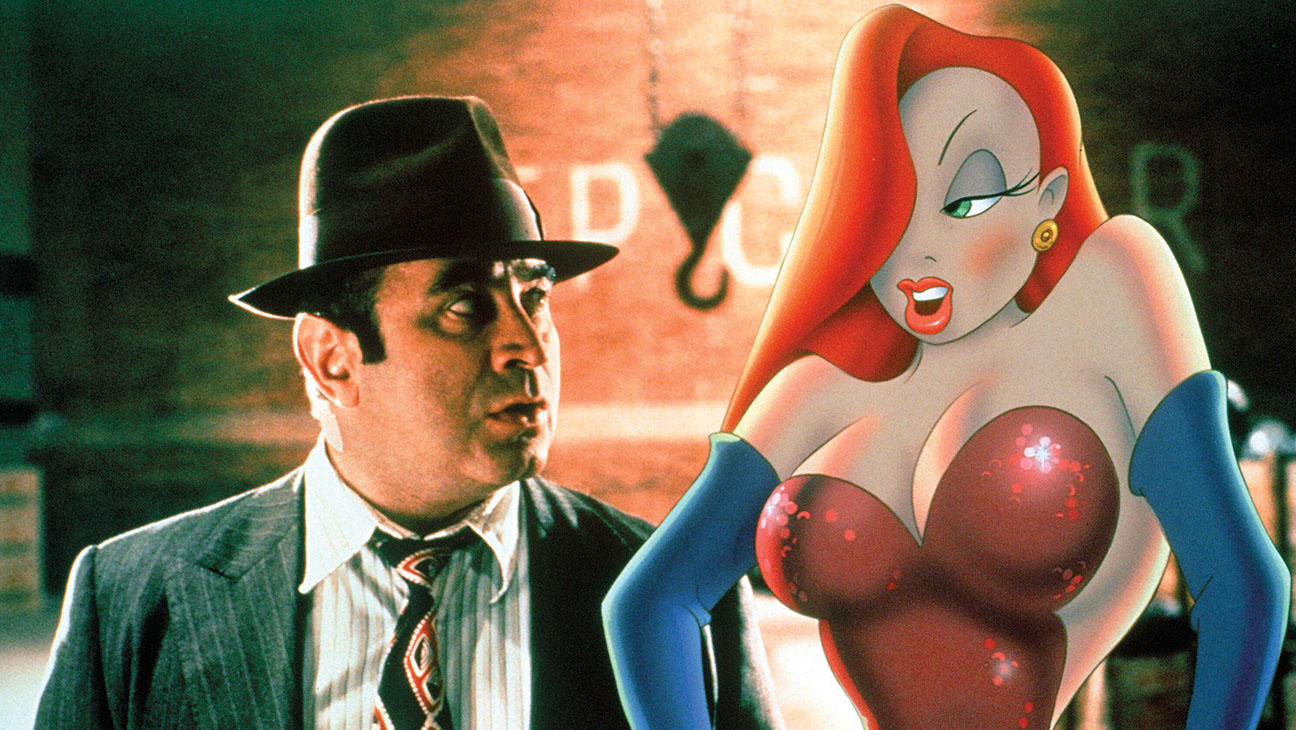 After the film's success Roger, Jessica and Baby Hermann briefly became characters in a short-lived attempt by Disney to create a new series of cartoon shorts. So far to emerge have been Tummy Trouble (1989), Rollercoaster Rabbit (1990) and Trail Mix-Up (1993). This film's producer Frank Marshall directed the first two.
Who Framed Roger Rabbit?'s blend of animation and live-action was popular. Although imitating such is technically arduous, there have been a number of copies:– Italian comedian Maurizio Nichetti's delightful Volere Volare (1991) about a man who is turning into a cartoon figure; Ralph Bakshi's Cool World (1992); Space Jam (1996), which resurrected many Warner Brothers characters; The Adventures of Rocky and Bullwinkle (2000); and Joe Dante's Looney Tunes: Back in Action (2003).
Robert Zemeckis's other films are:– I Wanna Hold Your Hand (1978), Used Cars (1980), Romancing the Stone (1984); his time travel trilogy Back to the Future (1985), Back to the Future Part II (1989) and Back to the Future Part III (1990), the immortality black comedy Death Becomes Her (1992), the alien contact film Contact (1997), the ghost story What Lies Beneath (2000), the computer-animated Christmas fantasy The Polar Express (2004), the computer-animated adaptations of Beowulf (2007) and A Christmas Carol (2009), Flight (2012), The Walk (2015), Allied (2016), the true-life based Welcome to Marwen (2018) where Steve Carell builds a fantasy village of dolls, the remake of The Witches (2020) and the live-action remake of Pinocchio (2022). Zemeckis has also produced a large number of other genre films including the Tales from the Crypt (1989-96) cable tv horror anthology series, the two film spinoffs Tales from the Crypt Presents Demon Knight (1995) and Tales from the Crypt Presents Bordello of Blood (1996), Peter Jackson's The Frighteners (1996), the voodoo film Ritual (2002), the computer-animated Monster House (2006) and Mars Needs Moms (2011), Real Steel (2011), the tv series' Manifest (2018-22) about a planeload of temporally displaced passengers and Project Blue Book (2019-20) about the US Air Force's true life UFO investigation department and the robot film Finch (2021). Zemeckis is also a producing partner in Dark Castle Entertainment, which have made a number of horror films including House on Haunted Hill (1999), Thir13een Ghosts (2001), Ghost Ship (2002), Gothika (2003), House of Wax (2005) and The Reaping (2007).
---