---
USA. 1988.
Crew
Director – George Scribner, Screenplay – Jim Cox & Timothy J. Disney, Based on the Novel Oliver Twist by Charles Dickens, Music – J.A.C. Redford, Songs – Barry Manilow, Art Direction – Dan Hansen. Production Company – Disney/Silver Screen Partners II.
Voices
Joey Lawrence (Oliver), Billy Joel (Dodger), Natalie Gregory (Jenny Foxworth), Cheech Marin (Tito), Bette Midler (Georgette), Dom de Luise (Fagan), Roscoe Lee Browne (Francis), Richard Mulligan (Einstein), Sheryl Lee Ralph (Rita), Robert Loggia (Sykes), William Glover (Winston), Taurean Blacque (Roscoe), Carl Weintraub (DeSoto)
---
Plot
In New York City, Oliver, a young abandoned kitten, falls in with the streetwise dog Dodger. Dodger grants Oliver refuge with the motley company of stray dogs he lives with. The dogs all steal for the human thief Fagan. Fagan is being pressured by the mobster Sykes to pay up money owed. During one of their schemes, Oliver is found by the young rich girl Jenny Foxworth and taken home, much to the dislike of the family poodle Georgette. When Fagan realizes that Oliver has been adopted by someone rich, he and Sykes contrive a scheme to rescue and then pretend to ransom Oliver back to Jenny and then kidnap her for the ransom money.
---
Oliver & Company was one of the films made during the creative cul-de-sac that Disney became caught in through the 1970s and 80s. This was the period between Walt Disney's death in 1966 and the studio's concerted recapturing of their high animation name in the 1990s beginning with Beauty and the Beast (1991). Only a handful of animated films were made during this period. Even fewer of these were memorable – The Aristo Cats (1970), The Great Mouse Detective (1986) and The Little Mermaid (1989) – with the period mostly being represented by bland fare like Robin Hood (1973), The Rescuers (1977) and The Fox and the Hound (1981).
A great many Disney talking animal adventures take their cue from the classic Lady and the Tramp (1955). Oliver & Company is particularly notable for doing so, drawing directly upon Lady and the Tramp's dichotomy of the roguish appeal of the dog's street life versus the pampered life of the domesticated pet. Disney even take this one so far as to make it a retelling of the Dickens classic of urchin life Oliver Twist (1838) – albeit an Oliver Twist reinterpreted with talking cartoon animals.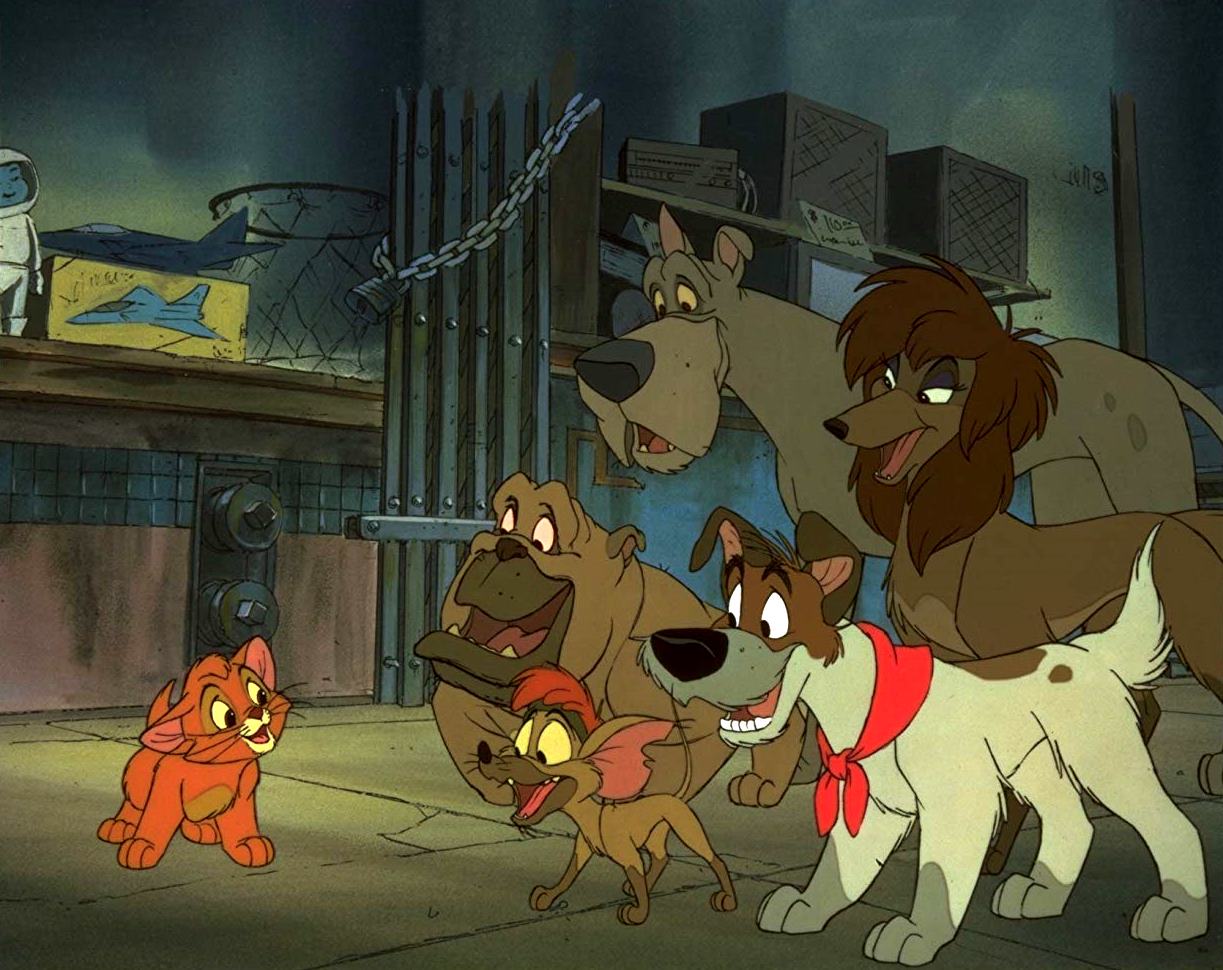 Everything is expectedly cute and likable. The film's most plaintive moments come during the blackmail scheme where we see Fagan wavering in his decision at the sight of a heartbroken little girl offering up her piggy bank to pay the ransom. The animation and characters are nicely rounded and the film has a reasonably engaging level of humourous energy.
For all that, Oliver & Company is bland. At times its' paen to New York makes it seem no more than a giant-size warm fuzzy "I Love NY" bumper sticker.
---
---