---
Crew
Director/Producer – Ivan Reitman, Screenplay – Dan Aykroyd & Harold Ramis, Photography – Michael Chapman, Music – Randy Edelman, Visual Effects Supervisor – Dennis Muren, Visual Effects – Industrial Light and Magic, Additional Visual Effects – Apogee (Supervisor – John Swallow) & VCE (Supervisor – Peter Kuran), Creature Design – Tim Lawrence, Special Effects Supervisors – Joe Day, Chuck Gaspar & Dick Wood, Production Design – Bo Welch. Production Company – Columbia.
Cast
Bill Murray (Peter Venkman), Dan Aykroyd (Ray Stantz), Harold Ramis (Egon Spengler), Sigourney Weaver (Dana Barrett), Ernie Hudson (Winston Zeddmore), Rick Moranis (Louis Tully), Annie Potts (Janine Melnitz), Peter MacNichol (Janosz Poha), Kurt Fuller (Jack Hardmeyer), Wilhelm Vom Homberg (Vigo), David Marguiles (Mayor)
---
Plot
It is five years after the Ghostbusters' battle with Gozer and the team have been forced out of business by the city and reduced to making appearances at children's parties. They are brought back into action when Spengler and Stantz discover a river of slime beneath the city that is activated by negative emotions. Meanwhile, at the museum where Dana works, the spirit of the Rumanian tyrant Vigo emerges from a painting and takes over artist Janosz Poha. Vigo then determines that he will incarnate in the body of Dana's young baby son.
---
Ghostbusters II is a passable if languid sequel to Ghostbusters (1984), an original that was most certainly overrated in the first place. Almost all of the principal actors and behind-the-scenes personnel have been reunited but there is a feeling of tiredness about the production. There is the sense that everybody has reunited more out of obligation – either that or for the money. There is a laziness to the exercise, of everybody not trying particularly hard because they knew they had a built-in hit on their hands.
Once again, Bill Murray goes through the paces with his sloppy irreverent incongruities but the laidback sarcasm that buoyed the original up has become sluggish and indifferent and the part seems an idle sleepwalk through on his part. He even allows himself to be upstaged by the two nerds of the show, scriptwriters Dan Aykroyd and Harold Ramis, who have at least written themselves substantially better parts this time and make an amusing comedy duo cracking mad scientist jokes, one that sort of has them both as the straight-man. Ernie Hudson is again written off. Rick Moranis, seemingly present solely to complete the original teaming, overdoes the wimp role to irritation.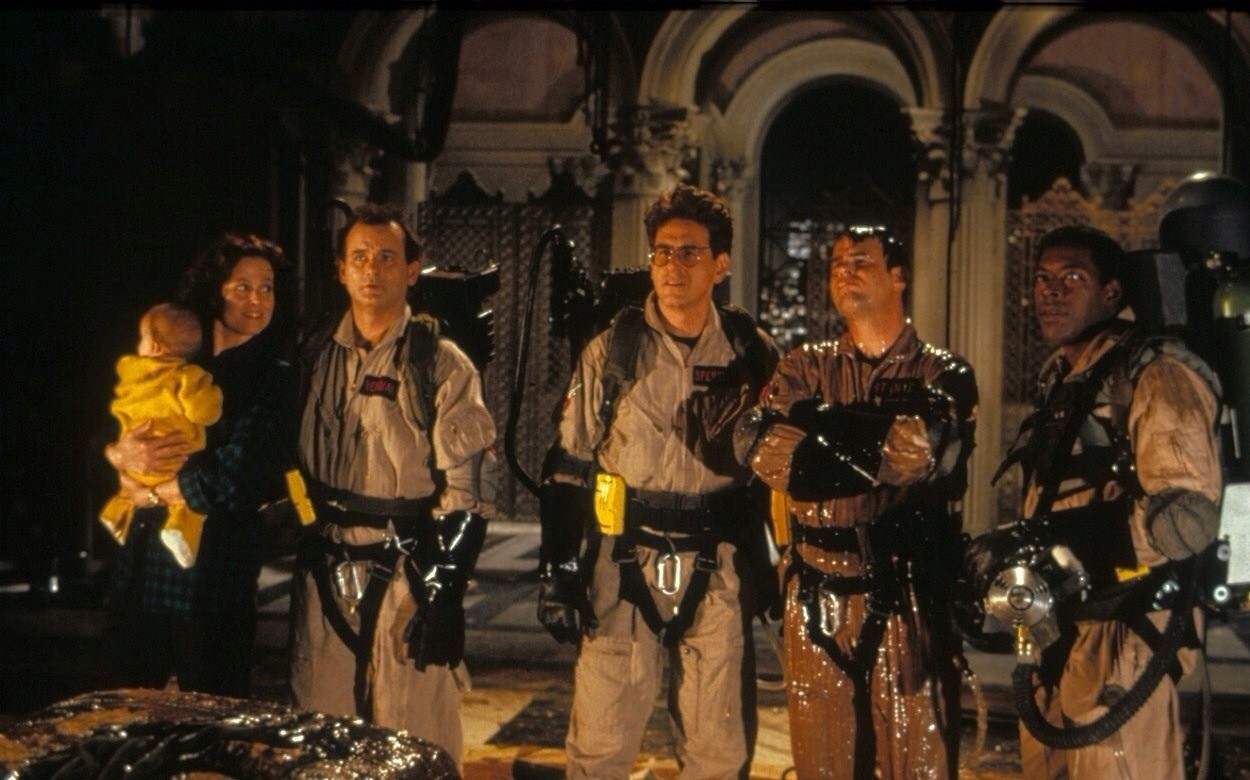 The failing of director Ivan Reitman's films is that, at their best, they come with a comfortably easy middle-of-the-road amiability but when that relaxes too much they slip into tedium. Eventually, Ghostbusters II is a film that is unable to work up enough to go the full 90 minutes – the slight plot needs two separate menaces to maintain itself. Even then, neither Vigo nor the river of slime seem big enough threats to keep the story going. Nor does the script manage to tie either threat together particularly well. The Statue of Liberty climax and feelgood rally is a dumb idea compounded by unsatisfactory effects.
Ghostbusters (2016) was a reboot with an all-female line-up. Ghostbusters: Afterlife (2021) was a further sequel.
Ivan Reitman's other genre films are:- Cannibal Girls (1973); Twins (1988), his best work, featuring Arnold Schwarzenegger and Danny DeVito as a mismatched pair of cloned twins; Ghostbusters II (1989); Junior (1994) with Schwarzenegger as a pregnant man; Evolution (2001), which essentially replays Ghostbusters as an alien invasion comedy; and My Super Ex-Girlfriend (2006) about a superhero relationship gone toxic. Reitman also produced Space Jam (1996) featuring Michael Jordan taking on Warner Brothers cartoon figures, the animated tv series Mummies Alive! The Legend Begins (1998), the psycho-thriller Disturbia (2007), the ghost story The Uninvited (2009), Hitchcock (2012), Ghostbusters (2016), A Babysitter's Guide to Monster Hunting (2020), Ghostbusters: Afterlife (2021) and Space Jam: A New Legacy (2021).
---
---