USA. 1982.
Crew
Director/Screenplay – Woody Allen, Producer – Robert Greenhut, Photography – Gordon Willis, Music – Felix Mendelssohn, Animation – Kurtz & Friends, Production Design – Mel Bourne, Flying Machines and Inventions – Eorn Sprott Studio. Production Company – Orion.
Cast
Woody Allen (Andrew), Mia Farrow (Ariel Weymouth), Jose Ferrer (Leopold Sturges), Tony Roberts (Dr Maxwell Jordan), Mary Steenburgen (Adrian), Julie Hagerty (Dulcie Ford)
---
Plot
The turn of the 20th Century. Three couples head away to a countryside house for the weekend. There their mutual sexual hang-ups come to the fore as they try to deal with their various desires for each other's partners. The evening ends as one of them dies during sex and his soul is seen going off into the nearby enchanted woods to join the spirits of others who have died during sex.
---
Woody Allen is the only writer-director around who has succeeded in mapping out a consistently similar thematic ground over and over again. A Midsummer Night's Sex Comedy is a minor run through the familiar Woody Allen themes. It is a likeable enough sexual rondeau – sort of like Allen having been let loose on The Big Chill (1983). The film reaches an ending that shows Allen has maybe gotten enough therapy to finally given up his neuroses about sex and allow himself a Dionysian romp.
Allen's pastorales, all choreographed to Mendelssohn, contain some exquisitely photographed scenes of fawns frolicking, ducks on ponds, salmon spawning and the like. The film also has some very nice performances – Mary Steenburgen does the vacant ditzy thing she does appealingly. Particularly good is Julie Hagerty in a bimbo part that is played refreshingly against type as an intelligent modern woman. It is here though that A Midsummer Night's Sex Comedy fails as period fantasy – the period is never something important to the story and the attitudes and sexual neuroses that Allen writes in on his characters are all gratingly post-Sexual Revolution.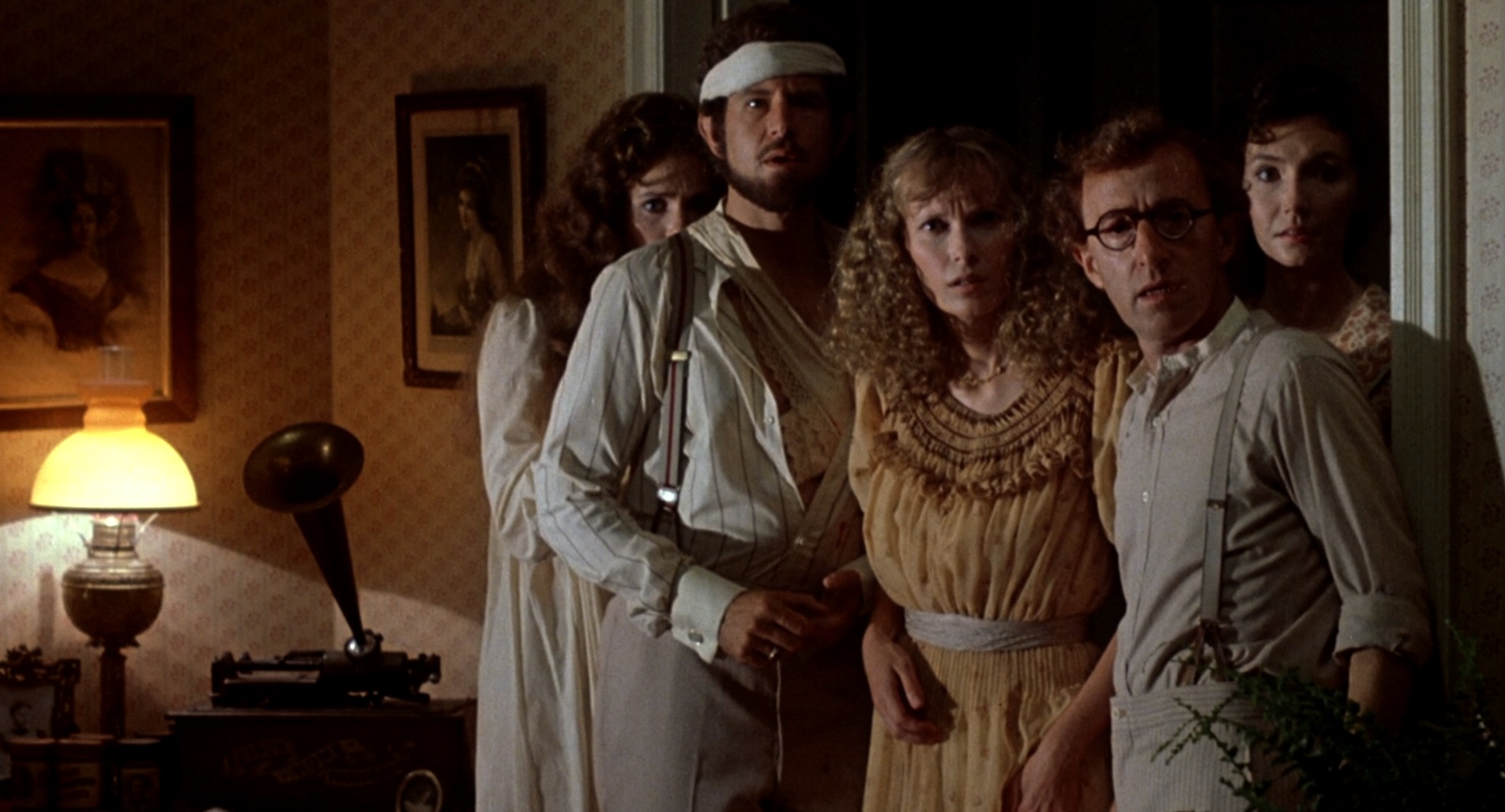 Like many Woody Allen films, A Midsummer Night's Sex Comedy contains minor fantastic elements – in this case, an enchanted woods neighbouring the property where the spirits of those who have died during sexual intercourse eternally frolic, where Jose Ferrer's soul is seen departing to join them at the end. Allen also casts himself as an eccentric inventor who invents a flying machine and a Victorian spirit light.
Woody Allen's other genre films are:– Play It Again Sam (1972), Everything You Always Wanted to Know About Sex * But Were Afraid to Ask (1972), Sleeper (1973), Love and Death (1975), Zelig (1983), The Purple Rose of Cairo (1985), New York Stories (1989), Alice (1990), Shadows and Fog (1991), Mighty Aphrodite (1995), Everyone Says I Love You (1996), Deconstructing Harry (1997), Match Point (2005), Scoop (2006), Midnight in Paris (2011), To Rome with Love (2012) and Magic in the Moonlight (2014).
---
---