---
Crew
Director – Destin Daniel Cretton, Screenplay – Dave Callaham, Destin Daniel Cretton & Andrew Lanham, Story – Dave Callaham & Destin Daniel Cretton, Based on the Marvel Comic Created by Steve Engelhart & Jim Starlin, Producers – Kevin Feige & Jonathan Schwartz, Photography – William Pope, Music – Joel P. West, Visual Effects Supervisor – Christopher Townsend, Visual Effects/Animation – Digital Domain 3.0 (Supervisor – Hanzhi Tang), Fin Design & Effects (Supervisor – Roy Malhi), Luma (Supervisors – Alex Cancado & Andrew Zink), Method Melbourne (Supervisor – Joshua Simmonds), Scanline VFX (Supervisor – Nicolas Aithadi), Trixter (Supervisor – Dominik Zimmerle) & Weta Digital Ltd (Supervisor – Sean Noel Walker), Visual Effects – Rodeo FX (Supervisor – Ara Khanikian), Rising Sun Pictures (Supervisor – Malte Sarnes) & Stereo D (Supervisor – Russell Resendez McCoy), Special Effects Supervisor – Dan Oliver, Production Design – Sue Chan. Production Company – Marvel Studios.
Cast
Simu Liu (Xu Shang-Chi/Shaun), Awkwafina (Katy), Tony Leung (Xu Wenwu), Meng'er Zhang (Xu Xialing), Ben Kingsley (Trevor Slattery), Michelle Yeoh (Ying Nan), Fala Chen (Ying Li), Yuen Wah (Master Guang Bo), Florian Munteanu (Razor Fist), Benedict Wong (Wong), Jayden Zhang (Young Shang-Chi), Elodie Fong (Young Xialing), Arnold Sun (Teen Shang-Chi), Kunal Dudheker (John), Stephanie Hsu (Soo), Tsai Chin (Waipo)
---
Plot
Thousands of years ago, the warlord Xu Wenwu discovers ten rings that grant enormous power, strength and immorality. He uses these to wage war and create an underworld empire. However, he meets his match in 1996 when he seeks out the hidden village of Ta Lo and is defeated by Ying Li whereupon the two fall in love. In the present, their son Shang-Chi, who calls himself Shaun, works as a car valet in San Francisco. After being attacked on a bus by men seeking the jade pendant he wears, Shang-Chi realises his sister Xialing is in danger and flies to Macao to her aid. His co-worker Katy insists on coming too. There they are thrown into the midst of conflict against Ten Rings henchmen and taken before their father Wenwu. Wenwu believe their missing mother is calling to him and seeks to return to Ta Lo to rescue her. They make an escape and head to Ta Lo guided by the actor Trevor Slattery and the creature he calls Morris. In the village, they are granted guidance in martial arts techniques to help defend against Wenwu as he arrives where it is feared he will unleash the imprisoned Dweller in Darkness.
---
Marvel Comics gained an enormous popularity in a series of on the screen throughout the 2000s with hits like Blade (1998), X-Men (2000), Spider-Man (2002), Daredevil (2003), Hulk (2003), The Punisher (2004), Elektra (2005), Fantastic Four (2005) and Ghost Rider (2007),
Marvel wised up and consolidated their properties into a shared world they called The Marvel Cinematic Universe (The MCU). This has had an extraordinary since 2008 where they built out using some of the lesser-known superheroes to create an audience desire to see them teamed up together. This resulted in a massive popularity that came to completely obliterate everything else at the box-office as Marvel rolled out one production after another. These included Iron Man (2008), Captain America: The First Avenger (2011), Thor (2011), Guardians of the Galaxy (2014), Ant-Man (2015), Doctor Strange (2016), Black Panther (2018), Captain Marvel (2019), Black Widow (2021), Eternals (2021), along with various sequels to these.
Shang-Chi was a Marvel Comics character created by writer Steve Engelhart and artist Jim Starlin. The character appeared on the comic-book page at the height of the popularity of the Martial Arts film that had been created by Bruce Lee's Enter the Dragon (1973) – indeed the initial look of Shang-Chi was modelled on Bruce Lee. Shang-Chi appeared in December 1973 (four months after Enter the Dragon came out) and gained his own comic-book soon after with The Hands of Shang-Chi: Master of Kung Fu, which enjoyed a popular run from 1974 to 1983. In the comic-book, Shang-Chi was introduced as the son of super-villain Fu Manchu, whose comics copyright Marvel held licence to at the time. Shang-Chi enjoyed various other comic-book appearances after that but this film is his first appearance on the screen.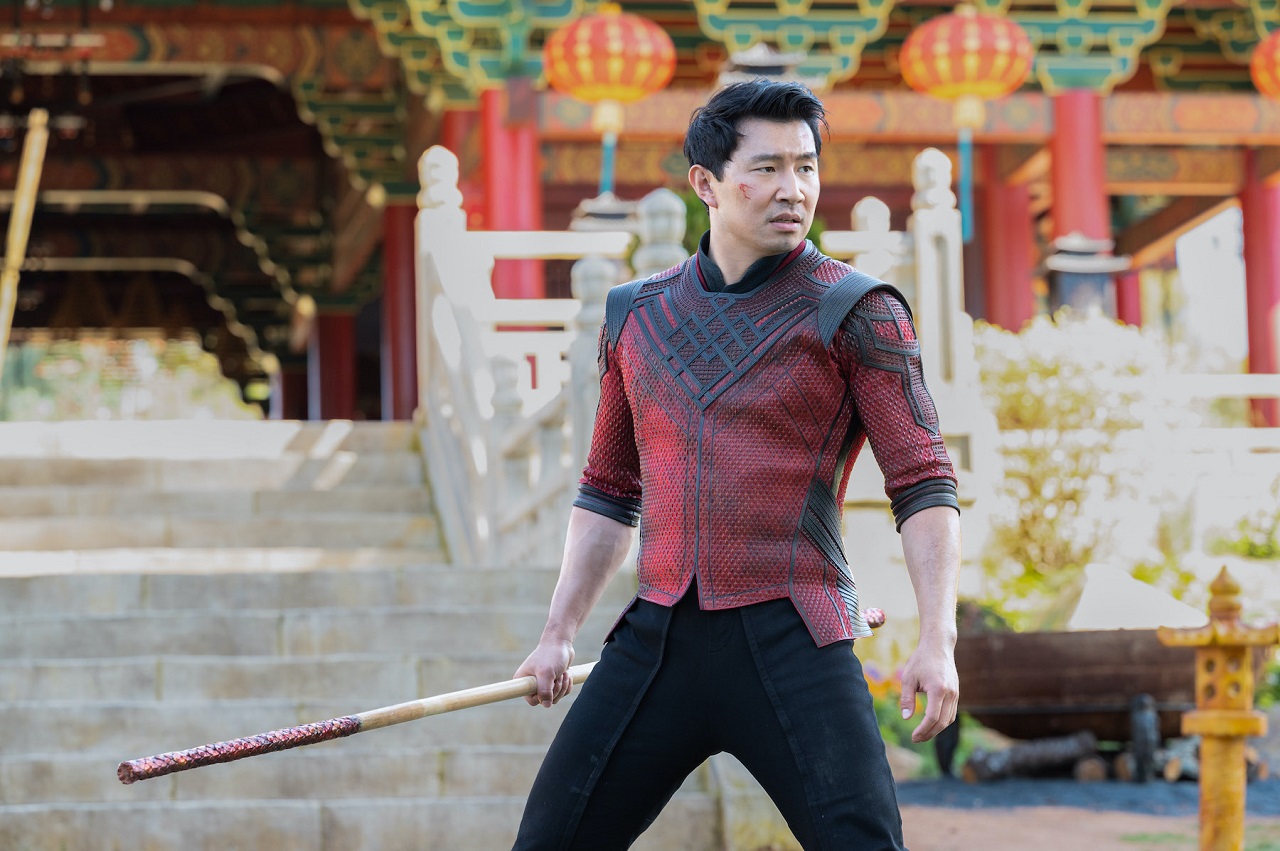 Shang-Chi is a clear pitch for the Chinese box-office. Cracking this has become the holy grail for Hollywood producers in recent years as it now earns more than the domestic US box-office gross. It is also heavily regulated by the Chinese government where foreign content is frequently blocked to favour domestic product. This has resulted in some Hollywood films conducting bizarre gymnastics trying to assuage these elements such as Chinese co-production deals or else the employment of acting names that have pull at the Chinese box-office (such as Tony Leung Ka-fai, Michelle Yeoh and Fala Chen here) or, as in Doctor Strange, omitting any reference to Tibet.
Shang-Chi surprises one. There is a great scene a few minutes in where Tony Leung confronts Fala Chen in the forest and Destin Daniel Cretton pulls off a flawless example of Wu Xia balletics and wirework – something that other Western filmmakers have been notedly ham-fisted about imitating. It should also be noted that nearly the first fifteen minutes of the film take place entirely in Mandarin. The film then conducts an abrupt switch to English and present-day San Francisco and throws us into the midst of Simu Liu and Awkwafina at a dinner-table scene where you get the impression that it is trying to appeal to the same Westernised Chinese audience that flocked to Crazy Rich Asians (2018) – the film even gets Awkwafina from that film as its female lead. (Awkwafina is an actress I've ever much cared for before but the way in which she proceeds to steal every scene she is in here with her comic delivery gives me cause to re-evaluate her).
The film then segues into a bravura sequence with Simi Liu fighting assorted heavies aboard a runaway bus, including Florian Munteanu slicing the bus apart with a laser arm attachment and the bus's accordion half coming apart in the midst of the action. This propels Shang-Chi into high gear and along with opening Wu Xia sequence shows highly promising things. This is confirmed not long after by another highly energetic sequence with various combatants fighting around the multiple levels of a scaffolding on the outside of a building.
The other interesting thing is the very title where the hero's name has been appended with the suffix '… and the Ten Rings.' The Ten Rings were actually Magical Artefacts wielded by The Mandarin, a Marvel Super-Villain that principally fought Iron Man. Despite being regarded as one of the all-time great comic-book super-villains, Marvel have been awfully iffy about incorporating The Mandarin into the MCU. In Iron Man Three (2013), we did get a Mandarin but this was bizarrely revealed to be an actor played by Ben Kingsley. This was seen as having been done so as not to offend Chinese sympathies with a character that was a racial caricature (although one would argue that while the character may have started that way, subsequent developments of the comic-book Mandarin have made up for that).
Here what we get is a villain that is trying to be The Mandarin in all but name. The character has been renamed Xu Wenwu and has his ten rings of power, which now look more like bracelets than rings (the originals were worn on each of The Mandarin's fingers). The character's background has been mingled with the comic-book Fu Manchu, which Marvel no longer has license over. What is interesting is how Ben Kingsley is brought back again (something that Destin Daniel Cretton says was done to apologise for the racial caricature of The Mandarin). Later Tony Leung has dialogue where he dismisses The Mandarin because it is named after a small fish and an orange (although kind of neglects to mention that Mandarin is also the name of the official language of the Chinese mainland and is used to refer to the officials of imperial China).
And yet for all the attempt to conduct a Mandarin by any other name, the role befalls a surprisingly mellow airing by Tony Leung (Ka-fai), a veteran actor going back to the days when Hong Kong was still under British rule. You look at the character he plays here and wonder what about Wenwu has such stature that he would be propelled into the legion of great Marvel super-villains.
The plot is a generic one. Indeed the basic tropes – young Asian hero powered up to an insanely high martial arts level; the quest for his parental secrets; secretive Asian underworld clans; combat tournaments; the quest for objects of mystic power – have all played out in two other major franchise films this same year – Mortal Kombat (2021) and Snake Eye: G.I. Joe Origins (2021), as well as the animated Batman: Soul of the Dragon (2021). Looking back on the other two a few months on, they tend to blur into a sameness and you suspect Shang-Chi will be no different in this regard.
After creating a great first half filled with highly energised action sequence, the second half of the film proves a disappointment. With the introduction of a madly overacting Ben Kingsley and as soon as the party reaches Ta Lo, the film slips into lazy formulaic storytelling. Most of the scenes then become an extended variation on the Martial Arts training sequence. Then comes the big showdown where the effects companies take over and give us a generic battle with forces and the appearance of a dragon. By which point you start forgetting the energised opening of the film as it slips into something entirely by the numbers.
---
Trailer here
---