---
Crew
Director – Michael Ritchie, Screenplay – Denis Feldman, Producers – Edward Feldman & Robert D. Wachs, Photography – Donald E. Thorin, Music – Michael Colombier, Visual Effects – Industrial Light and Magic (Supervisor – Ken Ralston), Special Effects Supervisor – Cliff Wenger, Makeup Effects – Ken Chase, Production Design – J. Michael Riva. Production Company – Feldman-Meeker Productions/Eddie Murphy Productions.
Cast
Eddie Murphy (Chandler Jarrell), Charlotte Lewis (Kee Nang), Charles Dance (Sardo Numspa), Victor Wong (Ghampa), J.L. Reate (The Golden Child)
---
Plot
Chandler Jarrell, a social worker specialising in locating lost children, is contacted by Tibetan woman Kee Nang who asks him to help find the Golden Child. The Golden Child has amazing powers, including being able to return life to the dead simply with his touch. However, the Golden Child has been kidnapped by the evil Sardo Numspa and if Numspa can kill the Child then evil will rule supreme in the world. Prophecies have led Kee Nang to Chandler and say that he is the Chosen One who will rescue the Child. Chandler thinks she is crazy. However, after encountering Numspa's demonic forces, Chandler is reluctantly drawn into the struggle.
---
At the time that he made The Golden Child, Eddie Murphy was riding high on hits like 48 Hrs. (1982), Trading Places (1983) and the enormous success of Beverly Hills Cop (1984). The Golden Child was probably the nearest thing Murphy had to a flop at least up until efforts like Harlem Nights (1989), Boomerang (1992), The Distinguished Gentleman (1992), The Adventures of Pluto Nash (2002) and A Thousand Words (2012). The Golden Child certainly did not lose money but the critical reception and audience opinion was universally inimical.
The Golden Child came out at the time when Hollywood suddenly discovered Asian fantasy cinema. Hong Kong filmmakers had created a uniquely original genre of their own (Wu Xia) a few years earlier with the bizarrely amazing Zu: Warriors from the Magic Mountain (1983) and other hits such as Mr Vampire (1985) where over-the-top martial arts moves were combined with elements of traditional Eastern myth and religion.
1986 suddenly became a year when Hollywood made their own attempts to import Wu Xia with both The Golden Child and John Carpenter's Big Trouble in Little China (1986). There is much in the way of similarity between The Golden Child and Big Trouble in Little China – both have a story about a Westerner fighting Oriental demonic forces in human form (and not the least of which was that John Carpenter was initially approached to direct The Golden Child).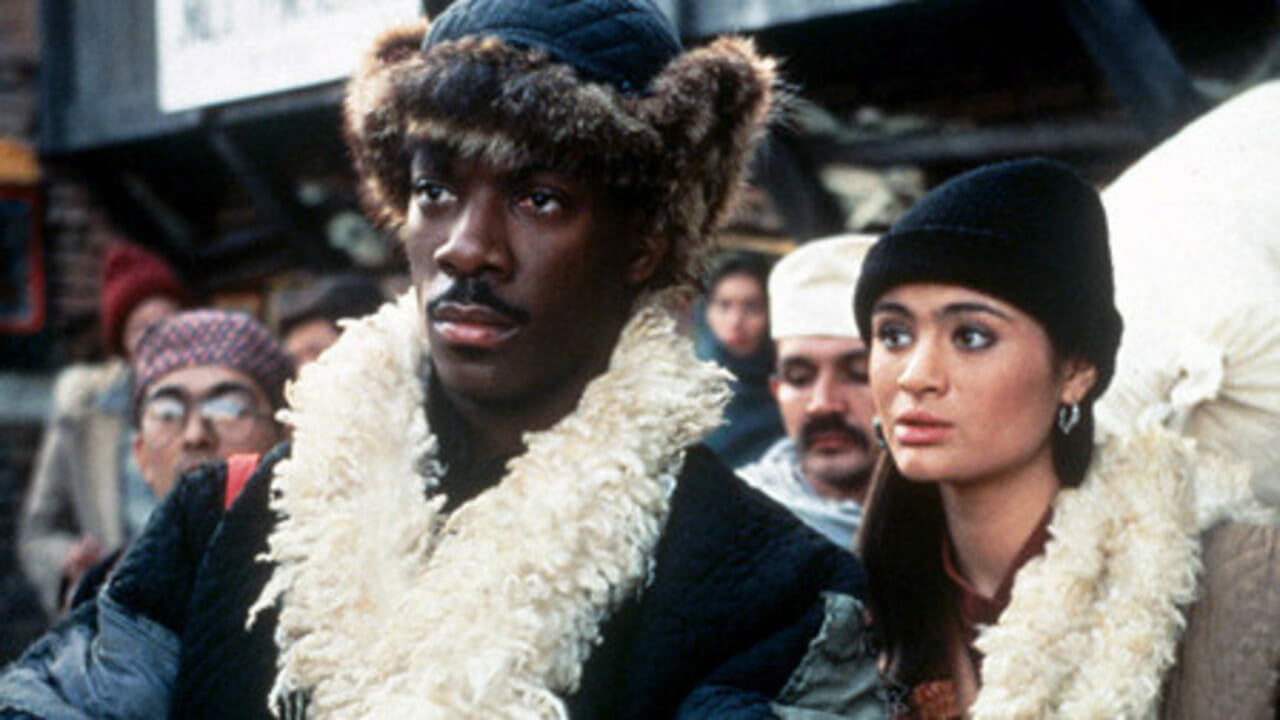 Unfortunately, neither film found a rave reception and Hollywood abandoned interest in Hong Kong fantastic cinema until the late 1990s following the massive successes of The Matrix (1999) and Crouching Tiger, Hidden Dragon (2000). The Golden Child is clearly trying to imitate its Hong Kongese models without much idea of what it is doing – it offers up a few lame martial arts sequences conducted with no imagination – and makes the case eminently clear that the originals were light years ahead of the clumsy American attempts to copy them.
None of the elements in The Golden Child ever gel together – Eddie Murphy and the martial arts and elements of Asian fantasy; the romance between Murphy and Charlotte Lewis; Murphy cast as a social worker; the mixture of comedy and Wu Xia. The problem is director Michael Ritchie. Ritchie made several fine films – Downhill Racer (1969), Prime Cut (1972), The Candidate (1972), Divine Madness (1980) – and commercial successes such as The Bad News Bears (1976), Semi-Tough (1977) and Fletch (1985). However, Michael Ritchie's handful of ventures into fantastic cinema – the initially intriguing Peter Benchley film The Island (1980) about a lost island of pirates, the fairy godmother film A Simple Wish (1997) and the adaptation of the musical The Fantasticks (2000) – were all leaden disasters.
Unlike John Carpenter in Big Trouble in Little China, Michael Ritchie's greatest problem is not knowing how to handle the fantastic. The black magic side has a admirable ferocity – blood-filled bowls of oatmeal, a room painted in bloody Oriental characters to restrain the Golden Child – and one delightful effects scene where the Child transforms a Coke can into a stop-motion animated tin soldier.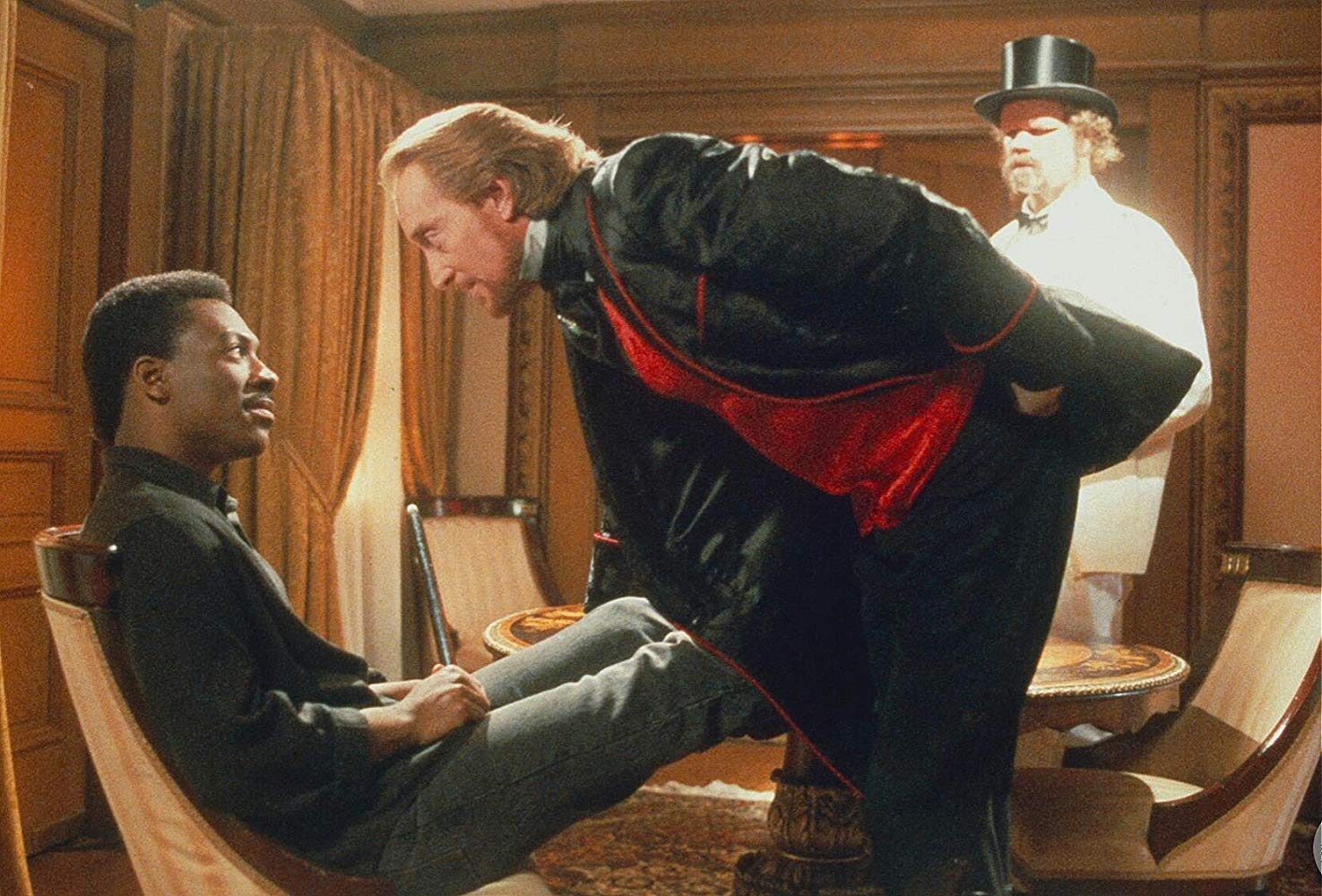 However, Michael Ritchie never lets the action open up and swashbuckle as Carpenter did or as say a similar quest movie like Raiders of the Lost Ark (1981) does. The quest that Eddie Murphy must fulfil seems inconsequential – indeed, he does so little that is heroic, other than throw about one-liners, that it seems a puzzle as to why he is named The Chosen One. Industrial Light and Magic's optical and stop-motion effects are uncustomarily below par.
On the other hand, the film does have Eddie Murphy, which is its single advantage. He belongs in a fantasy film like this as much as John Wayne does and there is the overriding sense that the script has been rewritten from its original conception to become a star vehicle for him. His seemingly impromptu off-the-cuff style of acting is rather funny – trying to bluff his way past a customs official, to him suggesting Charlotte Lewis should hide her scroll lest the local Rastafarians think it a joint, or accidentally bursting in on a backyard barbecue with a gun – "It's alright, I just want a fry." His female support Charlotte Lewis is utterly bland but there is wily support from Victor Wong, while the fine British actor Charles Dance proves that, if nothing else, he has a natty set of threads and menacing range of expressions.
---
---