---
Crew
Director – Danishka Esterhazy, Screenplay – Danishka Esterhazy & Rebecca Gibson, Producers – Danishka Esterhazy, Rebecca Gibson, Ashley Hirt & Rebecca Sandulak, Photography – Andrew Luczenczyn, Music – Joe Silva, Visual Effects Supervisor – Bjorn William Jakobson, Production Design – Ricardo Alms. Production Company – Red Czarina Productions.
Cast
Breazy Diduck-Wilson (Gemma St Clair), Annika Elyse Irving (Harley St Clair), Tony Porteous (Brendon), Ashley Rebecca Moore (Krysstal St Clair), Erik Athavale (Gary)
---
Plot
Young Gemma and Harley's mother Krysstal is trying to find enough money for them to survive. She goes to a party with Gary, a guy she meets, and leaves them in the backseat of his SUV. As they drive home, the two of them argue and he throws her on the side of the road. Discovering that he still has the kids in the back, Gary stops when Harley asks to go pee and then drives off, abandoning them. The two children wander through the woods and at daybreak come to a farm. There they are found by the sullen Brendon who welcomes them inside and feeds them. It soon becomes apparent that he has more sinister plans in mind.
---
The fairytale was popular on screens in the early 2010s with the likes of Red Riding Hood (2011), Mirror Mirror (2012), Snow White and the Huntsman (2012), Hansel & Gretel: Witch Hunters (2013) and Jack the Giant Slayer (2013) where the originals were reinvented as  dark fantasies for adults. Other works sought to conduct modern updatings, reinterpretations or deconstructions as in the tv series Grimm (2011-7), Once Upon a Time (2011-8) and the Spanish film Blancaneives (2012), which recast Snow White as a female bullfighter.
The fairytale deconstruction goes all the way back to Neil Jordan's The Company of Wolves (1984) and Matthew Bright's Freeway (1996) to more recent teen light fantasies or romcoms such as EverAfter (1998), A Cinderella Story (2004), Ella Enchanted (2004), Sydney White (2007), Beastly (2011) and Under the Rainbow (2013). Among these, Hansel and Gretel has been a particular choice in terms of radical deconstructions with Francois Ozon's Criminal Lovers (1999), featuring the two children as teenagers on the run from a murder and the witch in the woods rewritten a gay man with designs on Hansel, and Matthew Bright's sensational Freeway II: Confessions of a Trickbaby (1999) where the two became escapees from Juvenile Hall.
Danishka Esterhazy is a director based in Manitoba, Canada who has specialised in these fairytale deconstructions. She has previously made modernised versions of fairytales in the short films The Snow Queen (2005) and The Red Hood (2009), and the full-length Suddenly Ever After (2010), which created analogues for fairytale characters set in a modern high school. Esterhazy made her full-length directorial debut with Black Field (2009) and H & G was her fourth feature film. She subsequently went on to make the science-fiction film Level 16 (2018); The Banana Splits (2019), a horror version of a popular children's tv show; the true crime Lifetime tv movie I Was Lorena Bobbitt (2020); and the remake of Slumber Party Massacre (2021).
I wanted to like H & G but began to switch off soon into it. In the early scenes, Esterhazy wants to give us a portrait of two children living in poverty with a negligent mother. However, it becomes a depiction of poverty directed, costumed and set dressed by people you feel have never even travelled into a low-income neighbourhood in their lives and is something that sets a tone of maddening banality for the film to come.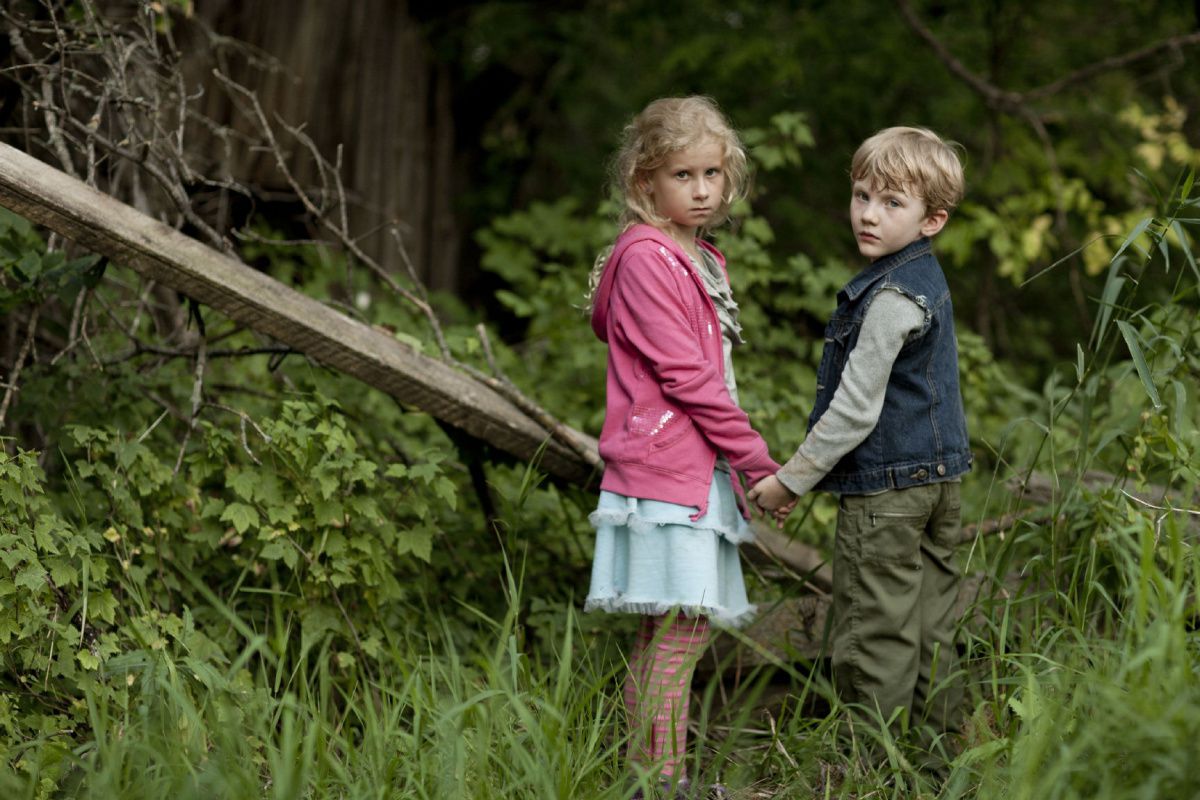 Throughout, Esterhazy's directorial set-ups seem frustratingly mannered. Case in point being when the kids discover something inside Tony Porteous's deep freezer near the end – she only shows their reaction, not what is inside and we are left with the idea that it is a body but that the film is being too polite to ever show us what it is. Even scenes where Esterhazy gives the impression that she has discovered a poetry – the ones with the kids wandering about the farm and breaking bottles – seem drowned out by an overly insistent piano score that all but sits there and tells us "poetic interlude coming up."
H & G just didn't work for me in any way no matter how much I wanted it to. What we have is essentially a copy of Francois Ozon's Criminal Lovers – albeit with the ages of the kids in their pre-teens rather than teenagers – which was a film that did everything you have here far better. The two kids – both of which it should be pointed out are being played by girls – are amateurish. Their nervousness and lack of assurance in front of the camera shows through on screen. The scene at the end where Annika Elyse Irving struggles to tell Tony Porteous "You're a monster" and keeps stumbling over pronouncing the words seems such an embarrassment that you wonder why Esterhazy didn't bother to reshoot the scene.
It is also a film that is overlit by a cinematographer and lighting cameraman who you get the impression felt they had to illuminate every single thing in the frame and leave nothing to suggestion – this is a film that would have gained an enormous amount more impact by simply reducing the lighting level of scenes by fifty percent.
H & G feels like a film that wants to go into dark places – it is pitched to adults as witness the use of four-letter language throughout – so you wonder why it ends up being so tepid. Tony Porteous is called a monster but at the end he never does anything more than shout at the kids and seems to want to keep them at the farm, at most preventing Breazy Diduck-Wilson from calling her mother on a couple of occasions. It is hinted that he has more sinister intentions – whatever it is in the freezer, the contents of which we are not privy to. There is a scene where Diduck-Wilson finds a scrap album with pictures taken from ads of young men posing from which we are presumably meant to conclude, along with the attentions that Porteous gives to Harley, that he has paedophile intentions. In that Esterhazy leaves so much to implication then abruptly turns around and calls it horrific, it feels like a film that is afraid of getting too dark – it wants to suggest but is so delicate about every coming out and directly saying anything.
---
---