---
Crew
Director – Tarsem Singh Dhandwar, Screenplay – Jason Keller & Melissa Wallack, Screen Story – Melissa Wallack, Producers – Bernie Goldmann, Ryan Kavanaugh & Brett Ratner, Photography – Brendan Galvin, Music – Alan Menken, Visual Effects Supervisor – Tom Wood, Visual Effects – Barxseven (Supervisor – Jay Randall), Comen VFX, Digital Domain, Modus FX (Supervisor – Wayne Brinton), Mokko, Newbreed VFX, One Of Us (Supervisor – Dominic Parker), Prime Focus India, Prime Focus London (Supervisor – Stuart Langley), Rodeo FX (Supervisor – Sebastien Moreau), Tippett Studio (Supervisor – Matt Jacobs), Animation – Ben Hibon, Special Effects Supervisors – Louis Craig & Kaz Kobielski, Production Design – Tom Foden. Production Company – Relativity Media/Yuchaipa Films/Goodmann Pictures/Rat Entertainment/Misher Films.
Cast
Lily Collins (Snow White), Julia Roberts (The Queen), Armie Hammer (Prince Alcott), Nathan Lane (Brighton), Martin Klebba (Butcher), John Leguizamo, Jordan Prentice (Napoleon), Mark Povinelli (Half Pint), Sebastian Saraceno (Wolf), Ronald Lee Clark (Chuckles), Joe Gnoffo (Grub), Danny Woodburn (Grimm), Michael Lerner (Baron), Mare Winningham (Baker Margaret), Robert Emms (Charles Renbock), Sean Bean (King)
---
Plot
The queen died while giving birth to a daughter Snow White. The king went onto remarry but then disappeared in the forest one day. His new queen rules in his stead and holds the land under a cruel hand, her magic having made it always winter. It is now Snow White's eighteenth birthday. She sneaks out from the palace where she is kept hidden by the queen. In the forest, she comes upon and frees Prince Alcott of Valencia who has been robbed by dwarf bandits and left tied up. The Queen eagerly greets Alcott's arrival, seeing marrying him as a means of replenishing her exhausted royal coffers. She throws a lavish ball but Alcott is more interested in talking to Snow White than her. In anger, the queen orders Snow White taken out into the forest and killed, although instead her servant lets Snow White go. She falls in with the seven dwarfs. She is appalled to find that the people in the village live in dire poverty due to the queen's taxes. Realising the queen's true cruelty, Snow White marshals the dwarfs to stand up against her. At the same time, the queen makes all effort to magically woo Alcott.
---
Mirror Mirror is one among a host of new fairytale adaptations that have suddenly appeared in 2011-2. This fad was started with the modernised Beauty and the Beast retelling Beastly (2011) and Catherine Hardwicke's adaptation of Red Riding Hood (2011), both around the same time, and followed by Hansel & Gretel: Witch Hunters (2013), Jack the Giant Slayer (2013), Beauty and the Beast (2014), Into the Woods (2014), Maleficent (2014) and Cinderella (2015). There were also three fairytale based tv series with Grimm (2011-7), Once Upon a Time (2011-8) and Beauty and the Beast (2012-6).
In 2012, we had two competing Snow White project, with Mirror Mirror and Snow White and the Huntsman (2012), which came out three months later, as well as the modernised Spanish silent movie Blancanieves (2012), not to mention low-budget ripoff company The Asylum jumping in with the inevitable Grimm's Snow White (2012) and David DeCoteau's modernised Snow White: A Deadly Summer (2012). All of these retell the traditional fairytales in far more adult terms. It is not known the sudden reason for these revisionist films but it should be noted the number of Twilight series associations many of these have and the thinking that perhaps filmmakers are turning to fairytales as a new form of tween dark fantasy.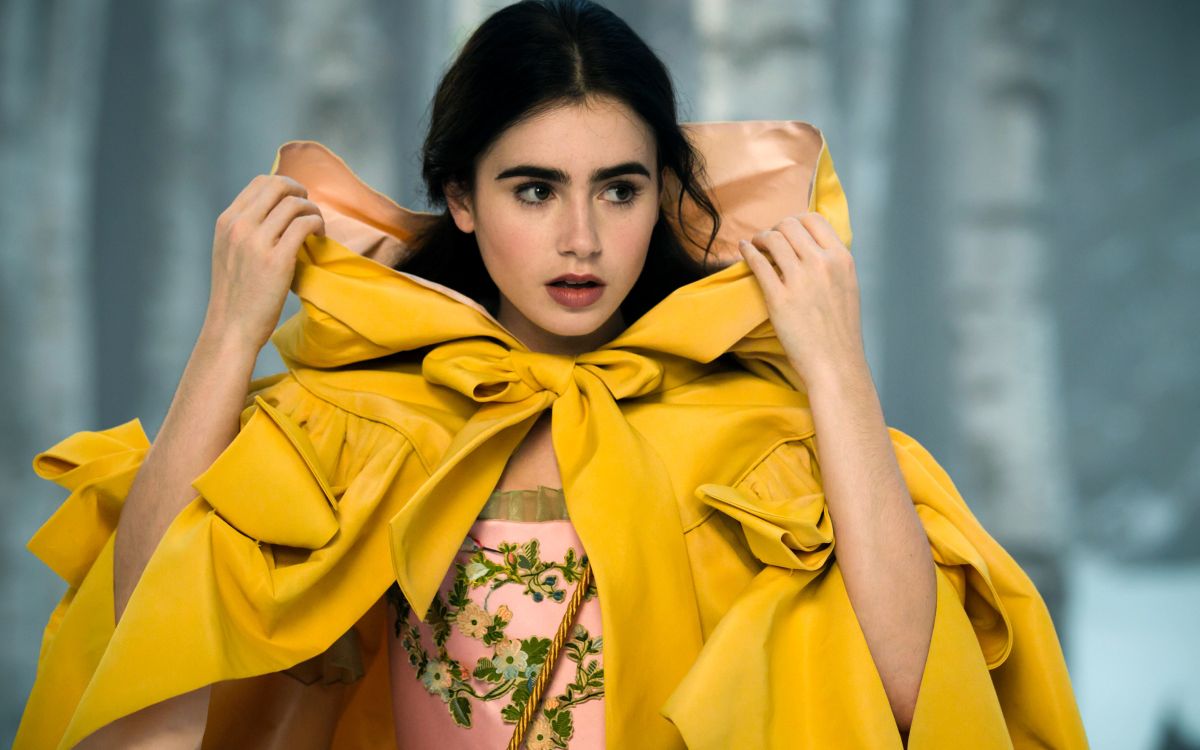 Snow White comes from the fairytale that was first written down in 1812 by the Brothers Grimm, in itself drawn from older European traditions. The most well known film version of the story is the Disney animated classic Snow White and the Seven Dwarfs (1937), which is the undisputed classic telling and from which almost all other adaptations of Snow White draw from. There have been some twenty or so other film versions ranging all the way from Snow White and the Three Stooges (1961) to Golan-Globus's cheap Snow White (1987) and in recent years other deconstructions/modernisations such as the excellent dark adult Snow White: A Tale of Terror (1997), Hallmark's Snow White (2001), the German comedy 7 Dwarves – Men Alone in the Woods (2004), the modernised high school retelling Sydney White (2007), the animated parody Happily N'Ever After 2 (2009) and the superb ballet adaptation Snow White (2010), while Snow White also turns up as a character in Grimm's Fairy Tales for Adults (1970) and Shrek the Third (2007) and in the modern world in tv's The Charmings (1987) and Once Upon a Time, while much of the Disney film is spoofed in Enchanted (2007).
Mirror Mirror – no relation to the low-budget horror film Mirror Mirror (1990) – comes from Tarsem Singh Dhandwar (also variously billed on his films as Tarsem Singh or simply Tarsem). The Indian-born Tarsem Singh began working as a commercials and music video director in 1990 and found acclaim. He made his feature-length debut with The Cell (2000), a rather ordinary script that was propelled into the extraordinary by Tarsem's visuals. This was followed by The Fall (2006) where Tarsem toured the globe discovering unique locations that allowed him to provide an out of this world fable without the need for visual effects. Subsequently, Tarsem Singh has gravitated towards more commercial projects. His third film, released only five months before Mirror Mirror, was the Greek myth adventure Immortals (2011), and he subsequently went onto make the bodyswap thriller Self/less (2015).
In Mirror Mirror, Tarsem Singh's visuals are expectedly breathtaking. As per all his other films, the emphasis is on the sumptuousness of the production design and costuming. As the film opens, the backstory of Snow White, her queen and father is told with what looks like the CGI animated equivalent of porcelain dolls, before we segue to the queen's throne room with Julia Roberts resplendently decked out in a massive mustard yellow dress sitting on a throne built up around her like a seashell, while playing a game of live chess with her courtiers who wear headdresses that resemble sailing ships and shoot each other's ships with miniature cannons whenever pieces are eliminated.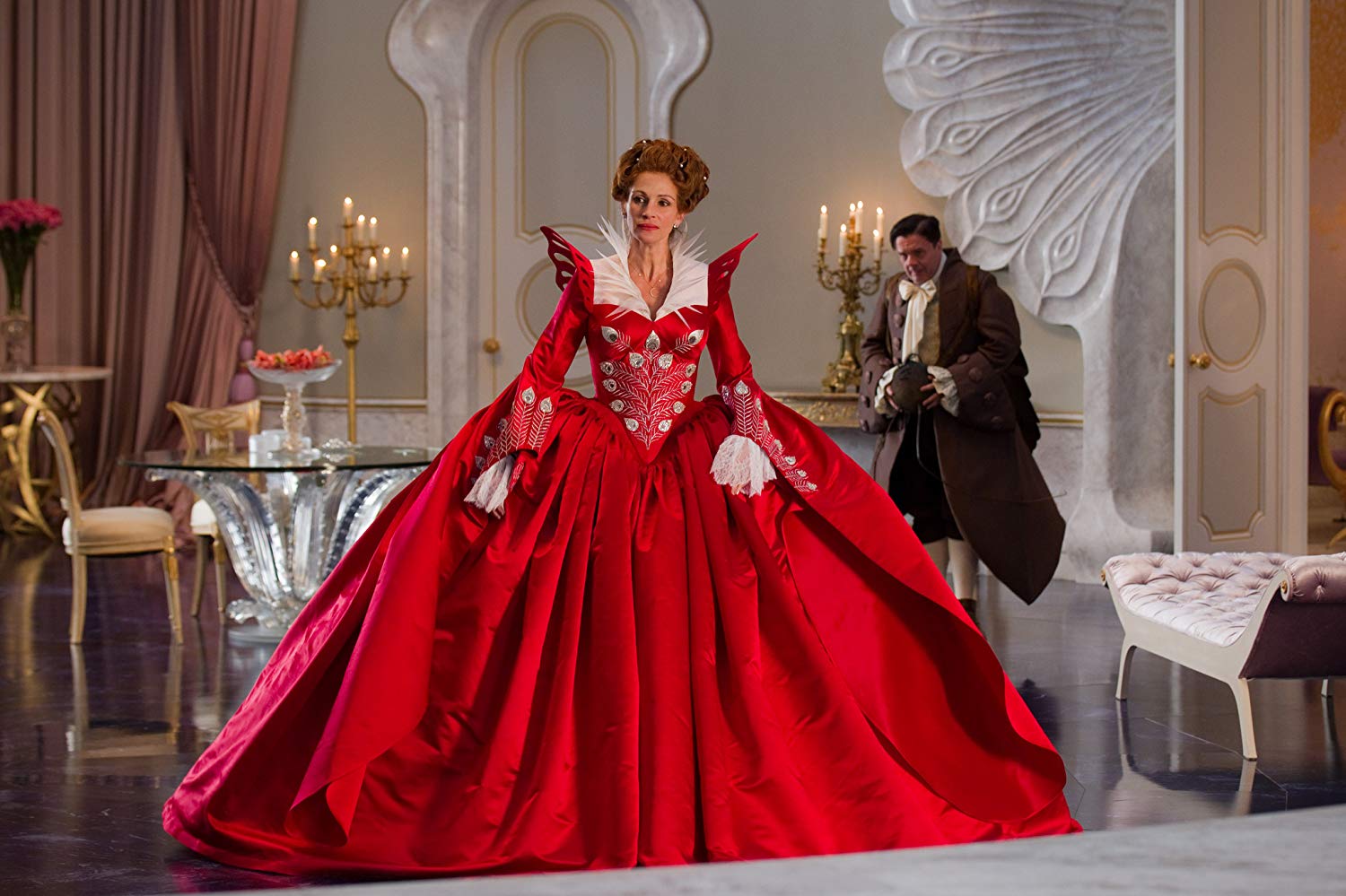 The costumery is amazing – the dwarfs appearances as figures in black on collapsible accordion stilts. This reaches a height at the costume ball with Lily Collins outfitted in regal white as a swan with matching headdress, Julia Roberts as a peacock and Armie Hammer as a rabbit in top hat and tails. (Although there is a certain irony to this – while the film has a theme of outrage about the queen hiking taxes on the direly impoverished peasantry to pay for more lavish costume balls, even when Snow White is mounting rebellion on behalf of the people, Tarsem stops proceedings still to put Lily Collins through a costume parade as though she cannot ferment rebellion without looking properly elegant first).
The downside of Mirror Mirror is that the lavishness that Tarsem Singh heaps on the film in terms of the production values is constantly being unwound by an unserious reading. Mirror Mirror developed an uneven buzz before it opened with its trailer being slammed for taking a campy approach. In Julia Roberts' opening narration, where she tells the story of Snow White's birth, she is also mocking Snow White for having a pretentious name, one can see that the trailer did not lie. It becomes increasingly apparent that everyone involved has figured that audiences are so familiar with the fairytale that it is not worth taking seriously any longer.
There are the constantly grating modern colloquialisms – modern terms like 'high-maintenance', 'don't let the bedbugs bite,' 'focus group', Nathan Lane insisting that the coach he is riding in "is a rental," or the invasion of the ball where Lily Collins announces "this is a stickup." This is the sort of inane pitch of the film to modern in-jokes and colloquialisms that has dragged down other fairytale parodies like Ella Enchanted (2004), Hoodwinked! (2005), Happily N'Ever After (2007) and the Shrek sequels. Maybe the worst scenes are those where Julia Roberts administers a love potion to Armie Hammer – only to find it is a Puppy Love potion and has caused him to act like a dog fawning all over her.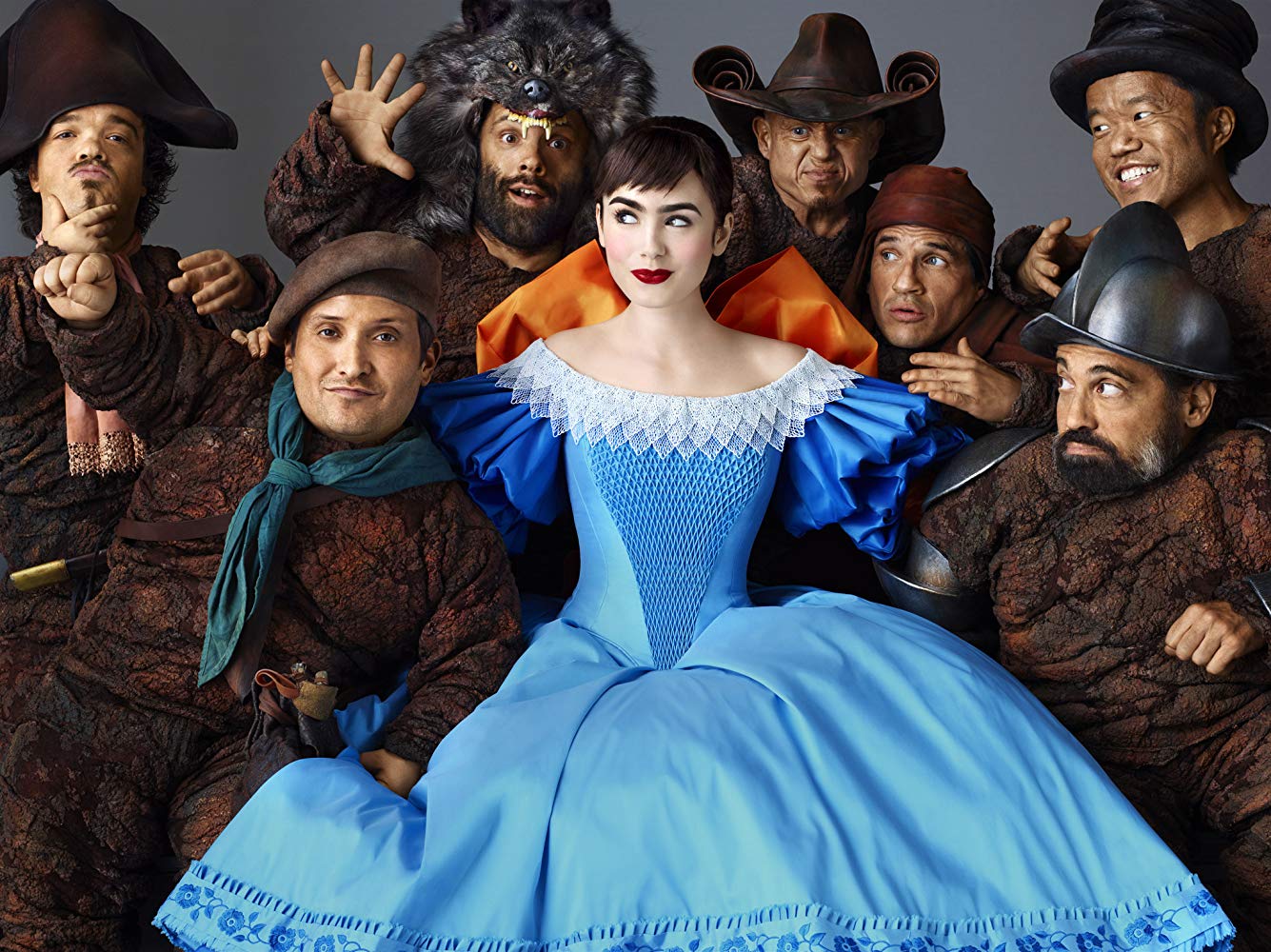 It adds up to a major disappointment. I would have through a dazzling visual craftsman like Tarsem Singh would have discovered something unique inside the fairytale and turned it into an amazingly baroque fantasy somewhere between a costume ball and the hyper-realised mythicism of Ridley Scott's Legend (1985) – but all we end up with is a film that feels split two ways – an impeccably staged and dressed fantasy that nobody could conduct without ridiculing the material.
Beyond that, Mirror Mirror does nothing particularly unique or original with the tale of Snow White. The prince's role is expanded somewhat – he and Snow White meet early on in the show and the rest of the story becomes about the queen trying to seduce him into marriage. The dwarfs are now bandits and Snow White is a less passive character who organises a rebellion against the queen where the story borrows a leaf or two from Robin Hood in having her then lead the dwarfs in a series of reprisals in order to redistribute the queen's harsh taxes back to the people.
Some of the traditional elements of the story are represented in slightly different ways or reversed – it is Snow White who gets to bestow the kiss of true love on the prince to save him from the queen's enchantment; the queen never gets to present Snow White with the poisoned apple and cause her to go to sleep, although at the end of the film she does try to give an apple to her only for Snow White to turn around and demand that she eat a slice of it (the queen's fate subsequent to that is not mentioned). Though the title may be Mirror Mirror, the queen oddly never gets to ask her mirror self who the fairest of us all and the theme of her vanity is absent from this version.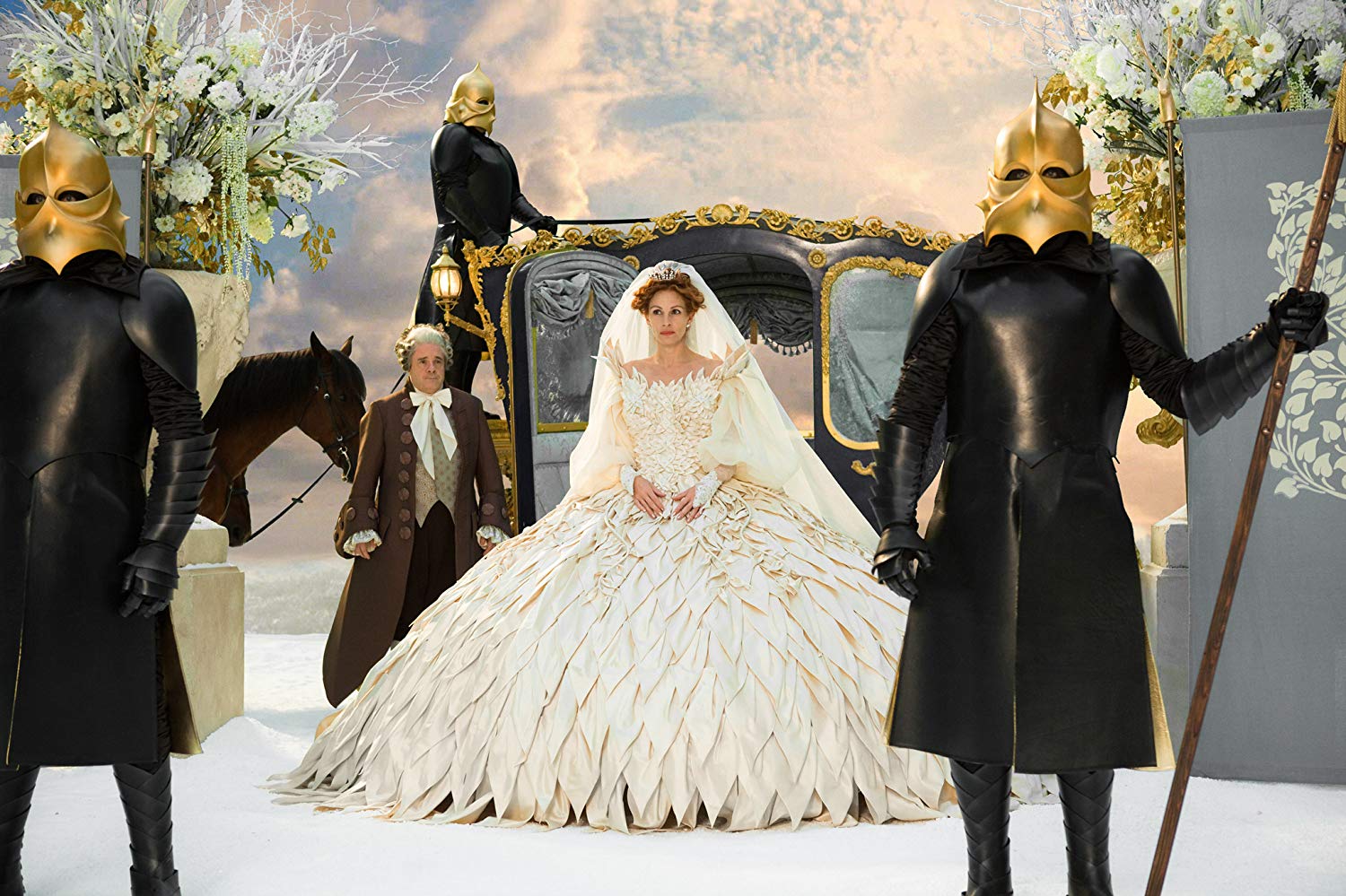 In various film adaptations of Snow White, the character of the queen has a tendency to dominate the show over the relatively pallid Snow White. Here Julia Roberts gives one of those grandly campy performances that it is customary for actresses to do at a certain age (although Roberts is only 45 this year) – a tradition that goes way back to Bette Davis and Joan Crawford in What Ever Happened to Baby Jane? (1962) and has more recently been inherited by Jessica Lange in the likes of Hush (1998) and American Horror Story (2011– ).
Julia Roberts entirely out-acts the show around the much quieter Lily Collins (daughter of no less than 1980s pop legend to the middle-classes Phil Collins) who has the more passive role but holds her end of the show up well. As to Armie Hammer's prince … well. Hammer does perform the dashing and charming reasonably well but, without wishing to make too many appeals to stereotype, manages to come across as one of the gayest Prince Charmings that one has ever seen on screen.
Tarsem Singh subsequently went on to a much more imaginative and substantial venture into fairytale with the reworked Wizard of Oz tv series Emerald City (2017).
(Nominee for Best Cinematography and Best Production Design at this site's Best of 2012 Awards).
---
---