---
Crew
Director – Peter Berg, Screenplay – Vince Gilligan & Vy Vincent Ngo, Producers – Akiva Goldsman, James Lassiter, Michael Mann & Will Smith, Photography – Tobias Schliessler, Music – John Powell, Music Supervisor – George Drakoulias, Visual Effects Supervisor – John Dykstra, Visual Effects – Sony Pictures Imageworks, Additional Visual Effects – Imageworks India (Supervisor – Krishnakant Mishra), Luna Pictures & X1FX (Supervisor – Mark Larranaga), Special Effects Supervisor – John Frazier, Production Design – Neil Spisak. Production Company – Weed Road Pictures/Blue Light/Overbrook Entertainment/Relativity Media/GH Three.
Cast
Will Smith (John Hancock), Jason Bateman (Ray Embrey), Charlize Theron (Mary Embrey), Jae Head (Aaron Embrey), Eddie Marsan (Kenneth 'Red' Parker Jr)
---
Plot
John Hancock is a superhero – he can fly and is invulnerable to all damage, although his memory is a blank as to his origin. However, Hancock has lapsed into alcoholism and does not seem to care much about the job. All across L.A., there is growing dislike of Hancock because of the vast damage to property he causes every time he goes into action. When Hancock saves struggling P.R. man Ray Embrey from being hit by an oncoming train, Ray invites him home for dinner. Ray gently suggests that Hancock needs an image makeover to get the public to like him more. When the mayor issues an arrest warrant for Hancock as a public nuisance, Ray seizes on the opportunity, getting Hancock to voluntarily surrender and stay in jail. Ray banks that authorities will soon come to a realisation of what Hancock's absence means as crime statistics skyrocket and will beg him to return. During this time, Ray works on Hancock's image and presentation. The perfect opportunity comes when the police ask for Hancock's intervention in a heavily-armed bank robbery. As Hancock alights upon this opportunity for redemption, he discovers there are secrets about his own origin in store.
---
Hancock is a film that must have seemed like an irresistible concept when the scriptwriters pitched it – imagine a superhero movie but where the superhero is a burned-out alcoholic who needs to undergo a rehabilitation of his image in order to become a hero in the public eye again. It was an idea that had Hancock listed as one of the top unproduced screenplays for the better part of the previous decade. (Although for all the cuteness of the set-up concept, many people do not seem to realise that idea has been done before. Hancock has a great many similarities to an earlier film, the charming The Return of Captain Invincible (1983), which concerned the efforts to rehabilitate a superhero who has slumped into alcoholism after being blacklisted during the McCarthyist witch hunts of the 1950s).
The production started life under the title Tonight, He Comes before undergoing name change to the nondescript Hancock. (For those of us raised on classic British tv, the first impression the title gives is of a revival and/or a biopic of the late great Tony Hancock and one of his tv shows). The script, which always seemed to star Will Smith, had been announced under various directors such as Michael Mann and Jonathan Mostow, both of whom are listed as executive producers here. (Michael Mann also turns up in a cameo as one of the boardroom directors that Jason Bateman tries to pitch to).
There is also the dismaying name of screenwriter Akiva Goldsman who has been responsible for some dread other genre productions, notably two disastrous other superheroic outings Batman Forever (1995) and Batman & Robin (1997), listed as a producer. Far more interesting is the name of screenwriter Vince Gilligan then known as a writer/producer on tv's The X Files (1993-2002, 2016-8) but shortly after this went on to create the tv series Breaking Bad (2008-13)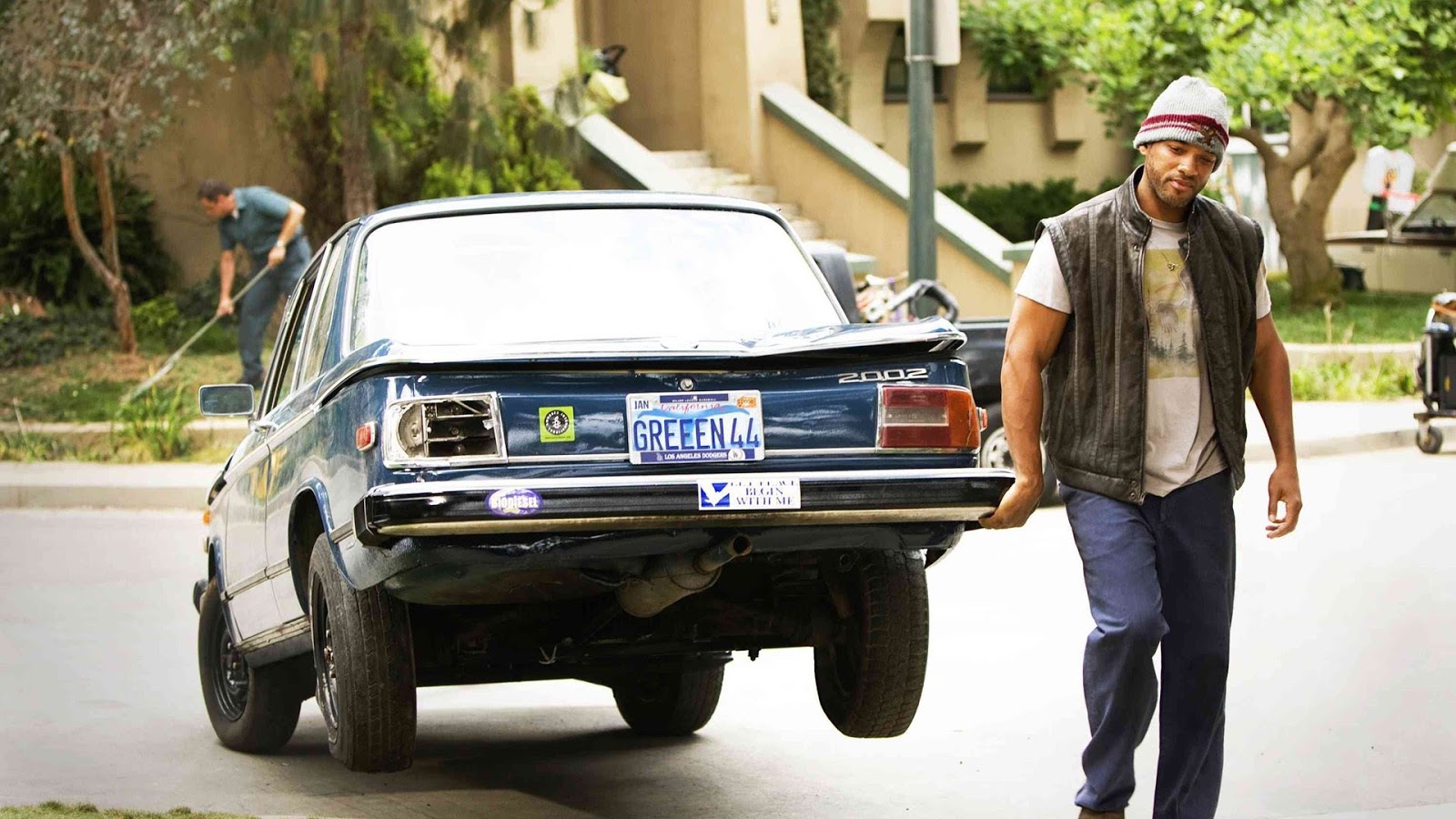 The finished film was placed into the hands of Peter Berg, better known as an actor – see films like Shocker (1989), Late for Dinner (1991), Fire in the Sky (1993), The Last Seduction (1994) and an ongoing role on tv's Chicago Hope (1994-2000). Over the last decade, Berg has been making a secondary career as a director beginning with the black comedy Very Bad Things (1998) and progressing through the likes of The Rundown (2003), Friday Night Lights (2004) and The Kingdom (2007). Beginning with Hancock, Berg started to demonstrate a preference for genre material with the tv movie Virtuality (2008) and the film version of the boardgame Battleship (2012) involving alien invaders, and was associated with other projects like an announced adaptation of Robert E. Howard's Brak Mak Morn and the remake of Dune (1984), as well as producing Crouching Tiger, Hidden Dragon: Sword of Destiny (2016). Instead of heading in genre directions, Berg appears to have become more fascinated with films of a pro-militaristic bent and/or showing their flag-waving patriotism with the likes of Battleship, Lone Survivor (2013), Deepwater Horizon (2016), Patriot's Day (2017) and Mile 22 (2018).
Sometimes projects that are a long time in development emerge and when all the smoke of the anticipation dies away prove to be a big disappointment. One could point to other decade-long-in-development works like Jacob's Ladder (1990), Star Wars Episode I: The Phantom Menace (1999) and Will Smith's previous vehicle I Am Legend (2007). Hancock fairly much joins the crowd. The cuteness of the concept works for some time. Peter Berg gives a great opening scene that starts with a drunken Will Smith passed out on a bus stop being woken up by a young kid pointing to a live crime scene broadcast on tv screens in a storefront window and Smith cannoning off up into the sky like a rocket and drunkenly weaving in between buildings and bouncing along the highway to finally invade the car of the escaping criminals with weary nonchalance. There is a degree of amusement to the various scenes with Jason Bateman inviting Will Smith home and trying to explain to him how to change his image or with Smith in jail.
Certainly, Will Smith in uncharacteristic mean and rude mode (as opposed to winningly charismatic) brings a great deal that anchors the film in place. However, Peter Berg's tone throughout is uncertain. Hancock feels like material that has been designed a comedy but has instead been played for a resolutely realist tone throughout. The tone sways uncertainly between either – like an oddly out of place slapstick scene with Charlize Theron hitting Will Smith with various kitchen utensils while Jason Bateman is on the phone. One that cannot help but wondering how Hancock might have emerged at the hand of the great Michael Mann of The Insider (1999) and Ali (2001) fame. On the other hand, one supposes, it could easily have gone the other way – try and imagine if the film had been cast with someone like Adam Sandler or Martin Lawrence and played for out-and-out comedy.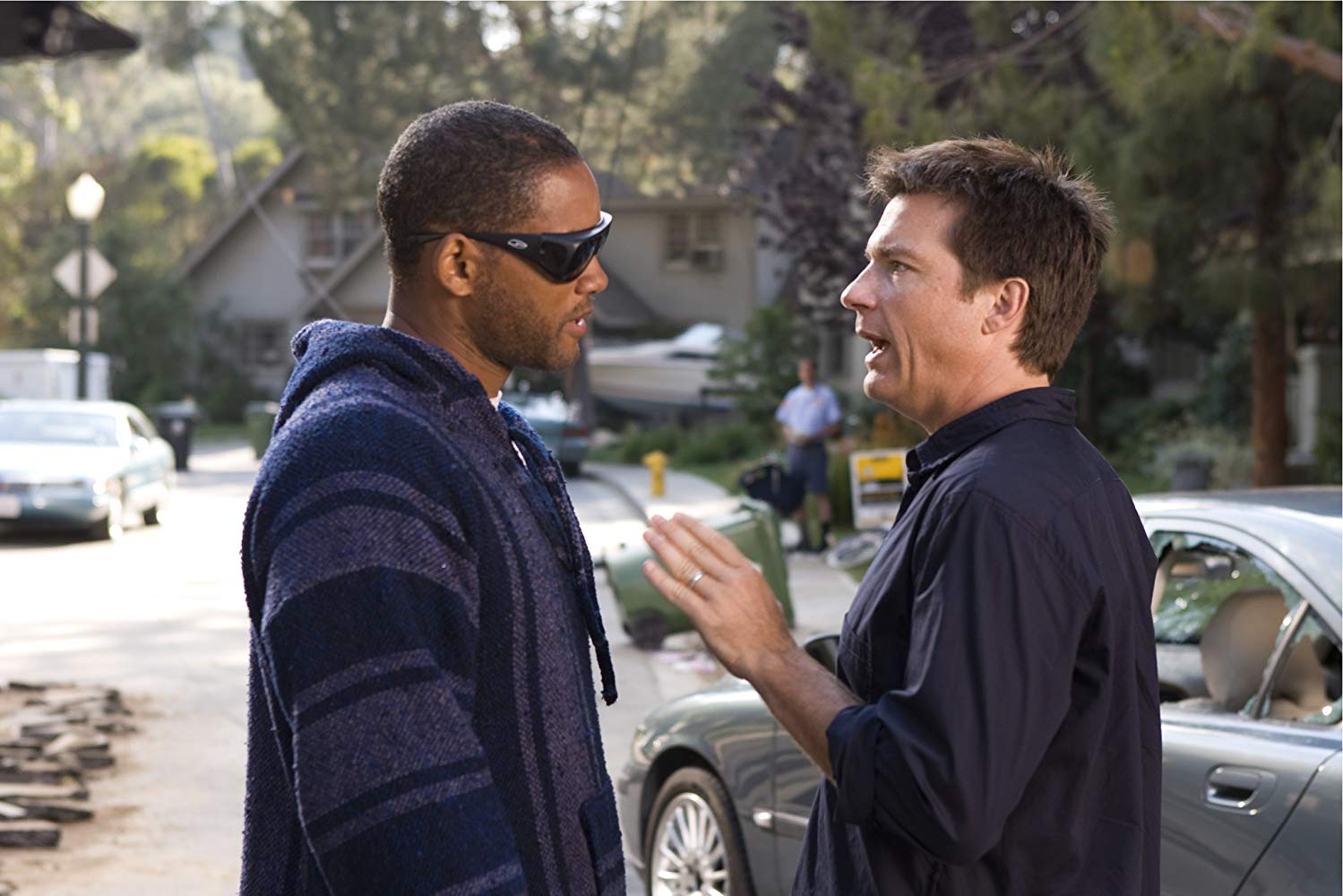 To me what kills Hancock is not so much Peter Berg's uncertain approach as it is the mid-film twist revelation. [PLOT SPOILERS] Here it is suddenly revealed that Charlize Theron, who up until then had seemed like Jason Bateman's wife, is in fact Will Smith's immortal superheroic girlfriend and that the two of them have loved each other since probably the dawn of civilisation. Thereafter Hancock goes from a film about the redemption of a burned-out superhero to an odd romance between two people (not to mention a marital affair, which Jason Bateman never seems to take particular objection to).
It is suddenly as though we have stepped into an entirely different film, where we have suddenly abandoned the redemption story and jumped straight into the middle of the film's sequel. It doesn't work, least of which is the failure to adequately give much explanation about the nature of these twinned superheroes who have existed since the dawn of time. Although, one suspects that the real reasons behind this were that the scriptwriters, having introduced the burned-out Hancock, were at a loss of where to take the third act of the film. This mid-film twist ended up being a head-scratcher that lost most audiences.
There is a nitpicker in one that feels the need to gripe about the film's supposedly contemporary date and then the claim that Will Smith went to see the Boris Karloff Frankenstein (1931) 80 years earlier. 80 years from the Karloff Frankenstein would have put the timeframe at the very earliest as being set in 2011 rather than 2008, yet nothing is ever done to suggest that the film has a near-future setting.
A sequel has been announced. Hancock was parodied in Disaster Movie (2008).
---
---