USA. 2007.
Crew
Director/Screenplay – Zach Helm, Producers – James Garavante & Richard N. Gladstein, Photography – Roman Osin, Music – Alexandre Desplat & Aaron Zigman, Visual Effects Supervisor – Raymond Gieringer, Visual Effects – Bar X Seven (Supervisor – Jay Randall), Buf (Supervisor – Isabelle Perin-Leduc), Dr. Picture Studio (Supervisor – Vladimir Leschinski), Frantic Film (Supervisor – Glenn Neufeld), FX Cartel, Intelligent Creatures (Supervisor – Lev Kolobov), Mokko Studio (Supervisor – Alain Lachance), Reel FX & Satellite Studios, Special Effects Supervisor – Rob Sanderson, Production Design – Therese DePrez. Production Company – Mandate Pictures/Walden Media/FilmColony/Gang of Two Productions/Stupid Zebra, LLC.
Cast
Dustin Hoffman (Edward Magorium), Natalie Portman (Molly Mahoney), Jason Bateman (Henry Weston), Rebecca Northan (Ellie Applebaum), Zach Mills (Eric Applebaum), Ted Ludzik (Bellini), Jonathan Potts (Dr Dunn)
---
Plot
Molly Mahoney is said to have great promise as a composer but is unable to complete her first symphony. She works as assistant to the eccentric Edward Magorium who runs a magical toyshop and claims to be 243 years old. One morning Mr. Magorium announces to Molly that he is going to retire and turn the shop over to her to run. He brings in accountant Henry Weston to sort out the chaos of his finances and paperwork before he goes, although the dull and paperwork-obsessed Henry is unable to perceive the magic around him in the store. Molly realizes that what Mr. Magorium is meaning is that it is time for him to die. Doctors can find nothing wrong with him medically and Molly tries to do everything she can to persuade Mr. Magorium to stay.
---
In 2006, a huge buzz surrounded Zach Helm after the script he turned in for the meta-fiction Stranger Than Fiction (2006). Helm was seen as the new promising talent on the rise, despite only having this single screen credit to his name at the time. He was immediately given the director's chair for Mr Magorium's Wonder Emporium. On the basis of the somewhat underwhelming Mr Magorium's Wonder Emporium, one has to consign Zach Helm to the yet-to-be-proven category, while his announced follow-up directorial effort The DisAssociate about a man who receives postcards from God has failed to emerge. Indeed, Helm has yet to make any other works.
Mr. Magorium's Wonder Emporium was probably greenlit soon after the success of Tim Burton's Charlie and the Chocolate Factory (2005) where studio execs clearly had in mind the idea of repeating the same story of kids entering a strange premises and dealing with its eccentric owner. Though Mr. Magorium's Wonder Emporium attracted some okay notices, it left me with the same feeling I had after watching Harry Potter and the Sorcerer's Stone (2001) – of a film that kept nudging an audience with constant wonderment yet achieved little genuine magic. The background of the film is constantly busy with animate toys, wacky sight gags and things bouncing, taking off and exploding.
Yet for all the sense that Mr. Magorium is busy in the fantastical sense, there are few moments that Zach Helm opens up with a genuine magic and wonderment as a director – the most he does is the scene where Natalie Portman is animatedly talking and suddenly in the background unnoticed by her the block of wood starts turning over; another is the charming scene where the lights are turned out in Dustin Hoffman's hospital room and the entire room is revealed to be covered in glow-in-the-dark stars. However, these are relatively minor and Mr. Magorium's Wonder Emporium is otherwise surprisingly lacking in big wows. The titular wonder seems to be nothing more than the banal feelgood cutsieness that fills these family films.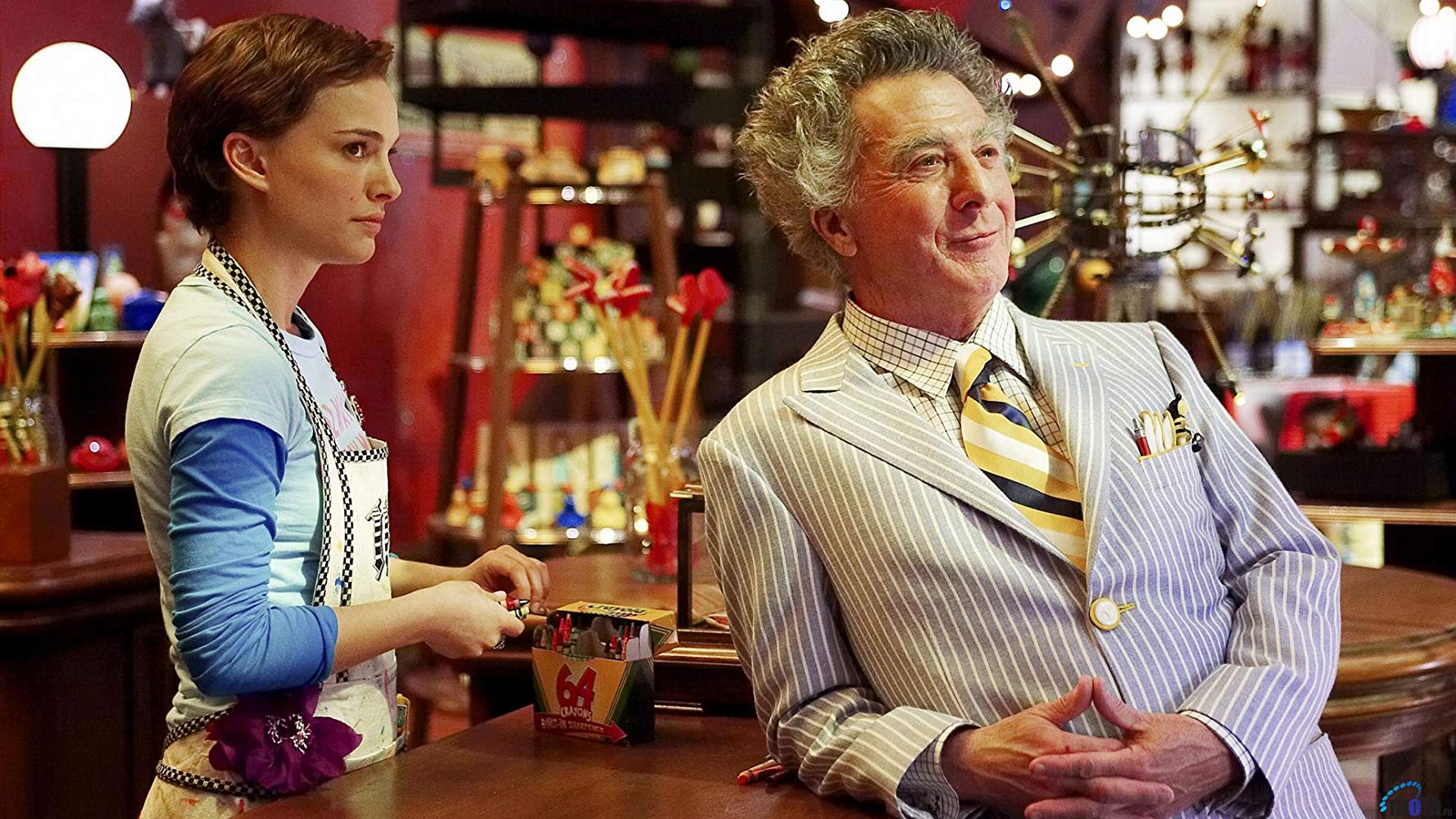 For all the bubbly busyness in the background of the toy store, there is no real drama to the film. There are no particular conflicts between any of the characters. All of them have eminently predictable arcs – Jason Bateman is the tightass pencil-pusher who you know is going to open up and believe in magic by the end of the film; you know that lonely Zach Mills is going to make a friend by the end of the film; Natalie Portman feels unfulfilled in her endeavours to write her first symphony and is unsure about accepting the mantle of responsibility for the shop yet you know that she is going to do both by the end of the film. None of these characters have any story journey to make – there is only nebulous feelgood emotions posed in lieu of these characters having to earn or learn anything.
As Mr. Magorium, Dustin Hoffman is cast in a role that would have been mandatorily played by Robin Williams a couple of years ago. Hoffman gives an eccentric performance – you would swear he is channelling the late Cecil Kellaway for much of the time. Even then, Zach Helm seems to suffer from an unevenness of conception – one minute he gives us Mr. Magorium as an oddball eccentric who has never bothered to deal with most of the modern world; the next minute he incongruously steps back to have Magorium give speeches about the greatness of King Lear's death scene.
Mr. Magorium's Wonder Emporium is a production from Walden Media who have determined to become a market leader in the production of family films, having made an entire slate of these in the last few years, including The Chronicles of Narnia: The Lion, The Witch and the Wardrobe (2005), Charlotte's Web (2006), Bridge to Terabithia (2007), The Seeker: The Dark is Rising (2007), The Water Horse (2007), City of Ember (2008), Journey to the Center of the Earth 3D (2008), Nim's Island (2008), Tooth Fairy (2010), The Giver (2014), A Dog's Purpose (2017), The Star (2017), Dora and the Lost City of Gold (2019) and A Babysitter's Guide to Monster Hunting (2020).
---
---