---
Crew
Director/Screenplay – Akiva Goldsman, Based on the Novel by Mark Helprin, Producers – Tony Allard, Akiva Goldsman, Marc Platt & Michael Tadross, Photography – Caleb Deschanel, Music – Rupert Gregson-Williams & Hans Zimmer, Visual Effects Supervisor – Richard Hollander, Visual Effects – Framestore, The Molecule & Rhythm & Hues (Supervisor – Raymond Chen), Special Effects Supervisor – Jeff Brink, Production Design – Naomi Shohan. Production Company – Weed Road/Marc Platt.
Cast
Colin Farrell (Peter Lake), Russell Crowe (Pearly Soames), Jessica Brown Findlay (Beverly Penn), William Hurt (Isaac Penn), Will Smith (Judge), Jennifer Connelly (Virginia Gamely), Mckayla Twiggs (Young Willa), Ripley Sobo (Abby Gamely), Eva Maria Saint (Adult Willa), Finn Wittrock (Gabriel), Graham Greene (Humpstone John), Kevin Durand (Cesar Tan), Kevin Corrigan (Romeo Tan), Matt Bomer (Young Man), Lucy Griffiths (Young Woman), Jon Patrick Walker (Optometrist)
---
Plot
In 1895, an immigrant couple are rejected from entry to the US. As they are sent on the ship back, they abandon their infant child overboard on a model yacht. In 1916, the child has grown up as Peter Lake who survives as a thief in New York City. He is pursued by Pearly Soames, the leader of a gang to which Peter formerly belonged. However, a white horse of mystical powers appears and Peter is able to make an escape on it. Peter breaks into an apartment intending to burgle it but meets Beverly, the daughter of newspaper magnate Isaac Penn, and instead falls in love with her. Pearly is an agent of forces of darkness and has the mission of stopping each person from finding the one miracle that is theirs in life. Pearly divines that Peter's miracle will come in the form of a red-haired woman. Believing this to be Beverly, Pearly and his thugs attempt to abduct her but Peter rides to her rescue on the horse. The two head to Isaac's home at Lake of the Coheeries in the midst of a frozen lake. Pearly is forbidden by is master Lucifer from following so instead persuades an angel to poison Beverly's wine. Peter is shattered when she expires just after they make love for the first time. Returning to the city, he is attacked and thrown from the bridge by Pearly's thugs. In the present-day, he is unaged but has no memory of who he is until a series of clues guide him to start piecing the past together and rediscovering his fate. However, these also bring Pearly back after him, determined to seek revenge.
---
This is a film adaptation of Mark Helprin's novel Winter's Tale (1983). The book is a classic that has become more recognised in literary circles than Helprin has necessarily ever been pigeonholed as a fantasy author. Helprin has written other works of fantasy, most notably a trilogy of Young Adult novels based around the characters from Swan Lake, although Winter's Tale remains his most famous work. The book has been sporadically mentioned as a potential film adaptation, at one point apparently by Martin Scorsese, although defeated any attempts for more than three decades. In the press write-up for the film's release, the word 'unfilmable' was frequently flung about. The reason for this is that the book is sprawling in nature, not to mention features often elusive concepts that are difficult to get a grasp on.
Akiva Goldsman is a name I dread. Goldsman is a screenwriter who has been working since the mid-1990s, beginning with the script for the John Grisham adaptation The Client (1994). He has had a close association with Ron Howard and wrote the scripts for Howard's The Da Vinci Code (2006), Cinderella Man (2005) and Angels & Demons (2009), as well as won a Best Adapted Screenplay Oscar for A Beautiful Mind (2001) – although I remain in a minority in disliking it as a film. Unfortunately, Goldsman has laid a trail of devastation whenever it has come to touching genre material – Batman Forever (1995), Batman & Robin (1997), the worst film ever made on an A-budget, the much disliked but semi-okay Lost in Space (1998), Practical Magic (1998), I, Robot (2004), I Am Legend (2007), Insurgent (2015), The Dark Tower (2017) and Rings (2017). All of these are adapted from other works and widely betray their source material.
No more enthusiasm can be found for Goldsman's work as a producer either, which includes Renny Harlin films such as Deep Blue Sea (1999) and Mindhunters (2004), Starsky & Hutch (2004), Constantine (2005), Poseidon (2006), Hancock (2008), Jonah Hex (2010), Lone Survivor (2013), the tv mini-series adaptation of Arthur C. Clarke's Childhood's End (2015), Guy Ritchie's King Arthur: Legend of the Sword (2017), the remake of Firestarter (2022) and the tv series' Star Trek: Discovery (2017– ), Titans (2018– ) and Star Trek: Picard (2020– ). To not entirely write Goldsman off, I will give him some credit for decent producing/writing work on the J.J. Abrams tv series Fringe (2008-13) and that he oversaw the first three Paranormal Activity sequels, Paranormal Activity 2 (2010), Paranormal Activity 3 (2011) and Paranormal Activity 4 (2012), the first two of which emerged not too badly, as well as Doctor Sleep (2019) and The Map of Tiny Perfect Things (2021),.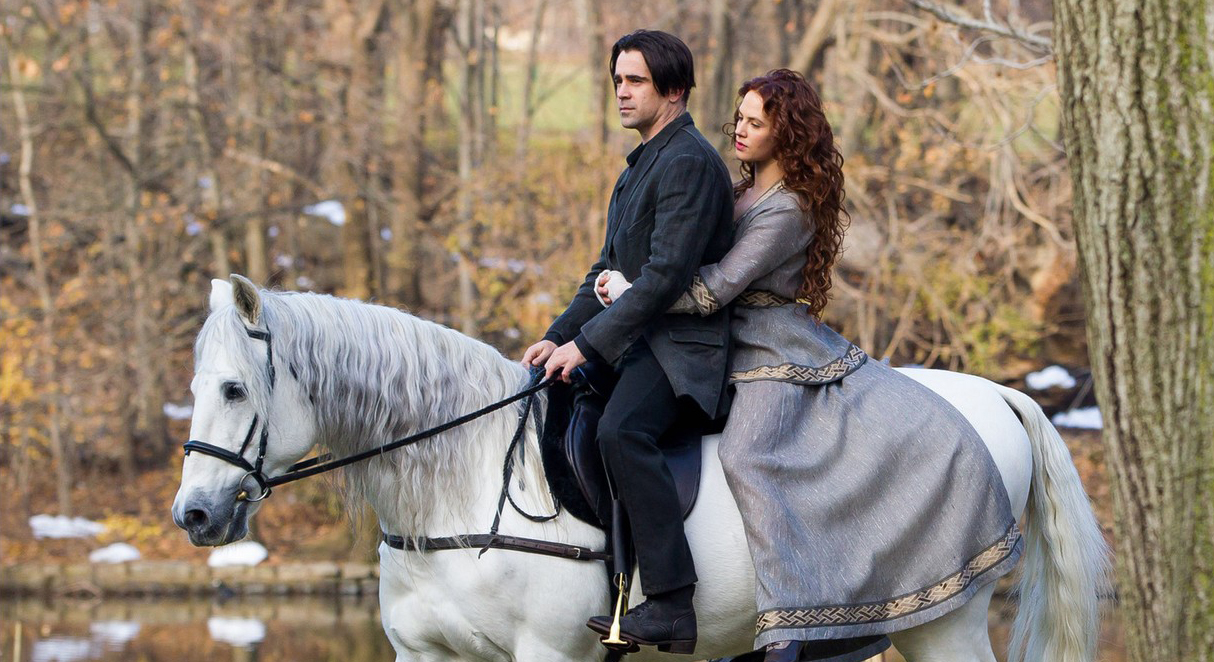 On screen, Winter's Tale is a stripped down version of the book. What it ends up is akin to David Lynch's Dune (1984), which attempted to squeeze a massively complex story down into a two-and-a-half hour film and only ended up with fragments of themes and characters. Like Dune, which was far better told as the tv mini-series Dune (2000), you suspect that the better destination for Winter's Tale would be on the small screen. Akiva Goldsman has deleted whole sections, especially during the early sections of Peter Lake's life – we jump from his being set adrift on a model yacht to his being pursued by Pearly's gang, removing the entire story of his childhood and street education and how he fell out with the Short Tail Gang. Missing are a number of major characters such as the bridge-builder Jackson Mead, the heiress Hardesty Maratta and Mayor Praeger de Pinto. There is also elimination of some of the later elements of the book such as Peter's transmogrification into a character given the task of remembering all the names of the dead and as being instrumental in the millennial apocalypse that ends up restoring New York City. The film does however give us the addition of one character – Will Smith's Judge, who turns out to be Lucifer, which Goldsman says he added to explain more about Pearly's character.
I did not read the book before seeing the film so I am, by and large, not concerned with issues of faithfulness so much as how Winter's Tale works as a movie. As a standalone entity, it is a strange beast. The book can be called urban fantasy – a work of fantasy that takes place in an urban setting where the edges of the familiar city lurk with secret worlds and magical elements – but this is something relatively unknown in cinema. You would have to look to the tv series Beauty and the Beast (1987-90) or the Neil Gaiman mini-series Neverwhere (1996) for any filmed equivalent.
The publicity department skipped the difficulty of labelling by simply selling Winter's Tale to audiences as a magical romance (it was released on Valentine's Day of 2014), although you would argue that the romance is only a small part of the book. The film seems to exist in a blurred world where the fantastical hovers at the borderland of the real world – horses that are mystical spirits with phantom wings, Pearly as a demon tasked with preventing miracles from happening in people's lives, and where mystical auguries, fate and predestination are very real things. Some aspects of the film are more clear when you read the novel – here Beverly is constantly seeing patterns of light but in the book it becomes apparent that these are possible hallucinations caused by her illness. Peter falls off the bridge and loses his memory until he eventually regains it in the present – the film leaves you with the impression he was wandering around amnesiac for about a century, whereas in the book he actually travels through time.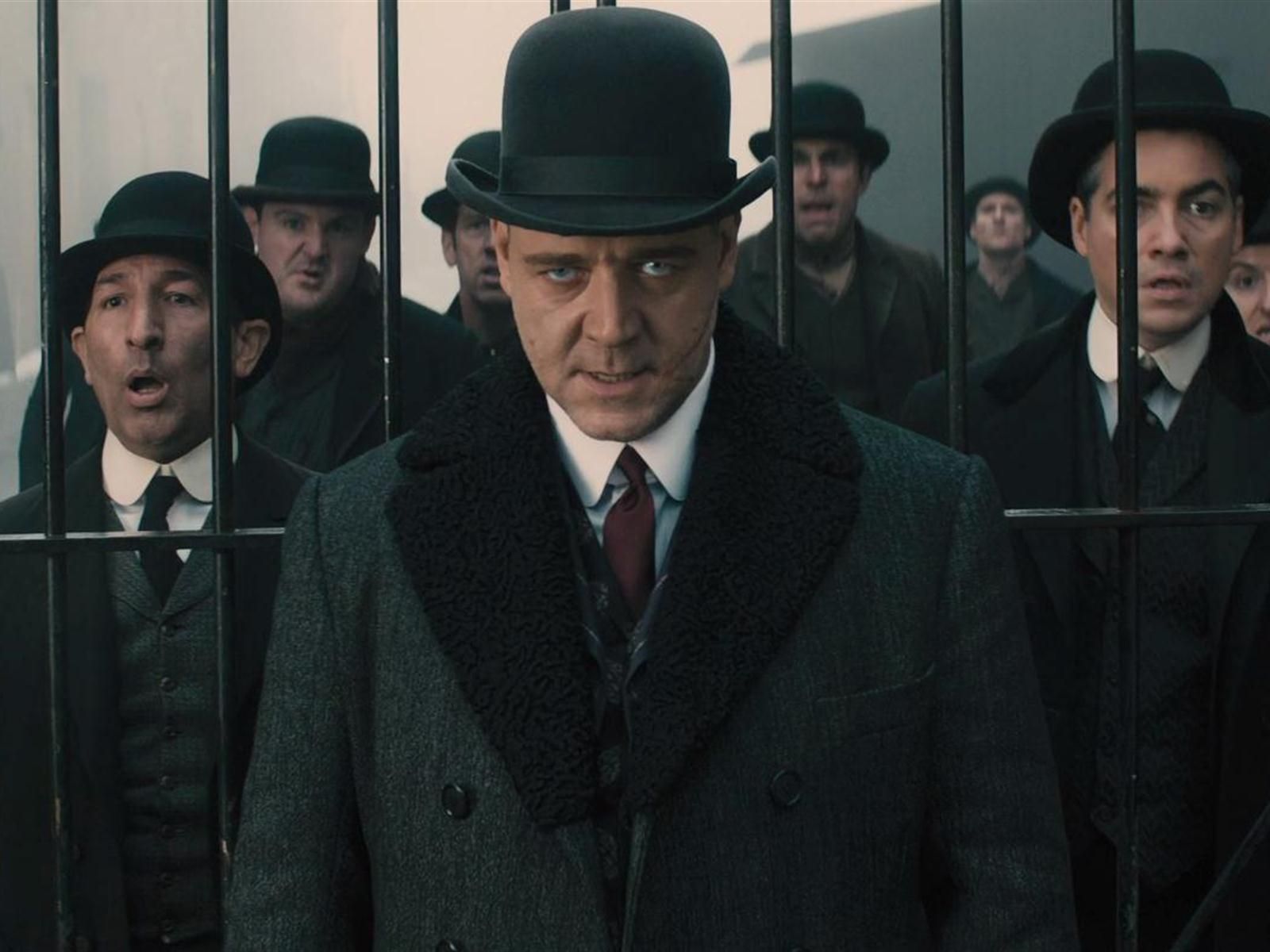 Winter's Tale seems uneven at times. Part of this is the sprawling and difficult nature of the book. The other is some of the actors. Colin Farrell comes to the film with too much in the way of association with bad boy roles and I could never quite buy him as the hopelessly lost romantic. You keep expecting the sly Colin Farrell twinkle to emerge during the romantic scenes but he remains intently serious, something that never much suits Farrell as an actor. Jessica Brown Findlay was a name on the rise as a result of tv's Downton Abbey (2010-5) but here she seems pretty but distant. The two never seem to much connect and ignite the screen with their passion and epic love story.
By contrast, Russell Crowe excels at the role of the pursuing nemesis – with shaven head and thuggishly broad Irish accent, he is like an angry bulldog champing at a short leash. Some of the film's best moments are those between Russell Crowe and a surprise cameo from Will Smith as The Devil. If nothing else, the film is constantly surprising you with the number of name actors that keep turning up (all of whom have had successes in other films that Akiva Goldsman has written).
Nevertheless, where Winter's Tale succeeds is less as a broad and satisfying story, much of which is due to trying to make cinema out of a difficult novel, but rather in its individual moments. The leads don't spark much in their performances but what you notice is that the romance is beautifully written and crafted. It is, you feel, a story that Akiva Goldsman cared about and takes the time to invest feeling in the scenes, building everything around the two lovers in the lighting and the intimacy of his direction. The film works less well in the latter half set in the present-day where the story shifts from what Mark Helprin had intended as the apocalyptic and redemptive towards the schmaltzy and feelgood and its wheeling into place the happenings of fate, which take in too many chunks of New Age mysticism.
Akiva Goldsman next went on to direct the horror film Stephanie (2017).
---