---
Crew
Director – Gina Prince-Bythewood, Screenplay – Greg Rucka, Based on the Graphic Novel by Greg Rucka, Producers – A.J. Dix, Dana Goldberg, David Ellison, Marc Evans, Don Granger, Beth Kono & Charlize Theron, Photography – Barry Ackroyd & Tami Reiker, Music – Volker Bertelmann & Dustin O'Halloran, Visual Effects Supervisor – Sara Bennett, Visual Effects – Host VFX, Image Engine (Supervisor – Hannes Poser), Milk Visual Effects (Supervisor – Bryan Jones) & Mr. X (Supervisor – Ben Mossman), Special Effects Supervisor – Hayley Williams, Prosthetics Designer – David Malinowski, Production Design – Paul Kirby. Production Company – Skydane/Denver and Delilah Productions.
Cast
Charlize Theron (Andy/Andromache), Kiki Layne (Nile Freeman), Matthias Schoenaerts (Booker), Marwan Kenzari (Joe), Luca Marinelli (Nicky), Chiwetel Ejiofor (James Copley), Harry Melling (Stephen Merrick), Anamaria Marinca (Dr Meta Kozak), Van Veronica Ngo (Quynh)
---
Plot
Andy leads a team of mercenaries who are immortal. She is the oldest of the group, having been alive since Ancient Greece. They are hired by CIA agent James Copley for an operation to rescue a group of abducted Sudanese schoolgirls, However, as soon as they arrive at the target venue, they find that the operation is a dupe that has been set up to test their regenerative abilities on behalf of the pharmaceutical entrepreneur Stephen Merrick. At the same time, Nile Freeman, a US soldier stationed in Afghanistan, has her throat slit by an insurgent but makes a miraculous recovery in the field hospital. She is contacted by Andy who tries to educate her that she is one of the immortals and inducts her into the group. At the same time, the group is ruthlessly hunted by Merrick and his mercenaries who seek to capture them to obtain the component in their blood that provides immortality.
---
The Old Guard (2017) was a five issue graphic novel by Greg Rucka. Rucka is a comic-book writer who has done extensive work at DC and Marvel Comics going all the way back to the 1980s on numerous Superman, Batman and Wonder Woman titles for DC and Marvel's Wolverine and The Punisher, among others. That is in between assorted independent creator-owned titles and novelisations for various comic-book adapted and Star Wars books, plus several original novel series. Rucka has appeared on the screen before, having written the Crossfire segment of Batman: Gotham Knight (2008) and the comic-books that became the basis of the film Whiteout (2009) and the tv series Stumptown (2019- ).
A film version of The Old Guard has been made at the behest of lead actress Charlize Theron who read the comic-book several years earlier. Greg Rucka adapts his own graphic novel. The director is Gina Prince-Bythewood who had previously made Love & Basketball (2000), The Secret Life of Bees (2008) and Beyond the Lights (2014) and went onto make the subsequent The Woman King (2022), all non-genre films.
The Old Guard had a phenomenally popular opening on Netflix and was apparently in the service's Top 10 films within its first week. It also received headlines praising it for being made by the first African-American woman director on Top 10 and also for being the first LGBT superhero film. I am not here to condemn or criticise the film's politics. It is commendable that a film advances representational issues but I won't praise a work simply because it does. Its merits as a fantastic film rest simply on whether or not it tells a story well, is dramatically engaging or in lieu of any of these simply has some imagination somewhere on display.
Surprisingly enough, the immortal mercenaries premise has been conducted before with the obscure 1980s B movie The Lost Platoon (1989). We have also seen immortal action heroes in the low-budget film Cross (2011) and Vin Diesel in The Last Witch Hunter (2015), plus several immortal samurai films with the likes of Aragami (2003) and Blade of the Immortal (2017). The work that you cannot help but draw comparisons to is Highlander (1986) and sequels/spinoffs, although both are very different works – the Highlander series concerns immortal factions fighting across the ages, whereas The Old Guard is less interestingly a single faction operating in essence as superheroes (although I am a little cautious about listing The Old Guard as a superhero film – any more so than I would call the Highlander films superhero films. I think it is being labelled such because in many people's minds 'comic-book adaptation' is synonymous with superhero film).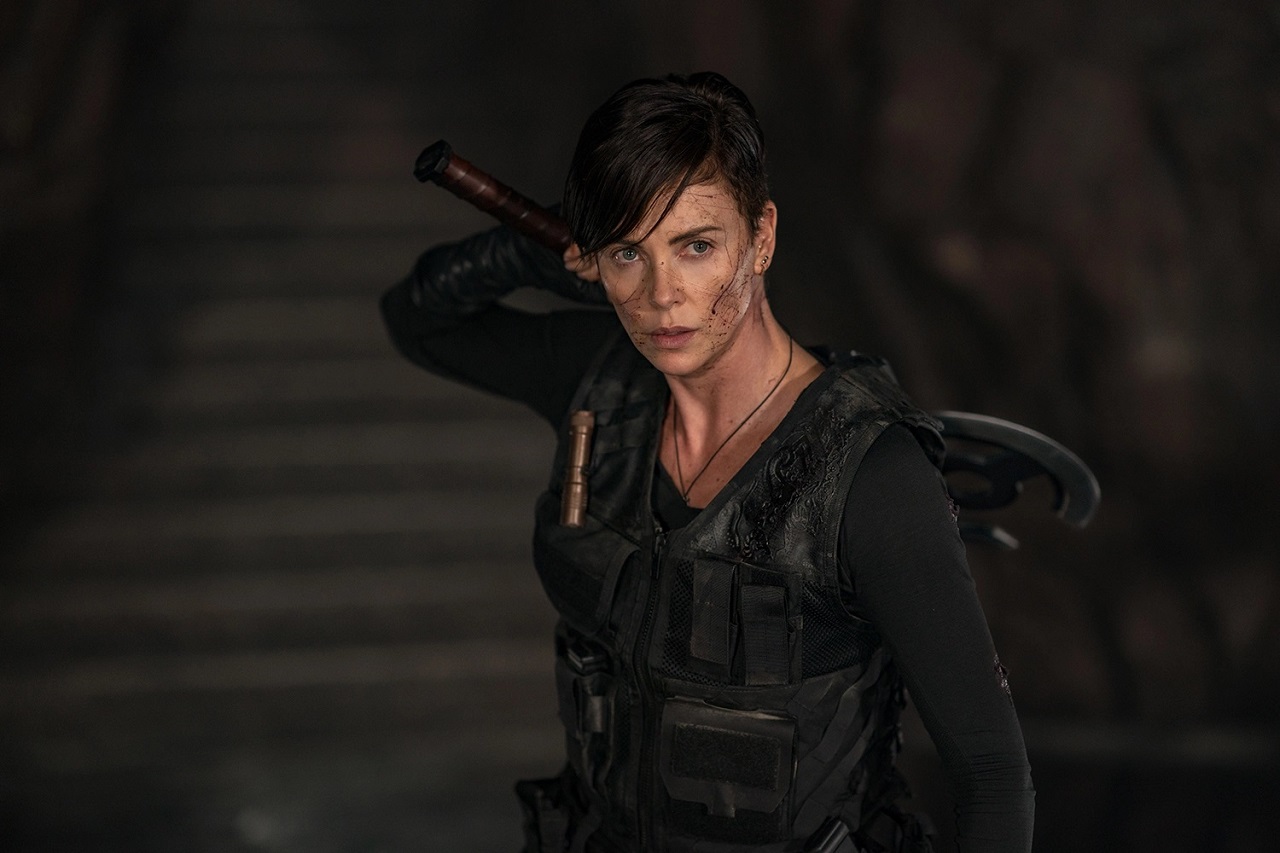 Mindful that Greg Rucka has won a number of awards for his writing elsewhere, I don't feel that he delivers a particularly good script or conducts any interesting variation on the immortality theme. We have a film about a team of action heroes. They go into battle amid a great deal of artillery fire where about the only novelty is that they can regenerate after taking damage. (The film only limits this to them taking blade and bullet damage and never seems to ask the obvious question of what happens if you say behead or cleave one of their bodies in two). There's a generic evil villain who seems to have been slapped with two of the big evils of today – he heads a pharmaceutical corporation and is a young corporate CEO, two new descriptions that seem to have become synonymous with super-villain ever since Mark Zuckerberg and Martin Shkreli. There are assorted betrayals and shiftings of allegiance that make no real sense other than to deliver plot twists, while things are set up for a sequel.
The disappointment of The Old Guard is that it never does much more than that. Beyond damage regeneration, the characters' immortality is of little significance. You'd expect super-long lived characters to have an extraordinary perspective on world affairs. And there have been some great films that take this up – see The Man from Earth (2007), He Never Died (2015) and various versions of Oscar Wilde's The Picture of Dorian Gray (1891). (See Films About Immortality). About all that The Old Guard offers is a handful of throwaway lines and momentary flashbacks to the character's backgrounds but you could blink and miss any of these and they'd make no difference to the film. There is the gay love story that has become the film's talking point, which comes out of nowhere but is at least the most impassioned character piece in the whole film. Most of the rest of the historical background is just glibly tossed off lines "Remember Oslo 67? Sao Paulo 1834?"
Equally, there are parts of Greg Rucka's writing that are just bone-headed. One of the scenes that had me laughing out loud was where Kiki Layne encounters a statue in the group's secret hideaway and reacts in amazement "That's an honest-to-God Rodin?" – as though someone serving as a marine in the field would have time to study the requisite art history doctorate needed to be able to make such a determination at a glance.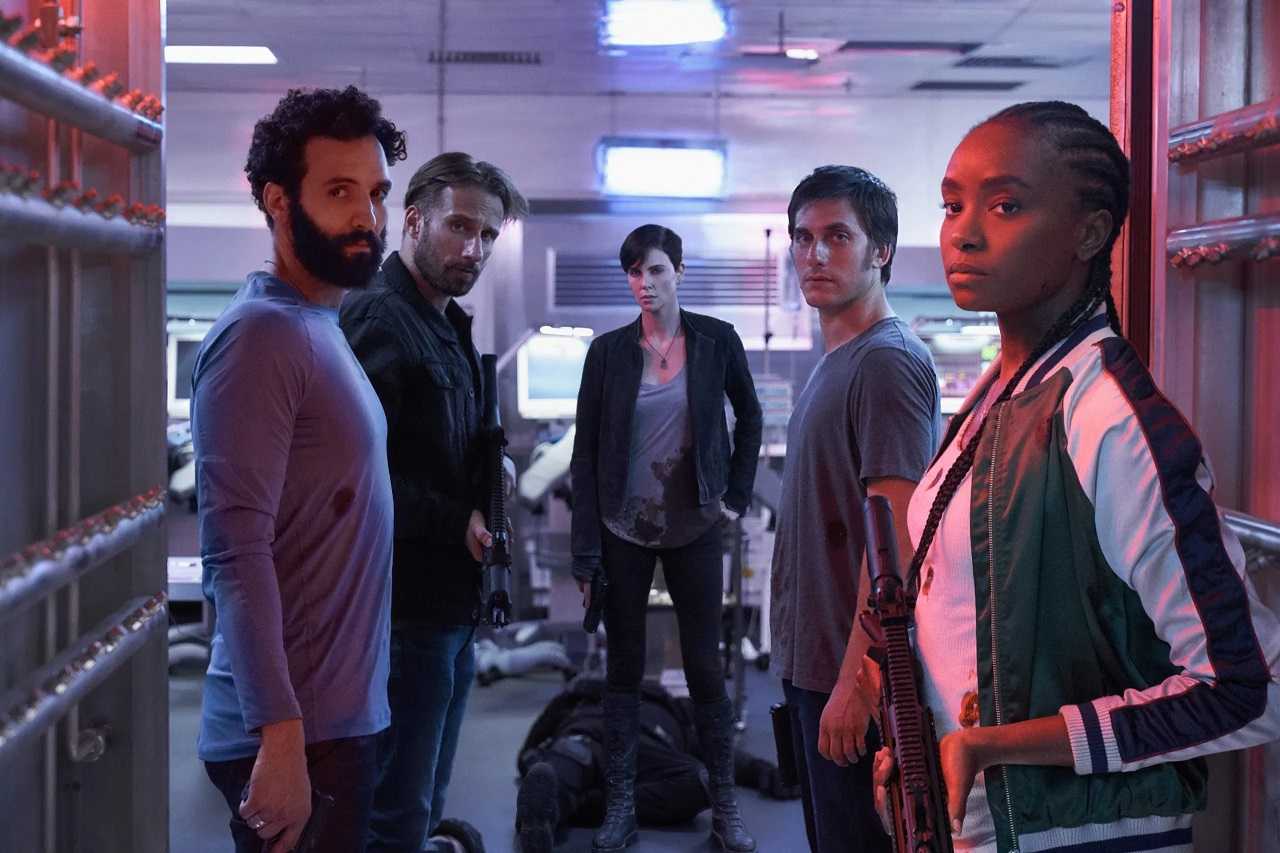 The other ridiculous scenes are the ones where Chiwetel Ejiofor argues in favour of the enormous good that Charlize Theron's Andy has done throughout the ages – how saving various individuals in various periods led to them going on the conduct great discoveries or help others. No real issue with that but it also seems a one-sided argument. At no point is it ever argued that Charlize Theron can foretell the future and know the things that people would do in advance. Nor is it ever indicated that she is operating according to some kind of fate or divine purpose. If she cannot foretell the future, then surely all she is doing is saving people period. And if she is saving people with no knowledge of who they will become in advance and there is no predestined order to it, then she must also be saving ones who will go on to conduct acts that will cause harm to others and perpetrate evil, or surely the far greater number of people who lead ordinary unexceptional lives and make no outstanding contribution to the wider world. In which case Chiwetel Ejiofor's argument about the good she does is only a case of confirmation bias ie. he is only emphasising the positive things she has done and ignoring everything else.
I commend director Gina Prince-Bythewood – she comes from a non-action background and sets up some solid and kinetic action scenes that engage whenever they are happening. On the other hand, many of these feel bolted on sequences – is there any real reasons that Charlize Theron and Kiki Lane meet and have a fight for several minutes aboard a plane? In between the action sequences, the film slows down and is dragged out to a 125-minute runtime when in truth it lacks the substance for such. It is not as though the extra padding allows more story or character depth as often the characters are no more than a couple of lines that glibly refer to historical background.
However, what kills any engagement in the film more than anything is the shitty colour processing, which renders everything (with the exception of the scenes that takes place in the corporate offices) a uniform mud brown. It is one of the most visually dreary films I have sat through in some time. I think the problem here is that The Old Guard was originally intended for a theatrical release – its budget would indicate so – but that as a result of theatrical closures during the Corona Virus outbreak, it ended up being shuffled off to Netflix. A cinema screen would have shown things in more depth but viewed on the smaller home screen the film looks as though the print has been processed in dirty dishwater.
---
---