(Hjælp, Jeg er en Fisk)
---
Denmark/Germany/Norway/Ireland. 2000.
Crew
Directors – Stefan Fjeldmark & Michael Hegner, Screenplay – Stefan Fjeldmark, Karsten Kiilerich & John Stefan Olsen, Story – Stefan Fjeldmark & Karsten Kiilerich, Additional Material Written by Tracy Brown, Producers – Russell Boland, Eberhard Junkersdorf & Anders Mastrup, Music – Soren Hyldgaard, Songs – Jacob Eriksen, Peter Fernando, Jesper Winge Reisner & Anders & Lars Twin, Sequence Directors – Paul Bolger & Jurgen Richter, Art Direction – Matthias Lechtner. Production Company – A-Film/Egmont Imagination/Munich Animation/EIV Entertainment/TerraGlyph/TV2 Danmark.
Voices
(English Language Version):
Jeff Pace (Fly), Alan Rickman (Joe), Aaron Paul (Chuck), Michelle Westerson (Stella), Terry Jones (Professor MacKrill), David Bateson (The Shark), Tommy Karlsen (Crab), Teryl Rothery (Lisa)
---
Plot
Fly is left home in the care of his Aunt Anna, along with his younger sister Stella and nerdy cousin Chuck, while his parents go out. When the aunt falls asleep, Fly drags the others away fishing. They meet Professor MacKrill who shows them a potion he has invented that can transform a person into a fish, something he has created in order to help humanity survive rising ocean levels created by global warming. While the others are distracted, Stella drinks the potion thinking it lemonade and is transformed into a starfish. Fly throws her into the ocean before he realises who it is. He quickly takes the potion to go after her. Chuck and the professor follow but a storm comes up and Chuck is washed overboard and has to take the potion because he cannot swim. However, the bottle containing the antidote that will transform them back has been found by the pilot fish Joe, who discovers that it gives him intelligence and the ability to speak. He then sets about establishing an underwater dictatorship and imprisons Fly and the others, determined to find out how to create more of the potion.
---
Help! I'm a Fish is a principally Danish-made (pan-European funded) venture into feature-length animation. It was a clear attempt to create some kind of European equivalent of the animated successes that studios like Disney and Pixar have had in recent years. The film is a venture into the piscine underwater frolics of Disney's The Little Mermaid (1989) and is in particular reminiscent of the subsequent Pixar feature Finding Nemo (2003), to which this almost certainly must have acted as some inspiration.
The Danes do a fair, if never entirely standout, attempt at copying the formula of the Disney animated film. The animation is a mix of computer-animation and more traditional hand-drawn techniques. The film drew some criticism for such, although there is nothing wrong with the hand-drawn animation, it is just that Disney and Pixar have raised the artistic bar in terms of what contemporary audiences have become used; in themselves, these sequences are fine.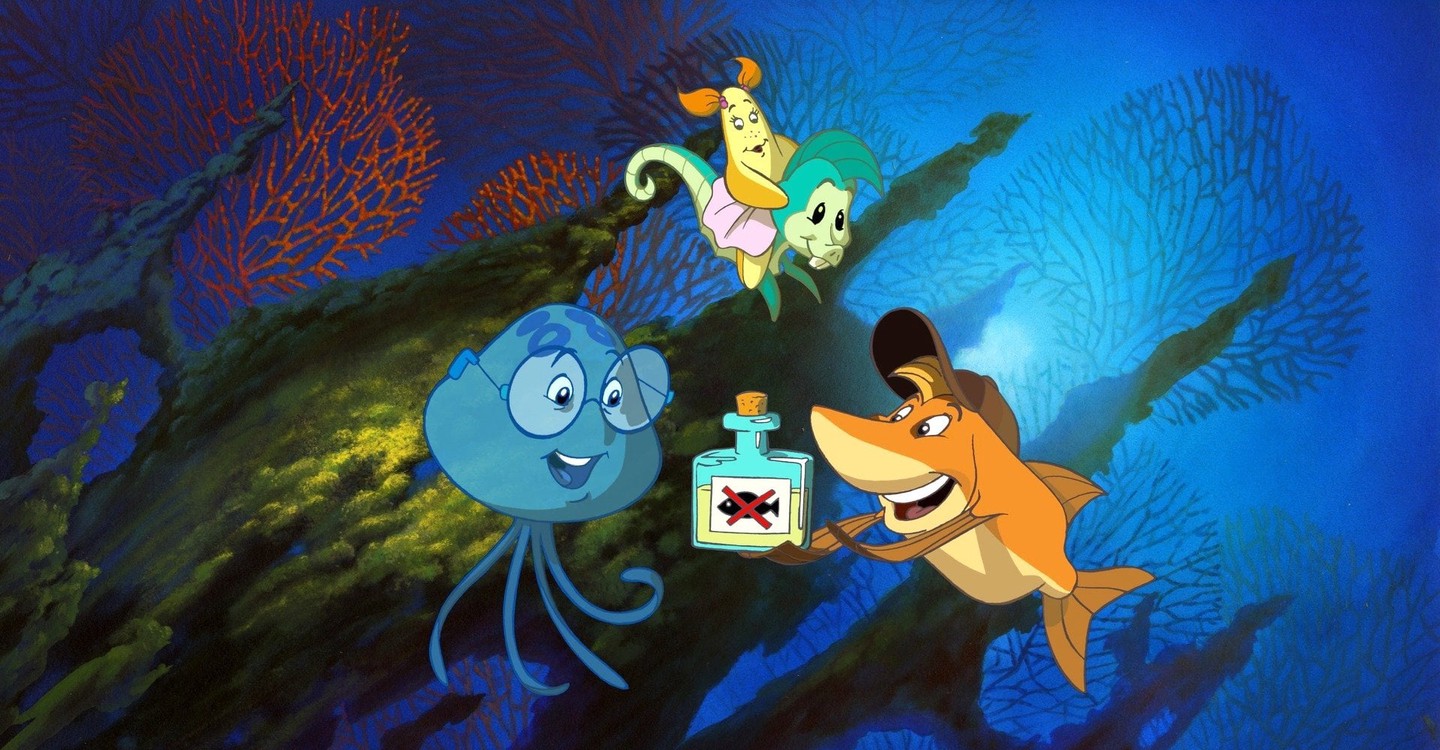 The climactic race to get back up the drainpipe to the lab is dramatically exciting. There is a lovely opening CGI credits sequence with various fish schools floating past, although the standout among the CGI sections is the venture into the villain's lair, a reconditioned wreck of a sunken ship.
The film though never fully attains the sheer liveliness of a Disney film. It is a quiet in terms of bubbly humour and energy and there are several banal songs that drag proceedings down. The characters are likeable enough, from the tiny moppet starfish designed for cuteness appeal to the endearingly bespectacled jellyfish nerd.
In the English-language release, Alan Rickman lends his voice to the role of the piscine Führer and gives a mellifluous power to these scenes, although is often in danger of being upstaged by his dim-witted shark sidekick who has a habit of eating anybody it disagrees with.
---
---