---
Crew
Director – Enrico Casarorsa, Screenplay – Jesse Andrews & Mike Jones, Story – Jesse Andrews, Enrico Casarosa & Simon Stephenson, Producer – Andrea Warren, Photography – David Juan Bianchi & Kim White, Music – Dan Romer, Animation Supervisor – Michael Venturini, Visual Effects Supervisor – David Ryu, Production Design – Daniela Strijleva. Production Company – Pixar Animation Studios.
Voices
Jacob Tremblay (Luca Paguro), Jack Dylan Grazer (Alberto Scorfano), Emma Berman (Giulia Marcovaldo), Saverio Raimondo (Ercole Visconti), Maya Rudolph (Daniela Paguro), Marco Barricelli (Massimo Marcovaldo), Jim Gaffigan (Lorenzo Paguro), Sandy Martin (Grandma Paguro), Peter Sohn (Cicchio), Marina Massironi (Signora Marsigliese), Sacha Baron Cohen (Uncle Ugo)
---
Plot
Luca Paguro grows up with a family of merpeople living on the seashore off the Italian coast. Luca's curiosity is piqued after finding human objects that have fallen to the sea floor but he lives in fear of the land monsters that dwell on the surface. One day, Luca meets Alberto Scorfano who startles him by walking up out of the water onto the land. Luca follows and is amazed to transform from merman form into human. Alberto shows him how to walk and the two amuse themselves in the tower where Alberto lives. They become obsessed with wanting a Vespa and build a makeshift one and get into hijinks with it. Luca's parents then discover that he has been spending time on the surface and make plans to send him to stay with his Uncle Ugo in the deep. Luca flees back to Albert on the surface. They go into the nearby town of Portorosso. There they meet Giulia Marcovaldo and decide to join her plans to enter a local race to earn the prize money to buy a real Vespa. This means Luca learning to cycle for his leg of the journey, at the same time as avoiding the bullying Ercole Visconti who is determined to win and has drummed up fear against the sea monsters. At the same time, Luca's parents have come onto land and are determined to find him, while Luca's attraction to Giulia threatens to split apart his friendship with Alberto.
---
Rising seemingly from nowhere, Pixar appeared on the animation scene with Toy Story (1995), created the first computer animated film and in a short space of time become the top animation studio in the world. Over the next fifteen years, Pixar went on to make a string of universally loved hits with the likes of A Bug's Life (1998), Monsters, Inc. (2001), Finding Nemo (2003), The Incredibles (2004), Cars (2006), Ratatouille (2007), Wall-E (2008) and Up (2009).
Pixar in the 2010s has been a much more mixed bag. This is the period when the studio's output has been overtaken by sequels to earlier works, which have for the most part been lesser. Original works have appeared – Brave (2012), The Good Dinosaur (2015), Inside Out (2015), Coco (2017), Onward (2020), Soul (2020) and Turning Red (2022) – but most of these have been okay works that have failed to hold the depth of charm and emotion that the Pixar entries of the 1990s and 2000s did. Luca is another of these entries. Like most of Pixar's output of the 2010s, it sits on the B-rung alongside also-rans like A Bug's Life, The Good Dinosaur, Coco and Onward – and not up among the Toy Story's, the Finding Nemo's, the Monsters, Inc.'s.
Luca reminds of one of the films that Disney was making during the 1990s/early 2000s where they made a determined effort to feature a different culture with each film – Pocahontas (1995) with its focus on Native American history, Mulan (1998) and its historical Chinese setting, the Hawaiian-set Lilo & Stitch (2002), the Inuit culture of Brother Bear (2003), the Louisiana Creole culture of The Princess and the Frog (2009) and Pacific Island culture in Moana (2016). In this case, it feels like Enrico Casarorsa, an Italian native who has worked as a Pixar storyboard artist since the mid-2000s before making his directorial debut here, has tried to do similar with his Italian background. As with many of these films, the culture in question is stripped down to a few cliches – Vespas, pasta-eating, soccer, small fishing villages, all of the men outfitted with mustaches.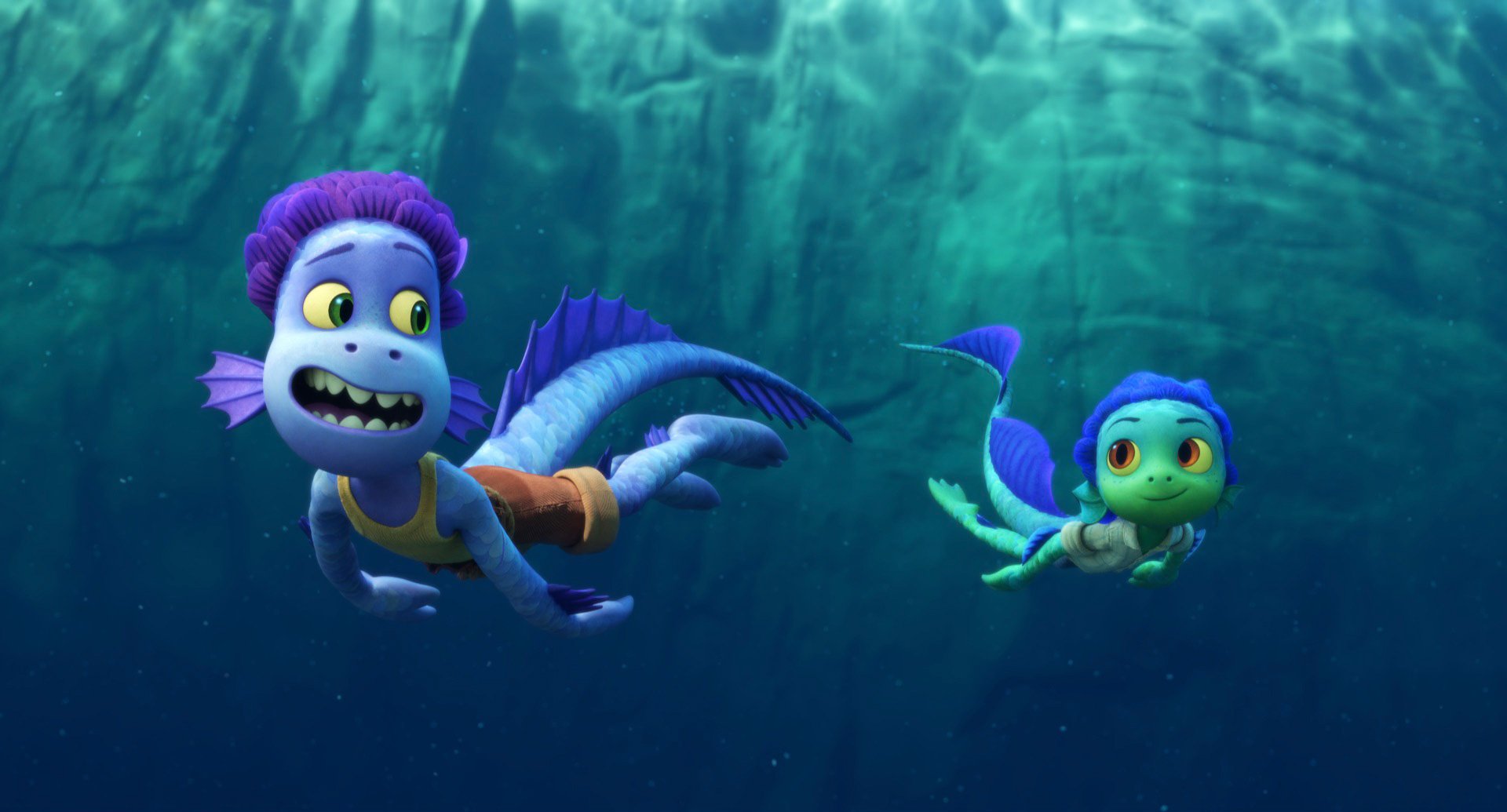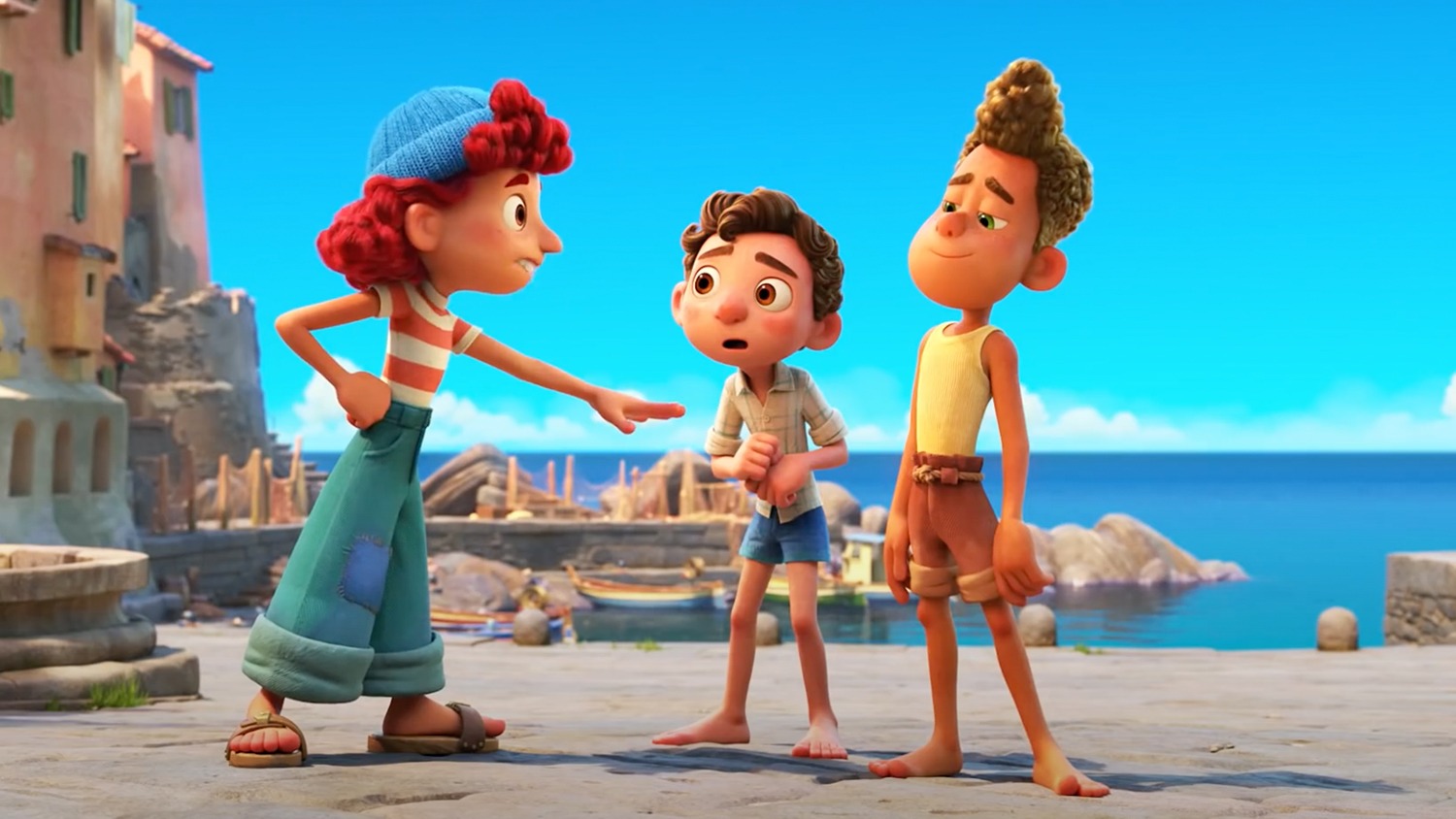 Luca is a likeable film. I kept mentally contemplating some kind of madcap mashup between it and Aquaman (2018) given that the copyright of both reside under the Disney roof at the moment. There is fun in tFilms About Merpeople – of Luca guiding shoals of fish like sheep, encountering sunken objects and then fleeing in fear of the land monsters as a boat comes overhead.
The scenes encountering Arturo and emerging onto land have a sense of fun, especially when it comes to the scenes with Luca trying to learn to walk and them riding their makeshift Vespa down a hillside ramp. There is a good deal of good-natured and naturalistic fun to these sequences, although this gets forgotten as the main plot takes over.
Once the film moves into the town, it deals in big easy plot arcs – the two friends separated over a girl – the wayward Arturo wanting to have fun, Luca being drawn to Giulia's passion for learning (which is being read as a gay allegory despite Pixar's denials that was intended as such); an easy black hat villain; a big All-or-Nothing race on which the two friend's hopes lie; the townspeople's prejudices about the sea monsters; Luca's parents come to hunt him down. The script does a worthwhile job of keeping all these plates spinning in the air at once and bringing them together in a modest emotional uplift at the end. It feels predictable when you look back at it but the journey there is not unengaging.
---
Trailer here
---