---
USA. 2000.
Crew
Director – Ed Raymond [Fred Olen Ray], Screenplay – Sean McGinly, Producers – Noble Henry & Alison Semenza, Photography – Theo Angell, Music – Neal Acree, Special Effects – On-Call Special Effects (Supervisor – Tom Ceglia), Production Design – Nikki Giovacchini. Production Company – Phoenician Entertainment/Mass Productions.
Cast
Treat Williams (Mike Jeffers), Udo Kier (Sampson/Rudolf Fassbinder), Lori Loughlin (Janine Simpson), Andrew Prine (Senator Cook), Blake Clark (Sheriff Joe Borden), Richard McGonagle (Alan Gould), Doug McKeon (Arthur Breen), T.J. Thyne (Carl Wendt), Richard Anthony Crenna (Tannen), David 'Shark' Fralick (Rand), Neil Delama (Peterson)
---
Plot
A group of terrorists led by the German known as Sampson break into Cyberdyne Systems in an armed raid and get away with a quantity of fissile radioactive material. They then break into the San Miguel nuclear plant, which is about to be closed down. At the same time, the pompous Senator Cook is at the plant, filming a news segment where he is feigning outrage at the closure. Plant security guard Mike Jeffers is caught up in protecting Cook and his assistant Janine Simpson as Sampson's men take over at gunpoint. Sampson then announces to the Department of Defense that he is planning to detonate a homemade nuclear weapon in a matter of hours if they do not release political prisoners.
---
Critical Mass is a routine made-for-video action film. Hiding behind the pseudonym of Ed Raymond is the incredibly prolific genre hack Fred Olen Ray, the man behind various cheap and tongue-in-cheek sf, horror and exploitation films that include Hollywood Chainsaw Hookers (1988), Scream Queen Hot Tub (1991), Evil Toons (1992), Dinosaur Girls (1993), Attack of the 60 Foot Centrefold (1995), Bikini Hoe-Down (1997), Invisible Mom (1997), 13 Erotic Ghosts (2002) and Teenage Cavegirl (2004). (See below for a full listing of Fred Olen Ray's films). Olen Ray has used the Ed Raymond pseudonym to make several films, including action films like Prophet (1999) and Air Rage (2001), as well as the killer snake/plague outbreak film Venomous (2001), the slasher film Final Examination (2003) and Glass Trap (2005) about giant ants.
Critical Mass is yet another version on Die Hard (1988) and the basic plot template it created of a lone individualistic hero inside a large building/facility single-handedly fending off a terrorist plot. There are a surprising number of similarities between Critical Mass and Project Shadowchaser II/Night Shadows: Project Shadowchaser II (1994), which featured Bryan Genesse as a janitor in a nuclear plant, defending it as it is taken over by an android terrorist. Take away Frank Zagarino's android (which was never properly explained anyway) and Critical Mass and Shadowchaser II would be virtually indistinguishable.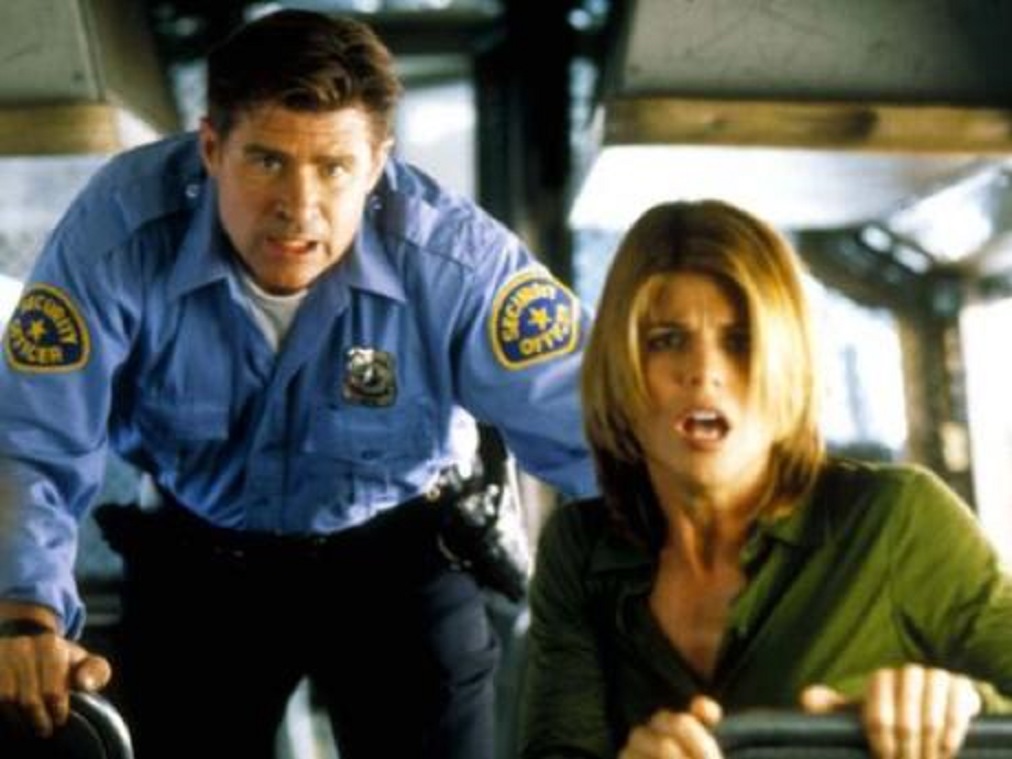 The similarities to other films do not end there. Fred Olen Ray frequently populates his genre films with in-jokes, lines and character names that refer to classic genre films. With Critical Mass, he has gone to the extent of actually incorporating material taken from two other films. In this case, he has somehow managed to acquire copyright to action sequences from Terminator 2: Judgment Day (1991) and Universal Soldier (1992) – namely the opening raid, which consists of the attack on Cyberdyne Systems from Terminator 2 (he has even left the Cyberdyne sign in, which is prominently featured in the first shot), and the scenes of the buses buzzing around in the desert from Universal Soldier. If the footage was not obvious to any action movie fan, then surely the fact that these are the only decently scaled action sequences in an otherwise eminently forgettable piece of hackwork would give the game away.
There is very little to Critical Mass other than lots of routine running around the facility and shooting people up. Perhaps the one interesting thing about Critical Mass is the clear political agenda that comes through. Fred Olen Ray is clearly someone on the Republican working man's side and despises liberal politics. The senator throughout is portrayed as pompous and self-important. He takes a stand on liberal issues but is clearly exploiting the issue of the plant's closure and the loss of jobs for personal political gain. Treat Williams's blue collar working man is given to be Fred Olen Ray's voice, dismissing the issue of job loss with a shrug, saying that he (ie. the ordinary working man) has been prepared for it and is not worried, while the only people who are likely to be affected are the scientists who can easily get jobs elsewhere. It is an attitude that takes one back and makes stiking contrast to the way real-life plant closures have affected entire communities. Try contrasting this to Michael Moore's Roger & Me (1989), for instance.
Fred Olen Ray has made a lengthy list of genre films. These include:- The Brain Leeches (1977), The Alien Dead/It Fell from the Sky (1980), Scalps (1983), Biohazard (1984), The Tomb (1985), The Adventures of Taura: Prison Ship Star Slammer (1986), The Phantom Empire (1986), Cyclone (1987), Beverly Hills Vamp (1988), Deep Space (1988), Hollywood Chainsaw Hookers (1988), Warlords (1988), Alienator (1990), Bad Girls from Mars (1990), Spirits (1990), Haunting Fear (1991), Scream Queen Hot Tub Party (1991), Wizards of the Demon Sword (1991), Evil Toons (1992), Little Devils (1993), Dinosaur Island (1994), Mind Twister (1994), Possessed By the Night (1994), Attack of the 60 Foot Centerfolds (1995), Cyber Zone/Droid Gunner (1995), Invisible Mom (1995), Star Hunter (1995), Night Shade (1996), Passionate Revenge/Friend of the Family II/Hell Hath No Fury (1996), Hybrid (1997), Little Miss Magic/Kidwitch (1997), Billy Frankenstein (1998), Dear Santa/My Dad Santa (1998), Illicit Dreams 2 (1998), Invisible Dad (1998), Active Stealth (1999), Fugitive Mind (1999), Invisible Mom 2 (1999), The Kid with X-Ray Eyes (1999), Prophet (1999), Sideshow (2000), Kept (2001), Stranded (2001), Venomous (2001), Thirteen Erotic Ghosts (2002), Final Examination (2003), Bikini-a-Go-Go/Curse of the Erotic Tiki (2004), Genie in a String Bikini (2004), Haunting Desire (2004), Teenage Cavegirl (2004), Glass Trap (2005), Tomb of the Werewolf (2005), Bikini Girls from a Lost Planet (2006), Bikini Pirates (2006), Ghost in a Teeny Bikini (2006), Bewitched Housewives (2007), The Girl With Sex-Ray Eyes (2007), Nuclear Hurricane (2007), Super Ninja Bikini Babes (2007), Polar Opposites (2008), Solar Flare (2008), Tarzeena, Queen of Kong Island (2008), Voodoo Dollz (2008), Dire Wolf (2009), Silent Venom (2009), Bikini Frankenstein (2010), Bikini Jones and the Temple of Eros (2010), Housewives from Another World (2010), Turbulent Skies (2010), Twilight Vamps (2010), Lady Chatterly's Ghost (2011), Little Witches (2011), Rewind Time Machine (2011), Super Shark (2011), Dirty Blondes from Beyond (2012), Abner the Invisible Dog (2013), After Midnight (2014), Unwanted Guest (2016), Stage Fright (2017) and The Twin (2017).
---
Trailer here
---