---
Crew
Directors – Pierre Coffin & Chris Renaud, Screenplay – Ken Daurio & Cinco Paul, Producers – Janet Healy & Christopher Meledandri, Music – Heitor Pereira, Songs – Pharrell Williams, Animation – Illumination Mac Guff, Production Design – Yarrow Cheney. Production Company – Illumination Entertainment.
Voices
Steve Carell (Gru), Kristen Wiig (Agent Lucy Wilde), Benjamin Bratt (Eduardo Perez), Miranda Cosgrove (Margo), Elsie Fisher (Agnes), Dana Geier (Edith), Ken Jeong (Floyd Eagle-san), Russell Brand (Dr Nefario), Moises Arias (Antonio Perez), Steve Coogan (Silas Ramsbottom), Nasim Pedrad (Jillian), Pierre Coffin (Minions)
---
Plot
Gru had retired from being an evil genius to raise his three adopted daughters. He is trying to create a new jam product but is not having much success. When a neighbour tries to set him up with someone, the girls encourage Gru to start dating but he refuses due to a bad experience he had when he was back at school. He is then abducted by Agent Lucy Wilde of the Anti-Villains League, an agency set up to foil the schemes of super-villains. They want his help finding an unknown super-villain who has stolen a quantity of the serum PX41, which has the ability to transform ordinary animals into monsters. Gru at first refuses but reconsiders after Dr Nefario decides to leave to seek alternate employment. AVL have tracked the serum's location to Paradise Mall and so Gru and Lucy go in disguised as bakery owners to determine which of the mall's fellow outlet owners is the super-villain. Gru is certain that Mexican restaurateur Eduardo Perez is the super-villain El Macho who is believed to have perished in a volcano. He and Lucy set out to prove the case but fail to find any evidence. Calling Gru incompetent, AVL shut the investigation down but Gru then realises that he has feelings for Lucy.
---
Despicable Me (2010) was the debut film for the animation studio Illumination Entertainment. Despicable Me proved a sleeper that rose from the ranks of low initial expectation (at least on the part of this reviewer) to become an audience hit. Its charms were in its absurdly simple premise – the super-villain who is redeemed via being paired up with a trio of cute moppets who proceed to thaw his mean-minded disposition – and the frequently side-splitting gags involving the supporting characters of the Minions.
Unfortunately, the charms of Despicable Me are ones that Illumination Entertainment failed to replicate in their subsequent entries – the part live-action Hop (2011) and the Dr Seuss adaptation The Lorax (2012). Several of Illumination's founding partners had come from Blue Sky Studios – the animation company behind the interminable Ice Age sequels among others – and Illumination's films have started to resemble Blue Sky's formulaic, processed product.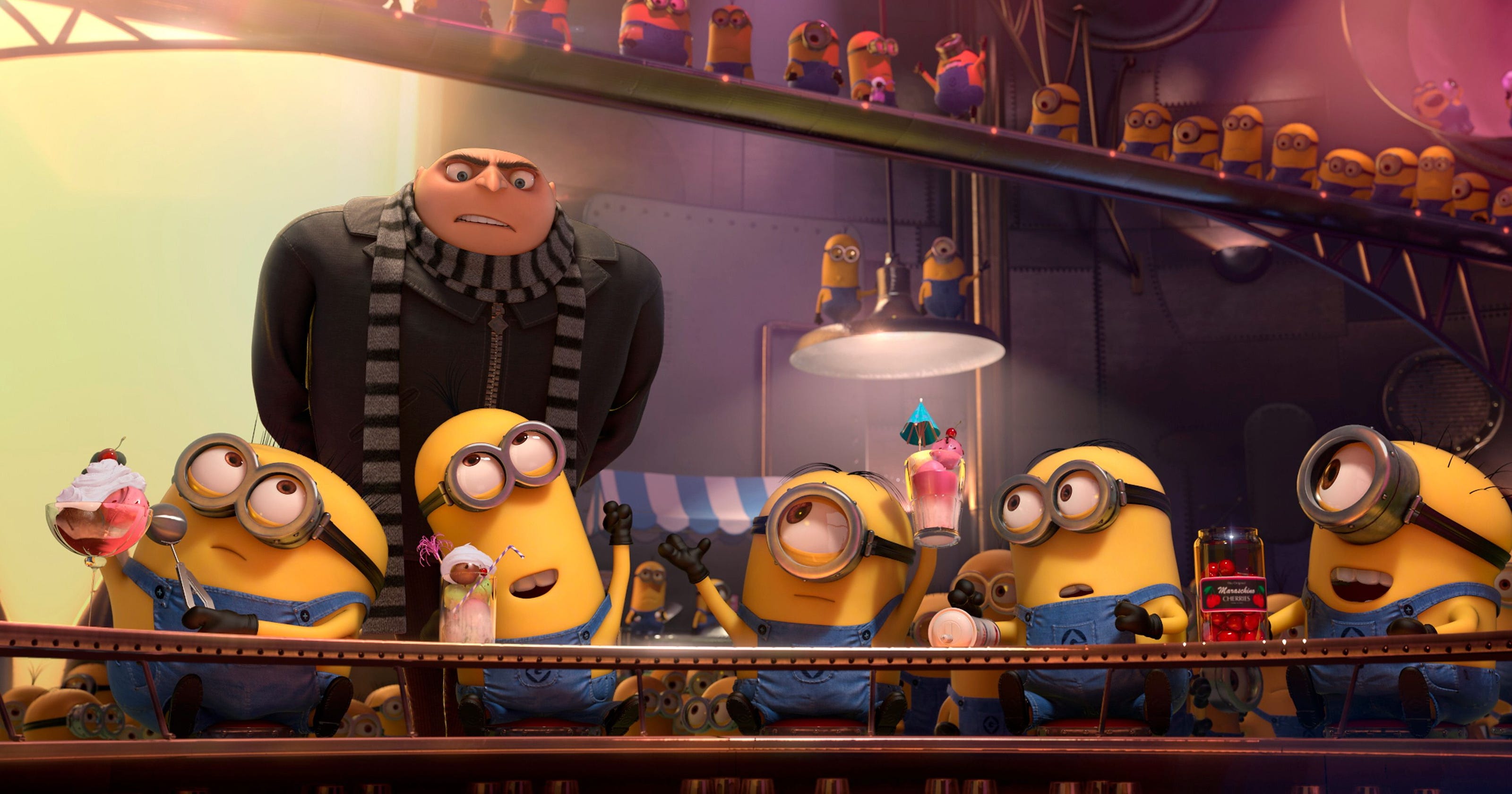 With Despicable Me 2, Illumination return to their one hit and seek to make the elements work a second time over. Alas, despite the return of the same directors, writers and producers as on the original, Despicable Me 2 fails to do that and one's fears are that Illumination will not emerge as the wannabes that could give Pixar a run for their money they easily could have been three years ago but have fallen into Blue Sky's conveyor belt approach and are setting off on the path of endlessly recycling past hits. That said, Illumination did pick up markedly not longer after with The Secret Life of Pets (2016), Sing (2016) and the hugely successful The Super Mario Bros. Movie (2023).
Despicable Me worked because of the adorability of its central character's arc – the bad guy slowly being warmed up by cute kids. The problem that Despicable Me 2 faces is that that particular character arc is resolved and the sequel is left with the essential question of "what happens after happily ever after?" It is not unakin to a tv series – The X Files (1993-2002, 2016-8) might be a perfect example – that builds sexual tension between its two lead characters. As soon as that is resolved a season or two down the line, fan interest starts to wane – the series' focus goes from being anticipation over waiting for something to happen to a far less interesting domestic scenario.
That is largely the problem that Despicable Me 2 is stuck with – it goes from the villain in the process of redemption in the first film to one who is now a settled down parent figure. The sequel does try to compensate by giving Gru a romance in the person of Kristen Wiig's agent and, while this has some cute parts to it, is not nearly as strong as the redemption arc that drove the first film.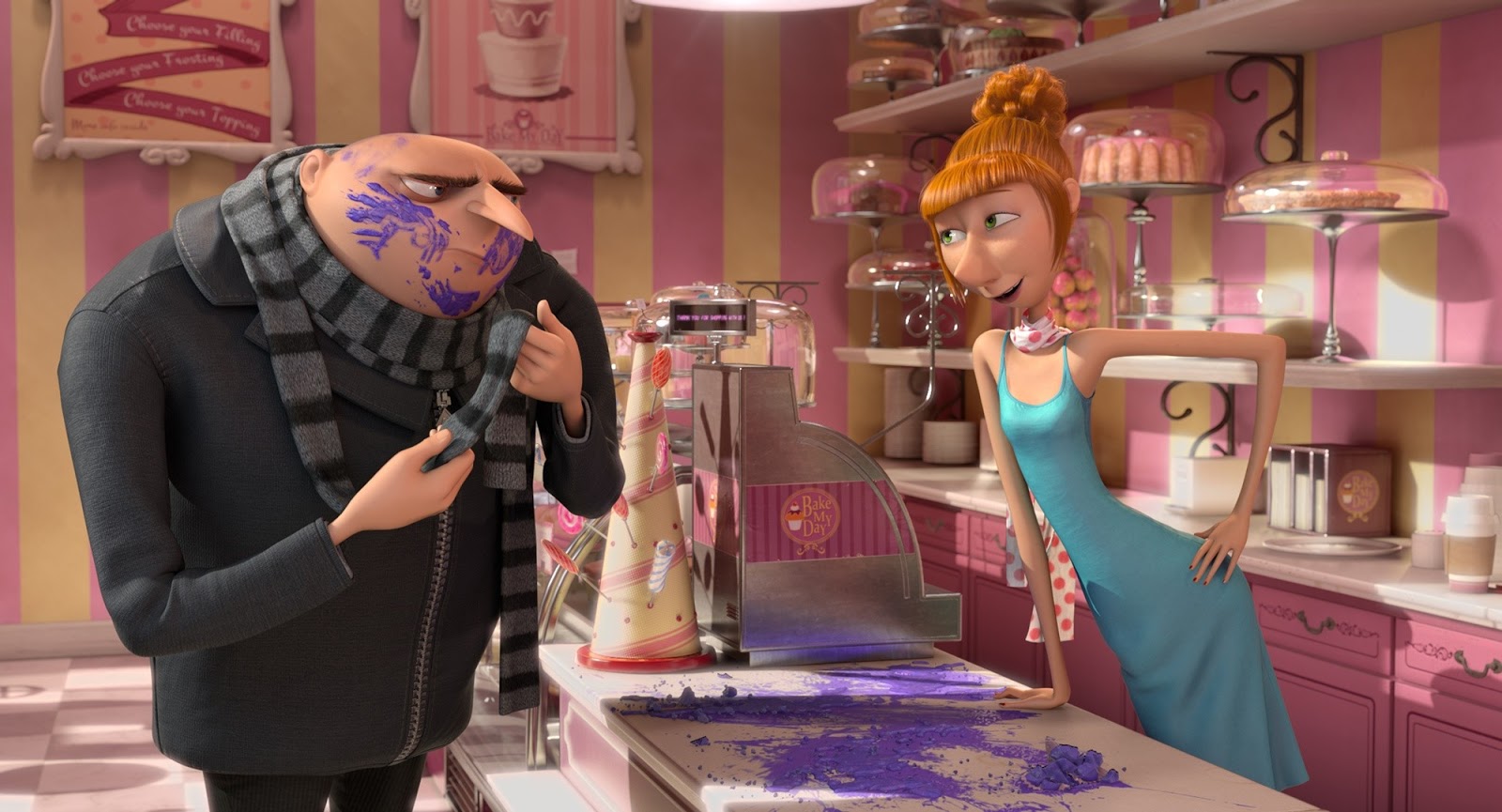 The other aspect that made the original work was the cuteness and wackiness of the humour with the scene-stealing Minions. They are back and up to much of the same but now feel like only stock supporting characters in an animated film. The sort where there is a slapstick sequence every few minutes – the sequence with Minions dragging along behind Lucy's car feels more like the silliness of an Ice Age film – rather than a series of genuinely humorous gags. There are a number of sequences with Minions fooling around throughout the end credits that go on far longer than it feels they should. We also get evil Minions, although surprisingly little is done with the concept – you could have at least expected the film to pit good Minions against evil purple Minions but it never does.
There are certainly some amusing throwaway gags involving the Minions once again – charming images of them in disguise, singing Italian opera in their nonsense language, acting as firemen – but this now feel less spontaneous than it did the first time around. As unfortunately does Despicable Me 2. The lightning in the bottle originality of the first film is something that Illumination are going to have to find again, otherwise they are a studio doomed to being a one hit wonder.
This was followed by Despicable Me 3 (2017), while Illumination gave the Minions their own film with Minions (2015), followed by Minions: The Rise of Gru (2022), which actually acts as a Gru origin story.
---
---