---
USA. 1997.
Crew
Director/Producer/Animation – Bill Plympton, Screenplay – Bill Plympton & P.C. Vey, Photography – John Donnelly, Songs – Maureen McElheron, Art Supervisor – Signe Baumane & Sophie Hogarth. Production Company – Bill Plympton.
Voices
Tom Larson (Grant Boyer), Charis Michelsen (Keri Boyer), Chris Cooke (Colonel Ferguson), Richard Spore (Larson P. Giles), Ruth Ray (Mom), J.B. Adams (Dad)
---
Plot
Shortly after getting married, Grant Boyer develops a strange lump on the back of his neck. This causes him to develop strange sexual appetites that send his wife fleeing in horror. He is also able to transform objects and create illusions. The lump is desired by tv network head Larson P. Giles who dispatches the military to obtain it from Grant.
---
Sometimes there are films that leave one with an utterly bewildered sense of wondering what on Earth they have just seen. You can count a handful of those films – Eraserhead (1977), Tetsuo: The Iron Man (1989), the works of Alejandro Jodorowsky. I Married a Strange Person is certainly one of those films – it virtually sits and beats you over the head with its filmmakers' determination to be strange and bizarre. One searches for easy comparisons – the nearest it comes to easy analogy is to the cartoon work of Gahan Wilson.
I Married a Strange Person was the second feature film from Bill Plympton. Plympton has been a cartoonist since the 1970s, his work appearing in a number of high-profile magazines. In the 1980s, he turned to making short animated films and has made some 40 of these, with two of them being nominated for Academy Awards. Plympton made his first feature film with The Tune (1992), which had the distinction of being the first full-length animated film where the creator drew every single frame by hand.
Subsequent to I Married a Strange Person, Plympton has made other animated features such as Mutant Aliens (2004), Hair High (2004), Idiots and Angels (2008), Cheatin' (2013), Hitler's Folly (2016), Revengeance (2016) and the H is for Head Games segment of ABCs of Death 2 (2014), the On Eating and Drinking segment of Kahlil Gibran's The Prophet (2014) and the A True Story segment of The One-Minute Memoir (2020).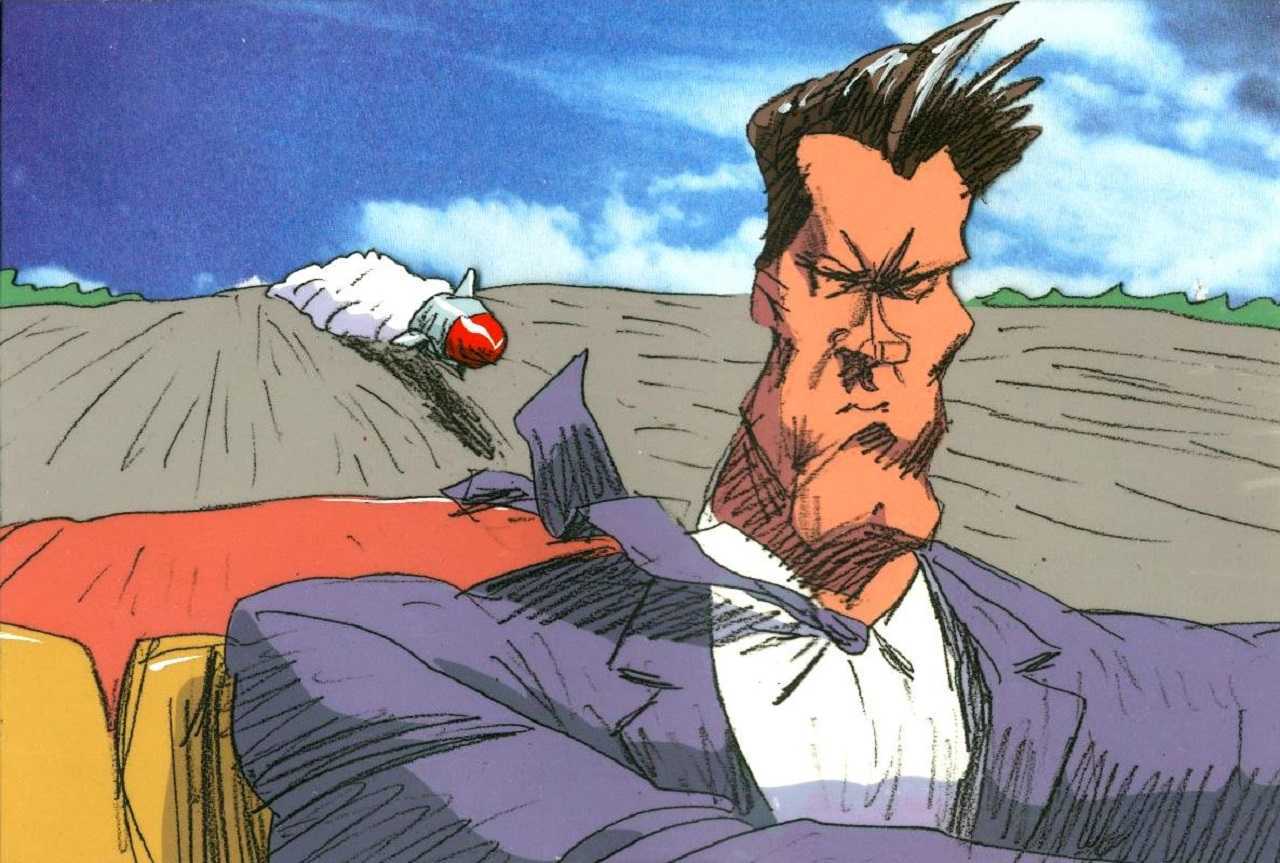 Bill Plympton announces his vulgar intentions from the opening title cards with sarcastic comments from Picasso and Goering slamming the notion of good taste. From there the film launches into a series of mind-boggling images such as grass clippings turning on a man mowing the lawn and pursuing him around the property; a woman pursued by fat and wrinkles wanting to attach themselves to her body; the image of tanks fucking.
The film is filled with visual puns – when the hero shows his wife his bedroom eyes, someone pops out of his eyeball in a bed and asks for quiet because he is trying to sleep; a woman literally wears fishnet stockings replete with fish woven into the lace. The film is filled with casually OTT surreal violence – at one point, the wife tries to lasso someone using a set of intestines.
Nothing however is as funny as the film's surreal sexual images – it opens on two birds fucking and proceeds to an hilarious seduction scene by the wife as the husband is trying to work. During intercourse, the hero variously causes his wife to manifest breasts that take over the entire house as she transforms into the Statue of Liberty riding atop him; while elsewhere swirling tassels attached to nipples become airplane propellers or impale the hero's eyeballs. Indescribably bizarre.
---
Trailer here
---