(Pre'lt Svuj 'Ivot)
Czech Republic/Japan. 2010.
Crew
Director/Screenplay/Production Design – Jan Svankmajer, Producer – Jaromir Kallista, Photography – Juraj Galvanek & Jan Ruzicka, Music – Aleksandr Glazunov, Animation – Eva Jakoubkova, Martin Kublak & Jaroslav Mrazek. Production Company – Athanor Film/C-GA Film/Czech TV/UPP/Aura Ltd/D-Light.
Cast
Vaclav Helsus (Eugene), Klara Issova (Eve/Elizabeth/Emma/Eugenia), Zuzana Kronerova (Milady), Daniela Bakerova (Dr Holubova)
---
Plot
Eugene has a series of dreams in which he meets a beautiful woman who has a different name beginning with E every time he sees her. He wants to return to the dreams more and more, although his attempts to get with the beautiful woman there are constantly thwarted. He visits a psychotherapist to find a way of dreaming more. Instead, the therapist analyses his dream in terms of his childhood and speculates about who the people in the dream represent to him. In the dream, Eugene finally makes love to the woman and learns that her real name is Eugenia. She becomes pregnant and gives birth to a son, only for the psychologist to react in horror realising that he has impregnated his own anima.
---
Czech born animator Jan Svankmajer first appeared in the 1960s with a series of stop-motion animated short films usually in the Claymation process. Svankmajer's penchant for droll absurdity and bizarre surrealism turned these into cult works. Svankmajer first broached feature length filmmaking more than two decades later. His first film Alice (1988), a wacky adaptation of Lewis Carroll's Alice in Wonderland (1865), gained a celebrated festival reputation the world over. Over the next few years, Svankmajer turned out other full-length films such as Faust (1994), Conspirators of Pleasure (1996), Otesanek (2000), Lunacy (2005) and Insect (2018). These marked an increasing move away from stop-motion animation to live-action, although Svankmajer's love of bizarre surrealism is apparent in all of these.
With Surviving Life, Svankmajer recovers from the disappointment of Lunacy. It is not a return to the Claymation that Svakmajer built his reputation with but rather sees him embracing the Terry Gilliam school of cardboard cutout animation viz Monty Python's Flying Circus (1969-74). Most of the film is shot in a combination of the cutout animation process, which allows all manner of surreal pop-ups and transformations, although these also alternate with live-action scenes. As he did in Lunacy, Svankmajer himself appears in the opening intro (albeit in cutout animated form) and explains in an amusingly grumpy tone that the film is animated because they didn't have enough budget and that "photographic cutouts don't require catering costs."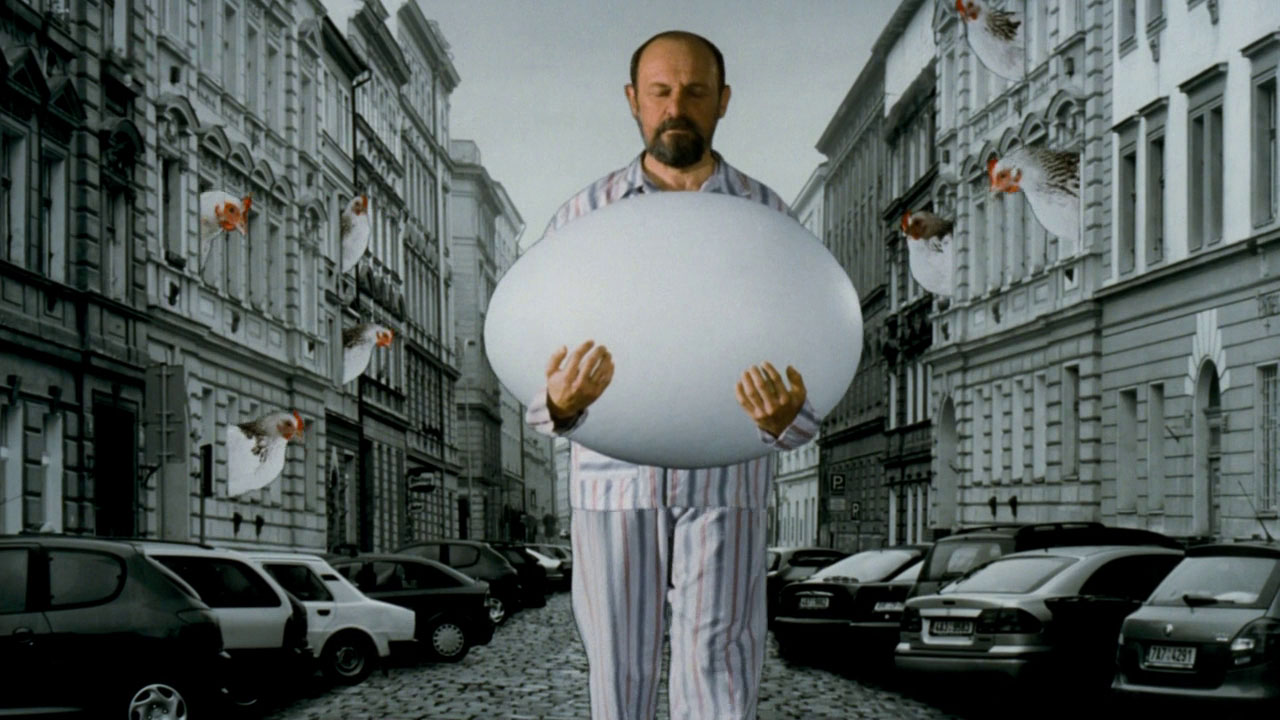 With Surviving Life, Svankmajer mines a very similar territory to Michel Gondry's The Science of Sleep (2006) and its mind-boggling mix of dream, surrealism and deadpan nonsense. Much of the film takes place in a single street looking down a row of apartment blocks between which giant hands constantly appear, giant fruit is tossed or the apartment facades themselves sprout feet and walk off. There is a profusion of naked women with chicken heads, while Vaclav Helsus's doctor also sprouts a crocodile's head. An army of animated toy soldiers and tanks invades the office where Vaclav Helsus works, while his boss walks about with a business-suited man who has a dog's head on a leash. There are marching teddy bears that all sport erections. A visit to a bookshop comes with giant hands popping out from the bookshelves to helpfully offer books then later take back and reshelve them. At the psychiatrist's office, photos of Freud and Jung sit side by side on the wall and are constantly offering facial reactions or sprouting arms and legs to kick and punch one another. The hero has a preoccupation with winning the lottery, although this is constantly thwarted by a bureaucracy that exists on the order of Svankmajer's countryman Franz Kafka.
The plot (such as it is – the film is more a series of nonsense happenings) probably goes on for some twenty minutes longer than it needs to. Nevertheless, Jan Svankmajer pulls it off with an appealingly light touch. Svankmajer says that Surviving Life is based on his own dreams, which seems eminently possible. Probably underneath it all there is something serious where Svankmajer seems to be working out childhood issues but everything comes wrapped up in so much playful nonsense that it is impossible to tell.
By the end of the film where we discover that the man named Milan is Vaclav Helsus's father who is also named Eugene and that the E named woman is not only also Vaclav Helsus's mother whose true name is Eugenia and that Vaclav has also managed to impregnate her and give birth to himself, has even the psychologist throwing her hands up in the air in trying to deal with the Oedipal complications. Despite the clearly absurdist tone of the film, the final scene where Svankmajer's stand-in Vaclav Helsus becomes a child joining his mother in the bath as she commits suicide is touching.
---
---