(Forbrydelser)
Denmark. 2004.
Crew
Director – Annette K. Olesen, Screenplay – Annette K. Olesen & Kim Fupz Aakeson, Producer – Ib Tardini, Photography – Bøje Lomboldt, Music – Jeppe Kaas. Production Company – Zentropa Entertainments/Dr TV/The Dansk Film Instuit/Vinca Wiedermann.
Cast
Ann Eleonora Jørgensen (Anna), Trine Dyrholm (Kate Kristofferson), Nicolaj Kopernikus (Henrik Butterlocks), Lars Ranthe (Frank), Sonja Richter (Marion), Sarah Boberg (Jossi), Mette Munk Pulm (Åse), Jens Albinus (Karsten), Henrik Prip (Michael)
---
Plot
Anna, a newly graduated divinity student, accepts a job as a chaplain at a women's prison. At the same time, Kate Kristofferson is transferred there from another prison. The inmate Marion comes to Kate suffering from drug withdrawal. Kate takes her in her arms and in the morning Marion has been entirely healed from her addiction. Kate's reputation as a healer grows around the prison. At the same time, upon the occasions that he escorts her into the outside world, a forbidden attraction grows between Kate and the warder Henrik. Kate also predicts that Anna is pregnant, even though Anna has been told that she cannot conceive. This is subsequently confirmed but further tests show that the child will be born deformed. Anna and her boyfriend Frank face a terrible crisis over whether they should have the child or abort it.
---
The Dogme 95 manifesto was first announced by Lars von Trier at a centenary of cinema celebration in Paris in 1995. (In this author's opinion, Lars von Trier, who has made the likes of Breaking the Waves (1996), Dancer in the Dark (2000) and Dogville (2003) among others, is the best director at work in the world today). von Trier stood up, denouncing modern cinema and tossing pamphlets containing the Dogme manifesto into the audience. The Dogme manifesto was created by von Trier and Thomas Vinterberg in an attempt to strip filmmaking of artificiality and to rediscover a purity. It has since become a movement. Each director who makes a Dogme film must sign a Vow of Chastity. The Vow, which is included before each film and signed by von Trier, Vinterberg and the director, is a set of rules that the director swears to abide by where all faux dramatics are stripped away. The Vow includes rules that forbid such things as sets (all films must be shot on location), props, special effects, music, superficial action (ie. action and fight sequences), sound effects and camera dollies (all camerawork is to be handheld).
Quite whether Dogme will be a lasting movement akin to say the French New Wave or just a momentary fad remains to be seen. Vinterberg's award-winning The Celebration (1998) is the most acclaimed work to emerge out of the movement and there have been a few other modest arthouse hits such as Lars von Trier's underrated The Idiots (1998) and the likes of Mifune (1999), Julien Donkey-Boy (1999) and Italian for Beginners (2000). However, aside from The Celebration, there have been no majorly acclaimed hits to emerge from the Dogme movement so far.
In Your Hands was Dogme #34. It seems a contradiction to be reviewing a Dogme film on this site. The Dogme manifesto exists at opposite extremes to fantastic cinema. Dogme is rooted in realism, fantastic cinema is not. Fantastic cinema by its very nature breaks many of Dogme's rules – it tends to specialise in the faux dramatics that Dogme forbids, requires props and special effects, while its settings frequently defy the stipulation that a film must be located in the present day. That said, Lars von Trier's Breaking the Waves, which was really the first proto-Dogme film, was a fantastic film about miracles. Similarly, In Your Hands sets out to be a Dogme film about faith healing – although notedly in order to comply with the rules, director Annette K. Olesen has to let all the miracles take place off screen. [There was also one futher Dogme film that entered into fantasy with Truly Human (2001) about an imaginary man becoming real].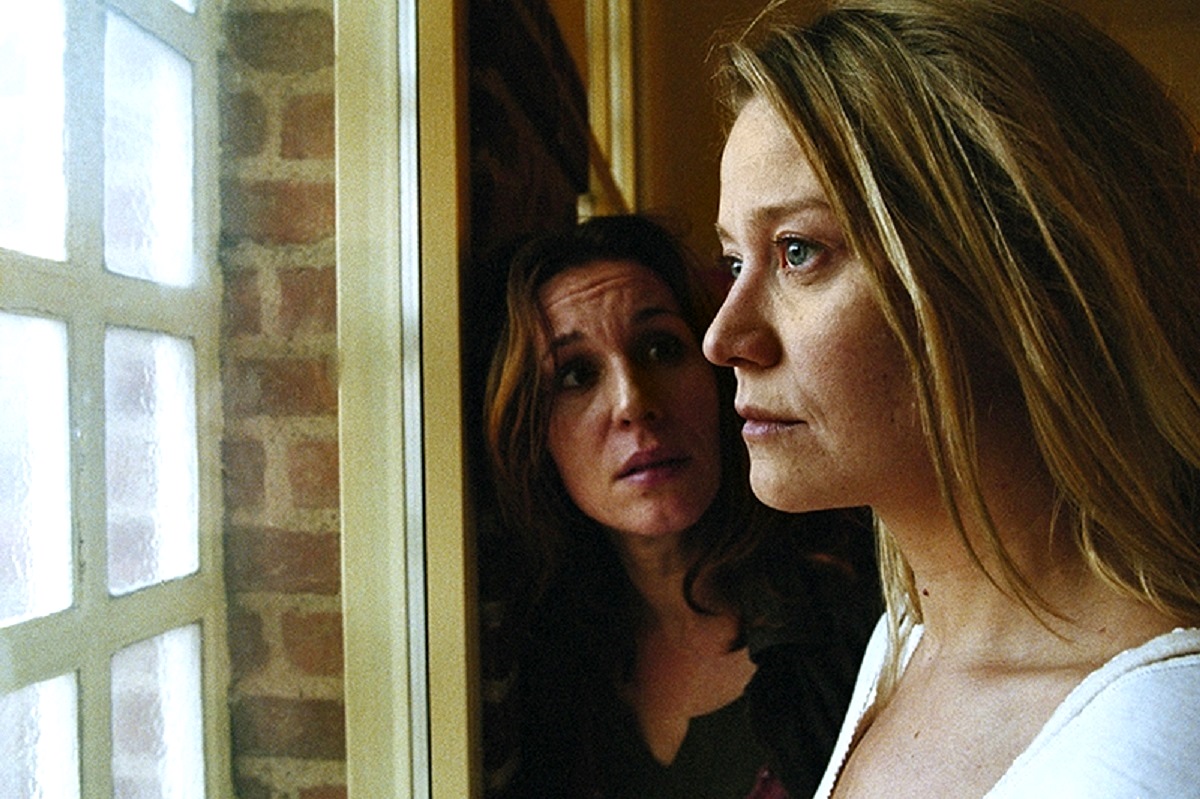 In Your Hands has a degree of similarity to The Green Mile (1999), which had a frequently similar plot about a prison inmate who can work miracles but is accused of a terrible crime. Both films make interesting contrast. Both are at opposite extremes – The Green Mile was melodramatic and filled with the dramatically contrived special effects that Dogme deplores, while In Your Hands is made with a kitchen sink realism. Even the prison environments that both films portray are at almost totally opposite extremes – The Green Mile was set amid the harsh institutional environment of Death Row, whereas In Your Hands, which is set in the much more liberal Denmark, features an almost open-plan prison, where the inmates get to cook their own meals in something more like a hostel kitchen and are allowed close contact with their families.
Both films also have many similarities – each in their own way asks questions about Christian faith and the nature of the messengers chosen to deliver miracles. In The Green Mile, Michael Clarke Duncan's John Coffey was innocent of the crime he was accused of, while here more ambiguously Trine Dyrholm's miracle worker is not. Both films in effect visit divine judgement on their central protagonist for failing to have faith in the form of a divine messenger – The Green Mile ended with Tom Hanks condemned to immortality by God for sending his messenger to the electric chair; In Your Hands ends grimly with Ann Eleonora Jørgensen's priest seemingly going off to the abortion clinic to terminate her unborn child because she cannot accept the idea that God would choose a woman who has killed her own child as a miraculous messenger.
Both films eventually come out of their questions about faith with the view that the Almighty must exist as an Old Testament god who reigns harsh judgement down on people for a failure to have adequate faith or mercy. (So too does von Trier's Breaking the Waves in its very different questions about miracles). In Your Hands leaves one with the additional grim view that no matter even if a person is divinely chosen to perform miracles, society is far harsher and unforgiving when it comes to some sins.
In Your Hands is a modestly effective film, although not a great one. It seems burdened with a few too many human dramas – the romance between Trine Dyrholm and Nikolaj Kopernikus's warder; Ann Eleonora Jørgensen and her boyfriend's anxiety over whether her baby will emerge deformed and their moral dilemma about whether to abort; healee Sonja Richter's problems over being forced to hide Sarah Boberg's drug stash; as well as the minor drama about Jens Albinus's warder's family receiving hate mail from inmates, which ends up getting largely forgotten about. As a result, both because of the number of subplots and the lack of dramatics enforced by the Dogme strictures, In Your Hands feels a little slow. Nevertheless, the end arrived at is grim and potent.
The film is also held together with an excellent performance from Trine Dyrholm as Kate, where she radiates both a cool self-containment and a gradually thawing warmth. She creates a good deal of sympathy in the part. Lead actress Ann Eleonora Jørgensen also gives a strong and intelligent performance.
(Nominee for Best Supporting Actress (Trine Dyrholm) at this site's Best of 2004 Awards).
---
Trailer here
---