(Fri Os Fra Det Onde)
---
Denmark/Sweden/Germany. 2009.
Crew
Director/Screenplay – Ole Bornedal, Producer – Michael Obel, Photography – Dan Laustsen, Music – Johan Liljedal & Stefan Nilsson, Visual Effects Supervisor – Thomas Dyg, Special Effects – Danish Special Effects Service, Makeup Effects – Thomas Foldberg & Morten Jacobsen, Production Design – Anders Engelbrecht. Production Company – Thura/Danske Filminstitut/Film Fyn/Nordisk Film & TV Fond/Svenska Filminstitutet/SVT/Greta Film/Bavaria Film
Cast
Lasse Rimmer (Johannes), Jens Andersen (Lars), Mogens Pedersen (Ingvar), Lenne Nystrøm Rasted (Pernille), Pernille Valentin (Scarlett), Bojan Navojec (Alain), Kim Kold (Leif Christensen), Alexandre Willaume-Jantzen (Roald), Anders Sandberg (Eske), Kurt Ravn (Vexø), Sonja Richter (Presenter), Jacov August Ottensten (Frederik), Fanny Bornedal (Viola), Lone Lindorff (Anna), Henrik Prip (Dr Thomsen)
---
Plot
Johannes is a successful big city lawyer who has retired to the countryside town in Denmark's coastal Jutland area where he grew up, along with his wife Pernille and their two children. He has taken over the family home that his brother Lars has been unable to afford to renovate. Lars works as truck driver and has a heavy drinking problem. Driving home, Lars is lighting a cigarette and not looking what he is doing when the truck hits and runs someone over. He discovers that this is Anna, the girlfriend of town businessman and his boss Ingvar. Distraught, Lars hides the motorcycle and body off the side of the road. He returns home and pays Alain, a Bosnian refugee, to drive the truck the rest of the way, while he joins his friends in getting drunk, not before he plants the bloody leaflets that Anna was carrying in Alain's coat. When the body is found, suspicion quickly turns on Alain. Johannes rescues Alain and takes him to his home, believing his story that he is innocent. Meanwhile, a deeply distraught Ingvar stirs up a lynch mob and determines to break in and burn the house down unless Johannes hands Alain over. Johannes refuses and prepares to defend himself as they attack.
---
The 2000s saw a huge revival of interest in 1970s Backwoods Brutality cinema on the big screen with remakes of classics like The Texas Chainsaw Massacre (2003), The Hills Have Eyes (2006), The Last House on the Left (2009) and I Spit on Your Grave (2010) and homages such as House of 1000 Corpses (2003), Wrong Turn (2003), Wolf Creek (2005) and Macabre (2009). Nowhere has this been as popular or as bloodthirstily enacted as it has in European countries who have turned out the likes of High Tension (2003), The Ordeal (2004), Sheitan (2006), Them (2006), Frontier(s) (2007), King of the Hill (2007) and Eden Lake (2008).
Amidst this, tThe Danish-made Deliver Us From Evil seems to have been almost directly construed as a remake of Sam Peckinpah's Straw Dogs (1971), the progenitor of the genre that featured Dustin Hoffman as a bookish mathematician who settles in a Cornish community with his beautiful wife where they are subject to harassment by uncouth locals and then outright assault and siege after he grants refuge to a handicapped local man they are pursuing.
Deliver Us From Evil – not to be confused with the subsequent Hollywood true-life possession film Deliver Us From Evil (2014) – comes from Danish director Ole Bornedal. Ole Bornedal had an international festival hit a few years ago with the black comedy thriller Nightwatch (1994) and was imported to the US by Steven Sodebergh to remake it as the also effective Nightwatch (1998). Since then Bornedal has maintained an uneven profile, usually with thrillers or genre entries such as I Am Dina (2002), The Substitute (2007) about an alien schoolteacher, the identity mix-up thriller Just Another Love Story (2007), went to the US to make The Possession (2012) for Sam Raimi's Ghost House Pictures, and returned to Denmark for the black comedy Small Time Killers (2017).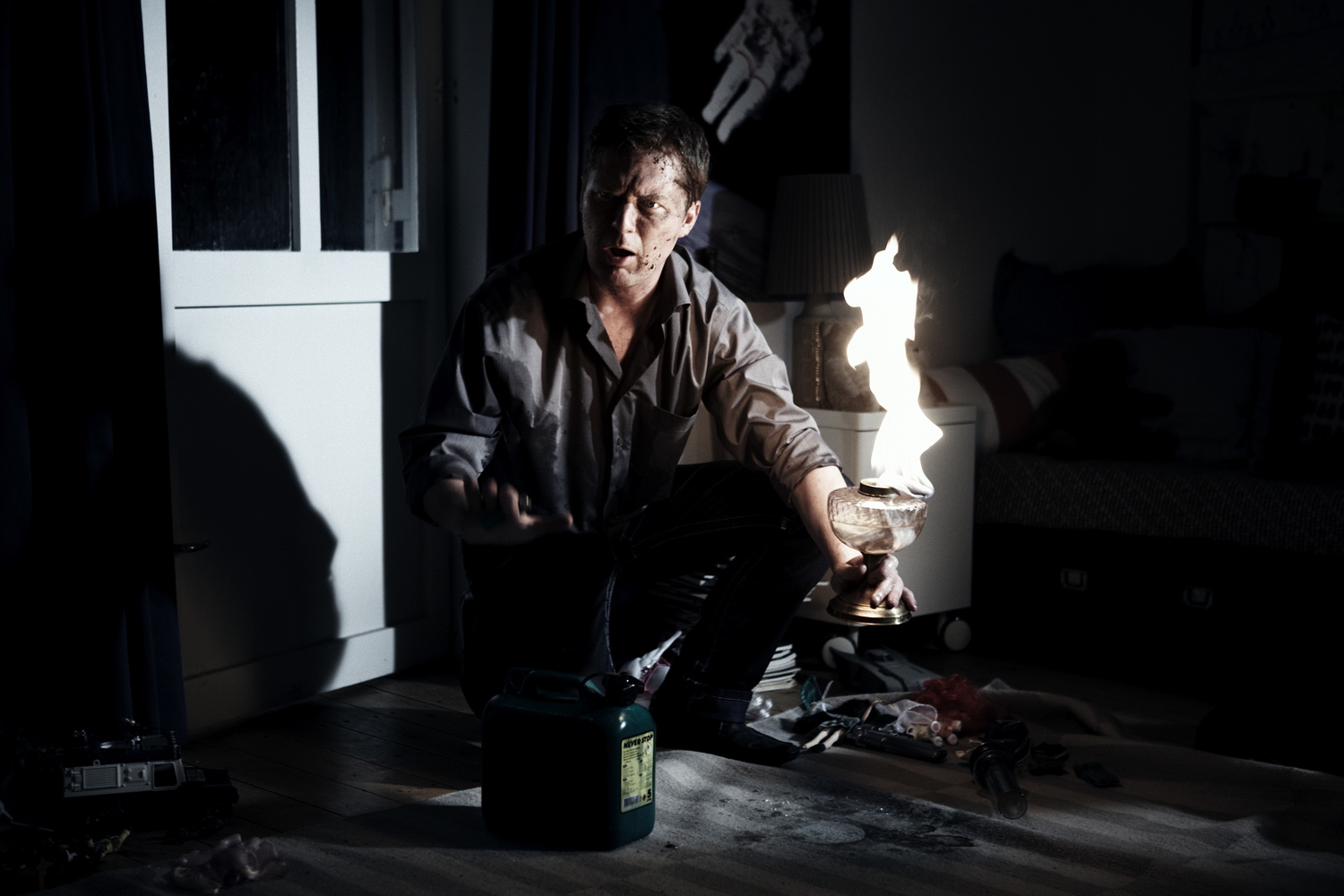 Deliver Us From Evil follows the basics of Straw Dogs surprisingly closely – the man who has made success in life moving to a rural community to take over a house; the uncouth locals who make sexual advances on his good-looking wife; he giving refuge to someone hunted by a lynch mob; the locals surrounding the house and attacking, reducing the man to having to give up his liberal instincts and fight them off with his bare hands.
Certainly, the plot here is more tightly wound and holds much more of a blackly stinging bite than in Straw Dogs. Unlike Sam Peckinpah who saw the conflict are brutally bared, Ole Bornedal has fun during the scenes of the siege of the house, framing Lasse Rimmer in primal man poses as he gleefully prepares the defences. Bornedal even playfully includes a narrator (Sonja Richter) who addresses the screen direct, tying together and explaining various plot threads.
In Straw Dogs, Sam Peckinpah was contrasting civilised morals with animal brutalism and saying that the latter will emerge when the conflict becomes extreme enough to strip away civilised nicety. For Ole Bornedal, the story is a metaphor for the thuggishness and racial intolerance that lies at the heart of Danish society. Bornedal has stated that his inspiration for the film came with his disgust at aspects of reactionary behaviour in Denmark, in particular the venting of anger against involvement in the Bosnian War and the amount of refugees coming into the country.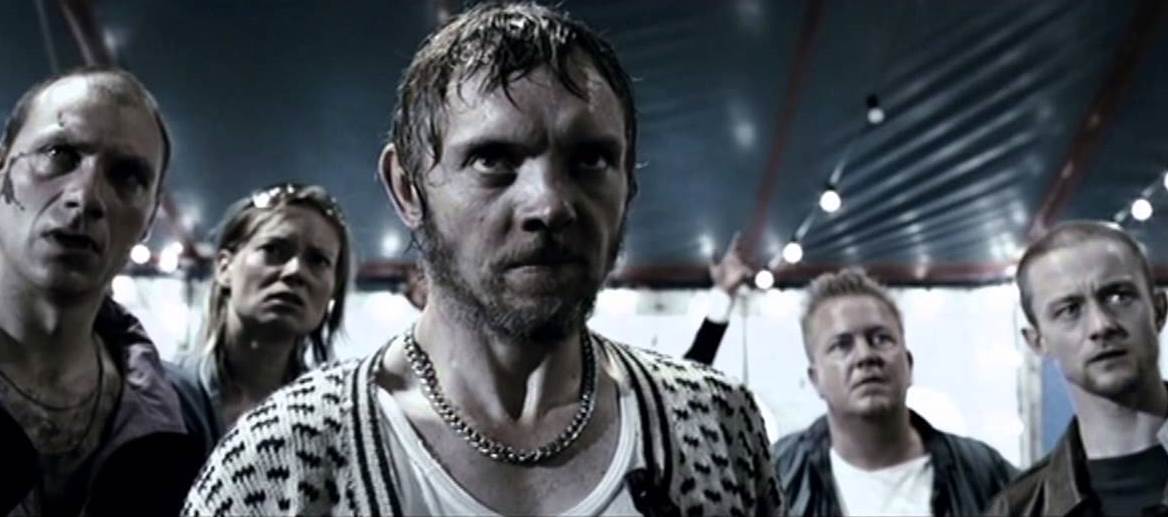 Over the last decade, Denmark has been plagued by huge (largely anti-Islamic) racial division after the assassinations of high-profile people like politician Pim Fortuyn and filmmaker Theo van Gogh or the controversy over the satirical cartoons blaspheming the prophet Mohammed in the newspaper Jyllands-Posten. Thus the man who is targeted by the mob becomes a Black Islamic Bosnian refugee with a lengthy set-up wherein he is framed for a murder that was in actuality conducted by the hero's drunken redneck brother.
Danish cinema is known for its dark humour and biting savagery. Look no further than the works of Ole Bornedal's peer Lars von Trier – Breaking the Waves (1996), Antichrist (2009). Ole Bornedal has a bleak view of the human condition – seeing that there is something dark and disturbed beneath the placid church-going veneer and smalltown values of Danish society. There are no easy moral pat solutions to be found for any of the characters in the film. Like Straw Dogs, the moral lines are blurred so that neither the defending hero, the villagers nor the refugee they are pursuing are seen as wholly right or entirely wrong. Even the wife (Lenne Nystrøm Rasted) who attempts a sensible middle-of-the-road position and tries to walk out of the house rather than partake in Lasse Rimmer's last ditch defence, is found by her children with an axe in her hand hacking up the trio of locals who attempted to rape her.
A large part of the effectiveness of Deliver Us From Evil lies in the performances. Jens Andersen (almost a dead ringer for Matthew Lillard) gives an incredibly live wire performance that lights the film up, he at once being brutish, charming and trying to voice an almost inexpressible grief at everything having gone wrong. There is also Mogens Pedersen who gives an amazing firebrand performance as Ingvar.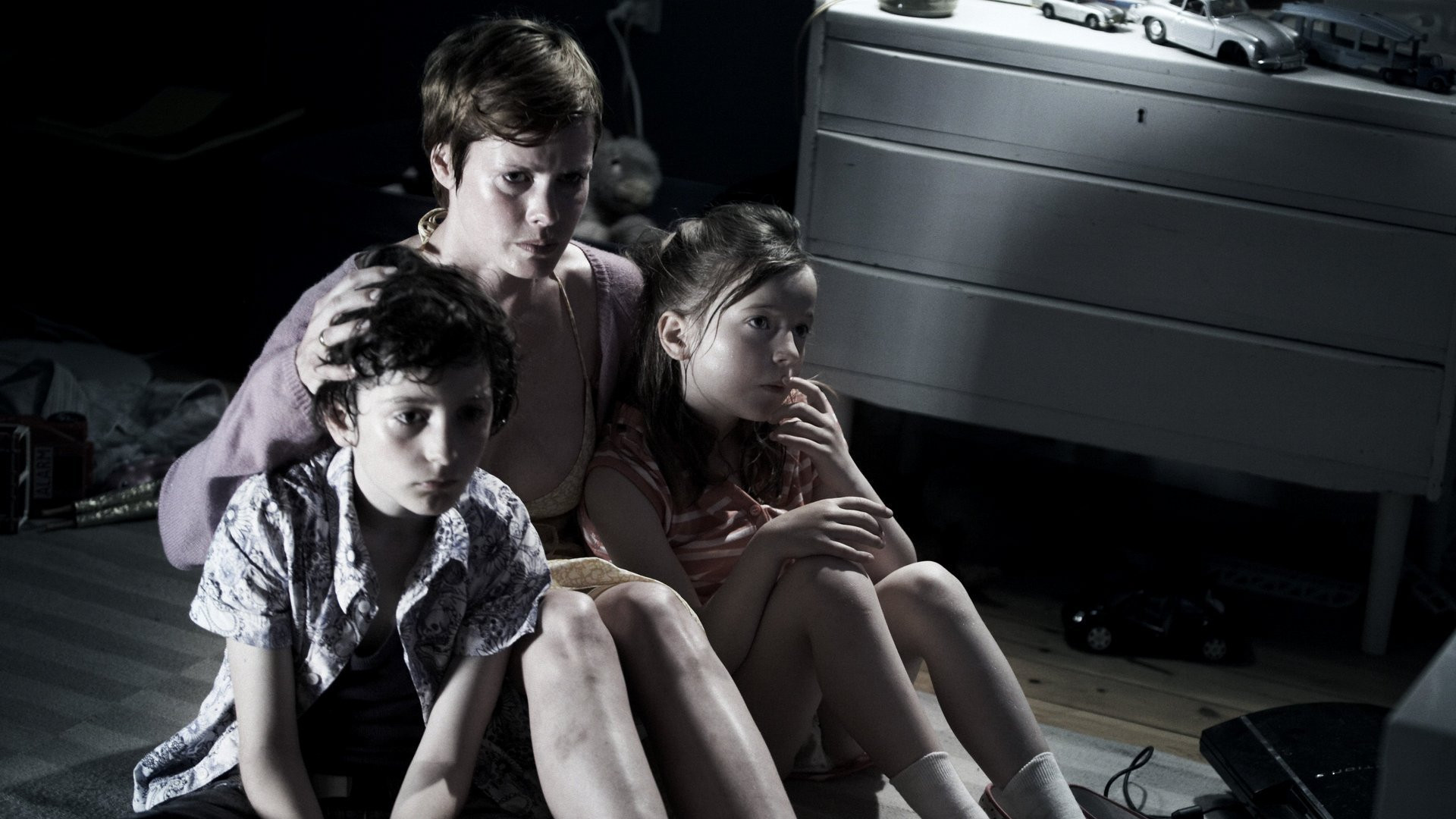 One of the most striking things about the film is how Ole Borndeal constantly pushes Pedersen's rhetoric over into Biblical imagery – regarding his love Anne as an angel who kept him in check and his own anger as a demon unleashed. Pedersen's vengeance once unleashed at the end is truly demoniac, while the images of the townspeople dancing drunken and topless around bonfires seems to take things back to a level of primal pagan rites.
I liked Deliver Us From Evil a good deal, despite its derivativeness from Straw Dogs. Ole Bornedal gives it a black charge and the twistings and turnings of the plot move with dark tightness. The subsequent remake of Straw Dogs (2011) failed to maintain half the effectiveness that Deliver Us From Evil does.
---
---