(Når Dyrene Drømmer)
---
Crew
Director – Jonas Alexander Arnby, Screenplay – Rasmus Birch, Story – Jonas Alexander Arnby, Rasmus Birch & Christoffer Boe, Producers – Caroline Schülter Bigestram, Christoffer Boe, Ditte Milsted & Tine Grew Pfeiffer, Photography – Niels Thastum, Music – Mikkel Hess, Visual Effects – Nordisk Film Shortcut (Supervisor – Martin Madsen), Special Effects – Nordic Effects (Supervisor – Christian Schandorf), Makeup Effects – Thomas Foldberg & Morten Jacobsen, Production Design – Sabine Hviid. Production Company – Alphaville Pictures/Danske Filminstituet/Dr V-Filmklubben/B Media Global/Backup Media/Nordisk Film Production.
Cast
Sonia Suhl (Marie), Lars Mikkelsen (Thor), Sonja Richter (Mother), Jakob Oftebro (Daniel), Stig Hoffmeyer (Dr Larsen), Mads Riisom (Felix), Esben Dalgaard (Bjarne), Gustav Griese (Esben), Benjamin Boe Rasmussen (Ib), Tina Gylling Mortensen (Jonna)
---
Plot
In a tiny Danish seaside village, the teenage Marie takes a job at the local fish processing plant. She is attracted to co-worker Daniel but others there are bullying. At the same time, she is concerned about the fearful mutterings between her father and the local doctor. After stealing a copy of her medical report, she comes to believe that she is transforming into a monster. Hair has appeared all over her body and she starts to undergo changes. This is something that has affected her mother who remains wheelchair-ridden and feared by the townspeople. As the changes become more pronounced and bestial, Marie must fight against the terrified locals who are determined to kill her.
---
When Animals Dreams was a debut feature for Danish director Jonas Alexander Arnby. The film premiered at the Cannes Film Festival and did the rounds of a number of other international festivals.
The film draws you into it almost immediately with its low-key softness. I particularly liked Arnby's establishment of the mood of the village from the opening shots – all stunningly composed night scenes shot with a slightly out of focus lens, of single lights from houses illuminating bare landscapes. The film is unusually quiet for a horror work. Much of it takes place in silences and often in evocative and meaning-laden glances between Sonia Suhl and her co-workers at the fish processing plant.
Within this, the emergence of the beast comes with subtlety. There is a fantastic scene where Sonia Suhl is bent over in the bathroom and we can see her bared shoulder blades starting to move in unnatural ways before there comes a knock at the door and she has to pretend everything is normal. There is another exceptional scene where Sonia has sex with Jakob Oftebro and the camera moves around to suddenly show a line of hair running down her bare back.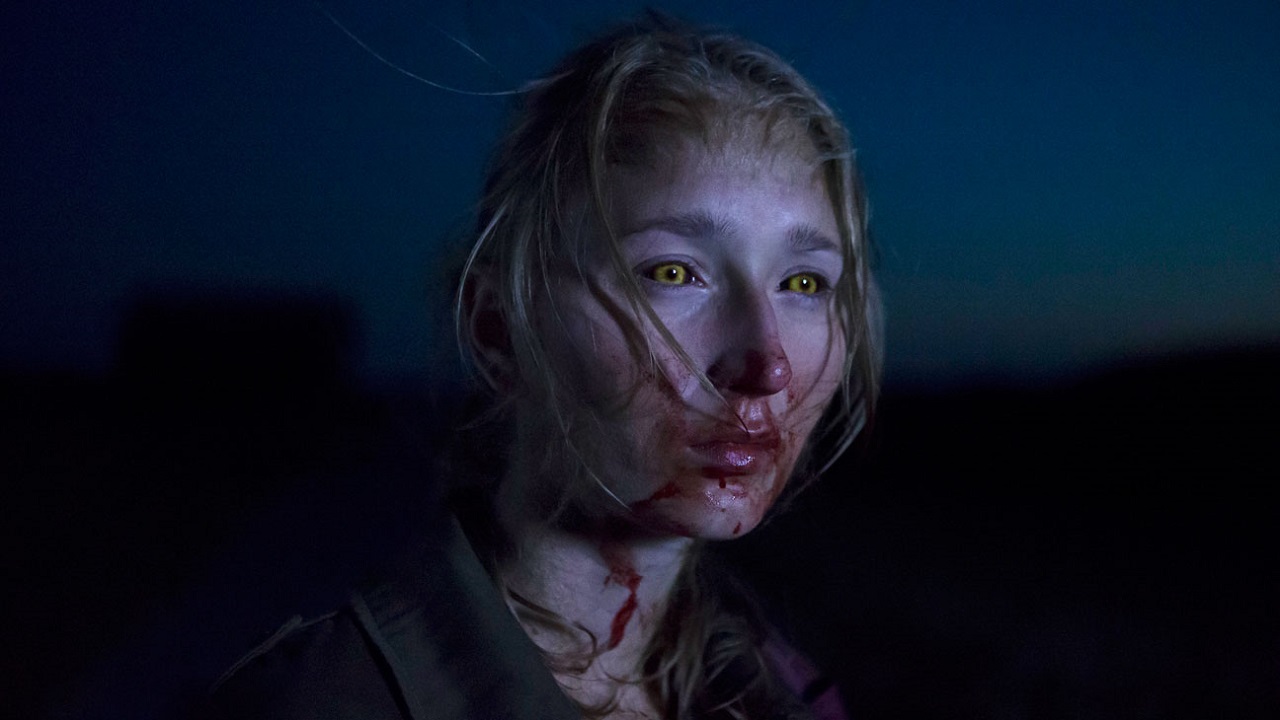 Even when it comes to what would be far more upfront and graphic horror scenes in any more mainstream film, Jonas Alexander Arnby holds back and underplays his hand – there is the sudden jolt of the mother's attack on the doctor but Arnby hardly allows us to see what happens before we next cut to Lars Mikkelsen burying the body in the yard.
Interestingly, the film never specifically comes out and indentifies the beast that Sonia Suhl is turning into as a werewolf. There are no full moons and silver bullets, for instance – even though the film exists as a werewolf film in every other respect. After a great start, the latter half of the film travels in familiar territories for a werewolf film.
The theme of the teenage girl experiencing lycanthropy at the same time as puberty/menstruation/sex is a metaphor that has played out in a number of other films. The fearful local lynch mob gathering is a familiar stuff and the slight disappointment is in that this half of the film plays out fairly much by the book and does nothing that could be considered unique. Nevertheless the journey there is subtle and a worthy addition to the genre.
---
---