---
Crew
Director – Ethan Spaulding, Screenplay – Joe R. Lansdale, Based on the Graphic Novel Batman and Son by Grant Morrison, Music – Frederick Wiedmann, Animation – The Answerstudio (Supervising Director – Kasuyoshi Takeuchi). Production Company – Warner Bros. Animation.
Voices
Jason O'Mara (Batman/Bruce Wayne), Stuart Allan (Damian), Thomas Gibson (Deathstroke/Slade Wilson), Morena Baccarin (Talia al Ghul), Sean Maher (Nightwing/Dick Grayson), Xander Berkeley (Dr Kirk Langstrom), Giancarlo Esposito (Ra's Al Ghul), David McCallum (Alfred Pennyworth), Bruce Thomas (Commissioner Gordon/Ubu), Dee Bradley Baker (Man-Bat), Fred Tatasciore (Killer Croc), Kari Wahlgren (Rebecca Langstrom)
---
Plot
The headquarters of the League of Assassins undergoes a massive assault by the rival assassin Deathstroke and his team during which Ra's al Ghul is killed. Ras's's daughter Talia flees with her young son Damian. She goes to visit Batman, introducing Damian as the son he fathered to her, and leaving Damian in his care. Taking Damian to Wayne Manor, Batman soon finds him and his assassin's training to be a handful as Damian sets out on his own, determined to track Deathstroke's agents. His solution comes as Damian decides to become the new Robin and puts on the costume to fight alongside Batman. Batman meanwhile has to deal with the fact that Deathstroke has kidnapped the family of Kirk Langstrom and is forcing him to develop his formula to create an army of man-bats.
---
Son of Batman was the twentieth of the DC Universe Original Animated Movies. It joins Superman: Doomsday (2007), Batman: Gotham Knight (2008), Justice League: The New Frontier (2008), Green Lantern: First Flight (2009), Superman/Batman: Public Enemies (2009), Wonder Woman (2009), Batman: Under the Red Hood (2010), Justice League: Crisis on Two Earths (2010), Superman & Batman: Apocalypse (2010), All-Star Superman (2011), Batman: Year One (2011), Green Lantern: Emerald Knights (2011), Batman: The Dark Knight Returns Part I (2012), Justice League: Doom (2012), Superman vs. The Elite (2012), Batman: The Dark Knight Returns Part II (2013), Justice League: The Flashpoint Paradox (2013), Superman Unbound (2013), Batman: Assault on Arkham (2014), Justice League: War (2014), Batman vs. Robin (2015), Justice League: Gods and Monsters (2015), Justice League: Throne of Atlantis (2015), Batman: Bad Blood (2016), Batman: The Killing Joke (2016), Justice League vs Teen Titans (2016), Batman and Harley Quinn (2017), Justice League Dark (2017), Teen Titans: The Judas Contract (2017), Batman: Gotham By Gaslight (2018), The Death of Superman (2018), Suicide Squad: Hell to Pay (2018), Batman: Hush (2019), Justice League vs The Fatal Five (2019), Reign of the Supermen (2019), Wonder Woman: Bloodlines (2019), Justice League Dark: Apokolips War (2020), Superman: Man of Tomorrow (2020), Superman: Red Son (2020), Batman: Soul of the Dragon (2021), Batman: The Long Halloween Part One (2021), Batman: The Long Halloween Part Two (2021), Injustice (2021), Justice Society: World War II (2021), Catwoman: Hunted (2022) and Green Lantern: Beware My Power (2022).
Son of Batman is based on Batman and Son (2006) written by Grant Morrison, which appeared in a four-issue arc of Batman and is notable for introducing the character of Damian as the new Robin. Damian had been around as a character since the 1980s but was never identified. Morrison revealed Damian as being the genetically engineered son of Batman and Talia al-Ghul that Batman was unaware of. Batman adopted Damian, although the character has been a morally ambiguous one where Batman is constantly having to curb his more impetuous and violent ways. Subsequently, Damian became a regular in the Batman Family and even joined the Teen Titans.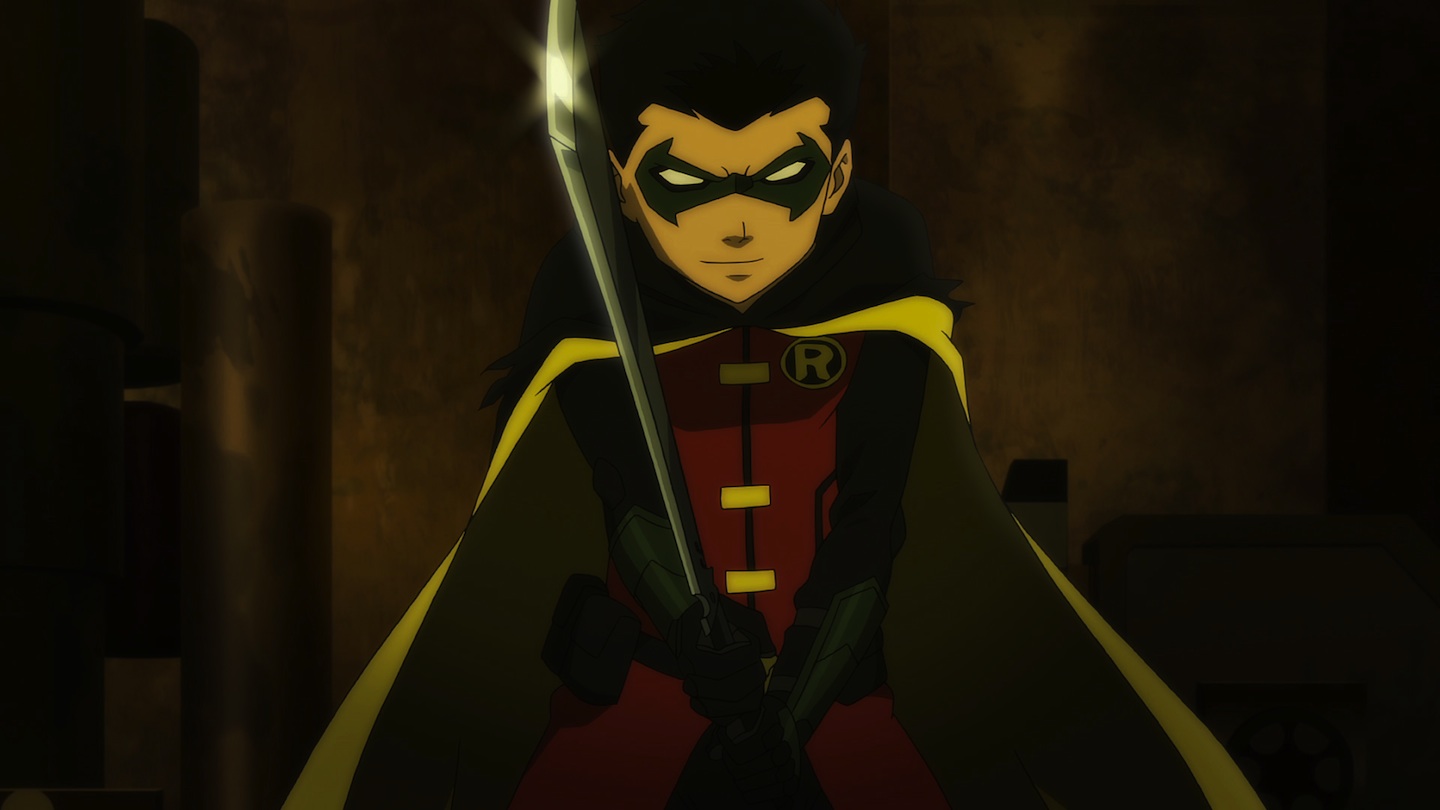 One of the most interesting aspects of the film is that it has a script from horror writer Joe R. Lansdale, whose works have been adapted to make films such as Bubba Ho-Tep (2002) and Cold in July (2014). Lansdale has had a long history writing for comic-books, most notably on DC's Jonah Hex series, while he has also written episodes of the Batman (1992-4) and Superman (1996-2000) animated series. Ethan Spaulding was previously a director on Avatar: The Last Airbender (2005-8) and had made two Scooby-Doo animated films. He subsequently became a regular director for the DC Universe Original Animated Movies with Batman: Assault on Arkham and Justice League: Throne of Atlantis, as well as made the interesting alternate history superhero film Freedom Fighters – The Ray (2018), Mortal Kombat Legends: Scorpion's Revenge (2020) and Mortal Kombat Legends: Battle of the Realms (2021).
The film starts in promisingly where Ethan Spaulding delivers a furiously action-packed action sequence that gets loose on all the hard-edged material that the televised incarnations of the animated Batman were forced to hold back on. The 'son of Batman' idea is a gimmicky premise that the film makes good use of and there is a good deal of fun watching Batman having to mentor and hold back the impetuous Damian.
Delivering a slightly less complex story than its comic-book counterpart, the film makes effective use of some of the lesser Batman villains such as Man-Bat, Killer Croc and Ra's al Ghul, who gets an incarnation far more authentic to the comic-books here than in Batman Begins (2005), as well as the reintroduction of Nightwing (aka the grown-up version of the Dick Grayson Robin). The characters connect as you expect, the action works well and the film is enjoyable. The complaint might be that Son of Batman is never more than that, which is what holds it back from joining the pantheon of the best of the DC Universe Original Animated Movies.
---
---