---
USA. 2017.
Crew
Director – Jake Kasdan, Screenplay – Chris McKenna, Jeff Pinkner, Scott Rosenberg & Erik Sommers, Story – Chris McKenna, Based on the Book Jumanji by Chris Van Allsburg, Producers – William Teitler & Matt Tolmach, Photography (3D) – Gyula Pados, Music – Henry Jackman, Visual Effects Supervisor – Jerome Chen, Visual Effects – Crafty Apes (Supervisor – Tim LeDoux), Iloura (Supervisors – Ineke Majoor & Simon Rosenthal), Image Asylum, Inc, MPC (Supervisor – Robert Winter), Ollin VFX Studio (Supervisor – Marco Maldonado), Rodeo FX (Supervisor – Alexandre LaFortune), Special Effects Supervisor – J.D. Schwalm, Production Design – Owen Paterson. Production Company – Columbia
Cast
Dwayne Johnson (Dr Smolder Bravestone/Spencer Gilpin), Kevin Hart (Franklin 'Mouse' Finbar/Anthony 'Fridge' Johnson), Jack Black (Professor Sheldon Oberon/Bethany Walker), Karen Gillan (Ruby Roundhouse/Martha Kaply), Alex Wolff (Young Spencer Gilpin), Ser'Darius Blaine (Young Anthony 'Fridge' Johnson), Madison Iseman (Young Bethany Walker), Morgan Turner (Young Martha Kaply), Rhys Darby (Nigel Billingsley), Bobby Cannavale (Russell Van Pelt), Nick Jonas (Alex Vreeke/Jefferson 'Seaplane' McDonough), Marc Evan Jackson (Principal Bentley), Missi Pyle (Coach Web)
---
Plot
Four teenagers in high-school, videogame geek Spencer Gilpin, quarterback Anthony 'Fridge' Johnson, popular girl Bethany Walker and shy and nerdy Martha Keply, are all sentenced to Saturday detention. Ordered to clean up a basement area, they find a copy of the old videogame Jumanji and decide to play. They load the game up and chose player roles only to be sucked inside the game. There they find themselves in avatar bodies – Spencer is the heroic Dr Smolder Bravestone, Fridge is his diminutive sidekick Mouse Finbar, Bethany has been transferred into the body of the male cartography Professor Sheldon Oberon and Martha is the kickass Ruby Roundhouse. They each find they have various skills and weaknesses in the game, as well as three lives. The villainous Russell Van Pelt has obtained a jewel known as the Jaguar's Eye that allows him to control animals. They must combine their skills and fight their way through the various levels of the game to replace the jewel in the mountain-top statue and set things right again.
---
The fact that it has been remade(?)/sequelised(?) here makes Jumanji (1995) into some sort of classic by default. I don't know of many people that fondly regard Jumanji as a classic in the same way that people look back on hits from a few years earlier like Back to the Future (1985) and The Goonies (1985). Nevertheless, Jumanji was a hit back in its day – it earned some $260 million at the worldwide box-office and was the seventh highest grossing film in US release, second only to the James Bond film GoldenEye (1995).
Surprisingly, such a hit was never sequelised, although a sequel had been mentioned over the years. There was an animated tv series Jumanji (1996-9) and Chris Van Allsburg's book sequel was filmed, albeit with all connection to the first film dropped, as Zathura: A Space Adventure (2005), which is much superior to either Jumanji film. Jumanji: Welcome to the Jungle seems set to follow its predecessor's footsteps and is of current writing the fourth highest grossing film of 2017.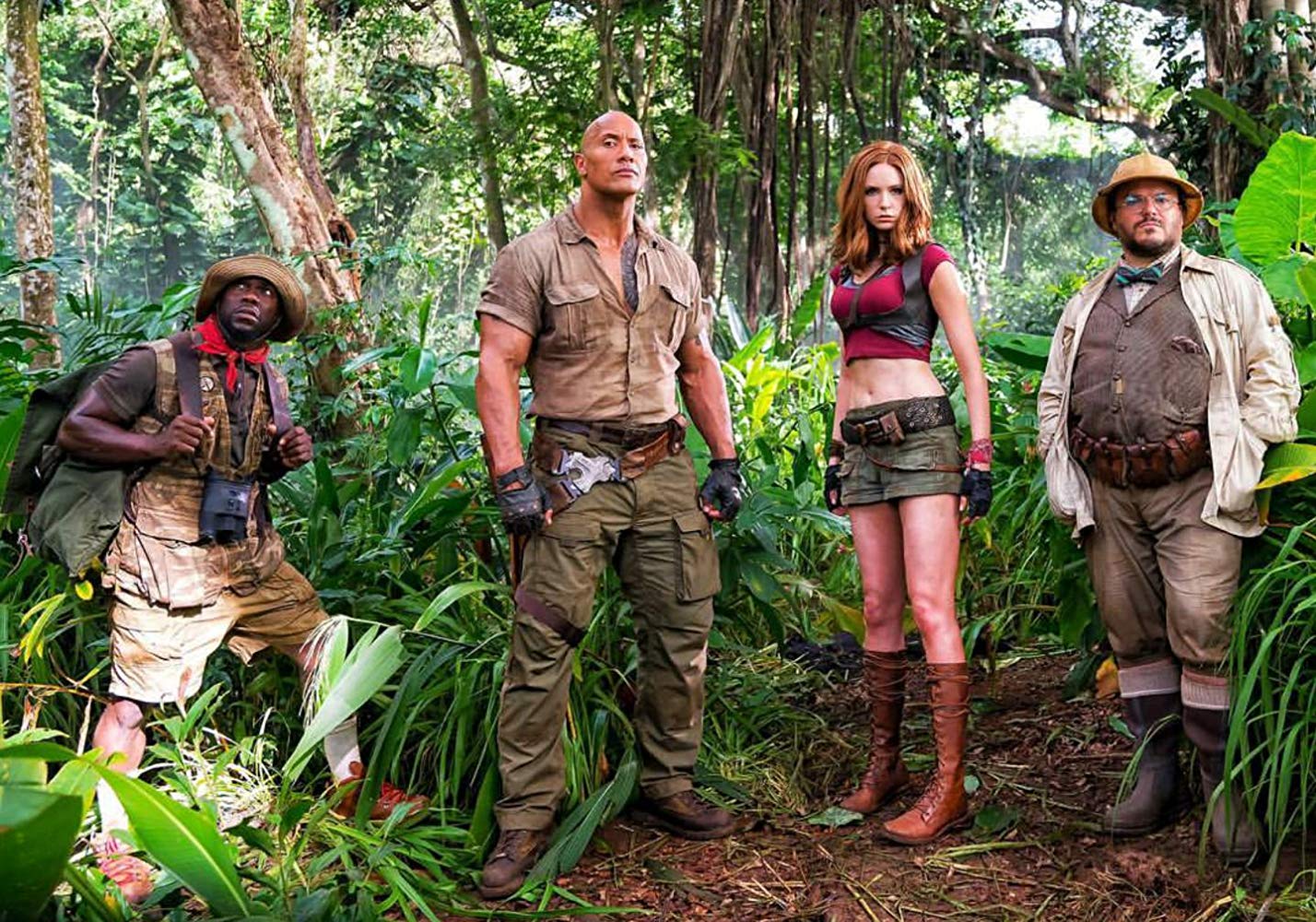 The new version comes from Jake Kasdan. Kasdan is the son of director-writer Lawrence Kasdan, known for his screenplays for The Empire Strikes Back (1980) and Raiders of the Lost Ark (1981) and as director of films like The Big Chill (1983), Silverado (1985) and Dreamcatcher (2003). Jake has maintained a modest career as a director of mainstream comedies with the likes of Zero Effect (1998), Orange County (2002), Bad Teacher (2011) and Sex Tape (2014), as well as wrote the script for Walk Hard: The Dewey Cox Story (2007).
You are not entirely sure if Jumanji: Welcome to the Jungle is intended as a remake or a sequel to Jumanji. There are direct continuity points to the original such as reference made to Alan Parrish and an opening scene that follows on from the epilogue to the first film with the boardgame being found by children on a beach. Equally, the premise can be considered a reimagining of the first film – in the original, Jumanji was a boardgame, whereas here that has morphed into a videogame that sucks the players into a game realm.
This spells the difference between the two versions of the story. Jumanji had the appealing notion of a regular everyday American smalltown having its normalcy overturned by eruptions of the jungle phenomena – of elephant stampedes through the main street, rhinos bursting into the house. monkeys running amok in department stores and so forth. By contrast, it feels like this is an idea that is too banal for Jumanji: Welcome to the Jungle and it instead transports its players inside the game. This to me is a far less interesting concept. It makes Welcome to the Jungle into no more than another trapped in a videogame film a la the likes of Tron (1982), Arcade (1994), Brainscan (1994) or Spy Kids 3-D: Game Over (2003). It becomes just a regular adventure with the heroic characters having to overcome a series of obstacles and perils as opposed to an everyday world being overturned by random eruptions of the bizarre.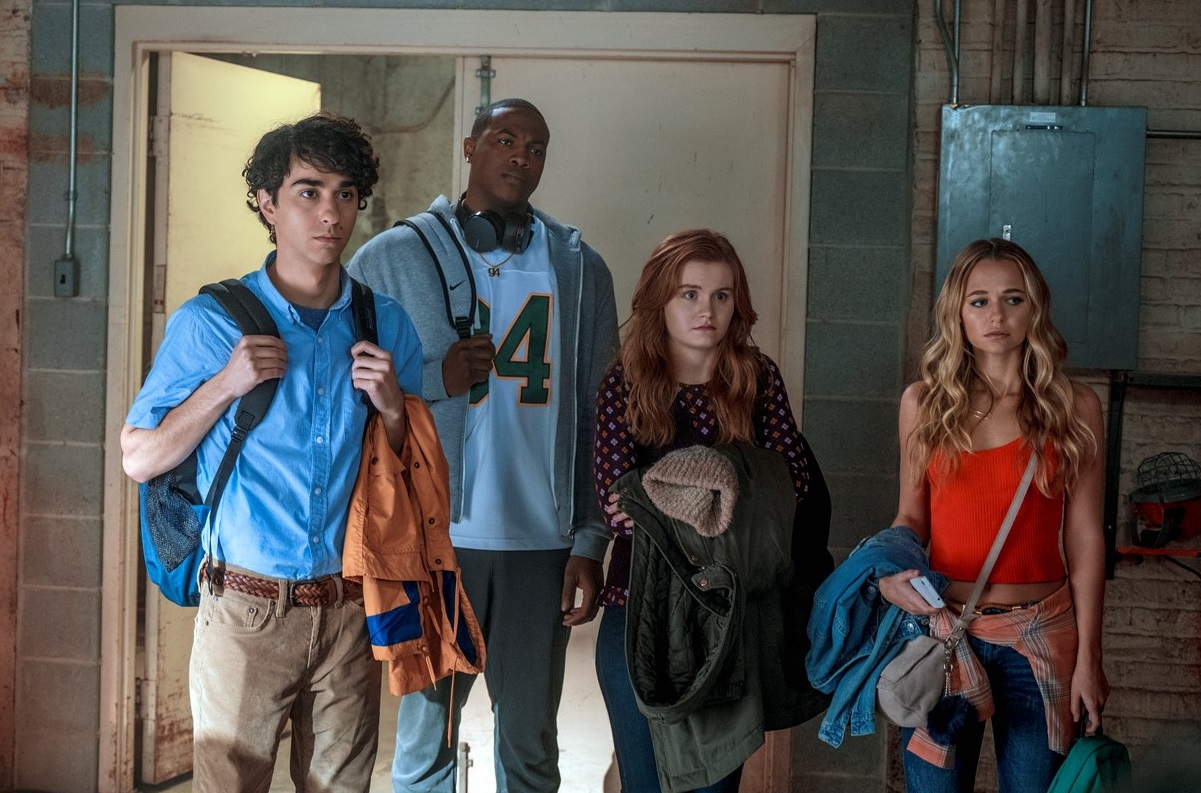 To its credit, Welcome to the Jungle has fun parodying the meta-concept of being inside a game with the characters and their skill levels, their lives and the NPCs. On the other hand, Jake Kasdan does little to light up any of the action/adventure set-pieces. These seem about as generic and processed as they can get. The original had great fun scenes with animal stampedes and monsoons abruptly invading the everyday. Here there seems a distinct comedown watching the characters run through the jungle pursued by heavies on motorcycles (something that seems a banal letdown on the jungle theme). The climactic scene with Dwayne Johnson scaling the mountainside on a motorcycle fighting off animals and swinging about on a rope to catch a falling Karen Gillan seems about as canned and delivered-by-autopilot an action scene as I have seen in a major motion picture.
That said, Jake Kasdan's unexpected forte proves to be his character ensemble. The quirkily appealing notion of the film is that each of the avatar bodies that the teenagers inhabits is at direct oppose of their real world identity – nerdy Alex Wolff becomes larger-than-life hero Dwayne Johnson (who actually gives more of a performance than I have seen him do in any other film, having hilarious fun mocking the nerdiness of his character); jock Ser'Darius Blain becomes whiny diminutive sidekick Kevin Hart; self-absorbed Madison Iseman is incarnated as middle-aged Jack Black; while shy girl Morgan Turner becomes Karen Gillan (who has been modelled on Lara Croft). The characters have an enormous degree of fun playing off each other with Jack Black having the greatest amount of fun one has seen him do in a role in some time – the scenes where he attempts to teach Karen Gillan how to flirt and her attempts to act these out are side-splitting.
Most involved are due to return for a sequel with Jumanji: The Next Level (2019).
---
---