---
Germany/Netherlands/Denmark. 2017.
Crew
Directors – Richard Claus & Karsten Kiilerich, Screenplay – Richard Claus & Larry Wilson, Based on the Books by Angela Sommer-Bodenburg, Producers – Chris Brouwer & Richard Claus, Photography – Niels Grønlykke, Music – Vidjay Beerepool, Animation Director – Jørgen Lerdam, Animation Supervisor – Javier Perez Rodenas, Visual Effects Supervisors – David Van Heeswijk & Luuk Meijer, Production Design – Edwin Rhemrev. Production Company – First Look/Comet Film/A. Film Productions/Cool Beans/Telescreen/Rothkirch Cartoon Film/Netherlands Film Fund/Netherlands Film Production Incentive/Abraham Tuschinski Fund/Eurimages/Nordmedia Film and Mediengesellschaft Niedersachsen-Bremen/German Federal Film Fund – DFF/Film and Medienstiftung NRW/German Federal Film Board – FFA/The Danish Film Institute.
Voices
Rasmus Hardiker (Rudolph Sackville-Bagg/Gregory Sackville-Bagg), Amy Saville (Tony Thompson), Jim Carter (Rookery), Joseph Kloska (Maney), Phoebe Givron-Taylor (Anna Sackville-Bagg), Tim Piggot-Smith (Frederick Sackville-Bagg), Alice Krige (Freda Sackville-Bagg), Kevin Otto (Bob Thompson), Julia Rhodes (Dottie Thompson), Diane Wilson (Emma), Graham Clarke (Otto), Miriam Margolyes (Wulftrud), Matthew Marsh (Gernot), Mark Zak (Russian Pilot)
---
Plot
In Transylvania, it is the 313th birthday of the vampire Rudolph Sackville-Bagg who is lamenting the fact he has spent 300 years as a thirteen-year-old. As the Sackville-Bagg clan gathers, they are pursued by the vampire hunter Rookery and his assistant Maney. Rudolph escapes as the rest of the family are locked in the crypts by Rookery. Rudolph seeks refuge in the castle hotel where the Thompson family from San Diego are holidaying. He is granted refuge by young Tony who is a fan of vampire stories and treats Rudolph as a friend. Tommy comes to Rudolph's aid as he seeks to save his family from Rookery.
---
The Little Vampire is a series of children's books from German children's author Angela Sommer-Bodenburg. Beginning with The Little Vampire (1979), the series has consisted of (so far) twenty-one books, although only sixteen of these have been translated into English. The books have been twice adapted into live-action tv series in Germany in 1986 and 1993 and then a live-action theatrical film The Little Vampire (2000).
This is another attempt to create a film franchise out of The Little Vampire. What we have feels exactly like a remake of the 2000 film, albeit conducted in animation. If it feels like it that is because it actually is the case right down to re-employing Jim Carter to voice the role of the vampire hunter Rookery and Alice Krige as Rudolph's mother. Furthermore, the script is co-written by one of the writers from the first film and that film's producer Richard Claus now co-directs. You cannot help but think that out of the twenty plus books in the series that Angela Sommer-Bodenburg has written, why do they need to keep rehashing the same one?
Like its 2000 predecessor, the film did little business worldwide. The 2000 film was considered a box-office flop, earning only $28 million on a $35 million budget. The 2017 film, coming out nearly two decades later, earned less than half that ($13 million worldwide), not to mention that it was also released in 3D, which further inflates ticket prices (meaning that far less people would have gone to see it than that). Despite this, there was a further animated French-language remake Little Vampire (2020).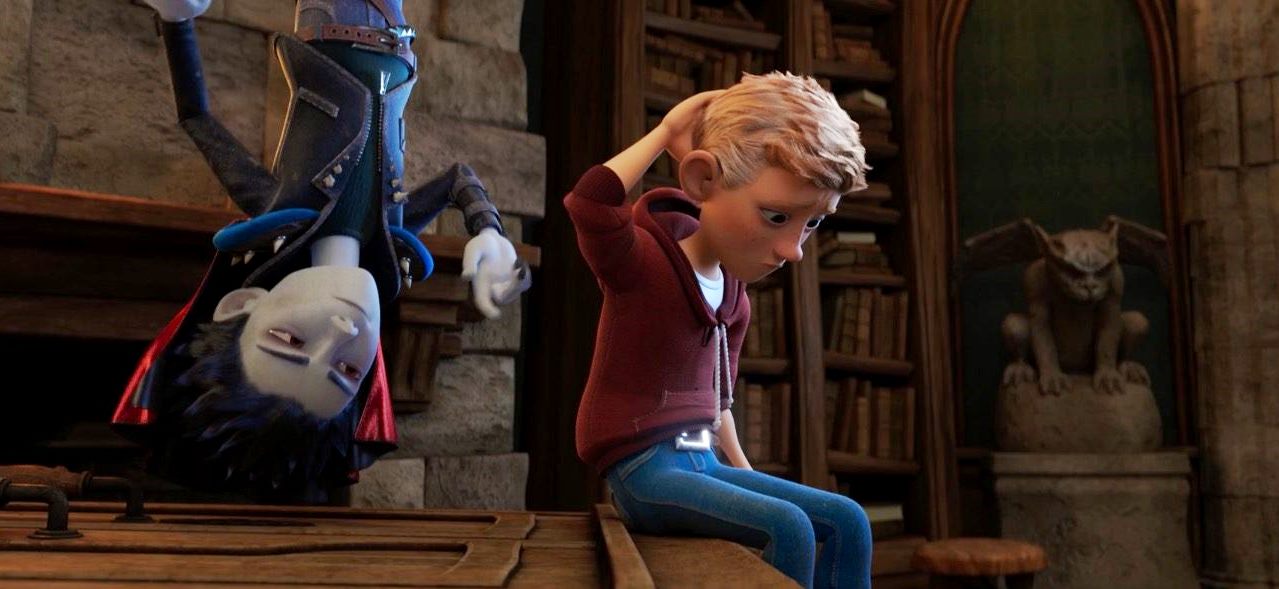 I had the same issues with this version that I did with the 2000 film. The major plausibility issue for me is – is someone who has been a thirteen year-old for 300 years (as Rudolph laments at one point) technically a kid any longer? 300 years is nearly three times the lifespan of the longest-lived human being on record. Such a person might be an adolescent in body but certainly would not be in mind. His friendship with Tony would be like asking a septuagenarian or octogenarian to suddenly make best friends with someone who has only just reached puberty and have some common ground. The cultural signifiers and assumptions the two make about the world would be utterly alien to one another.
The other main issue with the film is that directors Richard Claus and Karsten Kiilerich feel the need to deliver much of the action in terms of slapstick comedy – sequences with the Thompson family vehicle running down a slope (I fail to see how a car with attached caravan could make it the entire way down a steep incline, bumping over rocks and crashing through trees, without losing its caravan); the scenes with Rookery racing to get aboard the Russian plane and the plane's disintegration in mid-air; scenes with Rookery's truck running amok and coming to pieces; and a series of climactic vehicle races. It is the mistaken assumption that has crept into modern formula of the animated franchise – looking at you the interminable Ice Age films – that children like slapstick chaos and the allowing of such scenes to overrun a film.
---
Trailer here
---