---
Crew
Director – Mark Waters, Screenplay – David Berenbaum, Karey Kirkpatrick & John Sayles, Based on the Spiderwick Chronicles Books by Holly Black & Tony DiTerlizzi, Producers – Mark Canton, Larry Franco, Ellen Goldsmith-Vein & Karey Kirkpatrick, Photography – Caleb Deschanel, Music – James Horner, Visual Effects Supervisors – Tim Alexander & Pablo Helman, Visual Effects – Industrial Light and Magic & Tippett Studio (Supervisors – Blair Clark & Joel Freisch), Special Effects Supervisors – Louis Craig & Michael Lantieri, Makeup Effects – Kevin Yagher Productions, Inc (Supervisor – Kevin Yagher), Production Design – James D. Bissell. Production Company – Nickelodeon Movies/Paramount/The Kennedy-Marshall Company/Atmosphere Pictures MM.
Cast
Freddie Highmore (Jared Grace/Simon Grace), Sarah Bolger (Mallory Grace), Mary-Louise Parker (Helen Grace), David Strathairn (Arthur Spiderwick), Joan Plowright (Aunt Lucinda), Martin Short (Voice of Thimbletack), Seth Rogen (Voice of Hogsqueal), Nick Nolte (Mulgarath), Andrew McCarthy (Richard Grace)
---
Plot
Helen Grace, her twin boys Jared and Simon and her teenage daughter Mallory move from New York to live in the rundown country home that was owned by her great-grandfather Arthur Spiderwick. Immediately after they arrive, the boys discover strange things happening in the house – items going missing and things heard scurrying about in the walls. Jared finds his great-great-grandfather's attic and a trunk containing a leather-bound book entitled 'Arthur Spiderwick's Field Guide to the Fantastical World Around You'. He ignores the warnings left not to read the book and find that Arthur has compiled all known information on magic creatures, including faeries, trolls and hobgoblins that live all around but are invisible to human eyes. After reading the book, Jared starts seeing these creatures. He then learns that the ogre Mulgarath desires to obtain the book as it holds information that will give him dominion over all the species listed in it. The house is protected by a magical circle that Arthur created but with the book's rediscovery Mulgarath makes all effort to get past the circle and force Jared and the others to hand it over to him.
---
The Spiderwick Chronicles is another effort to jump aboard the 00s fantasy bandwagon, following the success of Harry Potter, Lord of the Rings, The Chronicles of Narnia etc. The Spiderwick Chronicles started as a series of illustrated children's books from author Holly Black and illustrator Tony DiTerlizzi, beginning with The Spiderwick Chronicles: The Field Guide (2003) and continuing through a further four books and several spinoff works. The five books have been condensed to form the plot of the film here.
The Spiderwick Chronicles has been taken on by director Mark Waters. Waters started out directing the admirably black The House of Yes (1997) but then gravitated to become a director of light teen and romantic comedies or Chick Flicks, some of which branch over into fantasy, with the likes of Head Over Heels (2001), Freaky Friday (2003), Mean Girls (2004), Just Like Heaven (2005), Ghosts of Girlfriends Past (2009), Mr Popper's Penguins (2011), Vampire Academy (2014) and Bad Santa 2 (2016).
On screen, The Spiderwick Chronicles emerges akin to recent fantasies such as Pan's Labyrinth (2006) or Bridge to Terabithia (2007), which had children opening up gateways to secondary worlds that are intertwined with this one. Perhaps that as reworked with a heavy dose of Jim Henson films like The Dark Crystal (1982) or Labyrinth (1986), which created elaborate worlds filled with a menagerie of goblins, trolls and various fantasy creatures. Here Industrial Light and Magic and various other companies appear to be having a good deal of fun producing some reasonably convincing (if never truly standout) troll and creature effects.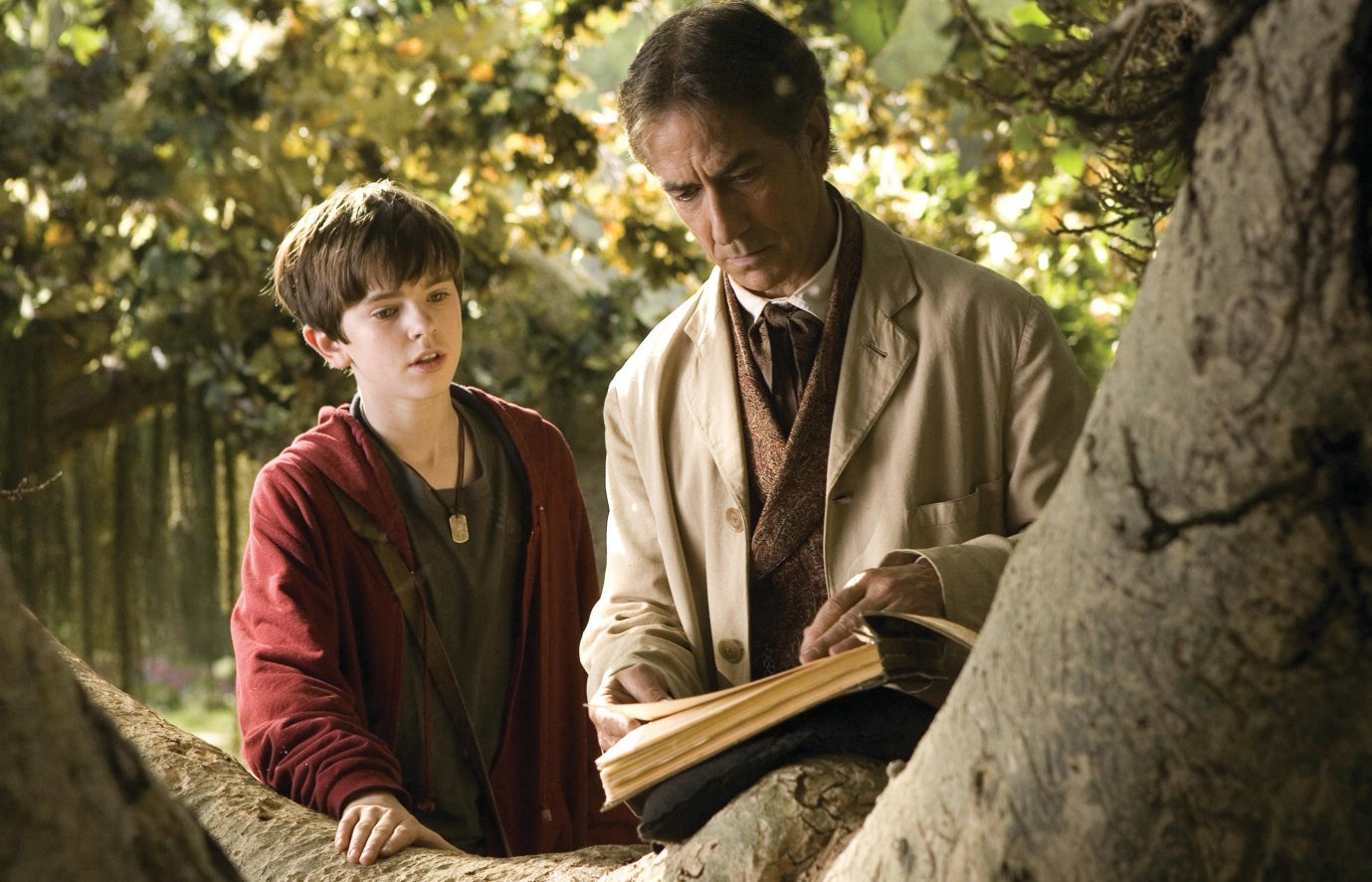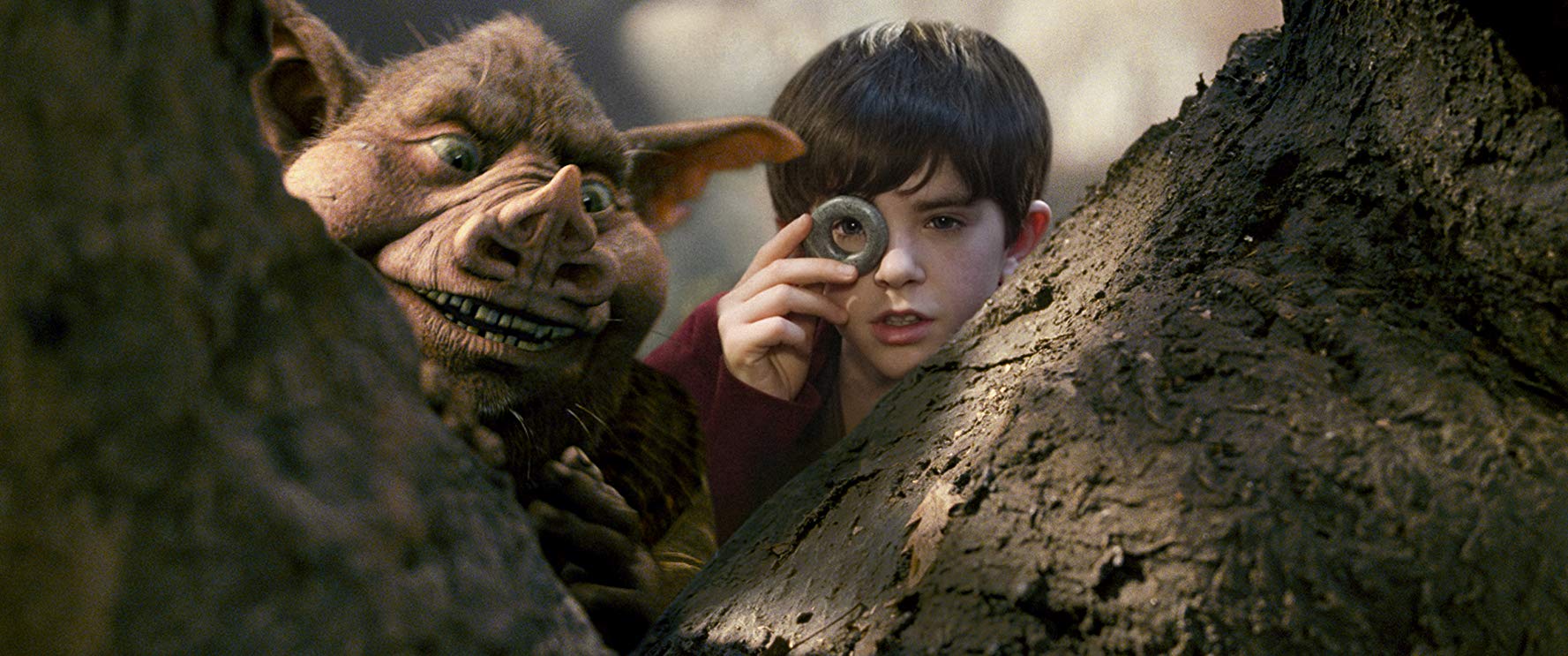 One particularly good aspect about the film is its creation of an essential sense of wonder – of an entire world invisible to most human eyes suddenly opening up to reveal creatures that hide around the edges of being visible. There are all manner of appealing details – the use of honey to attract the brownie Thimbletack; the various characters trying to observe the trolls with magic stones or eyeful's of troll spit; magic circles around the house; the glimpses we get of the field guide. These are touches that make a fantasy come to life with texture and depth that seems to exist beyond the scope of the film's eye.
Mark Waters gets into it with great enthusiasm, having the various cast members pursued around the screen and battling the goblins off with exciting regard. The Spiderwick Chronicles is refreshing in comparison to some of the more anodised efforts to emerge from the modern fantasy fad – the Harry Potter films, The Chronicles of Narnia: The Lion, The Witch and the Wardrobe (2005) – in that it is not afraid to be scary. Waters does not hold back when it comes to drenching the screen in troll slime and/or putting the younger cast under threat – these scenes have a darkness that is lacking in most other modern fantasy films. The film is also not afraid of broaching more complex emotional issues that most children's films will avoid – a kid with anger issues, his dealing with the separation of parents.
The relative disappointment with The Spiderwick Chronicles is that Mark Waters, after introducing the world, rather than exploring and opening it up, spends most of the time having the characters running around trying to protect the book while being pursued by trolls. On a dramatic level, we only ever seem to be impelled from one creature sequence to the next and the greater story never holds more to it than that. Jared gets to undergo a journey into the land of the sylphs at one point but this dissipates into pretty feelgood effects with swirling creatures of light and there is no sense of he undergoing any epic heroic journey. It is this that makes The Spiderwick Chronicles seem not too much more than a big-budget version of a Goosebumps story, rather than the epic fantasy it aims to be.
---
---