---
Crew
Director – Tom McGrath, Screenplay – Michael McCullers, Based on the Book by Marla Frazee, Producer – Ramsey Naito, Music – Steve Mazzaro & Hans Zimmer, Senior Visual Effects Supervisor – Ken Bielenberg, Visual Effects Supervisors – Philippe Gluckman, Mahesh Ramasubramanian & Vanitha Rangaraju-Ramanan, Animation Supervisors – Ludovic Boucancheau, Bryce McGovern & Rani Naamani, Production Design – David James. Production Company – DreamWorks Animation SKG.
Voices
Miles Bakshi (Tim Templeton), Alec Baldwin (Boss Baby), Jimmy Kimmel (Ted Templeton), Lisa Kudrow (Janice Templeton), Steve Buscemi (Francis Francis), Tobey Maguire (Adult Tim/Narrator), James McGrath (Wizzie/Elvis Impersonator)
---
Plot
Seven-year-old Tim Templeton leads a happy life as an only child. His world is then overturned by the arrival of a new baby brother. Tim finds many things odd about the new baby, including that he is always dressed in a business suit and carries a briefcase. His parents are blinded by their adoration and fail to see any of this behaviour suspicious. Tim then discovers The Boss Baby can talk and manages to tape record it plotting in a meeting with other babies. A furious fight ensues as The Boss Bay tries to get the tape back from Tim. The Boss Baby comes to Tim and explains his situation – he is an executive who has been sent from Babycorp, which handles the distribution of babies. Tim's parents manage an advertising account for Puppycorp who have created a newer, cuter puppy that is in danger of supplanting the demand for babies. Tim agrees to collaborate with The Boss Baby, thinking that if he can aid him in achieving his mission then he will be have life back the way it was before. Doing so requires going on a mission to break into Puppycorp where they come up against its nefarious CEO Francis Francis.
---
The Boss Baby was the 32nd film from DreamWorks Animation. It follows the likes of It follows the likes of Antz (1998), The Prince of Egypt (1998), The Road to El Dorado (2000), Shrek (2001) and sequels, Spirit: Stallion of the Cimarron (2002), Sinbad: Legend of the Seven Seas (2003), Shark Tale (2004), Madagascar (2005) and sequels, Over the Hedge (2006), Bee Movie (2007), Kung Fu Panda (2008), Monsters vs Aliens (2009), How to Train Your Dragon (2010), Megamind (2010), Rise of the Guardians (2012), The Croods (2013), Turbo (2013), Mr. Peabody & Sherman (2014), Home (2015), Trolls (2016), Captain Underpants: The First Epic Movie (2017) and Abominable (2019), as well as sequels to various of these. The Boss Baby was the second solo directed film for Tom McGrath who had premiered as co-director of Madagascar and its first sequel Madagascar: Escape 2 Africa (2008) and then went out on his own to direct Megamind. McGrath is also a regular voice artist for DreamWorks, most notable for the role of the penguin Skipper in the Madagascar films.
The Boss Baby comes with a winning concept. I was sold on the film from the point of seeing its trailer with a baby in a business suit, briefcase under its arm, barking orders into a cellphone. It is the appealing and witty, not to mention snidely satiric conflation of the idea of a baby ruling a household with the idea of a ruthless CEO controlling a corporation. And indeed, from the scenes with the Boss Baby slapping his bottle into place, getting his way by threatening the older Tim's favourite stuffed toy, holding boardroom meetings during a playdate with the other babies of the neighbourhood and drafting memos in crayon, you are completely in love with the concept. No to mention that it is hard to think of anyone more aptly suited to the voicing of the role than Alec Baldwin. It is even enough to set aside in memory the bad experience of previous talking baby films that one had with Baby Geniuses (1999) and sequels.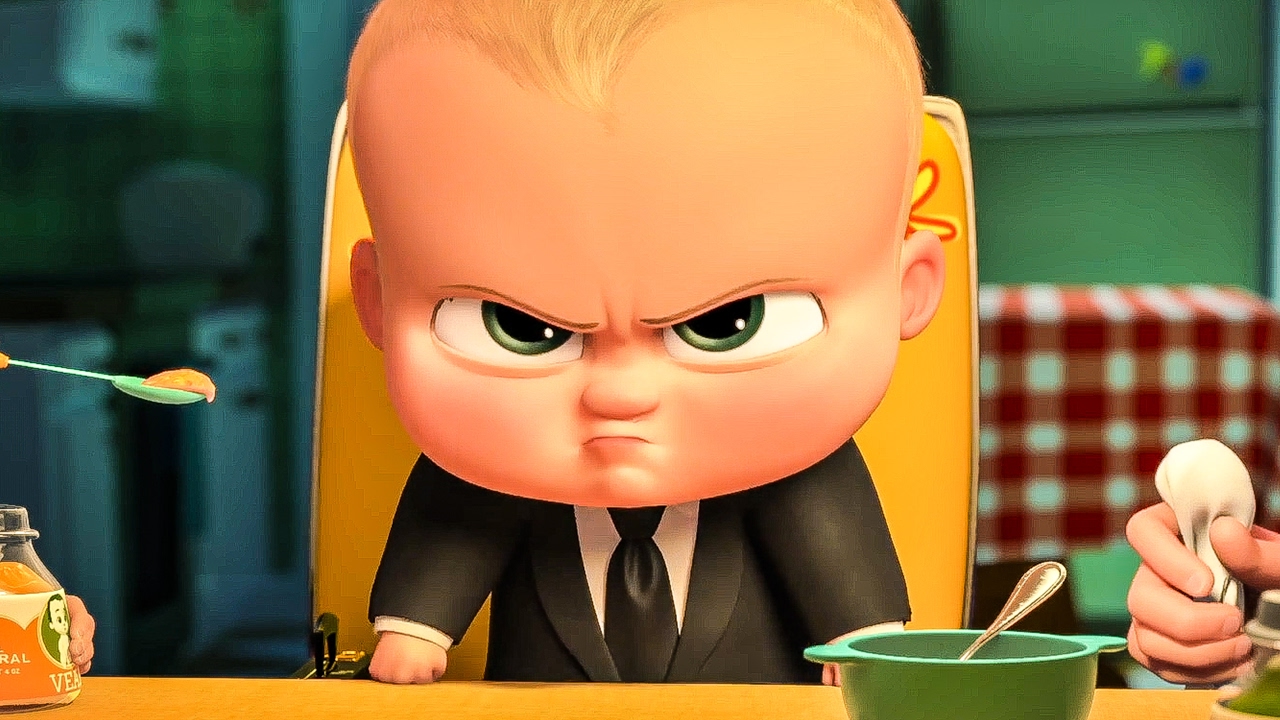 On the other hand, The Boss Baby suffers from one of the worst examples of having a great premise and utterly underwhelming delivery of any film I can think of in recent memory. The Boss Baby is a wonderful foil – only the film then goes and ruins it and in relatively short course has the young hero and Boss Baby teaming up together to defeat an elaborate scheme. The shift is signalled in an amusing sequence with Tim and the other babies engaged in a frenetic chase around the house to get back the incriminating tape recording. It is a not unentertaining sequence but it presages a shift from a focus on The Boss Baby as nemesis to slapstick capers with Tim and The Boss Baby teamed up to fight the Big Evil of the show.
We go from one of the wittiest and most appealing nemeses created for an animated film in recent memory to just a series of slapstick capers. And these become tedious – a break-in to Puppycorp headquarters in a sequence that seems set up solely to spoof the opening of Raiders of the Lost Ark (1981), another elaborate sequence running around the airport at Las Vegas – for no other reason than that high energy slapstick sequences play well with young audiences.
Perhaps the other amusing thing that baby-centric films such as this and the recent Storks (2016) have in common is that, being aware they are made for family audiences, they have to paper over the issue of how babies are made. Here The Boss Baby peculiarly arrives by taxi – exactly whether it is an adoption or what is never made clear. Like Storks with its having stork delivery sit alongside more standard means of reproduction, this has to pad the issue by having Tim whisper into The Boss Baby's ears rumours he has heard of how babies are made and the two of them dismiss it as disgusting.
Tom McGrath, Alec Baldwin and several of the voice cast returned for a sequel The Boss Baby: Family Business (2021).
---
---